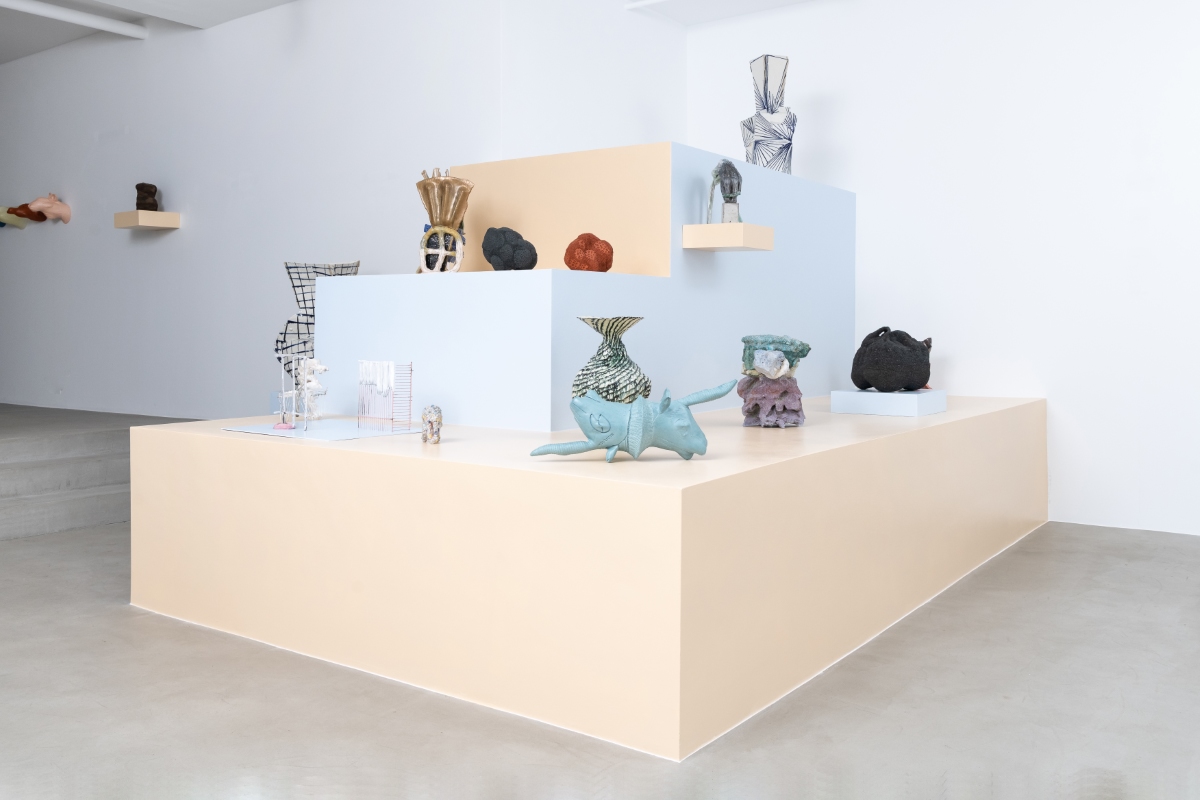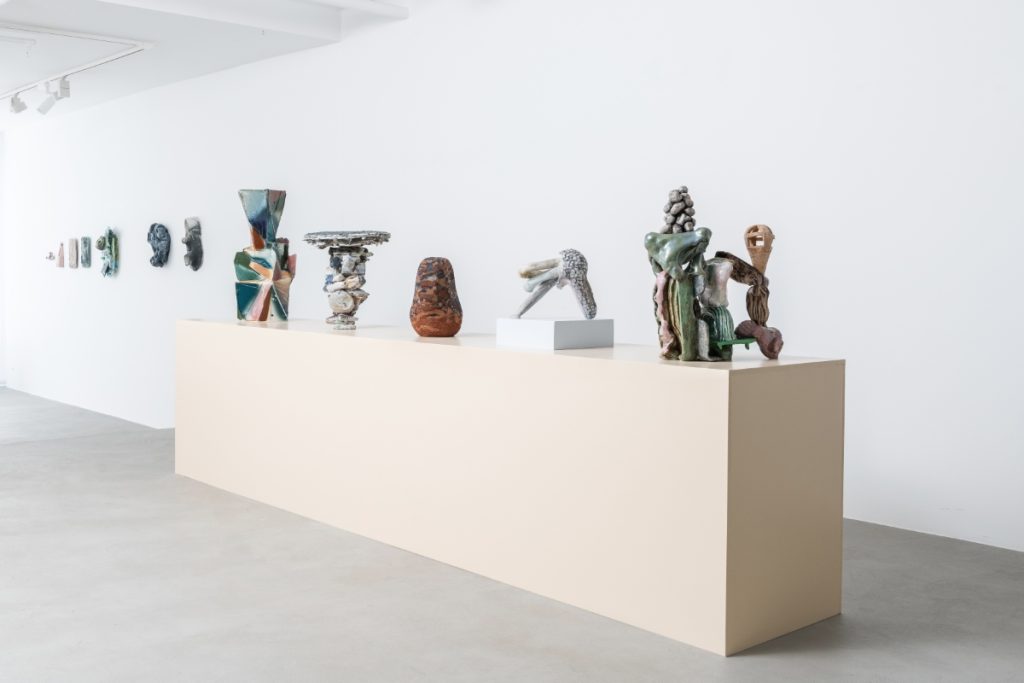 CRMCS #3 – A selection of contemporary ceramics is on view at Galerie Zwart Huis, Brussels
March 12 – April 29, 2023
Curated by Kris Campo
After the successful CRMCS#1 and CRMCS#2 editions, gallerist Elke Helbig and curator Kris Campo continue their tribute to the expressive power of clay as a medium. This time, they are bringing together works by six local and international visual artists: Nathalie Doyen (BE), Sien Godderis (BE), Patrick Loughran (FR), Johannes Nagel (DE), Alberto Scodro (IT) and Caroline Andrin (CH).
The concept of CRMCS began in 2018 after a meeting between Elke Helbig of Zwart Huis and ceramicist Kris Campo. Their meeting sparked an eagerness to put ceramics on a pedestal and pay homage to the expressive power, sensuality, tactility, display value and visual richness of the medium of clay.
In this third edition, Kris Campo is curating works by six contemporary artists. CRMCS#3 focuses on the visual language of clay and colors, outside the lines. Kris Campo has selected surprising work, in terms of design, sometimes even leading the viewer astray. CRMCS#3 offers a distinct look at the place of ceramics in the visual landscape and revolves around the interaction between the work and the visions of the various artists. The works are combined with each other to create their own scenography. After the subdued CRMCS#2 with its white and black tones, the new edition features a distinctive color palette. The different facets of clay are the guiding principle of the exhibition. For some artists, the classical vessel form is transcended by its expressive power. Others begin from the sculptural experience of the materiality of clay.
Kris Campo (1961) studied ceramics in Antwerp and Ghent. Since 1987 she has been developing her own visual oeuvre and took part in exhibitions and competitions in Belgium and abroad. She worked for fifteen years as a guide in the Royal Museum of Fine Arts in Antwerp and has been a ceramics teacher at the Academy of Sint-Niklaas since 1997. She is also active as an artistic coach for professional and semi
professional artists.
Galerie Zwart Huis started its activity in 2001 in the modernist residence De Beir in Knokke. It organized exhibitions with Belgian artists such as Luc Deleu, Jan Vanriet, Liliane Vertessen and Johan Tahon. In 2007, the gallery moved to a new premise on the seafront where it continued the line of Belgian contemporary art. In 2015, founder Gerda Vander Kerken was succeeded by her daughter Elke Helbig, who brought the gallery to Brussels in the Rivoli Building in 2017.
About the artists
Johannes Nagel (DE)
Johannes Nagel (b. 1979) studied fine arts and ceramics at the Burg Giebichenstein Kunsthochsshule in Halle, Germany. His work explores the concept of the container. His work ranges in size from smal to monumental. He dissects and analyzes both the historical and contemporary meanings of the term 'vessel'.
Most objects are somehow containers, pots. Are they not? They attempt to confuse the connotations that technology and material provoke. At times constructive composing, at times willful destruction, sometimes vases, sometimes fragments or alienated object. He executes his work directly and manually through sand molds and casting techniques, making the process of searching a tangible presence. The joints and fissures, the blots of colour and unfinished painting appear provisional as they point from the finished object back to the process. It is not the perfection of the ultimate expression that is intended but to verbalize a concept of the evolution of things.
Patrick Loughran (US)
The sculptures of Patrick Loughran begin with the clay itself – the most malleable material that lends itself to construction, modeling and assembly. The forms are defined, not in a classical sense of material reduction, but rather from ceramic tradition: utilitarian, figurative or architectural. The creation of a vocabulary of forms comes from the desire to manipulate, model, build. His sculptures usually take the observed world as their subject. He often assembles images or fragments, much in the spirit of a still life: a collection of significant, interesting objects transformed by his own ideas, habits, technical skills and emotions. Some works are assembled after having filled the studio with different shapes (taken from sketchbooks, or inspired by photos of objects, tools, architectural ornaments, etc.) Others are the continuation of a critique and improvement of previous pieces; some start with a mysterious image, from his dreams. Assembling these sculptures follows an improvised logic (like in jazz) as well as the natural forces of gravity and biological, geological or botanical laws, which regulate the way things grow and develop.
Color always plays an important role in his work. For the artist ceramics condenses different modes of expression. Here, color and form are integral, where painting and sculpture are present in the same practice. Often the surprises in a firing reveal important information about the color. Mineral effects, the reiteration of geological time, can reveal aging and worn colors. But the bright palette of folk pottery, the world of circus and the brilliance of Paris and New York are always present.
Patrick Loughran (b. 1948), a Detroit-born ceramist graduated with a degree in Political Science and Fine Arts from Columbia University, New York City. He has taught ceramics at art schools in New York, Chicago and New Mexico. In 1991 he moved to Paris, and then taught at the Ecole Nationale Supérieure d'Art (ENSA) in Limoges and in several municipal fine art schools.
Sien Godderis (BE)
The sculptures of Sien Godderis (b. 1979) are projections of her inner being. Her entresol is not cheerful, but rather raw and melancholic. Her sculptures are existentially disturbed memories that stem from her own life and long for deeper connections.
She shows both a fragile narrative and a universal story: sculpting from her own reflections to generate connection. There is consistency in the sensibility of her structures, but not in the subject-matter, the material, or the form. Different formal languages are combined, there is no unified style. Open and closed forms, (partly) figurative and abstract, alternate. Sien's starting point and making process, mostly in clay, are instinctive and disordered. Forms and materials are intuitively molded to her will. Her sculptures are therefore manifestations of things that have been distorted in her subconscious. They have distinct external structures and scriptures. Her works are finished with pencil and ink: the transparency versus the layering results in unique surfaces. The overall effect is powerful, yet fragile, with a melancholic cheerful lightness.
Sien Godderis studied fine art at the Academy of Brugge; restoration of paintings at Academy of Fine Arts in Antwerp and ceramics and sculpture at the Academy of Waasmunster and the Academy of Deinze. In 2022, she debuted at the Exporuimte Poortersloge in Bruges.
Nathalie Doyen (BE)
Nathalie Doyen (b. 1964) was trained as a ceramist at the Academy of Fine Arts in Tournai. Initially, she focused on material skills and the form of the pot. However, the traditional approach of the craft soon began to distress her. She sought space by breaking up works into parts. New forms thus emerged, like a stacking of fragments. That moment defined a new artistic path for Nathalie Doyen, one that would lead to large installations and spatial projects.
In recent years, she has focused on smaller sized projects, sealed form, and the infinite diversity of skin. The small pieces are inspired by nature, archaeology, and patterns in landscapes. Her sculptures arise organically, as if they were growing and developing themselves. There is no preconceived plan. She molds the clay in her hands into gently undulating monoliths. She then applies structures, similar to mosses or crusts that grow in nature. Pinning very small balls of clay onto her work creates an additional skin-like layer. With the adding of engobe or metal oxide, the sculptures take on vibrant mineral colors. At the essence of Nathalie Doyen's work is meditative, repetitive movements. The tranquil and hypnotic nature of the process is paramount. The artist's clear appreciation for minute details draws the viewer into a world where one can become completely lost in time, in process, and in observation.
Nathalie Doyen exhibits internationally and has received numerous awards. This year, she has been selected for the 62nd Faenza Prize and the prestigious Loewe Craft Prize. She was a teacher of ceramics at the Academy of Namen.
Caroline Andrin (CH)
The Swiss-born artist Caroline Andrin (b. 1972) discovered ceramics during her studies at the Ecole Supérieure d'Arts Appliqués (ESAA) in Geneva in the workshop run by Setsuko Nagasawa and Philippe Barde at the ESAA. Since 2006, Caroline is Head of the ceramics department at the renowned visual arts school ENSAV La Cambre.
Caroline Andrin says her work is situated between art and design. It is rooted in a process that links know-how and conceptual thinking. Her work develops from one object to another, sometimes taking into consideration the function, sometimes within a wider context, but always with the idea that one form contains another.
By creating new objects from found objects, such as a pair of gloves or a hat, she inquires on the intimate relationship that we have with the objects of our daily environment (like those we wear or use for instance). More precisely, her work questions the epidermal relationship and our emotional relationship to objects.
Technically, she is interested in the making process and more specifically in casting porcelain and other clays. By cutting up worn gloves and sewing them back together, she creates complex castings with great ambiguity.
Alberto Scodro (IT)
By favoring a site-specific approach, Alberto Scodro uses sculpture and installation in order to make visible the powers and strengths of architectural or natural spaces. Scodro's works are skeins of energy and are conceived as extensions or subtractions of the surrounding settings. He is interested in the use of all kinds of mediums, materials and elements. However, in the last few years, his work has been characterized by a more rigorous and scientific approach. Experimenting with a selection of natural minerals and glass, he examines the processes of casting and the aggregation of materials in their specific contexts or meanings.
Alberto Scodro (b. 1984) studied Visual and Performing Arts at Iuav University in Venice. He was in residence at the Bevilacqua la Masa Foundation in Venice, at Hiap in Helsinky, at Ravi in Liegeand at Fonderia Battaglia in Milan.
Contact
info@galeriezwarthuis.be
Galerie Zwart Huis
Rivoli Building #41
Chaussée de Waterloo 690
1180 Brussels
Belgium
Photos by Jelle Van Seghbroeck