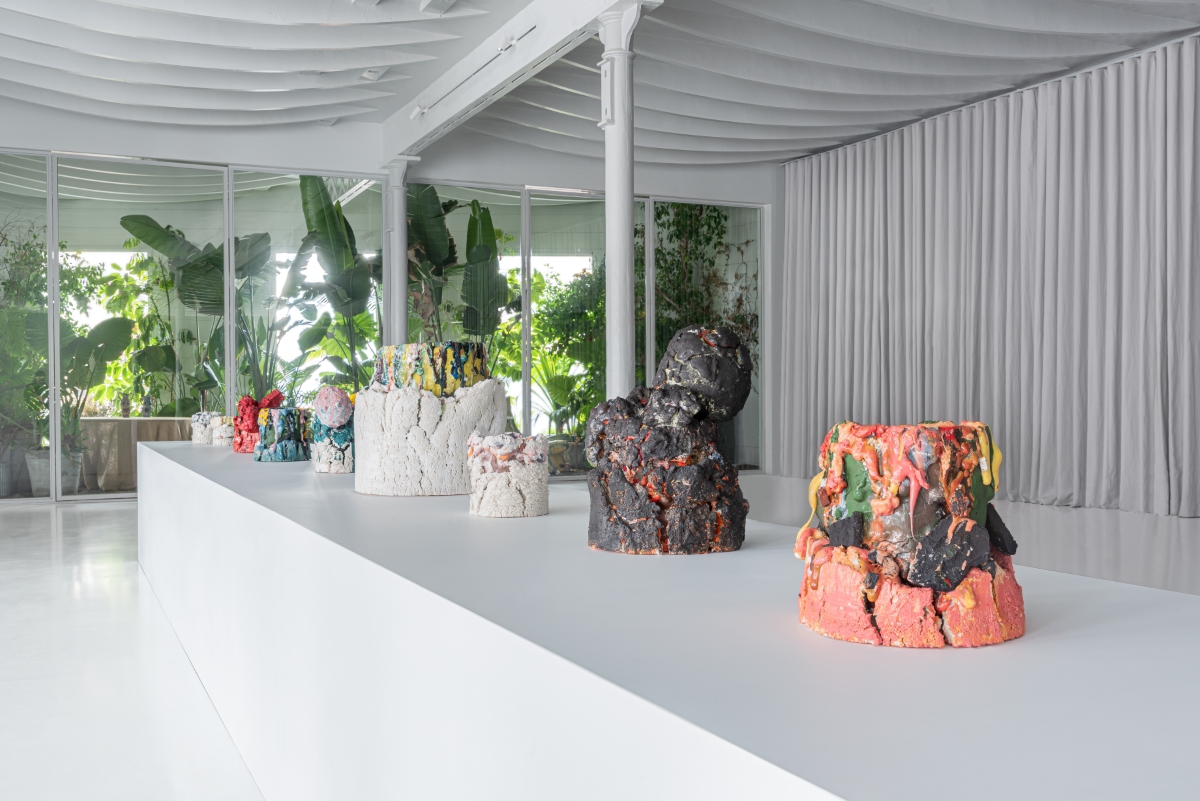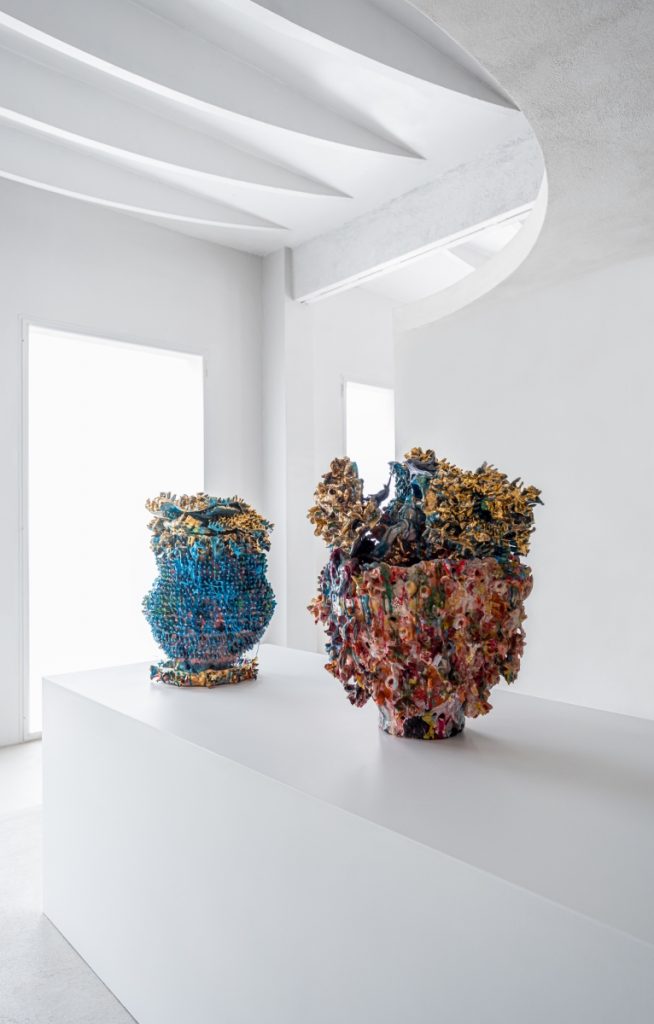 Exposed Material is on view at Side Gallery, Barcelona
March 17 – April 14, 2022
Side Gallery is delighted to announce the opening of "Exposed Material", featuring works by Virginia Leonard, Faye Hadfield, Adam Knocke and Vince Palacios. The exhibition aims to provide a snapshot of the current state of the ceramic field, bringing together a small group of artists of different generations, introducing an up to date development of ceramics as a sculptural medium from the artist's perspective. The collection of richly glazed ceramics demonstrates the creative sensibilities of each individual artist, who demonstrate their expertise through the exploration of innovative techniques and radical thought processes.
The playful works which are gloriously colourful, adorned with bright glazes, gritty forms, cracks, sharp ends and lumps or bulbous, refer to a myriad of approaches and techniques used by the artists to embrace a broad range of personal and cultural elements.
ADAM KNOCHE
Adam Knoche derives his conceptual ideas from his surroundings, his work is a response to his physical and mental setting at the time of making. Knoche's latest series "Bleached" is an abstraction of Knoche's perception of contemporary culture. The notion of "denaturing" and our desire to create order and subdue our environment contradicts the very rationale of our existence. To bleach, literally denatures life and living organisms and creates sterility which is far removed from the wild and natural design of our environment. The series shows raw, vulnerable, and exposed surfaces. Cracks, fissures, and the broken are celebrated as imperfect and organic. Drippy glazes and heavy texture give the viewer a tactile experience that is lost in most of our daily encounters. Knoche emphasises the broken or fractured, and rather than seeing it as a mistake, he subverts it so that the clay is manipulated in a way that accentuates these flaws through the use of pulverizing clay into powder to create fractured and raw surfaces. This is a new technique that gives his work a unique and authentic aesthetic. The artist believes this visual element gives a sense of introspection to those who approach his work.
FAYE HADFIELD
As an admirer of the established Virginia Leonard, Faye Hadfield embodies a new generation of ceramic artists, working with "pots" and "vessels" that are not usable in the traditional sense. Heavily painted and built up with layers of colour using slips, glazes, oxide and lustre, her pots have been developed through a mark making process which is intuitive, allowing the artist to be carried away, often drawing inspiration from everyday motifs and sometimes painting directly from thoughts. As an impulsive maker, the UK based artist' practice is playful and expressive, allowing her pots to take on emotions of their own.
VIRGINIA LEONARD
Virginia Leonard's recent ceramic works evolve from a process of stacking, in which the New Zealand based artist piles random individual pieces on top of one another, a methodology she refers to as "Building precious towers resembling her human form". The emotional, emotive and intensely personal ceramic works created by the artist are powerful self-portraits that address her bodily scarring and experiences of chronic pain. She provokes connotations of repulsion, through sharp, distressed forms, whilst asserting that the expression of this harsh reality is something vital, enveloping and honest, which she translates into colour, creating vibrancy and beauty.
VINCE PALACIOS
Dedicated to working as both an artist and University educator, Vince Palacios years of experience and knowledge are clearly evident in his oeuvre. Believing that leaving your mark in earthen materials is a natural record of existence, expression and belief, Palacios sees his work as a language, not composed of words, rather a composition of marks and bumps, stretching and pressing. A story is being told, a form emerges; a truth is expressed. Engulfed by protruding lumps and clumps, comparably to Virginia Leonard Palacios uses cumbersome shapes to provoke emotive feeling. The American ceramic artis's new series "Potato Tree with Vines" progresses, humor and awkwardness. The clumsy forms are designed not to cause viewers to feel awkward, rather, too personally reflect on the sense of being out of place and finding a way of fitting in.
Contact
info@side-gallery.com
Side Gallery
109 Carrer Llull
08005 Barcelona
Catalonia, Spain