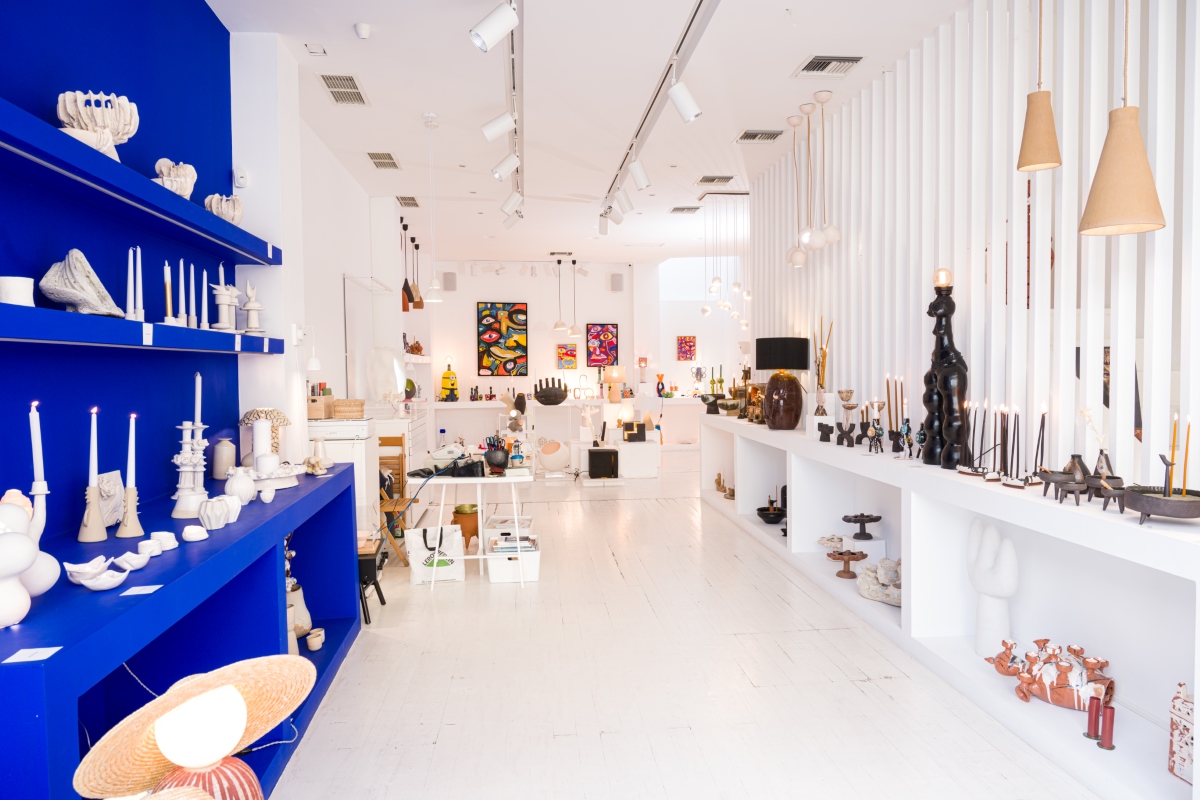 FOS, Ceramic Design Vol. 2 is on view at Mon Coin Studio, Athens
March 2 – April 2, 2023
Greek Ceramix Contemporary presents a contemporary ceramic exhibition titled FOS, Ceramic Design Vol. 2 at Mon Coin Studio in Athens.
Three letters spell the words "FOS" and "ZOI," meaning light and life in Greek. Around a fire, a flame, a light, people have shared their thoughts, fears, and visions; they have painted, sung, and created myths. For ancient Greeks, light was associated with spirit and wisdom.
Light is an intangible union of matter and spirit, an energy that transmits energy. A never-ending source of inspiration for artists, light, which before the invention of electricity, was held in uniquely crafted clay in the form of oil lamps and candle holders.
Today lighting has become an important research and experimentation tool for architects and designers. It expresses and completes the architectural design. The lamp, besides being utilitarian, is also a fundamental element in the decoration of private and public spaces, contributing to the unique atmosphere of each space.
Greek Ceramix Contemporary aims to promote the work of Greek or Greece-based ceramic artists and designers. This second exhibition on contemporary Ceramic Design presents artworks from Greek ceramicists and designers with their inspiration on light.
Approximately fifty ceramic artists and designers from all over Greece have been invited to give their perspectives on lighting, expressing the dialogue between utility and design in the form of lamps and candle holders. They are invited to play with shape, functionality, color, and texture, combining materials and techniques with a traditional and/or contemporary aesthetic. At the same time, they are asked to capture in their work a sustainable approach to design and highlight natural raw materials familiar to people.
FOS, Ceramic Design Vol. 2 presents functional, decorative, traditional and contemporary artworks. Ceramic walls, table lamps, floor or ceiling lamps, oil lamps and candle holders are on display. Clay reveals its unlimited possibilities, the warmth of terracotta, the elegance of black clay, the transparency of porcelain, and the interplay between light and its shadow.
The exhibition takes place at MON COIN STUDIO, in the heart of the historic center of Athens, in Monastiraki. Eleonore Trenado-Finetis created the space, herself being a ceramic artist, to house works by contemporary Greek ceramists and thematic exhibitions like this one.
Participating artists: 3SOME Ceramics, A Future Perfect, Akron Aoton, Anastassopoulou Vanessa, Apostolidis Giannis, Cassimati Polina, Damianos Iasonas, Economides Maria, Epalladio, Galani Mariza, GIS Studio X Ilias Christopoulos Haks Studio, Hinarikika, Homatino, Ivog, Kaolin, Karnakis Stavros, Karountzouanna, Katsilieris Andreas, Keramik.GR, Koktsidou Sofia, Kollida Maria, Kotsi Golanda Danae, Latoufi Katerina, Lavatoy, Linardaki Maria, Lykopoulou Myrto, Makari Rena, Malandraki Matilda, Mamoutzis Giannis, Marengo Valentino, Marinoglou Maria, Marloo Ceramics, Me Nero Ceramics, Neveuclaire, Oh So Souvenir, Palles Antonis, Panopoulou Kallia, Papadoukas Constantinos Papalexi Liana, Pink Dolphin, Psaraftis Konstantinos, Roumelioti Korina, Sifakis Manos, Spyros Dimitris, Stamatakou Angeliki, Stamatis Stelios, Studio Aristotelis Barakos Tapada Art Lab, The Gentle Factory, TILL10, Triantafylli Natalia, Trichas Yorgos, Tsakirakakis Chronis, Tsourdini Dimitra, Vogdanis Yiannis, Wedesign, Willis Christine, Xenaki Despina, Yfi Ceramics, Ygres, Zirini Myrto, Zois Giannis
Contact
info@moncoinstudio.com, +30 210 3217806
Mon Coin Studio | Greek Contemporary Ceramic Art Space
Thiseiou 7
Monastiraki, Athens
Greece
Photos by Epaminondas Koutsoukis