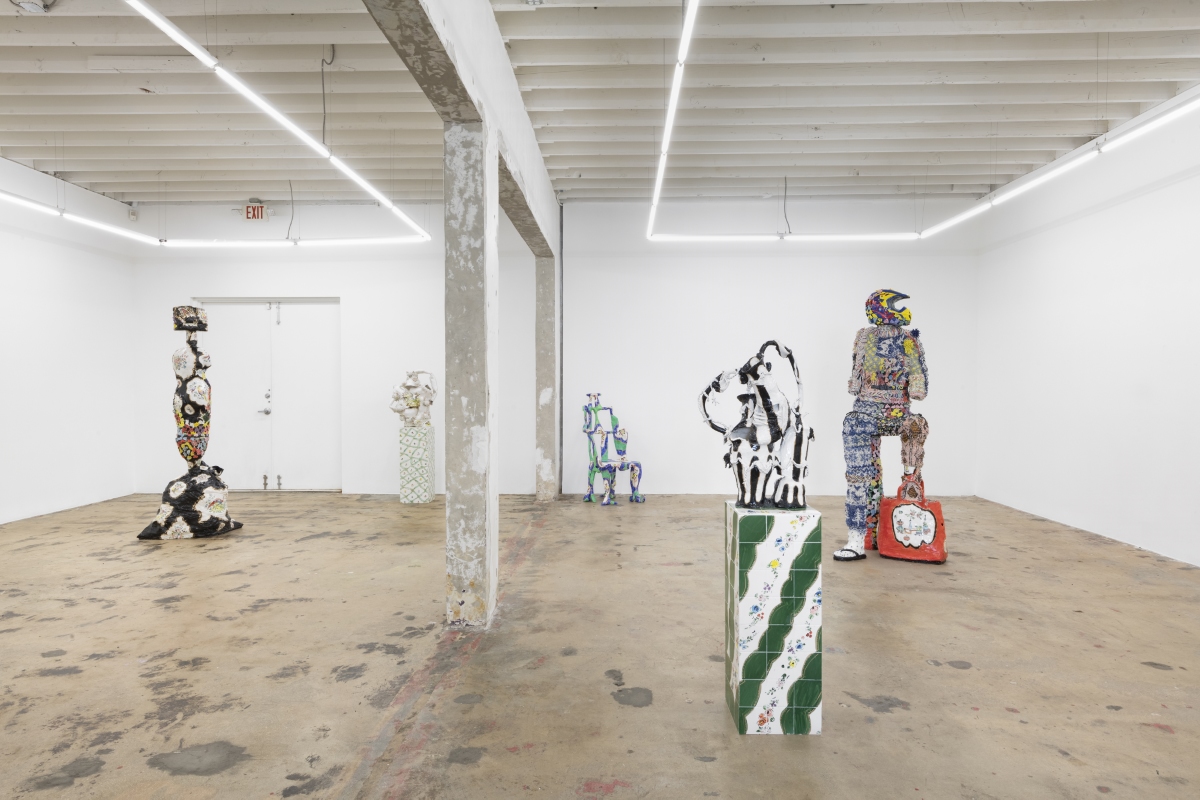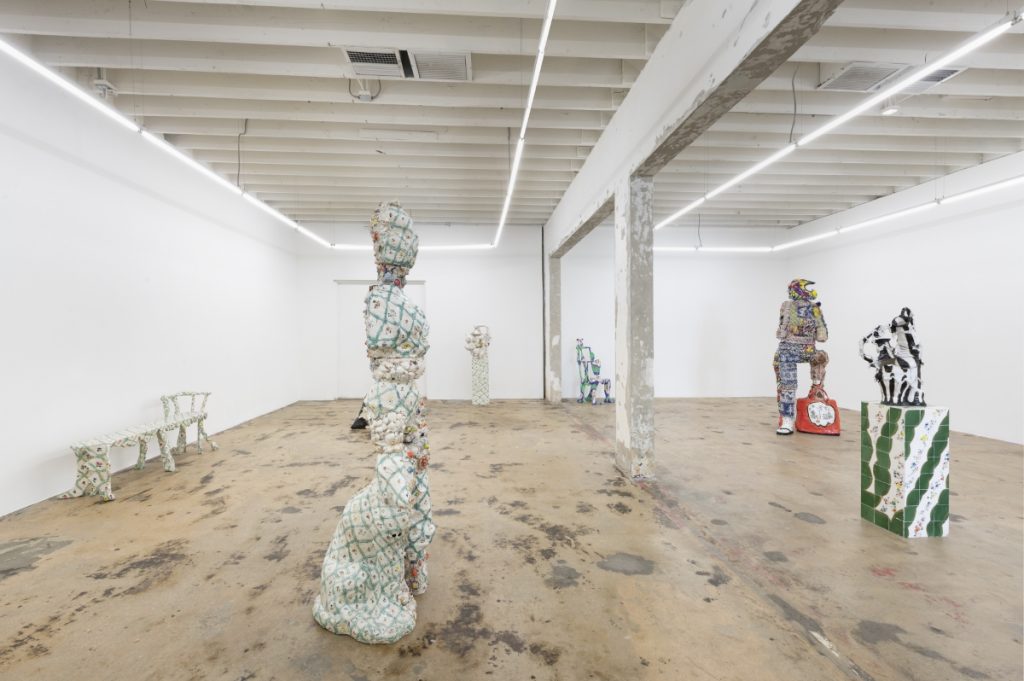 Francesca DiMattio: Sèvres is on view at Nina Johnson, Miami
March 3 – April 16, 2022
Nina Johnson is thrilled to be presenting Francesca DiMattio's first solo exhibition with the gallery, Sèvres. Sèvres brings together large-scale ceramic sculptures, smaller scale works alongside artist made pedestals and pieces of furniture, all inspired by plates from the 19th century period of the same name.
Sèvres era objects are known for their extensive gilding, rich border designs and elaborate, floral and pastoral scenes, which are typically codified as being 'feminine' in nature and often referred to as 'decorative.' In her work, DiMattio has consistently found ways to reframe that which we have often brushed off as decorative and by implication, feminine and re-introduces the viewer to these objects as the central point of focus within the spaces they occupy. In DiMattio's world, that which is traditionally overlooked, is now in control, almost viral in its overtaking of architecture and space.
Trashbag II Caryatid combines the revered Greek Venus, a set of contemporary lingerie, and a 40-gallon trash bag (sculpted while the artist saw her own trash piling up) with various other elements to shape a monumental, intricate sculpture. One of three such works in the show, these elaborate totems bring together opposites, finding connective threads in absurd refer ence points to form a labored stream of consciousness.
Much of the work refers back to domestic labor, to the careful labor that so often falls to women, labor that is often over looked or relegated to the periphery. In Sèvres, DiMattio is elevating these acts of love, of labor, of care, into monuments that demand an audience.
About Francesca DiMattio
Francesca DiMattio's (b. 1981) practice combines a cacophony of influences, which she applies in a layered and non-hierar chical approach to her work. In both her sculpture and painting, she discovers ways to weave together the history and artistry of craft, transposing it from a practice of quiet control into one that seems unpredictable, explosive and shifting. Recent solo exhibitions include Boucherouite at Salon 94 Bowery, New York (NY); Francesca DiMattio: Housewares at the Bluffer Art Mu seum, Houston (TX) and Vertical Arrangements at the Zabludowicz Collection, London (U.K.). Her work is in the collections of the Ruth and Elmer Wellin Museum of Art at Hamilton College, Clinton (NY); the Perez Art Museum, Miami (FL); the Frances Young Teaching Museum and Art Gallery at Skidmore College, Saratoga Springs (NY); the Saatchi Gallery, London (U.K.) and the Zabludowicz Collection.
About Nina Johnson
Nina Johnson is a contemporary art space in Miami, Florida. Opened as Gallery Diet in 2007, the gallery has produced exhi bitions by emerging and established artists from around the world, including Terry Allen, Anna Betbeze, Judy Chicago, Ann Craven, Jim Drain, Awol Erizku, Derek Fordjour, Nicola L., Nicolas Lobo, Emmett Moore, Nevine Mahmoud, Jonas Mekas, Cassi Namoda, Eamon Ore-Giron, Genesis Breyer P-Orridge, Jamilah Sabur, Peter Shire, Katie Stout, and Betty Woodman. The gallery is located at 6315 NW 2nd Avenue Miami in the Little Haiti district.
Contact
info@ninajohnson.com
Nina Johnson
6315 NW 2nd Avenue
Miami, FL 33150
United States
Courtesy the artist and Nina Johnson. Photography by Adam Reich
Photo captions
Saucony I, 2022, Glaze on stoneware, 30 x 21 x 13 in. / 34 x 17 x 17 in. (pedestal) / 64 x 21 x 17 in. (overall)
Converse I, 2022, Glaze on stoneware, 27 x 16 x 9 in. / 34 x 12.5 x 12.5 in. (pedestal) / 61.5 x 16 x 12.5 in. (overall)
Air Force 1 I, 2022, Glaze on stoneware, 27 x 21 x 10 in. / 34 x 12.5 x 12.5 in. (pedestal) / 61.5 x 21 x 12.5 in. (overall)
Helmet Caryatid, 2022, Glaze on porcelain, 83 x 31 x 34 in.
Greyhound Caryatid, 2022, Glaze on porcelain, 81 x 23.5 x 24 in.
Pump III, 2022, Glaze on stoneware, 29 x 20 x 11 in. / 34 x 12 x 12 in. (pedestal) / 63 x 20 x 12 in. (overall)