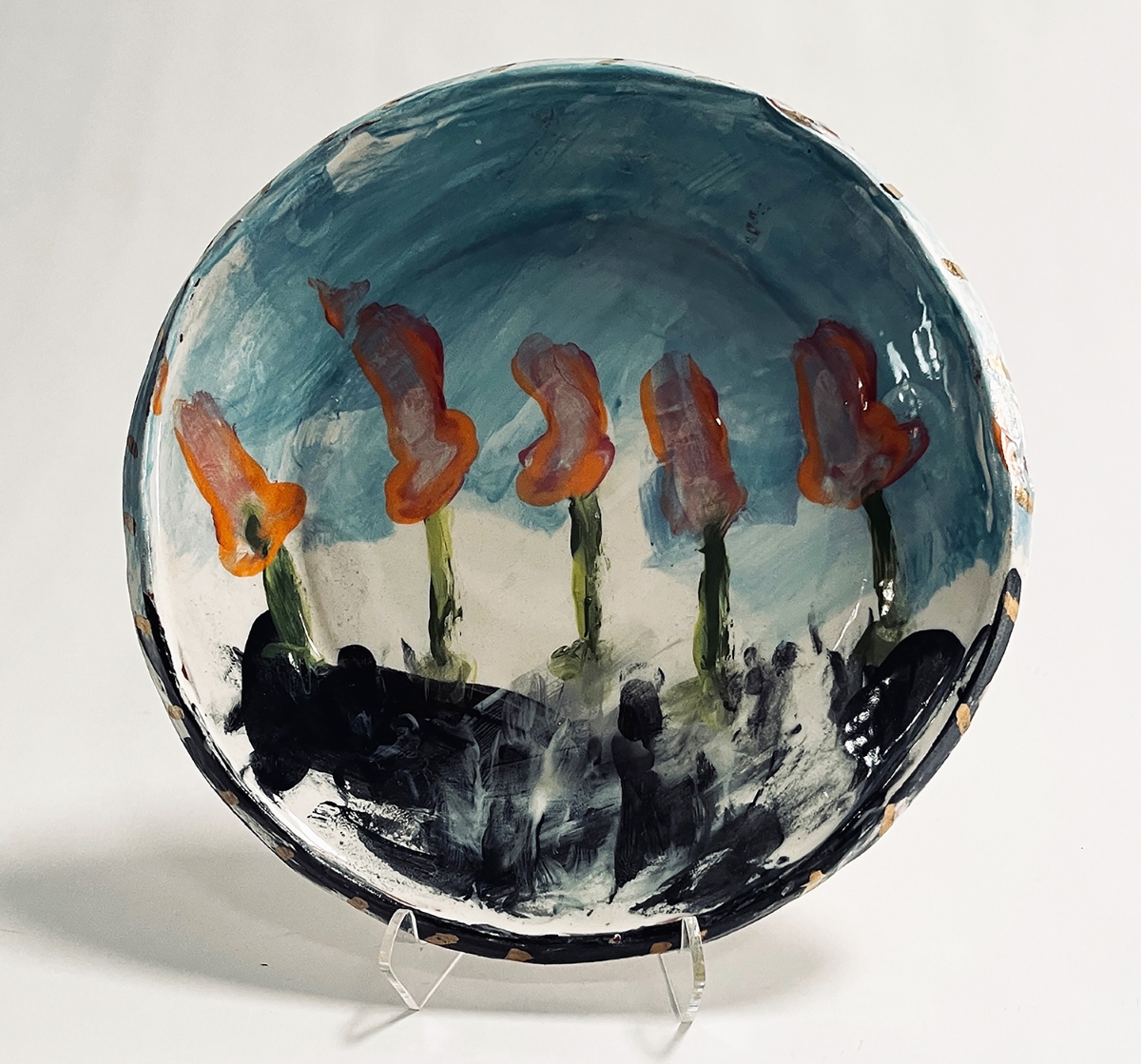 George Metropoulos McCauley: Woodfired / Oxidation / MultiFired is on view at Plinth Gallery, Denver
February 3 – March 31, 2023
Plinth Gallery is pleased to present Woodfired / Oxidation / MultiFired – Ceramic Work by George Metropoulos McCauley.
There are many ways to express one's work in the field of ceramics: some being sculptural, functional, political, abstract, academic, representative, trompe d'oeil, figurative. The list is as varied as there are those who work in our area. There are also ways of working that are equally as varied, some who adhere to the spirit of handmade objects, many who don't, as well as some who follow the accepted rules and those who choose to break them. These categories, subjects, classification, may be general ones, but cover a good portion of ways of working in the ceramics field. But there is another way of working that are embraced by some: ceramics that don't quite fit into any categorization.
An iconoclast can be defined as a rugged individual, a far-reaching thinker, or one whose thoughts are contrarian to accepted beliefs or traditions, following their own path and pursuit.
George Metropoulos McCauley is a ceramic artist who very much follows this iconoclastic tradition. His career spans over 60 years and evidences an obvious presence of the hand. His wide-ranging body of work has little to do with academic clay or technical correctness. He is more interested in "the flaws rather than the flawless."
His pottery shows a casualness without a preconception of correctness. The appropriateness of his ceramic work is evidenced in how he makes and decorates each piece. But do not be deceived by this casualness as being devoid of technique or technical skill. His work is highly competent, innovative, and always shows the mark of his hands. Influenced by Asian ceramics from the Korean Punchung and the Japanese pots from the Momoyama period, his pottery honors these traditions, yet they are not "traditional" works. While yes, they are indeed handmade, made with clay and decorated with glaze, they are quite contemporary, spontaneous, and are very much "in the moment" oeuvres. They have a presence of innocence and simplicity. They appear quite effortless, fluid, and leisurely.
McCauley is a Greek/American potter and has had 30 solo shows and has been included in 400 exhibitions. He has taught and conducted workshops internationally. The recipient of 4 National Endowment for the Arts grants and the prestigious Roy Acuff Chair of Excellence for the Arts at Austin Peay State University in Clarkesville, TN. His pottery and sculpture are included in international collections in 12 countries. Among the books and periodicals to feature his work are Teapots, 21st Century Ceramics in the United States and Canada, The Best of Pottery (editions 1 and 2), Contemporary Ceramics, Wheel Thrown Ceramics, Ceramic Sculpture: Inspiring Techniques , Glazes: Materials, Recipes and Techniques, The International Teapot Exhibition in Shanghai, 500 Vases and 500 Platters, 500 Teapots . Ceramics Monthly, The Chinese Potter's Newsletter, Ceramics Monthly of Korea, Ceramics: Art and Perception.
McCauley continues to have a busy workshop and exhibition schedule and still finds time to produce his own local television show," George's House of Interesting Things" on HCTV , and "GHOC Wednesday Night Videos on the internet. He has 2 films to his credit: in 2008, "Archie C. Bray, Life at the Brickyard," and, in 2013, "Ron Meyers and the Usual Suspects." Additionally McCauley has been working with the low income and disabled community for 50 years. He maintains a studio at his home in Helena, Montana where he makes colorful earthenware pots, high temperature wood firing, earthenware wood firing and narrative sculpture. Along the way he has worked as a chef in a Greek restaurant, Formula 4 racecar mechanic and driver, fulltime cowboy/horse trainer, concrete inspector, aluminum siding salesman, western catalog model, lifeguard and carpenter.
Contact
gallery@plinthgallery.com
Plinth Gallery
3520 Brighton Blvd
Denver CO, 80216
United States