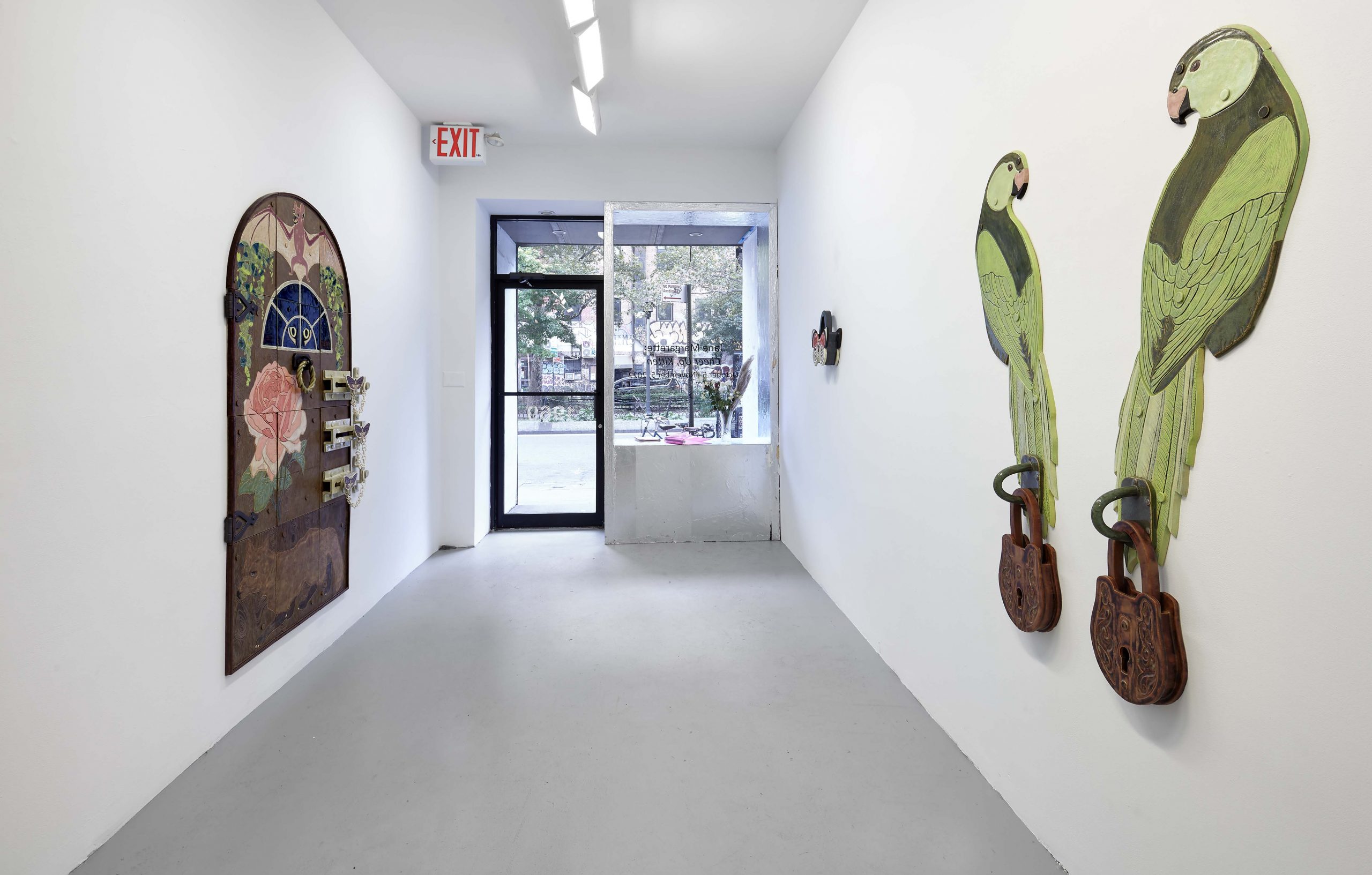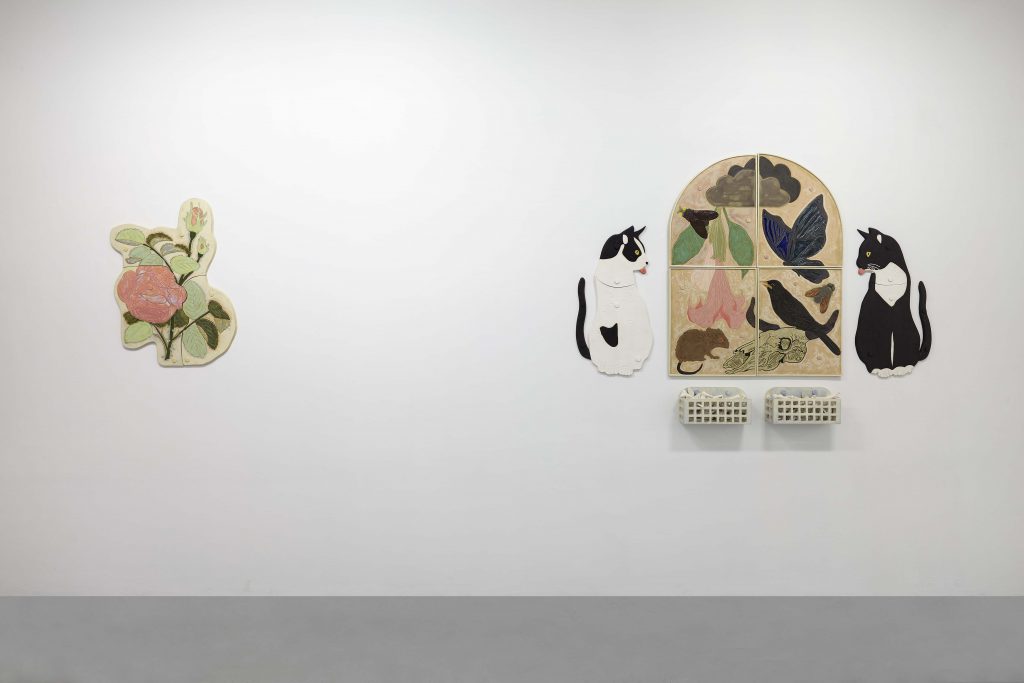 Jane Margarette: Cheer Up, Kitten is on view at 1969 Gallery, New York
October 6 – November 5, 2022
1969 Gallery presents Cheer Up, Kitten, Los Angeles-based artist Jane Margarette's first solo exhibition in New York City. Margarette, who works primarily in ceramic wall installation, will show 12 new works at our Lower East Side gallery. Taking its title from a line in the television series Six Feet Under, Cheer Up, Kitten is an examination of the boundaries between the natural and manmade worlds, and how we exist within them.
In Six Feet Under, teenage Claire Fisher has a conversation with the ghost of her recently deceased father, Nathaniel Fisher. Claire, the youngest of three children, laments her feelings of being an outsider, having missed out on important familial moments that her adult brothers experienced. Nathaniel says "Cheer up, kitten." The statement, meant to reassure Claire, does little to comfort her feelings of uncertainty about her place in the world.
This uncertainty is a potent theme in Margarette's works. Upon first glance, Jane's pastel palette gives the impression of calm, serene imagery; but quickly, this is contrasted by foreboding symbols such as padlocks, spiked bear traps, and eyes creeping in through windows. These sculptural scenes exist within their own plane and without surrounding walls to suggest a background — they make us ask, are we inside or are we outside?
Juice's Eyes, the largest work in the exhibition, is an image of a brown door with eyes peering through a half-moon shaped window. The door depicts natural imagery: a screeching bat, ivy leaves and a crouching fox. On our side of the door are 3 locks. The locking mechanism is a moth attached to a chain; each of the chains are placed at different intervals of the sliding locks. The location of the locks suggest that we are on the inside of the door; however, the door's unfinished wooden appearance and symbols of nature suggest that it is actually the exterior of a front door. The eyes looking through the window can either be the worried face of a resident looking out at us as we approach their home, or a potential intruder threatening to cross the threshold of our personal space. The choice of the locks being made out of moths continues this play between the natural and manmade. The door itself serves as a symbol of both opportunity or imprisonment.
This imagery is also present in Tank and the Forever Tail, a piece which depicts the artist's two cats with their tongues out, guarding either side of a window. Outside of the window, this motif of foreboding symbols continues with images of dark clouds, a cow skull and flowers that are beginning to wilt. On our side of the window are two baskets filled with accumulated objects, including bones, insects and birds, presumably remnants of living things that the cats have killed and collected. This piece in particular has a heavy emphasis on themes of life and death in nature.
Cheer Up, Kitten confronts questions of the uncertainty and absurdity of humanity, and our existence on a plane somewhere between the artificial and natural worlds.
Jane Margarette (b. 1985, San Diego, CA) received her MFA from the University of California Los Angeles (UCLA), Los Angeles, CA in 2020 and her BFA in ceramics from California State University Long Beach, Long Beach, CA in 2016. She has a forthcoming exhibition at Ruttkowski; 68 in Paris, France in 2023, and has previously exhibited work in group and solo exhibitions at Anat Ebgi, Los Angeles, CA; Grounds for Sculpture, Hamilton, NJ; Moskowitz Bayse, Los Angeles, CA; and Tiger Strikes Asteroid, LosAngeles, CA. She is represented by Anat Ebgi. The artist has taught as a Professor of Ceramics at Cal State University, Bakersfield, CA and Cal State University, Long Beach, CA. Margarette lives and works in Los Angeles, CA.
Contact
info@1969gallery.com
1969 Gallery
103 Allen Street, Lower East Side
New York, NY 10002
United States
Photos courtesy of the artist and 1969 Gallery
Photo captions
Installation views by Thomas Müller
I wouldn't Dream of It, 2022, ceramics & glaze, 81h x 39w x 24.5d inches. Photo credit Thomas Müller
Juice's Eyes, 2022, ceramics & glaze, 74.5h x 48w x 4d inches. Photo credit Ian Byers-Gamber.jpg"
Tank and the Forever Tail, 2022, ceramics & glaze, 51h x 68w x 4d inches. Photo credit Ian Byers-Gamber
Please (Please) Me More, 2022, Ceramics & Glaze, 41h x 32w x 7d inches. Photo credit Ian Byers-Gamber
Drooper #1, 2022 Ceramics, Glaze and Gold Leaf, 44h x 30w x 0.5d inches. Photo credit Ian Byers-Gamber
Hypernesting, 2022, ceramics & glaze, 56h x 41w x 5d inches. Photo credit Ian Byers-Gamber