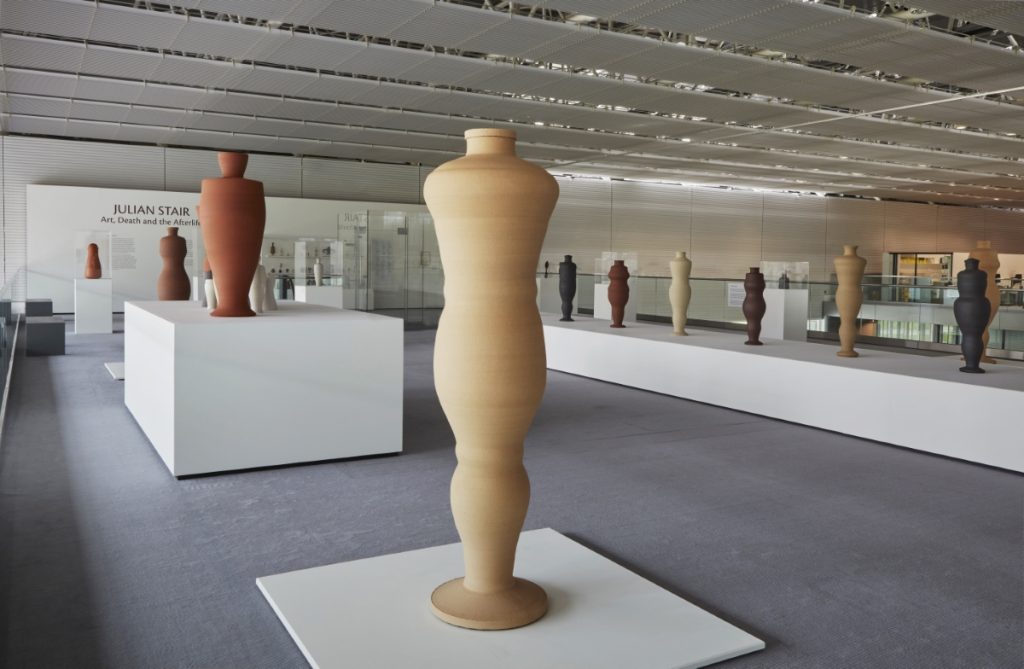 Julian Stair: Art, Death and the Afterlife is on view at the Sainsbury Centre, Norwich
March 18 – September 17, 2023
Leading ceramic artist Julian Stair OBE (b. 1955) displays an important group of new works in this moving exhibition.
Created in response to the global pandemic, Stair's clay vessels explore contemporary society's relationship to death and ritual. Taking inspiration from archaic pots and grave goods in the Sainsbury Centre Collection, Stair's work – ranging from cinerary jars to monumental abstracted figurative forms – invites the viewer to meditate on the intimate relationship between the clay vessel and the human body.
Around thirty new works by Stair feature in the exhibition, from forty centimetres in height up to a colossal two metres. Stair is unique among potters in the UK to be working in such a monumental scale. His largest works have been skillfully hand-thrown before being fired in large industrial kilns, and he spends months in an industrial setting making and firing the vast forms. He uses naturally occurring clays for their subtle colours and textures, which produce a rich earth-based palette ranging from burnt umber to yellow ochre after firing. The tactile surfaces and undulating curves capture the essence of the male and female form.
Since 2000, the themes of containment and embodiment have become central to Stair's intensely personal artistic practice. The artist has made cinerary jars and memorial-based commissions for individuals. Reliquary for a Common Man (2012) was created in memory of Stair's uncle-in-law, Les Cox, and displayed in the exhibition Quietus (Somerset House). Working closely with Cox's bereaved family, Stair eulogised Cox's life through text and video, and commemorated his death by incorporating his ashes into the clay body of an urn.
In connection with the exhibition, the Sainsbury Centre and Julian Stair have been working closely with the charity Cruse Bereavement and Norwich Death Cafe to facilitate open conversations about death and grief. Stair's engagement with the local community has led to the donation of ashes of people who have recently died. Donors have expressed their wishes to have these ashes embedded in the clay or contained within Stair's figural jars to create permanent memorials to their loved ones. With great sensitivity Stair uses the scale, proportion and material composition of his jars to invoke the physical and spiritual presence of the deceased. The embodied cinerary jars will be donated to the families following the exhibition.
Positive and uplifting, Stair's exhibition reveals humanity's reliance on art as a means to transcend death, loss and the unknown. Art, Death and the Afterlife is a contemplative experience, created to offer solace to those experiencing bereavement in these troubling times.
Stair's new ceramics will be presented alongside objects from the Sainsbury Centre's collection, such as ancient Cycladic marble figures and anthropomorphic vessels from Ecuador, Nigeria and Japan; twentieth-century drawings by Alberto Giacometti; and contemporary works by artists Magdalene Odundo and Imran Qureshi. All these works have been selected by the artist to communicate the universality of death as a subject of aesthetic inspiration and philosophical inquiry.
Stair says: "I am delighted that 40 years after Sir Robert and Lady Sainsbury gave me a loan to set up my first studio, I am showing my contemporary cinerary jars alongside their outstanding collection of artefacts. Contemporary culture often shies away from a discussion of death – a subject that provokes fear and disquiet – however I believe that material art, like music and poetry, can positively mediate our experience."
Sainsbury Centre Executive Director Jago Cooper says: "These powerful works bring to life the elements of people who are no longer with us. The exhibition is a testament to how great artists can help us think about the biggest questions in life, in particularly new and inspiring ways."
Julian Stair: Art, Death and the Afterlife is supported by an Arts Council England Project Grant.
Julian Stair OBE is one of the UK's leading ceramic artists. He has exhibited internationally since 1982 and has work in over 30 public collections, including the V&A, British Museum, American Museum of Art & Design, Mashiko Museum of Ceramic Art, Museum Boijmans van Beuningen, and the Kolumba Museum. From rites of passage to the daily touch of a cup, Stair's work celebrates the dynamics of use and the way pottery is intrinsic to human existence. His work encompasses the domestic and the monumental, the studio and the factory floor. Julian is also a leading historian of English studio ceramics with essays published by the Courtauld Gallery, Tate, Yale Center for British Art, Kettles Yard, Bloomsbury and Routledge. Julian Stair is represented by Corvi Mora gallery.
The Sainsbury Centre is a genre-defying art museum with world-class collections and a unique perspective on how art can foster cultural dialogue and exchange. It is one of the most important public university art galleries in Britain. Founded in 1973 at the University of East Anglia (UEA) with the support of one of the nation's great philanthropic families, Sir Robert and Lady Sainsbury, who donated their extraordinary art collection which includes works dating from prehistory to the late 20th century from across the globe. A radical new building by Norman Foster was designed to house the collection and was his first public work. The Centre holds one of the most impressive art collections outside of the national institutions and is located on the edge UEA campus which is set in 350 acres of parkland. The Centre itself looks over 20 acres of meadow towards the lake. It has the largest temperature-controlled gallery spaces in Eastern England.
Contact
scva@uea.ac.uk
Sainsbury Centre
University of East Anglia
Norfolk Road, Norwich NR4 7TJ
United Kingdom
Photos by Jan Baldwin