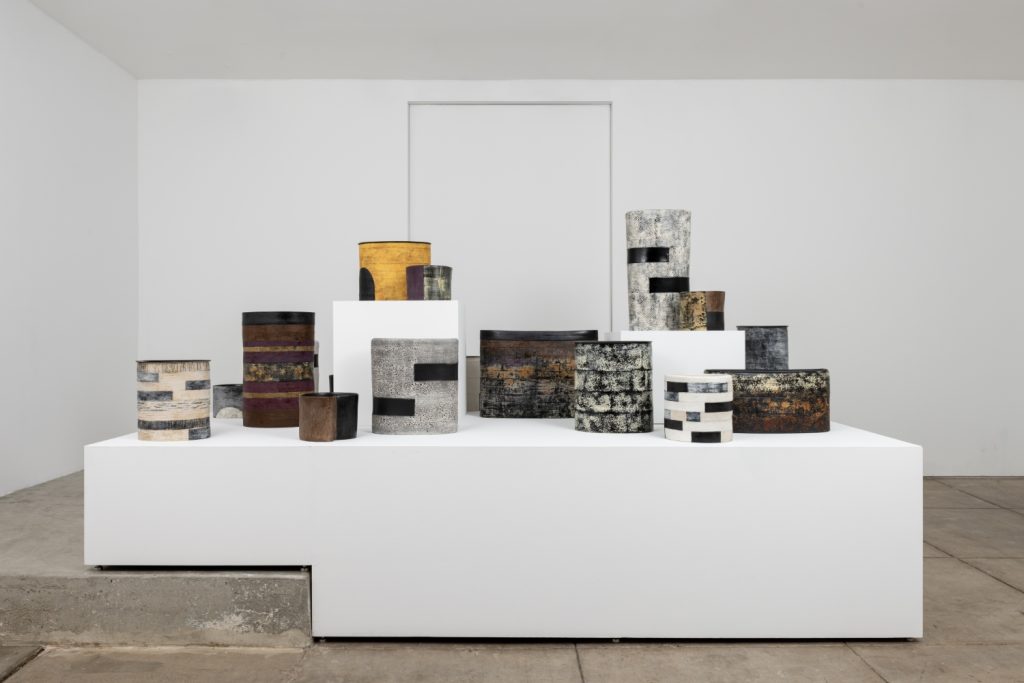 Kathy Erteman: New works is on view at Hostler Burrows, Los Angeles
November 5, 2022 – January 21, 2023
Hostler Burrows is pleased to announce an exhibition by New York-based ceramic artist Kathy Erteman (American, b. 1952). For her first solo presentation with the gallery, Erteman will debut a suite of vessels and wall mounted compositions – the fresh expression of a studio practice built over forty years.
In an essay written to accompany the exhibition, independent art writer and Professor of Fine Arts at California College of the Arts, Maria Porges writes, "In each of Erteman's quietly powerful vessels, an interior volume serves as a velvety, deep black background for views of the exterior. Front and back present as rectangles, curving gently away from view at left and right. Each of these bold but deceptively simple compositions might include a field of scraped white —a mix of rich, scumbled color into which a black square might intrude, emphasizing the contrast between the two, or highlighting a graphic pattern built up out of layers of slip. Sometimes the vessel's surface is crackled like old paint, or dimpled and cratered like lava stone. To create these mesmerizing textures, Erteman has developed an array of glazes and mark-making methods. These include transferring anything from a wash of color to a textile-like pattern, using paper or even clay itself. She then fires the works, sometimes repeatedly, until she is satisfied with the results.
Each firing still offers surprises, even after decades of experience, reflecting the adventure of working with ceramic materials. Drawing on a unique combination of heritage, influences and invention, Erteman describes her process as continual change through experimentation. One work leads to the next, as something happens that prompts her to take each next step. And then, the next after that."
Erteman divides her time between studios in New York City and the Hudson Valley. Born in Santa Monica, CA in 1952, she received her BFA in Ceramics from California State University Long Beach. After graduation she interned with Judy Chicago, working on The Dinner Party ceramics. Erteman's work has been exhibited internationally and is included in private and public collections including Renwick Gallery/Smithsonian Institute, Los Angeles County Museum of Art, Taipei Museum of Fine Arts, and the Icheon World Ceramic Museum, among others.
Contact
la@hostlerburrows.com
Hostler Burrows
6819 Melrose Avenue
Los Angeles CA 90038
United States
Installation views by Jesse Stone