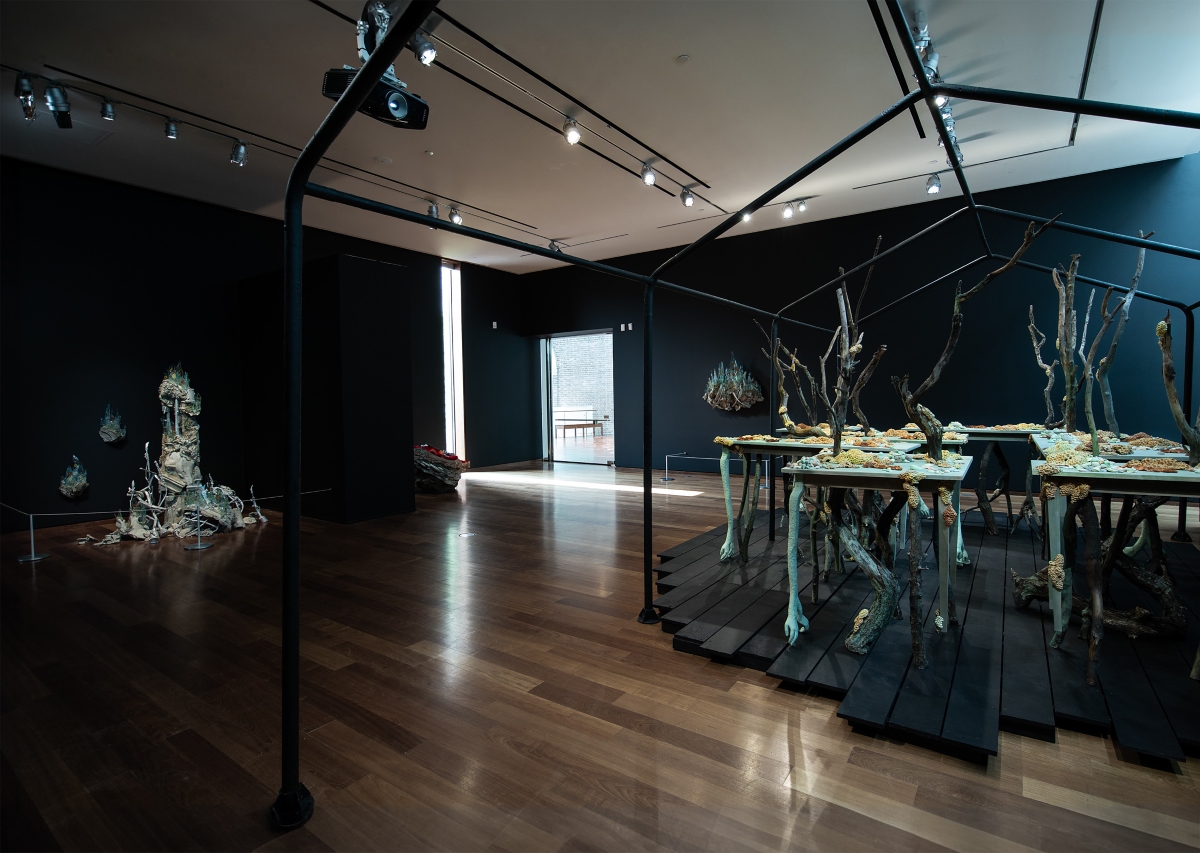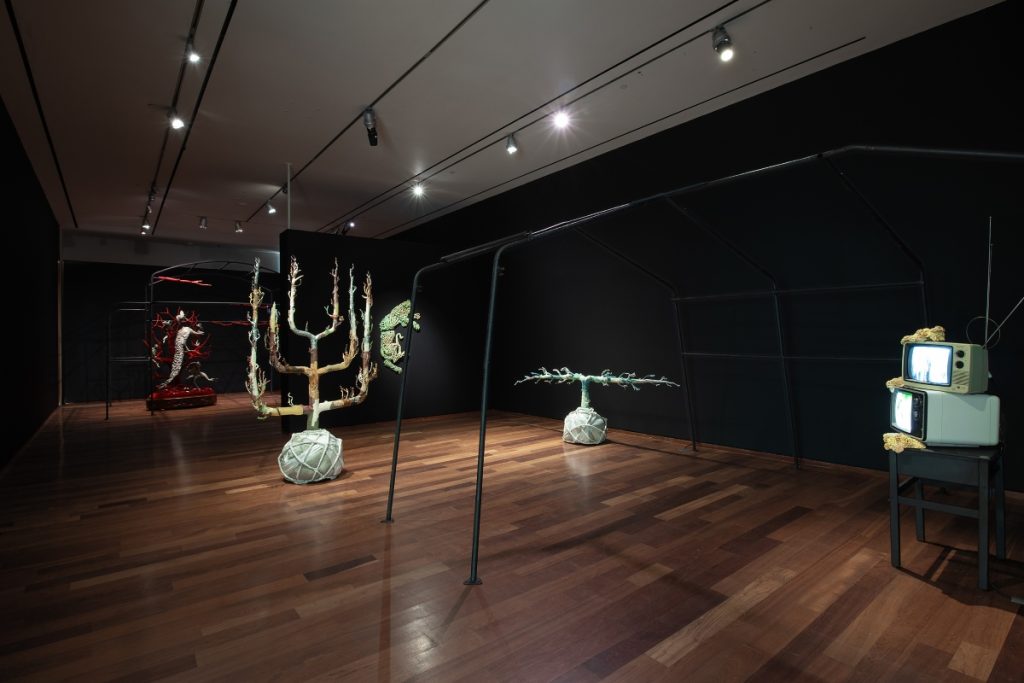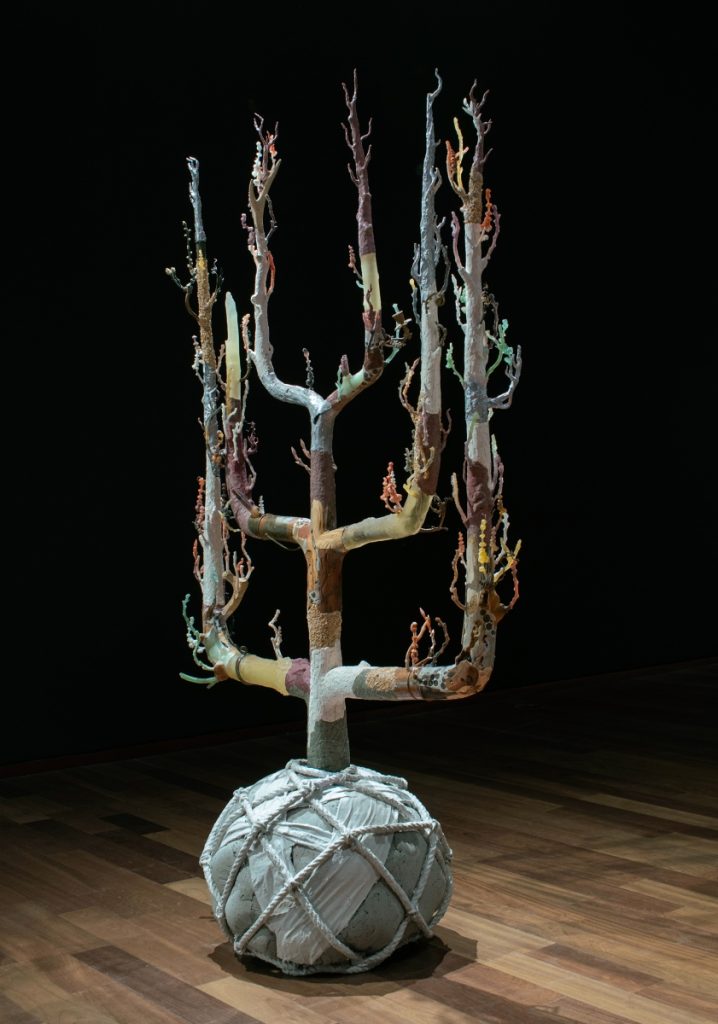 Nicholas Crombach and Nurielle Stern: Petrichor is on view at MacLaren Art Centre, Barrie, Ontario
June 17 – September 17, 2023
Petrichor is an exhibition of new works by artists Nicholas Crombach and Nurielle Stern, curated by Sheila McMath. The exhibition is a carefully crafted fictional world that pulls viewers in through visual enchantment.
As artists, Crombach and Stern are drawn to subject matter derived from the complex, problematic, and often mythologised human relationship to the natural world, from historical as well as contemporary viewpoints. For their exhibition, Petrichor, they created individual works made in conversation with each other while collaborating on the overall exhibition design. Skeletal greenhouse structures and dark walls create an immersive space. Drawing from ornamental gardens and historical horticultural practices, the exhibition frames the garden as a synecdochal embodiment of human attempts to order, shape, and alter environments.
Petrichor contains familiar plant and animal forms – a grouping of birds, a collection of bones, tree branches, human hands, honeycombs, and seashells. As viewers linger, the visual language of horticulture and the perfect order of the garden 'cracks' to reveal other meanings.
Crombach's Concert of Birds evokes garden aviaries. Nine life-size cast aluminum birds including a peacock, a spoonbill, and parrots are mounted on a velvet tree with an oval base inhabited by larger-than-life cast aluminum beetles. This suggests a giant bell jar display or, a living version of a natural history collection.
Crombach's Espalier are two hybrid structures referencing the practice of grafting and ornamental training of fruit trees through a patchwork of materials. Garden Wall, where pressed-flowers glitter between shards of broken glass amid crumbling cast concrete forms, is also a contemporary take on historical practices, including 19th century artificial ruins and garden follies.
In Burial, the skeleton of a calf is embedded in what looks like a cross-section of geological strata. Crombach carved and formed each bone from a different material including soapstone, resin, wood, cast aluminum, cement, and brick. The cross-section alludes to didactic natural history models and environment recreations within museums, while the velvet echoes the display and storage of precious objects.
Stern's A Copper Nail to Kill a Tree makes the connection between art-historical representations of the passive female form, haunted gothic landscapes, and environmental degradation. The title refers to an 'old-wives tale' that accounts for nails found embedded deep inside the trunks of trees, the trees having healed over the wounds. In this work, seven tables float a few inches off the ground, suspended by tree branches, and partially enclosed in a greenhouse structure. A drooping ceramic arm with hands branching from it extends from each table. Porcelain seashells are organized into neat piles, while porcelain honeycomb pieces with a honey-like glaze, encrust the tables and the branches, and extend up one wall.
In two works, Stern deftly combines moving images with sculptural ceramics. In Signal Wicking, Stern co-opts vintage technology (two CRT-TVs) as well as video projection to explore associated nostalgia and dreamlike imagery; shadows of hands and plants play across the screens, and merge into one another, while porcelain honeycomb encrusts the TVs. In Conduit, a hollow porcelain tree stump topped with a glass dome and mirror reveals two aqua-coloured axolotls, while water appears to ripple across the surface.
Stern's porcelain series, Greensticks, serves as a collection of hybrid plant-human-animal talismans that relate back to the overall themes of the exhibition: gardens and human manipulation of the natural world.
Nurielle Stern is a Toronto-based sculpture and installation artist and a graduate of Alfred University's MFA program in Ceramic Art (2014). Stern works sculpturally, often combining ceramics with other media to create immersive installations. She has been recognized for her work in ceramics with the Winifred Shantz Award for Canadian Ceramics (2019), the NCECA Emerging Artist Fellowship (2020), and the Helen Copeland Memorial Award in Ceramics (2022). Her large-scale installation, Fable, was commissioned by the Gardiner Museum in 2019. Stern was a visiting artist at California State University, Long Beach Center for Contemporary Ceramics in 2020. Stern's use of ceramic materials evokes an archeological imaginary, which she augments by drawing on subject matter from historical sources. She saturates her work with texture and luminous surfaces, while searching for a preternatural quality. In this way, she creates things both strange and familiar.
Nicholas Crombach is an artist working in Kingston, ON. Crombach has been awarded the Elizabeth Greenshields Foundation Award. His solo exhibition, The End of the Chase, traveled in 2018-2019, exhibiting at New Art Projects in London UK, Art Mûr Berlin and Art Mûr Montréal. Crombach's public art commissions include Billy, Nanny, and the Kids, Burlington, Ontario and Horse and Cart, Kingston, Ontario. Currently, he's working on public art commissions for the City of Woodstock and the City of Niagara Falls. Crombach's work is included in the collections of the Woodstock Art Gallery, and the City of Ottawa Art Collection. From 2016-2017, Crombach participated in a year-long residency at The Florence Trust (London, UK) and most recently was artist in residence at the Studios at MASS MoCA in North Adams, Massachusetts (2022). Crombach produces sculptural work with subject matter that interrupts a nostalgic reading of the historical styles and decorative arts motifs he references. Through the addition of unexpected materials, details and gestures, his work creates contemporary confrontations and engages with natural history and other museum practices of collection, and display.
Nurielle Stern and Nicholas Crombach began working together in 2017. Their fully collaborative exhibition, Whale Fall, took place at the Canadian Clay and Glass Gallery in 2019, and at Queen's University's Union Gallery in 2021. Their exhibition, Petrichor, curated by Sheila McMath, is right here at the MacLaren Art Centre, and continues until September 17, 2023.
Sheila McMath (MFA 2001, University of Waterloo) is a curator, artist, facilitator, community organizer and current Artistic Director of Inter Arts Matrix. McMath's work in the arts has maintained a balance of work with larger institutions and direct involvement with artist-run initiatives. She has been published numerous times in FUSION magazine and various exhibition catalogues. McMath is also a founding member of Tri-City Stopgap, an artist collective that hosts large-scale exhibitions in marginal or transitional spaces.
Contact
maclaren@maclarenart.com
MacLaren Art Centre
37 Mulcaster Street
Barrie, Ontario L4M 3M2
Canada