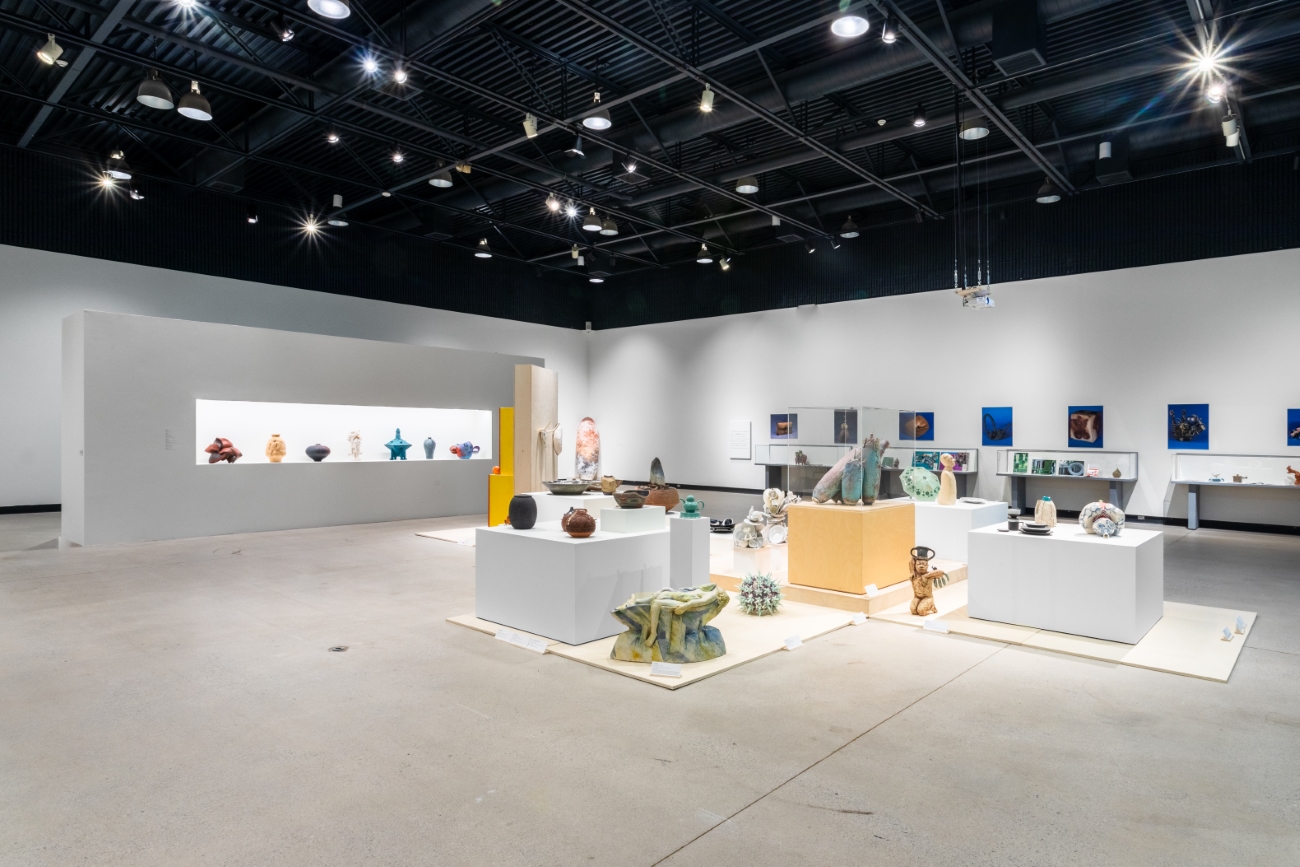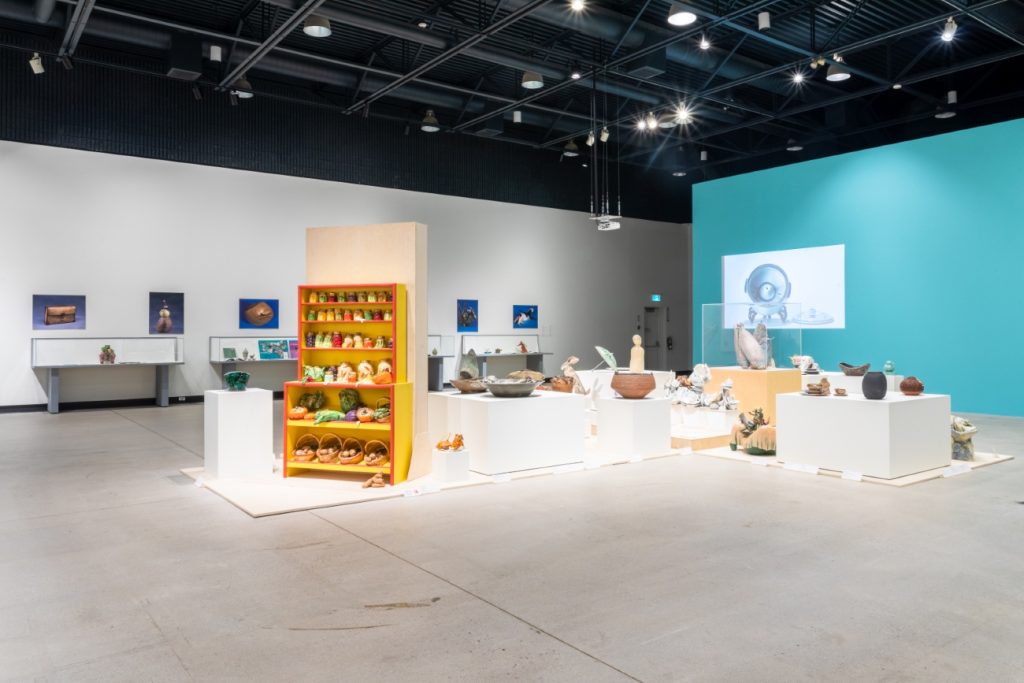 The Weight of Clay: 40 Years of the Collection is on view at the Art Gallery of Burlington, Ontario
June 16 – October 8, 2023
The Art Gallery of Burlington (AGB) is celebrating the fortieth anniversary of its ceramics collection with an intimate and personal retrospective exhibition titled, The Weight of Clay, running in the Lee-Chin Family Gallery. The exhibition represents a broad selection of work in the collection, ranging from functional ware to sculptural installations that illustrate the intersection of technical proficiency and artistic expression, from artists from across the country.
Over the last forty years, the AGB has amassed the largest comprehensive collection of contemporary Canadian ceramics in the world, totaling more than 4,000 works. The Weight of Clay exhibition and programming series honours the artists, curators, educators, volunteers, and donors who have built the gallery's holdings and contributed to the intellectual growth of ceramics in the country.
"The Art Gallery of Burlington is paying homage to our Ruby anniversary by acknowledging our unique past and celebrating our tremendous success within contemporary Canadian ceramics." says Suzanne Carte, Senior Curator. "Our previous exhibition titled, The Weight of Clay, From Collector to Collection, championed our beginnings with the 1984 Herbert O. Bunt donation which aided in establishing the focus of our collection. Now we are acknowledging the testimonials, stories, archives, and energies of the artists, curators, gallery staff, collectors, committee members, and clay communities who have, over the decades, demonstrated that the collection truly is a sum of its parts."
At the centre of the exhibition is the selection of forty works by forty artists representing each year of the AGB's history. Looking at the archive of work from 1983 to 2023, the AGB's Curator Emeritus, Jonathan Smith, compiled a chronological timeline of works illustrating the growth of the collection. From Jim Hong Louie to Brendan Lee Satish Tang, the assembly of works reflects a history of burgeoning techniques and acknowledges each artist's contribution to the rise of clay in the country.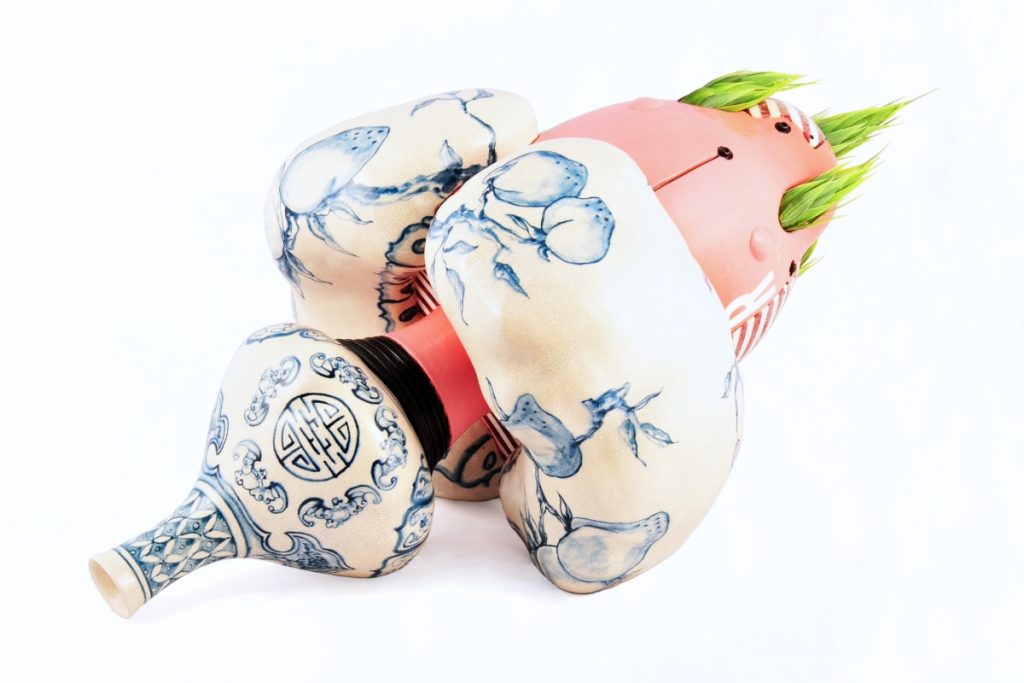 Functional forms are also in the spotlight. Unifying technical proficiency with beauty, this selection of works is drawn from two subsections of the collection, mugs and place settings, which showcase the diversity of form and aesthetics that can derive from the execution of single functional object.
The Dan Lawrie Courtyard, an architectural feature, is the centre around which the building's energy circulates. For decades, artists have been commissioned to dream in the outdoor space and create site-specific installations here. Many of the artworks taken into the collection were from the courtyard commission, including those from Sally Michener, Susan Low-Beer, Sarah Link, Aleksandr Sorotschynski and Magdolene Dykstra, which have been reinstalled for The Weight of Clay.
In most collecting institutions, only a fraction of what they hold makes its way out of the vault to be on view at a time. Throughout the building's corridors we are debuting some of the newest acquisitions, to celebrate their addition to the Canadian ceramic narrative at the AGB and to ensure that they have their moment to shine.
The exhibition's public programming series will feature hands-on workshops and courses for clay artists to build a greater personal connection to their craft and experience professional growth by learning new techniques, discovering other artists' practices, and understanding contemporary art in greater depth. A digital program with panel discussions and artist talks will accompany the series to transport the exhibition to national and international audiences.
Contact
info@agb.life
Art Gallery of Burlington
1333 Lakeshore Rd.,
Burlington, ON L7S 1A9
Canada
Installation photos by Jimmy Limit
Captions
Brendan Lee Satish Tang, Manga Ormolu Version 4.0r, 2013. Ceramic and mixed media. 2023.001.0.1. Purchased in part through the support of the Elizabeth L. Gordon Art Program, a program of the Gordon Foundation and administered by the Ontario Arts Foundation.
Patrick Yeung, Dinner Place Setting, 2020. Stoneware, glazes. 2020.018.0.6. Functional Piece of the Year. Purchased with funds raised by the Collection Committee, 2020.
Judy Cranmer, Haida Bowl, 1996. Thrown and altered stoneware, glaze. 13.0 x 32.5 x 27.5 cm. 1998.147.0.1. Donated by Mr. Herbert O. Bunt, 1998.
Karla Rivera, Belongings, 2021. Slip-cast porcelain, glazes. 24.0 x 18.3 x 17.5 cm. 2022.031.0.2. Donated by Joan Bennett, 2022.
Léopold Foulem, Abstraction1441 (Celadon), 1977. Thrown porcelain, celadon glaze. 17.2 x 20.2 x 16.7 cm. 2005.001.0.1. Donated by the Artist, 2005.
Magdolene Dykstra, Torso in White with Black Lines, 2010. Hand built white earthenware, glaze, oxides. 2011.047.0.1. Purchased through donations from the Hamilton and Region Potters Guild, 2011.
Penny Kokkinos, An Unanswered Childhood Riddle, 1982. Red earthenware, glaze. 57.7 x 25.0 x 24.5 cm. 1999.077.0.1. Donated by Marla Milrad, 1999.
Richard Milette, Hydra 13-2469 with Fuck, 1994. Earthenware, plaster, glaze. 41.0 x 41.0 x 31.0 cm. 1996.053.0.1. Purchased through a donation from the Walter and Duncan Gordan Foundation, Toronto, Ontario, 1996.
Sin-Ying (Cassandra) Ho, Rose Garden Series #5 Vase, 2009. Cast and assembled porcelain, decals, hand painted cobalt pigment, over glaze enamel. 65.0 x 40.0 x 30.0 cm. 2017.001.0.1. Donated by the Artist, 2017.
Sunmi Jung, Dinner Table, 1993. Hand built low fire talc based clay, commercial glazes. 53.7 x 66.1 x 49.0 cm. 1995.054.0.1. Purchased through a donation from the Pioneer Group Inc., 1995.
Victor Cicansky, Spring Pantry, 1982. Clay, glaze, wood, paint. 186.0 x 108.5 x 55.0 cm. 1985.010.0.42. Purchased through a grant from the Ministry of Citizenship and Culture, Province of Ontario, 1985.
Walter Ostrom, Flower Brick, c.1980. Earthenware, glaze. 18.9 x 29.7 x 18.8 cm. 1984.015.0.1. Donated by Herbert O. Bunt, 1984.