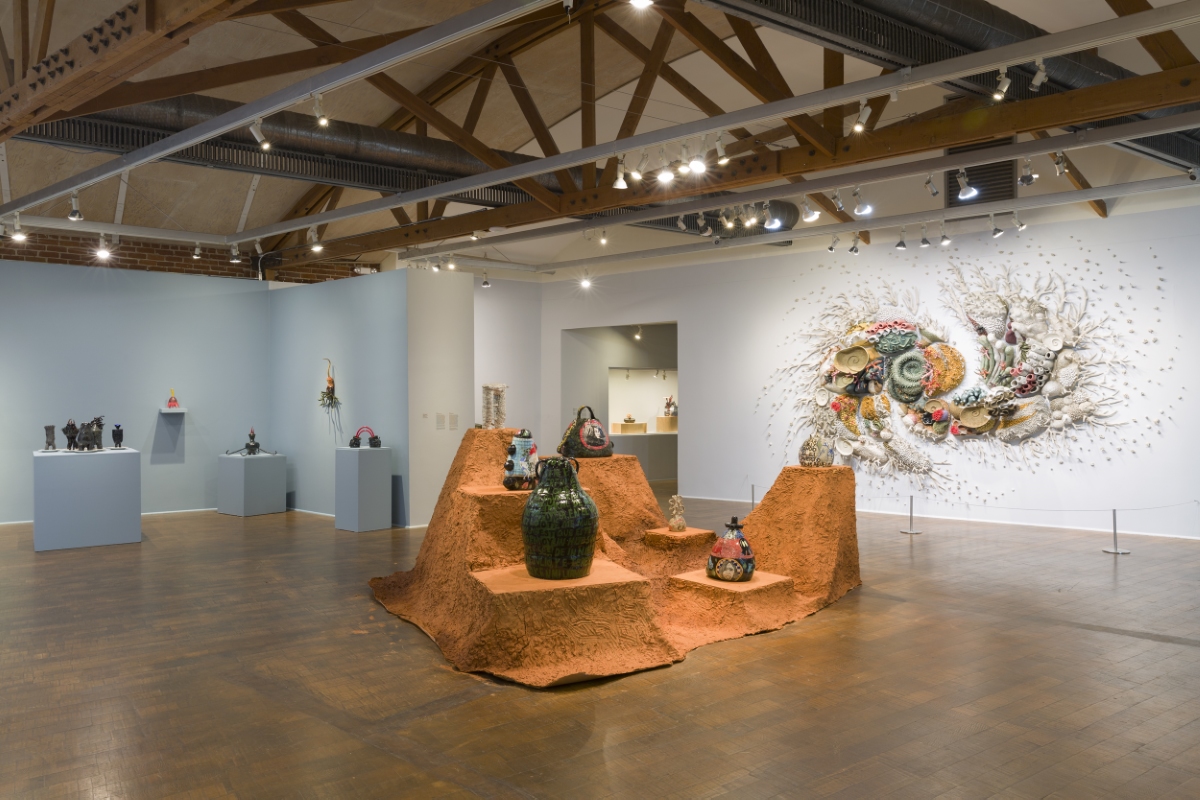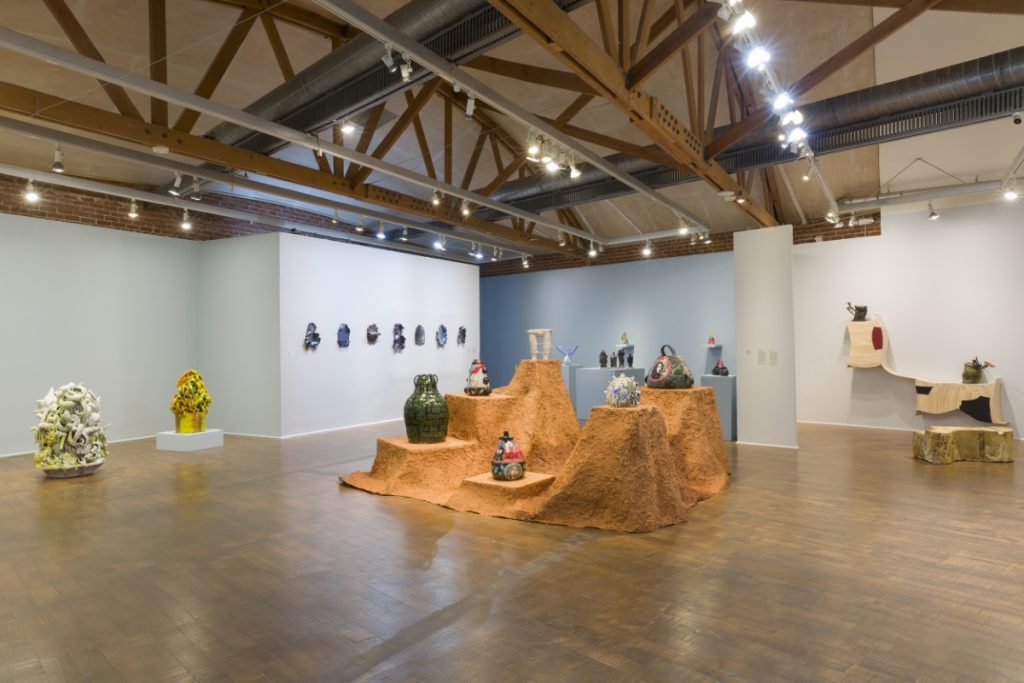 Wayfinding is on view at Craft Contemporary, Los Angeles
May 28 – September 10, 2023
Craft Contemporary presents its third clay biennial, Wayfinding from May 28 — September 10, 2023. The exhibition includes fourteen contemporary artists who harness clay's powerful physical and metaphorical properties to embody their ties to land and water, the two elements which together form clay. Exploring a range of themes including environmental degradation, plant cultivation, migration, and the artist's emotional bond to place, these artists' manipulation of clay becomes a personal system to comprehend and mark the complex interdependencies of humans, land, and water.
Artists in the exhibition range from emerging to established and all live in California. They include Christina Margarita Erives, Ryan Flores, Paz G, Rowan Harrison, Lizette Hernández, David Hicks, lourdes jiménez-pulido, Courtney Mattison, Marianne McGrath, Sam Shoemaker, Charles Snowden, Joan Takayama-Ogawa, Connie Martin Trevino, and Amia Yokoyama.
Wayfinding represents a continuation of Craft Contemporary's clay biennial exhibition series examining the histories and complexities of clay, as a technical material and metaphorical vehicle. While Melting Point: Movements in Contemporary Clay (2018) represented the expansiveness of contemporary approaches to working with the material, The Body, The Object, The Other (2020) highlighted the human figure as the basis for material and conceptual experimentation. Wayfinding dissects clay into its two essential components, earth and water, to illustrate the nuanced and complicated relationships human beings have with these two elements. Wayfinding underscores that the power of clay lies in its commonness. It is all around us, under our feet, both a witness and a material for building new worlds and helping us to interpret the world where we live.
Our oceans are an urgent concern for Joan Takayama-Ogawa and Courtney Mattison who alert audiences to environmental degradation that results from climate change. Takayama-Ogawa's bleached totems serve as eerie monuments to death while Mattison visualizes climate change through the fragile beauty of marine life. The ocean comes into play as well for Connie Martin Trevino, who uses clay to reimagine the lives of the African captives who were thrown or jumped from slave ships to escape slavery during the middle passage. In Trevino's telling she recalls the myth that the ocean transformed these doomed individuals into water creatures which can live eternally.
Plant cultivation, land, and migration form another tenet to this exhibition. Ryan Flores's ceramic reproductions of cultivated fruit recall the art historical tradition of still life paintings. Fruit serves as both subject matter and metaphor referencing waste, decay, beauty, and life. In contrast, Christina Margarita Erives's market stand, lush with produce from her parents' home regions in Mexico, the fruits and vegetables represent land, family connections and multi-generational memories beyond borders. David Hicks creates bodies of work that are closely connected to the landscape surrounding his studio and home in the San Joaquin Valley, a largely agricultural area in California. His interpretations of crops and other plant life reflect his own interpretations of growth and irregularity. For Hicks, the cycles of the agricultural world feel like allegorical references to human struggle, beginning with fertilization, moving through growth, and finally ending in decay.
Finally, immigration and cultural memories are a key component of the work of lourdes jiménez-pulido who will create a site-specific installation to represent the compounded landscapes of their life in Los Angeles and the landscape of parents' village in Southern Jalisco, outside of Colima, Mexico. In the last several years, jiménez-pulido has made a concerted effort to be environmentally responsible and has used only recycled materials and fires clay only when necessary to realize their work. For this reason, their installation in Wayfinding will consist of unfired clay. Testifying to human relationships to land and water, over time and across cultures, the diverse practices represented by this year's exhibiting artists call to attention the increasing scarcity and care necessary to maintain this fragile ecosystem many of us call home.
In conjunction with the Wayfinding exhibition, Craft Contemporary is thrilled to be presenting a full schedule of public programs that includes several opportunities to meet and learn art-making techniques from exhibiting artists Christina Erives, Sam Shoemaker, and Connie Martin Trevino. Additionally, the museum will offer a weekly Friday afternoon open clay studio to increase access to creative opportunities for experimenting with clay. For a full list of exhibition programs, visit Contemporary Craft's website.
Wayfinding has been organized by Craft Contemporary's former Senior Exhibitions Curator, Holly Jerger, with curatorial support from Prima Jalichandra-Sakuntabhai, Exhibitions Manager. This exhibition is supported in part by the Pasadena Art Alliance, the City of Los Angeles Department of Cultural Affairs, the Los Angeles County Department of Arts and Culture, and the Bernard Kester Trust in Memory of Edith Wyle.
Contact
info@craftcontemporary.org
Craft Contemporary
5814 Wilshire Blvd.
Los Angeles, CA 90036
United States
Images courtesy of Craft Contemporary. Photo: Ian Byers-Gamber