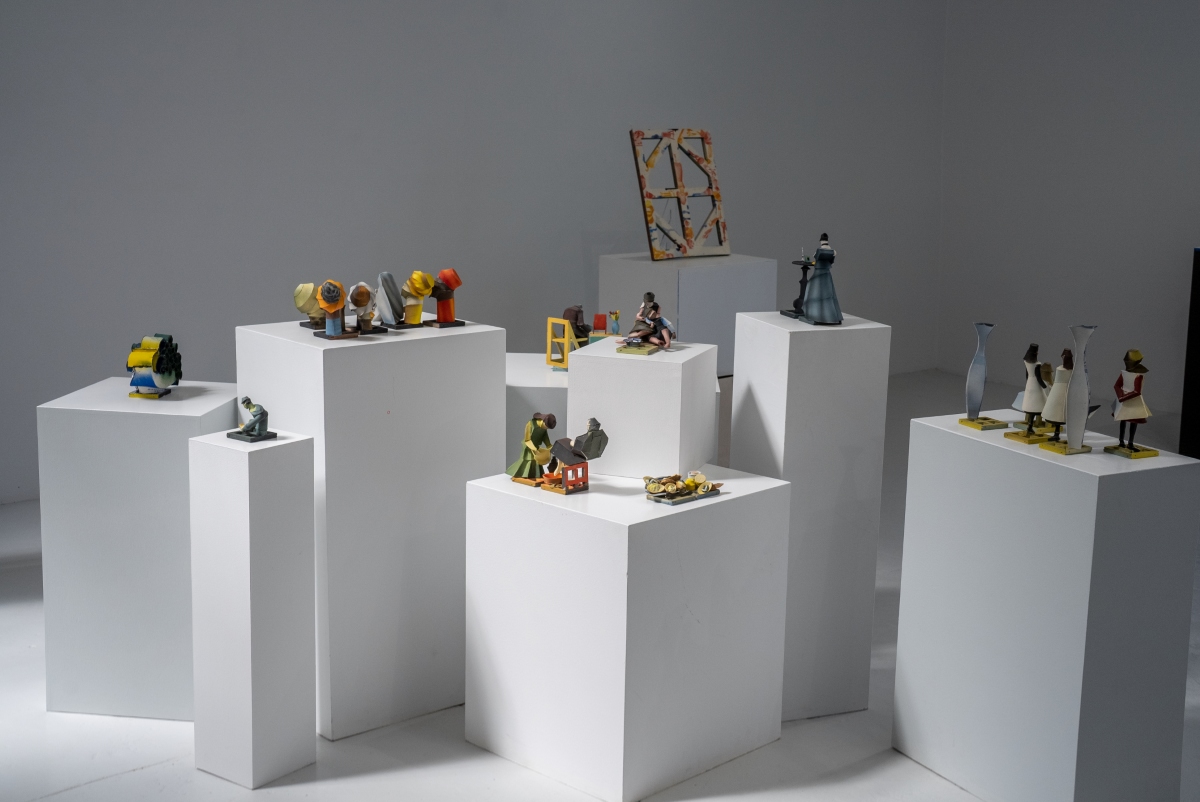 Yage Wang: Picasso, Hockney, Matisse, Manet, Lichtenstein, Mantegna, Sargent, Bosschaert, Marchal, Brown, Kennington and I is on view at Sculpture Space NYC, New York
April 21 – May 21, 2023
Sculpture Space NYC is pleased to present Yage Wang's first solo exhibition, "Picasso, Hockney, Matisse, Manet, Lichtenstein, Mantegna, Sargent, Bosschaert, Marchal, Brown, Kennington and I."
Throughout art history, painters have depicted pieces of pottery into their works: a plate in Matisse's "the Red Studio" and another under a bite of bread in Picasso's "the Blind Man's Meal"; a vase in Hockney's "My Parents" or one hidden behind a framed picture in Charles-Francis Marchal's "Penelope"… Drawing from 11 specific visual references of ceramics spanning centuries of art history, Wang's collection of deftly crafted sculptures translates the painterly gestures, strokes, symbols and motifs into 3-D objects. Using both digital and traditional production techniques, he creates trompe-l'œil forms to reference the most assumed elements of paintings: stretcher bars recreated in clay and canvas mimicked in thinly-rolled slabs. Through a variety of glazing techniques and firing methods, Wang studies and attentively imitates a host of disparate styles and portrayals found in his references. From his methodical yet whimsical approach emerge compositions that don't pretend to be replicas of their source material, but stand as the ceramic translations of painterly translations of the ceramics. Wang's practice is acutely aware of what is lost and added in representation, warmly welcoming the outcomes materialized in his treatment of art history as an open conversation.
Yage Wang re-interprets historical artifacts to explore the role of traditional craft materials in contemporary culture. His work has recently been featured in group shows at Asya Geisberg Gallery and SPRING/BREAK Art Show. Wang has received support from grants including Graduate Student Research and Creative Projects Award, Sandra Shea '56 Fisher Prize for Exceptional Achievement in the Creative Arts and the Remis Grant for the Arts. He has worked as a ceramic instructor for several studios and as a teaching assistant at the State University of New York and Penland School of Art and Craft. Wang received an MFA from SUNY New Paltz in 2021 and a BA from Brandeis University in 2018.
Sculpture Space NYC – Center for Ceramic Arts is a ceramic and sculpture center founded in 2013. Sculpture Space NYC's mission is to stimulate creativity, new ideas and collaboration in ceramics-based investigations. Artists, designers, and craftspeople of all backgrounds converge in this center to experiment, learn, make, reflect and grow artistically.
SSNYC-CCA Curatorial Program is dedicated to promoting contemporary visual art, focusing on the research and exploration of three-dimensional work with an emphasis towards ceramics. The not-for-profit gallery maintains an ongoing exhibition schedule featuring works of the underrepresented artist community, as well as the work of emerging and established artists.
Contact
info@sculpturespacenyc.com
Sculpture Space NYC – Center for Ceramic Arts
47-21 35th Street
Long Island City, NY 11101
United States
Photos by Nikolai Berger