Yoca Muta – A Solo Exhibition: Kutaniyaki Redefined opens this week at The Stratford Gallery in Broadway, Worcestershire
August 13-23, 2023
The exhibition launches online to view and purchase at 7PM BST on Friday, August 11, on the gallery's website and will be available to view in the gallery from 11am on Sunday, August 13, 2023. The gallery opening of the exhibition on Saturday, August 12 is now at full capacity.
We first had the pleasure of showing Yoca Muta's work back in 2019 as part of a sake ware show. The small collection of pieces arrived with a hand written note from Yoca san that I shall always remember.
"Thank you for showing my work. It is the first time it has been shown in England since I was a student at Goldsmiths, I hope people like them"
Those few simple words said much about Yoca Muta's humility toward her craft and achievements. The twelve pieces she had sent us were claimed within thirty minutes of launch and the requests from collectors, far and wide, who had missed out on securing one poured in for weeks after the show had ended. It was safe to say that Yoca san had no reason to doubt whether people would like her work.
Fast forward four years, many delightful discussions and a trip to her studio in Ishikawa and we find ourselves on the eve of her first solo exhibition in the United Kingdom, her first, in fact, outside of Asia. It is an exciting time for both artist and gallery, whilst Yoca san still hopes people will like her work, I have no doubts.
Her journey to where she is now, redefining contemporary Kutaniyaki, was not a linear course. At Arts University in Tokyo where she felt a little lost pursuing contemporary painting within an East Asian context, she was advised that to release her creativity she should consider 'The West' and London seemed most appropriate. Three years of BA in Fine Art in Goldsmiths saw her graduate with great distinction and be selected to 'New Contemporaries' the year of her graduation in 2008. At this point she was exploring; her practice included installation, video and performance. Whilst this gave her the freedom to express her creativity, she realised that her art was temporary, there was no lasting evidence of it as an object once offered and consumed. Thus her quest for making artworks that might be held and valued in centuries to come, 'perhaps ceramics?' she wondered.
She found the Kutani tradition to be the ideal opportunity for her to embrace her Japanese arts heritage whilst allowing her to create and express within both form and contemporary ideology. As the tradition was never founded on the vessel first and decorative aspects second, it allowed her to push boundaries of decorative norms and ceramic form. The result is an exploration of classical motifs with contemporary reflections of their development within modern media and digital incarnations such as gaming, manga and film. It is this bravery alongside astonishing artistry that has allowed her to redefine Kutunaiyaki with such enormous impact. There is no ceiling for this artist and it will be a pleasure watching her continue to rise.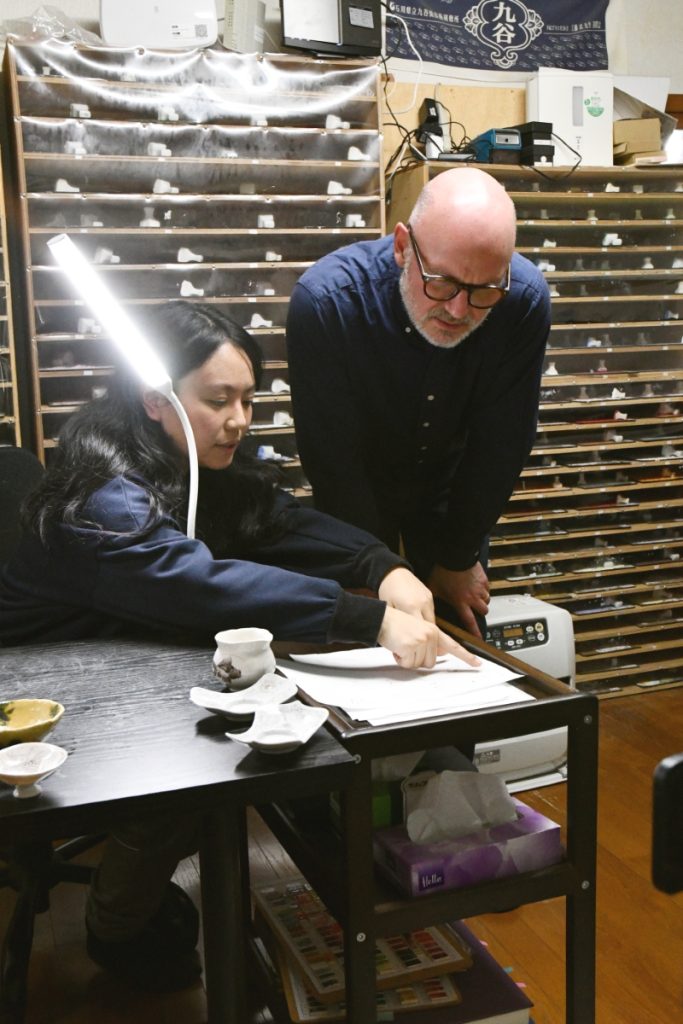 Contact
art@thestratfordgallery.co.uk
The Stratford Gallery
62 High Street,
Broadway,
Worcestershire, WR12 7DT
United Kingdom
Photos courtesy of the gallery
Captions
Image 1: Yoca Muta in her ishikawa studio holding a chawan (ceremonial tea bowl) with a whale motif
Image 2: The Stratford Gallery curator of Japanese Ceramics, Howard Clegg, discussing exhibition plans with Yoca Muta in her studio in Ishikawa, Japan