Iosifina Kosma is a Greek ceramic artist living and working in Athens, Greece. Her decision to pursue the art of ceramics resulted from the attraction she felt the first moment she experimented with clay at a very young age. After graduating, she studied Architecture at the National Technical University of Athens. As Architecture may be considered large-scale sculpture, she believes that her studies have played a crucial role in developing her aesthetic. She continued with postgraduate studies in ceramics at Middlesex University, London, where she obtained a Master of Arts with merit.
She has held three solo exhibitions and participated in several group exhibitions in Greece and internationally. She has participated in international symposia in China, India, Japan, and Turkey. Since 2017 she has been a member of the International Academy of Ceramics, IAC. Her works can be found in private collections in Greece and abroad.
A central element throughout her work has always been the curve. The curve is the first shape Iosifina instinctively creates when holding a clay piece. She considers the moment of inspiration a blessing and refrains from overanalyzing it, instead allowing the process of creation to guide her.
For her latest line of artworks, Iosifina has been using her hands to create abstract, asymmetrical, sculptural forms. Working with stoneware clay, she crafts her artworks piece by piece and then connects all the parts together to bring her vision to life.
Visit Iosifina Kosma's website and Instagram page.
Featured work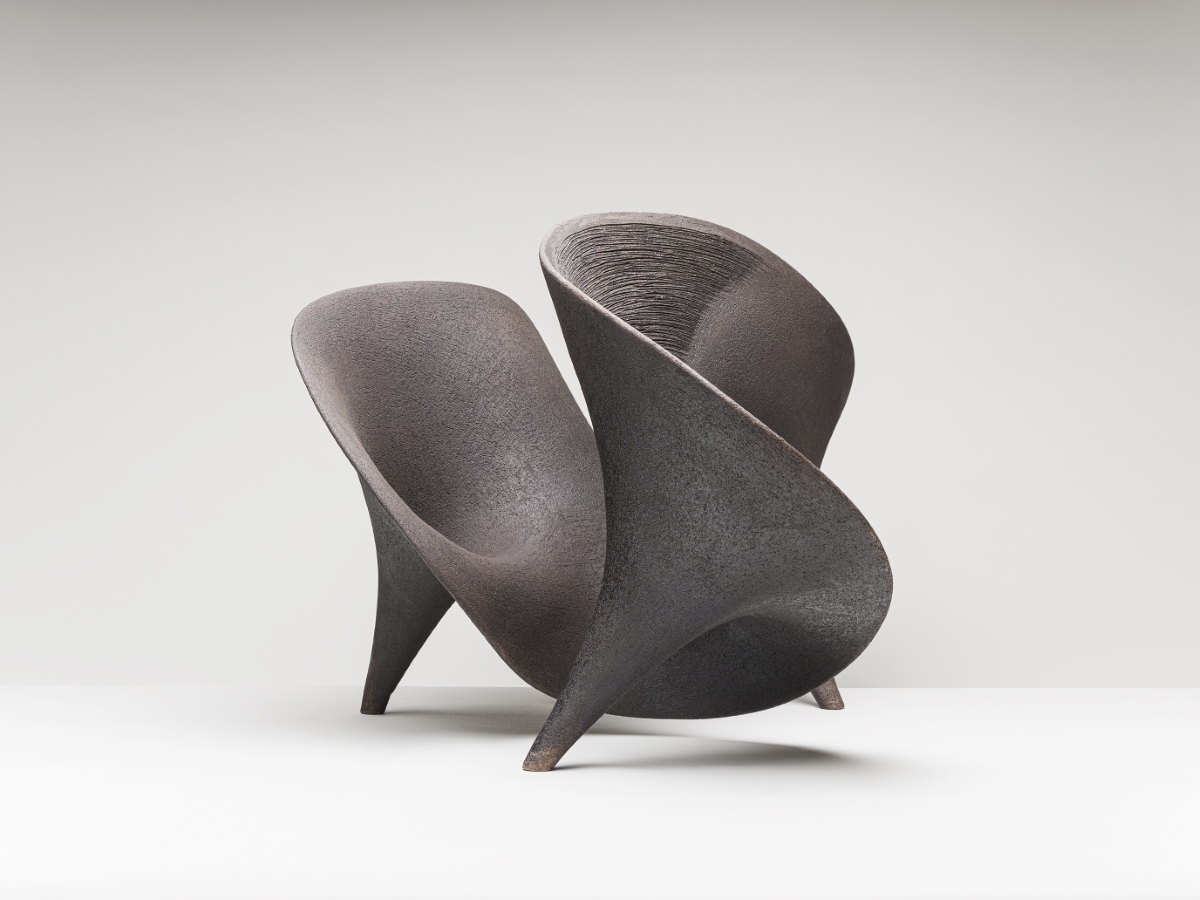 ---
Iosifina Kosma's work with clay has always been related to the flow of a curve or a cavity on which the viewer's eye slides smoothly.

In her series entitled "Flows," which the selected artworks are part of, she wanted to create organic forms that capture a sense of existence. Although inspired by nature, she is not interested in transferring the form of a natural object to clay. She wants to make forms that convey feelings of completeness and harmony.

Her artworks urge the audience to discover a new element each time they look at them from a different angle. She is interested in the balance between the void and the full, the inner becoming outer, the concave conversing with the convex, the bright succeeding the dark. The peaceful coexistence of opposites alludes, as she sees it, to the complexity and harmony of nature itself.

During the creation process, some forms transform into more extroverted and dynamic shapes, gain more movement and unfold in space. Others are more introverted and remain minimalistic but seek to enclose power in their simplicity.

After 25 years of continuous creation with clay, Iosifina is increasingly aware of the relationship between how we touch this material and move when we work and how this is reflected in the aesthetic quality of the artwork. Throughout the creation process, each touch records and conveys the quality of movement and emotions. Along with this collaboration of material and artist, creation becomes a constant challenge through which each one of us "brings out" what is inside one's soul—our own unique approach to the world and life.