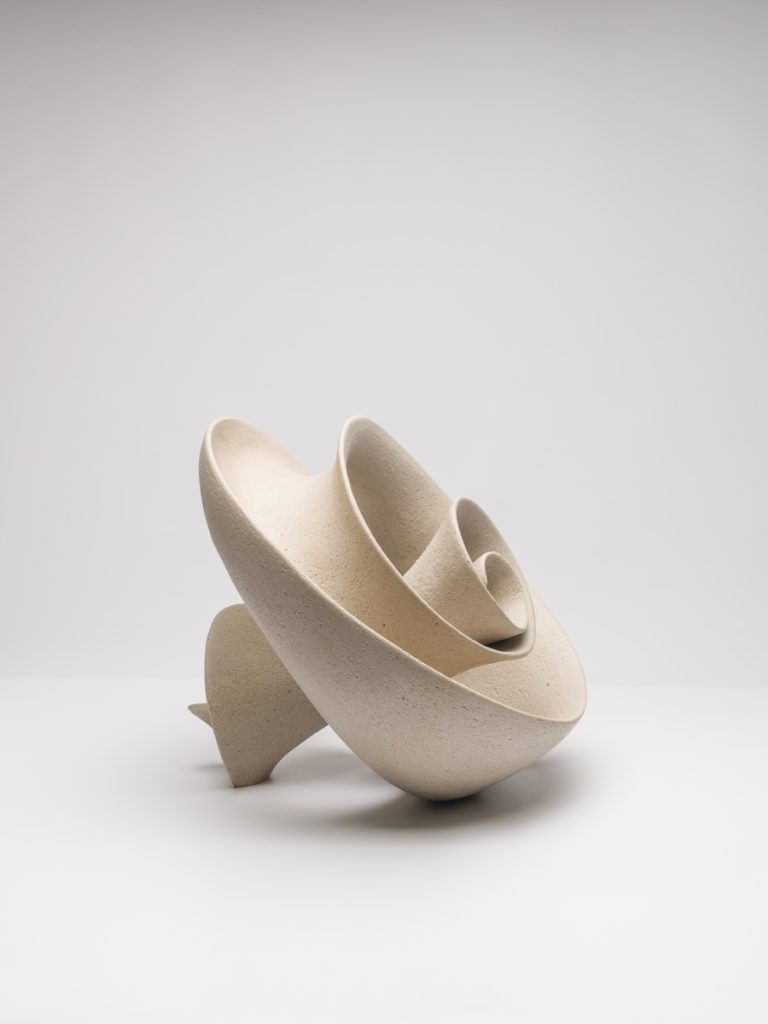 Iosifina Kosma's work with clay has always been related to the flow of a curve or a cavity on which the viewer's eye slides smoothly.
In her series entitled "Flows," which the selected artworks are part of, she wanted to create organic forms that capture a sense of existence. Although inspired by nature, she is not interested in transferring the form of a natural object to clay. She wants to make forms that convey feelings of completeness and harmony.
Her artworks urge the audience to discover a new element each time they look at them from a different angle. She is interested in the balance between the void and the full, the inner becoming outer, the concave conversing with the convex, the bright succeeding the dark. The peaceful coexistence of opposites alludes, as she sees it, to the complexity and harmony of nature itself.
During the creation process, some forms transform into more extroverted and dynamic shapes, gain more movement and unfold in space. Others are more introverted and remain minimalistic but seek to enclose power in their simplicity.
After 25 years of continuous creation with clay, Iosifina is increasingly aware of the relationship between how we touch this material and move when we work and how this is reflected in the aesthetic quality of the artwork. Throughout the creation process, each touch records and conveys the quality of movement and emotions. Along with this collaboration of material and artist, creation becomes a constant challenge through which each one of us "brings out" what is inside one's soul—our own unique approach to the world and life.
Photos © Boris Kirpotin
Captions (in order of appearance)
«Flow», 2022, stoneware clay, glaze, 42 x 48 x 49 cm
«Flow», 2021, stoneware clay, glaze, 26 x 25 x 24 cm
«Flow», 2022, stoneware clay, glaze, 35 x 34 x 37 cm
«Flow», 2018, stoneware clay, glaze, 33 x 58 x 37 cm
«Flow», 2018, stoneware clay, glaze, 35 x 54 x 52 cm
«Flow», 2022, stoneware clay, glaze, 40 x 35 x 36 cm
«Flow», 2021, stoneware clay, glaze. 48 x 80 x 56 cm
«Flow», 2022, stoneware clay, glaze, 46 x 72 x 49 cm
«Flow», 2021 stoneware clay, glaze, 48 x 80 x 56 cm
«Flow», 2020, stoneware clay, oxides, 57 x 64 x 69 cm
«Flow», 2018, stoneware clay, 44 x 62 x 28 cm
«Flow», 2019, stoneware clay, glaze, 34 x 51 x 30 cm
«Flow», 2018, stoneware clay, glaze 24 x 54 x 50 cm
«Flow», 2018, stoneware clay, glaze, 22 x 47 x 30 cm
untitled, 2020, stoneware clay, glaze, 48 x 90 x 71 cm
untitled, 2021, stoneware clay, 28 x 42 x 45 cm
«Βalance», 2022, stoneware clay, glaze 108 x 55 x 31 cm
«Flow», 2019, stoneware clay, glaze, 40 x 50 x 120 cm
«Flow», 2018, stoneware clay, glaze, 35 x 46 x 34 cm
«Flow», 2022, stoneware clay, glaze, 41 x 64 x 51 cm