Nadine Schelbert is a Swiss artist based in Los Angeles. She holds degrees from Lausanne Hotel School in Switzerland and Art Center College of Design in Pasadena, California.
After living and working in Japan, Hong Kong, and Ecuador, Schelbert moved to Los Angeles and pursued a career as Creative Director in the field of architectural design. This led her to years of engagement with large-scale projects around the world. Eventually, she felt eager to work in a more immediate and tactile manner again. As a result, she started experimenting with clay, first learning traditional ceramic techniques and quickly discovering the vast creative potential of the medium. She soon explored its sculptural qualities and engaged in experimental approaches.
Since 2020, Schelbert has immersed herself fully into her artistic practice. Her work has been included in group shows and recently in a solo exhibition in Los Angeles.
Visit Nadine Schelbert's website and Instagram page.
Featured work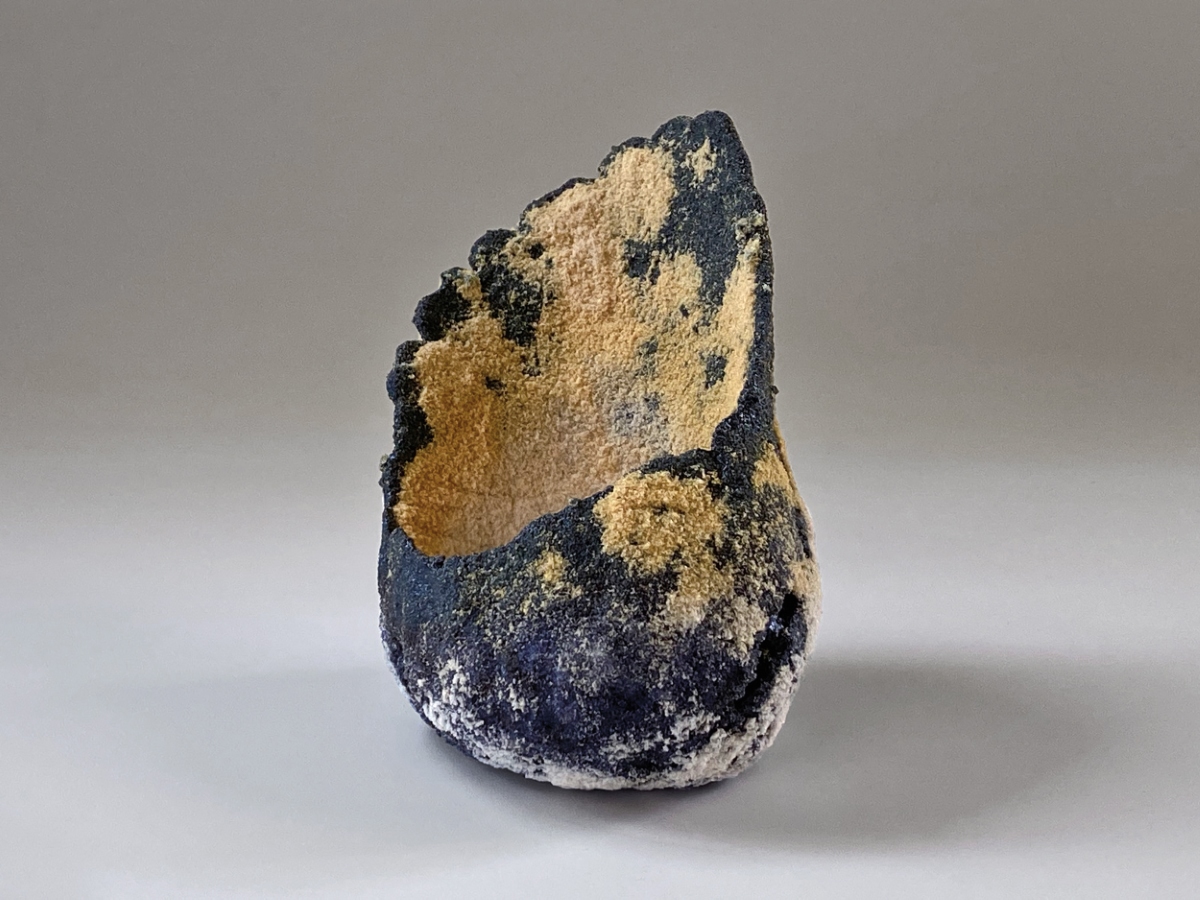 ---
Nadine Schelbert is driven by an urge to explore the physical world. Fascinated by the impact of time on matter—geological formations, sedimentation, crystallization, erosion, decay—her work explores the transformation and breakdown of materials. Drawn to conditions that exist between the enduring and the ephemeral, she often gravitates towards the insanely fragile, as the threshold where mass crumbles to nothingness.

It is not the representation of these conditions that interest her, but the manner in which they arise. To this end, she searches for ways in which her manipulation of materials naturally generates states of disintegration. This leads her to alter existing materials, formulate new ones, and develop her own processes for handling and firing them, pushing the boundaries of the ceramic medium.

Captivated by discoveries, she removes her will and intentions from the outcome by actively pursuing methods that produce uncontrolled results. The ensuing objects take on a foreign quality, like remnants of elemental forces, detached from the maker.

When working in porcelain or earthenware, she embeds metals and metallic oxides, glass frit, sand, minerals that activate melting, and combustible materials into the clay, leading to varying degrees of decomposition—blushing, charring, lesions, stretch marks, surface pitting. Interested in the process of crystallization, she also creates work made solely of glaze. These pieces are modeled directly with a glaze mass, and are not supported by any clay structure. Some of her work is made of unfired glaze, revealing the medium's raw mineral texture and pigmentation.