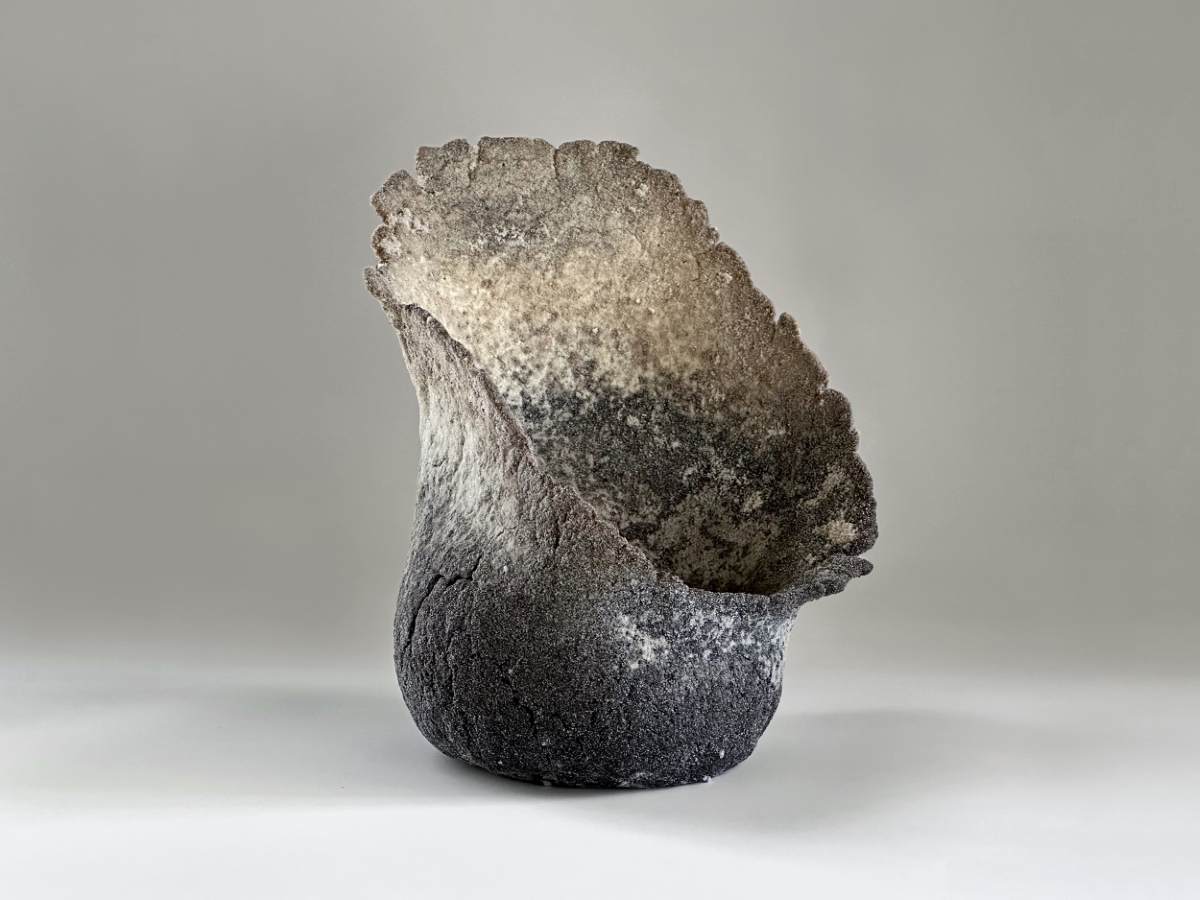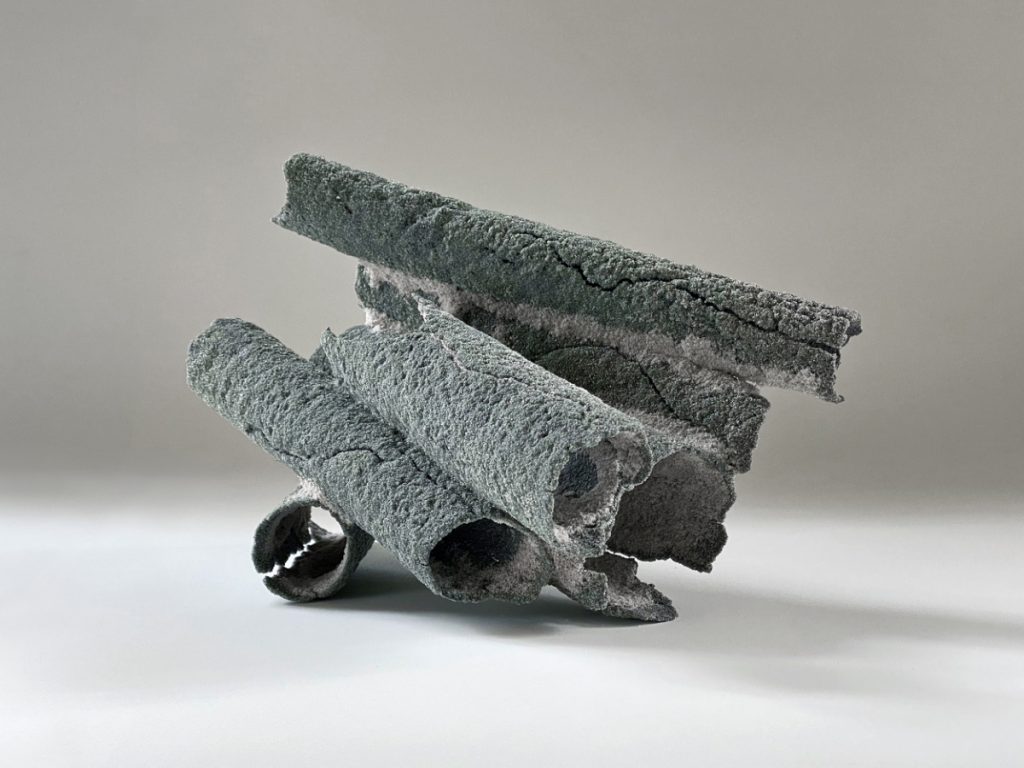 Nadine Schelbert is driven by an urge to explore the physical world. Fascinated by the impact of time on matter—geological formations, sedimentation, crystallization, erosion, decay—her work explores the transformation and breakdown of materials. Drawn to conditions that exist between the enduring and the ephemeral, she often gravitates towards the insanely fragile, as the threshold where mass crumbles to nothingness.
It is not the representation of these conditions that interest her, but the manner in which they arise. To this end, she searches for ways in which her manipulation of materials naturally generates states of disintegration. This leads her to alter existing materials, formulate new ones, and develop her own processes for handling and firing them, pushing the boundaries of the ceramic medium.
Captivated by discoveries, she removes her will and intentions from the outcome by actively pursuing methods that produce uncontrolled results. The ensuing objects take on a foreign quality, like remnants of elemental forces, detached from the maker.
When working in porcelain or earthenware, she embeds metals and metallic oxides, glass frit, sand, minerals that activate melting, and combustible materials into the clay, leading to varying degrees of decomposition—blushing, charring, lesions, stretch marks, surface pitting. Interested in the process of crystallization, she also creates work made solely of glaze. These pieces are modeled directly with a glaze mass, and are not supported by any clay structure. Some of her work is made of unfired glaze, revealing the medium's raw mineral texture and pigmentation.
Photo captions
Large Hollow, 2022, glaze, H 21.5 x W 18 x D 18 cm
Fused and Cracked, 2022, glaze, H 17 x W 26 x D 23 cm
Unravel, 2022, glaze, copper, H 20 x W 30.5 x D 29.5 cm
Tall Hollow, 2022, glaze, H 12 x W 9 x D 12 cm
Turquoise Unfolding, 2022, glaze, H 7.5 x W 20 x D 7.5 cm
Ridge (left), 2022, glaze, H 7.5 x W 11 x D 11 cm / Fold (right), 2022, glaze, H 7.5 x W 9.5 x D 10 cm
Small Wreck, 2022, air-dried glaze, H 19 x W 21.5 x D 23 cm
Gray Mass, 2022, air-dried glaze, copper mesh, H 27.5 x W 28 x D 27.5 cm
Wave, 2022, air-dried glaze, copper mesh, H 22.5 x W 28 x D 23 cm
Unearthed, 2022, air-dried glaze, H 20.5 x W 19.5 x D 25 cm
Bloom II, 2022, earthenware, porcelain, H 18.5 x W 61 x D 34.5 cm
Sticks, 2022, porcelain, H 10 x W 43 x D 45 cm
Torn Sheet I, 2022, porcelain, H 37.5 x W 33 x D 4.5 cm
Torn Sheet II, 2022, porcelain, H 21.5 x W 18 x D 2 cm
Remains of the Day I, 2022, earthenware, glaze, H 9 x W 21 x D 13 cm
Remains of the Day III, 2022, earthenware, H 9.5 x W 18 x D 11.5 cm
Remains of the Day IV, 2022, earthenware, H 11.5 x W 28.5 x D 23 cm