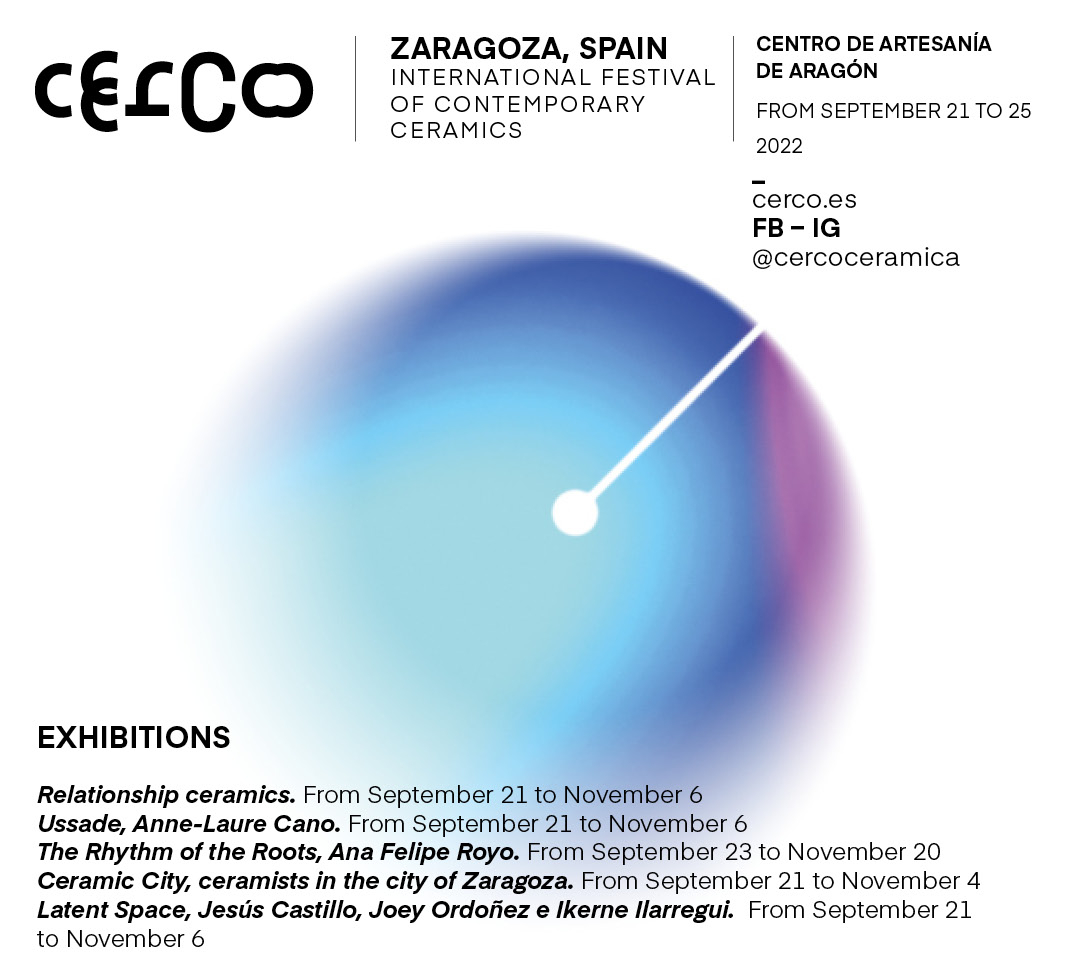 CERCO – The Contemporary Ceramics Festival is taking place this week in Zaragoza, Spain
The city of Zaragoza (Spain) is once again holding the renowned CERCO Contemporary Ceramics Festival, as it does every year. This year four venues in the city and more than fifty artists make up the programme.
The Pablo Gargallo Museum organises El ritmo de las raíces a solo exhibition by Ana Felipe Royo; the Sala Juana Francés with Ciudad cerámica exhibition presents thirteen projects by ceramists from the city of Zaragoza; the Escuela Taller Cerámica de Muel celebrates the second international residency with Michal Puszczynski as guest; and at the Centro de Artesanía de Aragón we present three exhibitions: Relación cerámica formed by a collective of disciples of Enric Mestre and Yasuo Hayashi, Ussade the solo exhibition of Anne-Laure Cano, CERCO 2021 prize winner and; a selection of three young artists from the UPV/EHU Master of Ceramics in the Espacio Latente.
On the weekend 24th and 25th of September we will open the doors of the Centro de Artesanía de Aragón with a programme of activities; On Saturday from 11h in the outdoor gardens the public will be invited to participate in an action entitled La impresora humana, led by the artist Mercé Jara in collaboration with Marina Rubio and Roberto Contador. At 12 noon we will listen to jazz and meet the artists.
At 18:30 Anne-Laure will present her work and at 20:00 in the square outside the Centre Pascale Ciapp will perform a performance specifically designed for this place. On Sunday 25th Sergio Sevilla will show us the murals that were painted in the 60s and 70s in the city of Zaragoza and we will finish the participatory action together.
GROUP EXHIBITION
Relación cerámica; The legacy of a craft made art, when time and distance are not. Relación cerámica is an exhibition of plastic arts based on ceramics in its broadest sense. The main focus of the exhibition is the work of the artists Mestre and Hayashi and their disciples, created more than ten thousand kilometres away and with respect for the different cultures of East and West. The filter of art has made artistic creation transcend social conditions. Respect for personal creation raises the value of the artistic diversity that can be seen in this exhibition.
Artists: Yasuo Hayashi, Enric Mestre, Anna Pastor, Ana Felipe, Beatriz Carbonell, Myriam Jiménez, Nozomi Kitao, Pau Ruiz, Presen Rico, Supi Hsu, Teresa Aparicio, Teresa Guerrero, Xavier Monsaltvaje, Sachiko Izawa, Juan Luis Tortosa, Masanori Izawa, Mayu Ueda, Carmen Sánchez, Concha Regné, Rafaela Pareja, Juan Ortí, Yoshikazu Ikeda, Carmen Marcos, Miki Okuda, Fanny Galera, Toshihiko Okuno, Carmen Ballester y Bibiana Martínez.Con la colaboración especial: Satoha Izawa y Takamaru Marcha Izawa.
SOLO EXHIBITION
USSADE. Anne-Laure Cano, CERCO 21 Award.
Since moving to Spain over a year ago, Anne-Laure has been working on a new series of works that explore the themes of adaptation and limitations. Ussade, inspects her own experience of otherness immersed in a new language and a new culture. Using his pieces, which he breaks up and reincorporates into new ones, he reflects on how a foreign person has to adapt and transform to a new environment, raising questions about identity and sense of belonging. The aesthetic of this series is freely influenced by the visual haikus of the poet Felícia Fuster. Anne-Laure, not being able to fully grasp the language of the poem, responds to the layers of stacked verses that formed an interesting visual object by creating this series of pieces. With them, she explores the unusual, the strange and the uncertain, the hidden meaning and the need to let go in order to see new forms and new meanings emerge.
SOLO EXHIBITION
The rhythm of the roots by Ana Felipe Royo
The Pablo Gargallo Museum is organising the solo exhibition of the artist Ana Felipe Royo entitled El ritmo de las raíces (The rhythm of the roots).
An exhibition in which the artist works on the concept of identity and home by rediscovering the landscape of her grandparents' birthplace, the Cariñena countryside. In Villanueva de Huerva, Zaragoza, is where she currently lives and works in a house-workshop with spaces for ceramics, engraving and photography, as her training is related to these three disciplines. She is a plastic artist with a degree in ceramics from the Escuela Superior de Diseño y Artes de Valencia where she trained with Enrique Mestre. With extensive training in other related plastic activities such as volume, painting, photography and engraving. After finishing his studies in Valencia he attends a seminar with David Leach, and obtains a scholarship for the "seminar of ceramic studies" in the porcelain factory of Sargadelos (Lugo), where he collaborates in a project with Arcadio Blasco. He continues his training in Vizcaya from 1990 to 1999. He starts learning engraving techniques in the Basque artists' collective Antxesaleak, and later takes several courses in Bilbao, Fundación Goya-Fuendetodos and at the Escuela Superior de Diseño y Artes de Zaragoza.
GROUP EXHIBITION
The Juana Francés Hall brings together ceramists from the city of Zaragoza to highlight the professional diversity of this craft and art. The exhibition shows 13 ceramic pieces made by each of the spaces and a publication with which to learn more about the people behind each project.
Ceramists: Artesanía Aliaga – Alejandra Castro – Azul cobalto – Caliche – Taller Ena – Espacio Incógnito – La Benditera – Las Bórax – Robin cerámica – Roc cerámica – Sara Monge – Sehahechotrizas – Terracotas Millán
GROUP EXHIBITION
Latent space
We inaugurate this biannual collaboration with the Master's Degree in Ceramics and Function of the UPV/EHU in which we present a selection of three works by its students. Jesús Castillo, Joey Ordoñez and Ikerne Ilarregui have been selected to exhibit in the Espacio Latente, a space located inside the Centro de Artesanía de Aragón dedicated to projects by ceramics students.
ARTIST IN RESIDENCE
The Escuela Taller Cerámica de Muel is hosting Michal Puszczynski, a ceramist from Poland, in residence. We will be able to visit him during his stay and he will explain his interesting creative process on the final day of his stay.
Michal Puszczynski uses simple forms, organic shapes and common materials such as clay, earth, concrete, to evoke real emotions and associations with our own bodies and processes, which concern everything material. The fact that things destroyed, degraded, in ruins and seconds away from complete disintegration have always fascinated him does not stem from a pessimistic point of view. It is rather a belief that after destruction and disappearance, all things will begin again, giving hope for a renewed process of rebirth of life.
PARTICIPATORY ACTION
CERCO_ABIERTO, The Human Painter
A collaborative and open source clay construction. The fence is a line on the ground, a mark of time, a drawing that takes volume, grows and builds habitable spaces. CERCO_ABIERTO, THE HUMAN PRINTER, is an expanded and participatory three-day drawing process.
It will be drawn on the ground with special clay pastes imitating 3D printers. A free interpretation of the fence in which we will give relief to our imagination with clay mortar and with clay and lime mortar and pastry bags as a constructive element. The fence is this open space, which somehow welcomes without limiting. You can We can make a fence to protect our livestock or draw a magic fence on the ground to protect us from evil intentions.
Project by Mercè Jara Muns with the collaboration of Marina Rubio and Roberto Contador.
PERFORMANCE
Pascale Ciapp practices performance in its initial function, a critical function: artistic, social and reflexive criticism. Identity, memory, confinement, transfiguration, the status of the body and in particular of women in our society, the public-private border are recurrent themes in her research. Her acting body can be either body-subject/body-object, body/support, body/surface. It interacts with the space in which it acts. It is based on observations of the world that it transforms, confronts or deviates with a subjectivity assumed from its questioning. His interventions should be lived as the sharing of a unique experience created for and with the context in which he acts. The square of the old slaughterhouse in Zaragoza will be the stage for his performance specifically designed for CERCO 22.
CONFERENCE
THE CERAMIC MURALISM OF THE MODERN ZARAGOZA
Speaker: Sergio Sevilla Tabernero
The streets and façades of Zaragoza and the hallways of its buildings exhibit numerous ceramic murals that, many times, go unnoticed to our eyes. They are creations that reveal a new image of the city, that of the "Modern Zaragoza" designed during the 60s, 70s and 80s of the last century following the trends of the time in the fields of design and architecture. It was at this time that avant-garde ceramics were introduced for mural applications in architectural and urban planning projects, resulting in a profound development of ceramic muralism that has left the city with true artistic jewels that form part of the city's cultural heritage.
In this conference we will discover what ceramic muralism is and why it had such a great development in Zaragoza with the appearance of brilliant ceramic artists, workshops and companies dedicated to its production. A golden age for ceramics that we must get to know and value.
CONFERENCE
CERAMIC RELATIONSHIP; A bridge between Valencia and Japan
Speaker: Bibiana Martínez Torrecilla
How did this ceramic movement originate? What is the path we have travelled since 2006? Where does the energy come from to promote each of the meetings and exhibitions we have held? What work does each of the artists in this exhibition develop? What connects us, what links us? To tell the story of this group, which treasures an artistic legacy that unites two cultures, two masters and their pleiades, with the common denominator of ceramics. The talk will show images of each of the meetings and exhibitions in which Relación Cerámica has participated, such as the one presented at the Museo Nacional de Cerámica Marqués de Dos Aguas or at the Instituto Cervantes de Tokio in Japan. As well as each of the works exhibited at the Centro de Artesanía de Aragón.