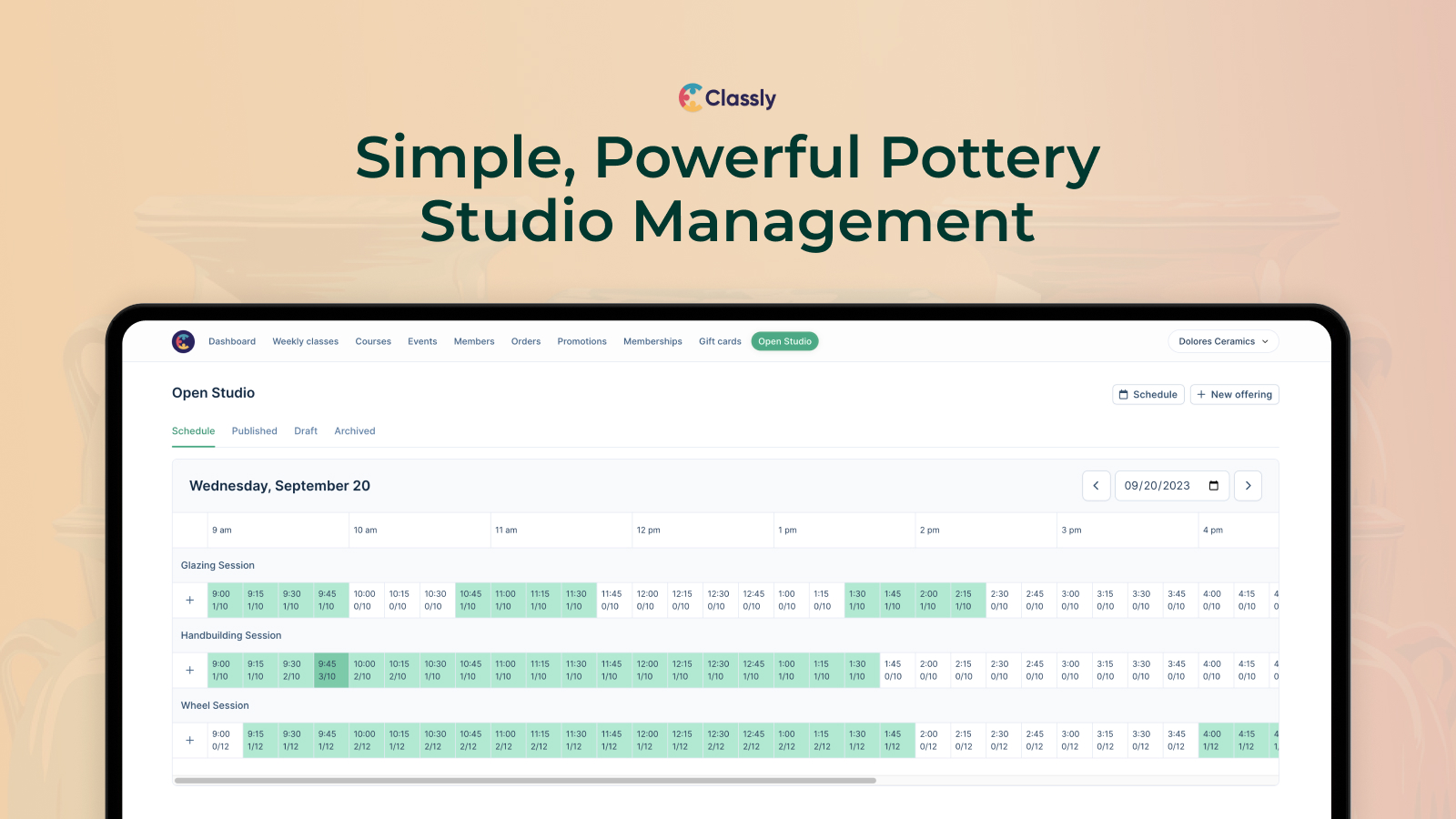 As pottery studios are growing in popularity, many managers find that the workload grows exponentially. Rising interest — from artists looking for studio space to beginners looking to sign up for classes — leads directly to an explosion of paperwork and a range of moving parts that become harder and harder to deal with.
This makes pottery studio management software an integral part of the process for any growing pottery studio, and Classly is a powerful solution with a simple, straightforward interface. This single application allows you to manage all the operations of a pottery studio in one place, from posting classes and managing sign-ups to scheduling studio time and beyond.
By automating the paperwork of class sign-ups, memberships, email reminders, and other related tasks, Classly takes an enormous amount of work off of studio managers and owners. This allows for a new level of hands-on engagement with the things pottery studio team members fell in love with in the first place — like teaching pottery classes, doing outreach, and just spending time helping out in the studio.
On the other side, digital automation can make being a member of a pottery studio much easier to navigate. Using the community-facing side of Classly, people can effortlessly become a member, see (and sign up for) classes, and purchase studio time. But this only scratches the surface of everything it can do. A deep dive into the features reveals just how transformative this single tool can be for pottery studios.
A Platform for Members
Classly allows you to effortlessly manage memberships. This includes automated billing, outreach, and status tracking. Owners and studio managers can use the platform to update billing information, change membership status, and grant member privileges like open studio time. That alone can save managers an enormous amount of time a month.
Open Studio Self-Service Features
Wheel and equipment reservations are labor-intensive to manage. But Classly allows members to see when things are booked and then reserve time slots on their own. Updating this list is easy, too.
Full Suite of Options for Classes
As the name suggests, Classly has a wide range of functionality for classes, allowing you to do it all on the platform — eliminating confusion and countless hours of work. Manage registrations, automatically update rosters and waitlists, present media-rich course descriptions, and collect payment all in one easy-to-use platform.
Easy Integration with Other Business Tools
Classly syncs with a wide range of tools most pottery studios already use. That includes QuickBooks Online, Squarespace, WordPress, Wix, Shopify, and more. This is an essential element of the platform's success because it allows studios to easily integrate it into their business, so it can immediately take work off of their hands.
Gift Cards and Promotions
Classly gives pottery studios many ways to reach out to their community and give them enticing offers. That includes offering gift cards through the platform and running various promotions.
Streamlined Presentation
Digital platforms are only valuable if people can easily access them. Classly works as a simple widget on your website, making it easy for members to begin using it right away. And the intuitive interface allows people to navigate the platform as soon as they join.
24/7 Support
Of course, no matter the platform, there are times when studios will need help managing issues. Classly offers live customer service from real people. They can be contacted by email, and customers can receive technical support by phone or Zoom.
Classly, the Pottery Studio Platform
Digital platforms change the way pottery studios run. With Classly, pottery studios can save labor time once dedicated to tedious tasks that often lead to mistakes, errors, and headaches. By removing those issues altogether, it frees up studio managers and instructors to do the things that made them fall in love with pottery in the first place.
Thanks to these tools, pottery studios can now do much more with the same resources, keeping their team focused on engaging the community and members — instead of dealing with paperwork.
Classly is currently offering a free demo of its platform, giving pottery studios an in-depth look at how this single app can revolutionize their workflow. As more places adopt this tool, expect to see a new level of energy going into the community.
---
Classly is not affiliated with Ceramics Now.