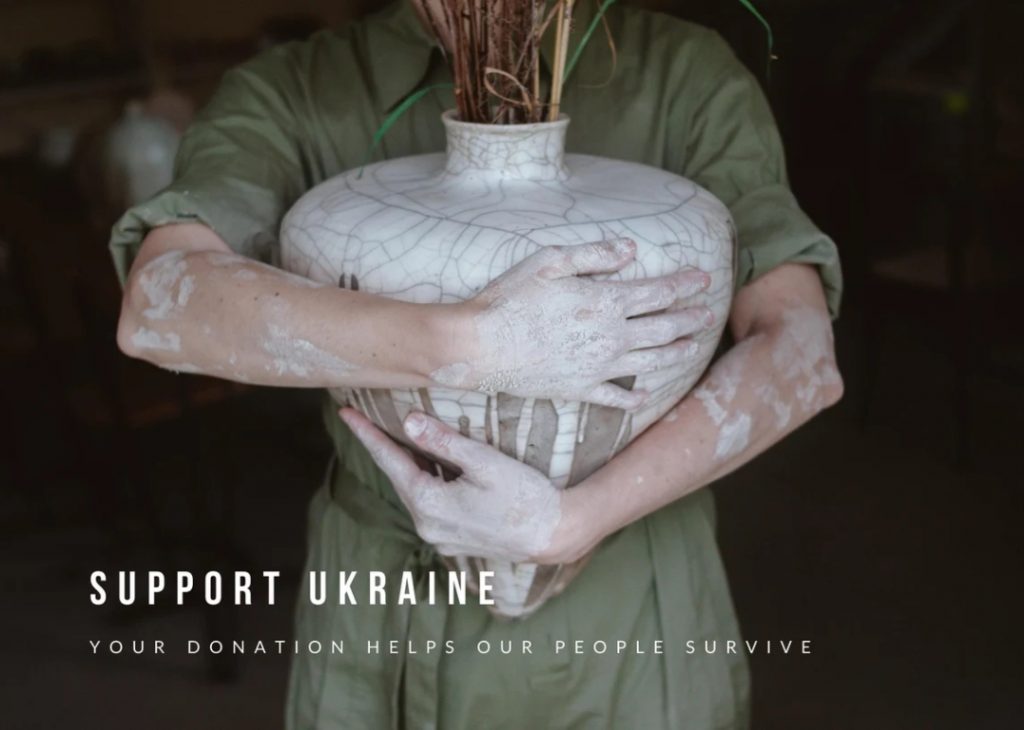 Dear Ceramics Now audience,
This is Yuliya Makliuk, a fellow potter from Ukraine. At least I was a potter until two weeks ago, but I'm not sure if this is the case anymore. I had to flee my home and my studio. On the 24th of February, I woke up at 5 am to the sounds of rocket shelling on Kyiv. I woke up my husband and said to him "Russia has attacked". Since then, we live in what seems to be a never-ending nightmare. I'm sure you have seen the news.
While our army and volunteers do everything possible and impossible to resist the invasion, ceramicists of Ukraine also try to help our people. There are several ways to provide support from abroad if you're willing to help:
1. Buy charitable digital posters from Ukrainian artists on Etsy. Unfortunately, there's virtually no way to send physical goods like ceramics at the moment.
If you are an Etsy user, search for digital items from Ukraine. We will send this money to local humanitarian organizations or the national army. I'm just one of many and here's my shop.
2. Host a Ukrainian ceramic artist in your studio. Fill out this form if this is something you can do.
Be it for a couple of days or half a year, any help is vital now. Many women, some with kids, are forced to leave their homes and studios to save their lives. European countries are a priority, as it is easier to get there and the visas have been waived.
3. Many international aid organizations accept donations for war relief in Ukraine. Choose the one you trust and send some help if you can. I would recommend SaveLife In UA and Hospitallers.
4. Also, Ukraine needs political support from our partner states that is commensurate with the scale of Russian aggression. Please petition your authorities and representatives to provide defense measures, financial aid and impose sanctions on the aggressor. Every day of delay costs the lives of Ukrainian civilians and is a threat to broader Europe.
We have received immense solidarity over these weeks. The people of Ukraine are grateful for every step taken by people of goodwill from all over the world.