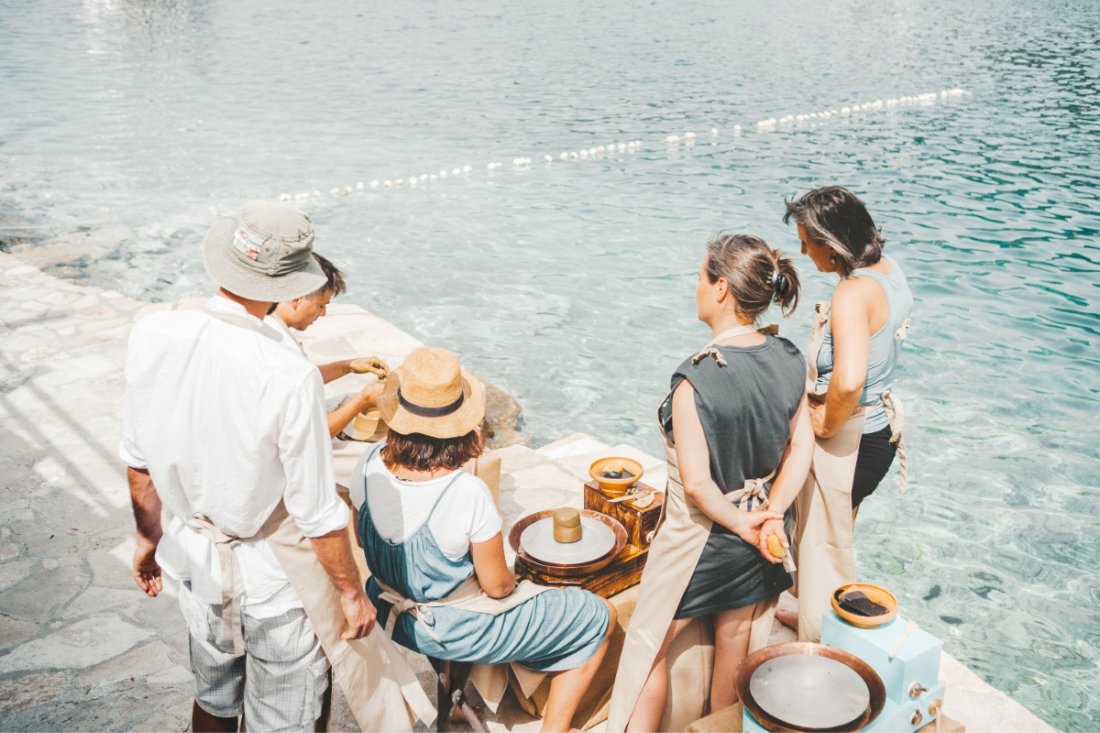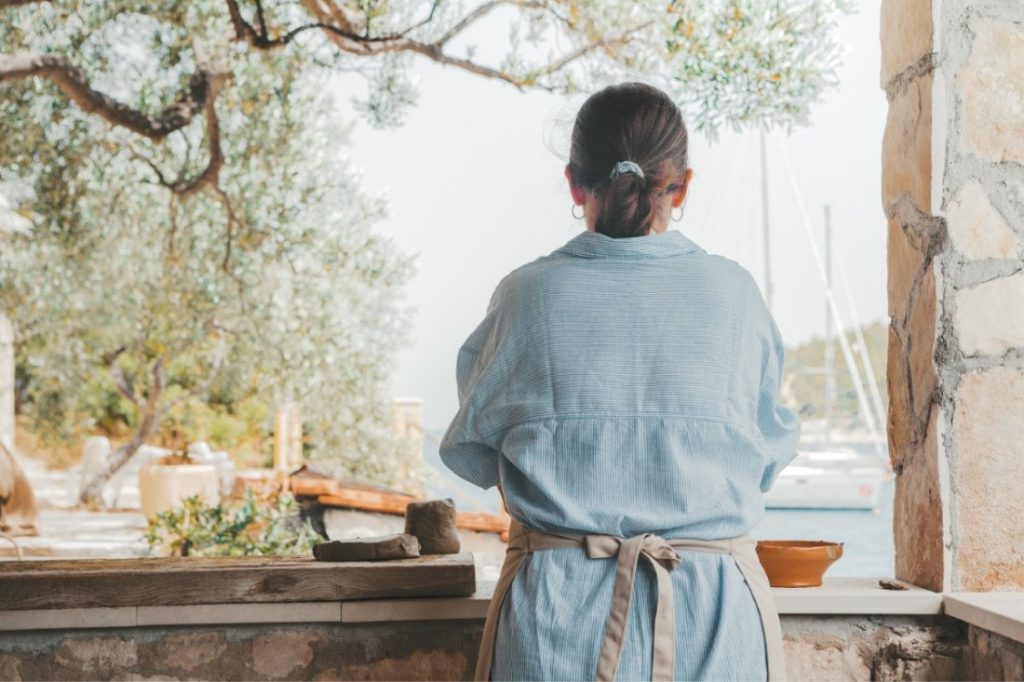 The sound of cicadas and lapping waves on the shore, a blue sky, salty air, carefreeness, the sliding of clay between your fingers on the potter's wheel—an active holiday or a new kind of yoga, fit for the 21st century?
"The beauty of the sea, peace, relaxation, and delicious food, the likes of which we're not used to tasting anymore. The feeling of clay slipping between your fingers – pure meditation. It's the stuff dreams are made of, and I'm positive the experience prolongs one's life for at least a day or two," says Sandra, one of the participants of the pottery retreat. Artists and enthusiasts who come to Vis from different countries (so far from Slovenia, Croatia, UAE, and the United States) get to experience working with clay for the first time or sharpen their already acquired skills within unspoiled natural surroundings. They get a chance to connect with a friendly group of like-minded people and disconnect from everyday worries and the fast pace of life.
Summer pottery holidays occur on the Croatian island of Vis, in Stonćica Bay. Vis is famous for its pristine nature and tranquillity. It was closed to the public until 1989 due to a Yugoslav military base stationed there, which resulted in a lower influx of tourists compared to other islands. It's no secret (and no wonder) that the movie Mamma Mia 2 was filmed there—the place is gorgeous!
What does an average day in Stonćica Bay (Vis) look like? In the morning, you wake up to the sound of seagulls calling over the calm lapping of the sea. You open your eyes and notice the reflection of the sun's rays bouncing off the ceiling. You step onto the terrace and admire a clear blue sky. There's often not a cloud in sight. You hear silence. You eat breakfast, chat with new friends over fragrant coffee, find your place under the mild sky, an olive tree, or a terrace with a view, and attend our workshop. You work with clay until you're hot enough to jump into the sea to cool off and wash your clay-stained hands. You swim in crystal water, soak in peace and tranquillity. Then the potter's wheel spins on. You're centering, searching for shapes. You can feel how the drops of seawater dry on your body and cool you in the light, warm summer breeze. While creating, you smell an intoxicating scent invading your nostrils. It's coming from next door. A local cook invites you to lunch. The table is laid with locally grown vegetables, fish, and seafood caught in this part of the bay. The taste of Mediterranean specialties is out of this world. After lunch, you rest with a book in your lap or your eyes closed under a cooling shade. In the afternoon, it's back to the wheel. You receive an assignment from your teacher, who directs you throughout the afternoon. You test your pottery skills; if an attempt fails, you simply relax in the sea. Then you get back at it and try again. You explore the art of pottery in a stress-free way, pose questions, mess around, and learn. And breathe. When the sun goes down, it's dinner time. Something delicious and local, of course. You exchange impressions of the day, drink a glass of delicious wine, perhaps go for a stroll by the sea, or venture into town. Exhausted from the day's events, you fall asleep to the sound of waves and the sky above riddles with shiny stars.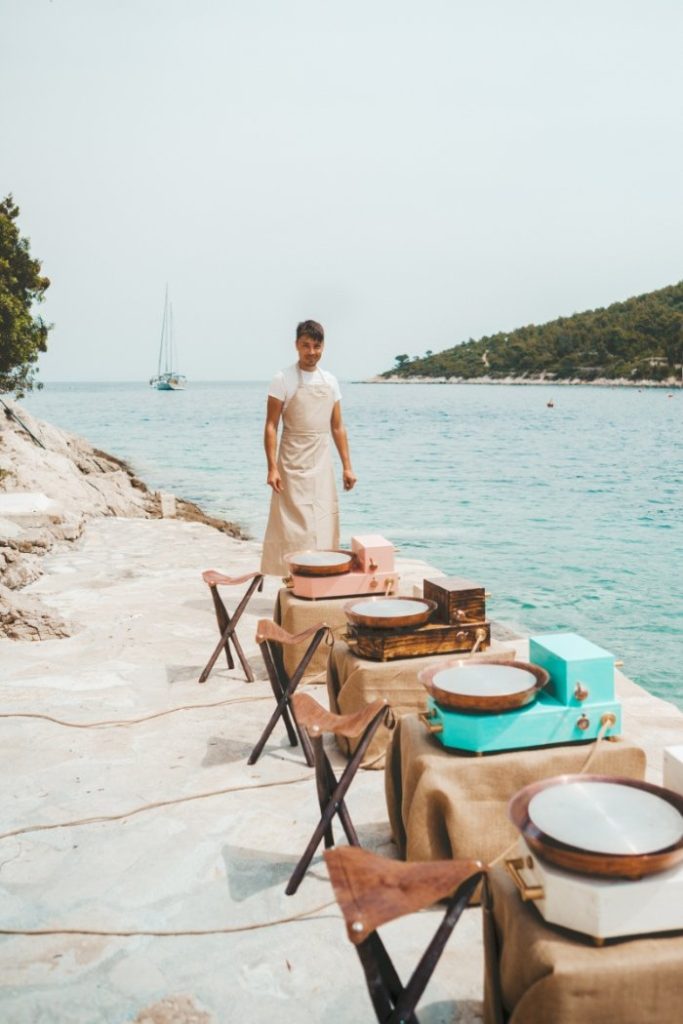 Vid Polončič at Lončič Pottery Studio has been leading unique pottery retreats in selected locations with excellent local cuisine for several years. When organizing exclusive events, Vid is guided by the motto: "Life is too short not to live it to the fullest." He wants to offer people the pleasure of creating with clay, genuine contact with nature, along with some exquisite gastronomical delights.
Vid started working with clay over ten years ago. He learned the art of pottery from Štefan Zelko, a legend from Goričko, who is protected by UNESCO as part of living cultural heritage. Vid has been leading weekly pottery workshops in Ljubljana for several years and occasionally organizes weekend workshops in Goričko and Istria and pottery holidays on Vis. With a group of other experts, he designs portable pottery wheels that allow him to hold workshops wherever he wants. An exciting idea he is currently working on is pottery on a sailboat.
Vid is inspired by tradition, which he wants to refine with a modern twist. He is currently developing product designs for the Ribnica Handicraft Center, producing a limited series of vases for the project "Inspired by Ljubljana" for the German company Minderio. These products will include elements of Ljubljana architecture, especially the famous Slovenian architect Jože Plečnik. In 2023, Vid plans to make a replica of a medieval pottery wheel for the National Museum of Slovenia. In the future, he strives to continue organizing pottery workshops throughout Europe and spread the knowledge of this dying Slovenian tradition in various ways.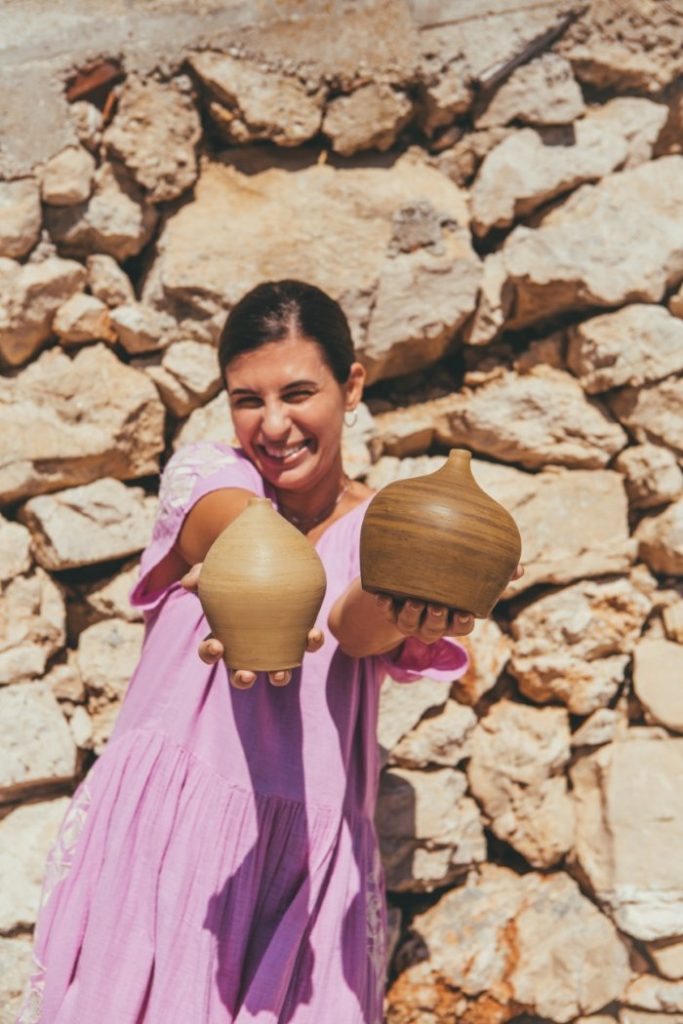 The truth is that the profession of a modern-day ceramic artist differs from that of a traditional potter, as the needs of society have changed radically over the years. Traditional pottery was primarily concerned with the design of pots for household needs, while modern pottery helps people escape the fast pace of life. Among other things. Presence, in-depth perception of the senses, forgotten contact with one's breath, nature … Perhaps pottery truly is the new yoga of the 21st century. It certainly has a calming effect on people and shows them the way to authentic contact with themselves, directs them to nature, and motivates them to care for the environment. Clay is nature. And as Jean-Jacques Rousseau would say: "Back to nature!"
The following summer pottery vacation is scheduled for June 2023 (June 23-20, 2023). Find out more details and book your place.
Contact information
info@loncic.si
Photos by Matea Bakarić