Susan Collett is a graduate from the Cleveland Institute of Art, Ohio U.S.A. earning a BFA degree in Printmaking with a Minor in Ceramics. Since 1993 she has run a full-time studio art practice in downtown Toronto.
Large-scale clay sculpture and printmaking has become the focus of her work. The clay works are hand-built of earthenware paper clay and multi-fired to achieve a complex patina of surfaces. The monoprints are printed from plates made of stitched industrial grade roofing copper incorporating embossed relief.
Exhibitions include Paper Clay Illuminated USA touring, 2020-21, curated by Peter Held, The Toronto International Art Fair 2013-2016 with Sandra Ainsley Gallery, accepted to the Korean Biennale 2015 & Taiwan Biennale 2012, International Triennial of Silicate Arts, Kecskemet, Hungary 2011, Sevres Porcelain Museum, Paris, 2010, and an honourable mention at the CEBIKO International Ceramics Biennale in Korea 2009. She has exhibited at SOFA Chicago & New York, Palm Beach and the Toronto International Art Fair.
Her work has appeared in Ceramic Review, Ceramic Art & Perception, Ceramics Technical, Canadian Art and various catalogues and publications. Her work has been recently included into the collection of Arizona State University Museums, USA. Various Public Collections include: The Gardiner Museum of Ceramic Art, The Burlington Art Gallery, The Tom Thomson Memorial Art Gallery, Kasturbhai Lalbhai Museum, India, Canada House, UK, The Canadian Clay & Glass Gallery, Sevres Porcelain Museum, Paris, Ernst & Young, Toronto, Musee des Beaux Arts, Montreal and The Canadiana Collection of the Official Residencies of Ottawa.
Collett received her letters from the IAC, International Academy of Ceramics in 2007 and her RCA, Royal Canadian Academy of Ceramics in 2008. She is a member of Open Studio printmaking studio for over 30 years.
Visit Susan Collett's website and Instagram page.
Featured work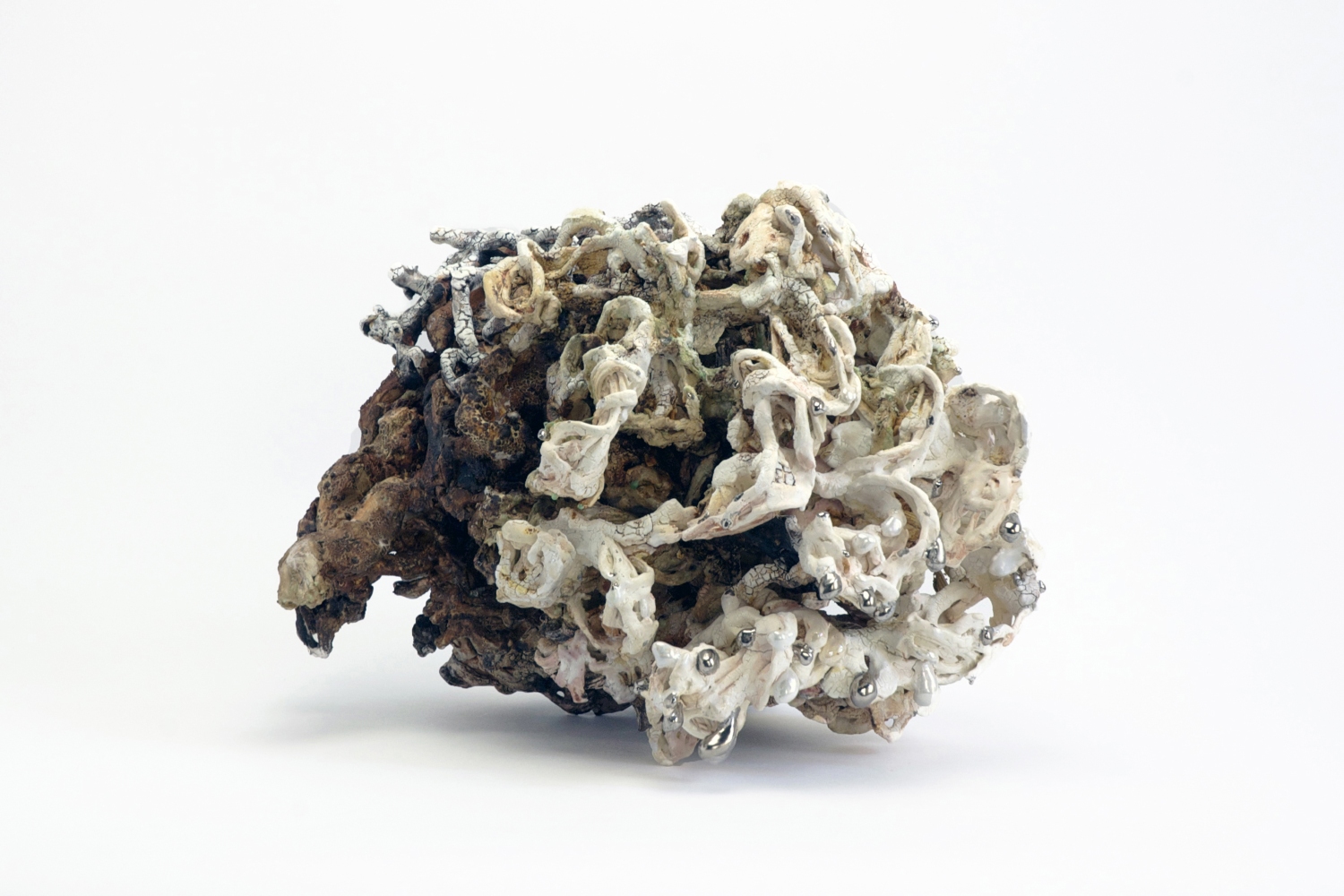 ---
Established in 1993, my full time studio practice includes clay sculpture and printmaking. Within the complexities of a business, at any given time, a momentum of sculpture, printmaking, commissions, workshops and studio visits sustains me.

The sculpture derives from the interest in the tension of strength against fragility and as I push the work towards the edge of physical collapse, this theme becomes more potent. The work is hand-built and sculptural in nature. Light interplay provides a perceived fragility, explored through liquid clay filaments and nichrome wire lines that relates directly to my printmaking practice.

Working with clay influences the printmaking, encouraging a sculptural approach. I employ printing plates composed of stitched and reconstructed industrial roofing copper. Akin to my 3-D ceramic practice, I enjoy a sculptural approach to printmaking by manipulating the paper surface with blind embossing techniques.

Clay themes lie within imagining the body's relationship to landscape and how the material can take part in the action of the idea. Exploring vascular networks of branches and roots, the compositions in water patterns and tributaries, and how it is analogous to life being cumulative, its pathways uneven and never quite finished. These sculptural works are a contemplation on renewal- a layering of time and aging, falling apart and coming together, forgetting and letting go, ultimately leading to regeneration.

This current Racine and Laden series has developed in scale, color and texture influenced by early career trips to China. There I witnessed the gamut from delicate small-scale porcelain to the strength of large-scale vessel production. Unique landscapes of layered tea farming and the history of building techniques strongly influenced my early approach to clay.

Where previous series of Labyrinth and Laurel explored a body scale relationship based upon the vessel – pierced with light and layering, this new work of the Racine and Laden series, challenges my own approach and perceptions in moving away from the vessel.

The sculptures move in the making process and are turned, tilted, built upon and multi-fired. The work reveals itself to me within the disrupted, uprooted forms that hover in the space between the solid and the fluid, the fissure between order and chaos, of fluidity and tensility.