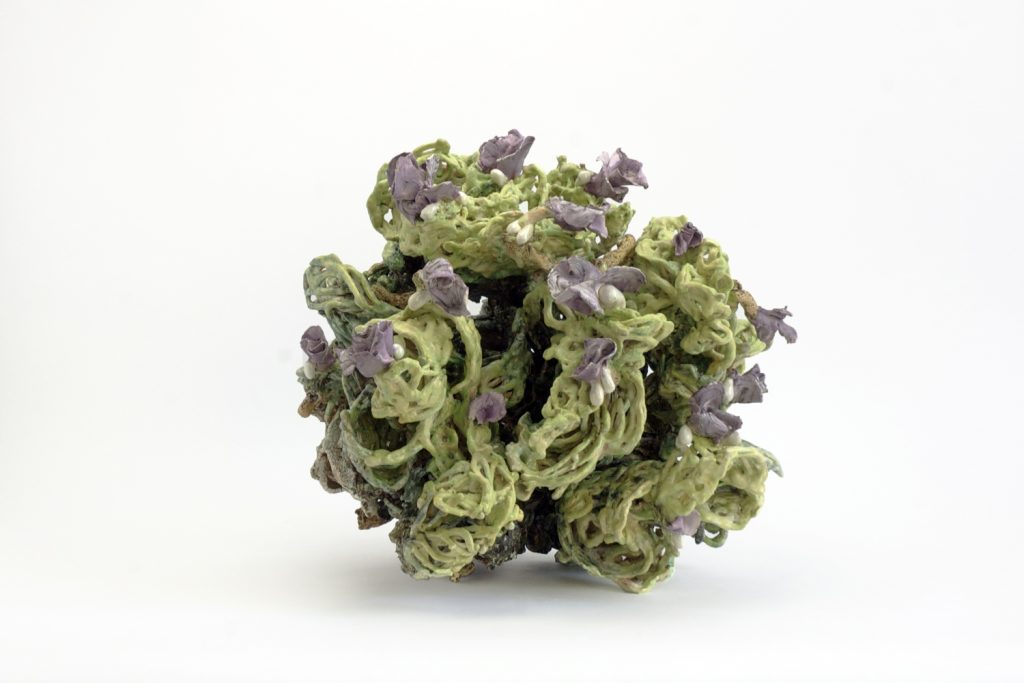 Susan Collett: Selected works, 2017-2022
Established in 1993, my full time studio practice includes clay sculpture and printmaking. Within the complexities of a business, at any given time, a momentum of sculpture, printmaking, commissions, workshops and studio visits sustains me.
The sculpture derives from the interest in the tension of strength against fragility and as I push the work towards the edge of physical collapse, this theme becomes more potent. The work is hand-built and sculptural in nature. Light interplay provides a perceived fragility, explored through liquid clay filaments and nichrome wire lines that relates directly to my printmaking practice.
Working with clay influences the printmaking, encouraging a sculptural approach. I employ printing plates composed of stitched and reconstructed industrial roofing copper. Akin to my 3-D ceramic practice, I enjoy a sculptural approach to printmaking by manipulating the paper surface with blind embossing techniques.
Clay themes lie within imagining the body's relationship to landscape and how the material can take part in the action of the idea. Exploring vascular networks of branches and roots, the compositions in water patterns and tributaries, and how it is analogous to life being cumulative, its pathways uneven and never quite finished. These sculptural works are a contemplation on renewal- a layering of time and aging, falling apart and coming together, forgetting and letting go, ultimately leading to regeneration.
This current Racine and Laden series has developed in scale, color and texture influenced by early career trips to China. There I witnessed the gamut from delicate small-scale porcelain to the strength of large-scale vessel production. Unique landscapes of layered tea farming and the history of building techniques strongly influenced my early approach to clay.
Where previous series of Labyrinth and Laurel explored a body scale relationship based upon the vessel – pierced with light and layering, this new work of the Racine and Laden series, challenges my own approach and perceptions in moving away from the vessel.
The sculptures move in the making process and are turned, tilted, built upon and multi-fired. The work reveals itself to me within the disrupted, uprooted forms that hover in the space between the solid and the fluid, the fissure between order and chaos, of fluidity and tensility.
Photo captions
Alluvium Racine, 2019, clay and wire, 12x16x16
Vernal Racine, 2017, clay and wire, 16x18x15
Beacon Laden, 2021, clay and wire, 10x11x10
Beacon Laden, side, 2021, clay and wire, 10x11x10
Elysium Laden, 2021, clay and wire, steel base, 10x8x9
Elysium Laden, detail, 2021, clay and wire, steel base, 10x8x9
Georgian Laden, 2021, clay, porcelain base, 9x12x10
Georgian Laden, side, 2021, clay, porcelain base, 9x12x10
Palisade Laden, 2021, clay and wire, steel base, 11x8x11
Palisade Laden, side, 2021 clay and wire, 11x8x11
Regis Racine, 2019, clayand wire, 12x15x12
Regis Racine, detail, 2019, clay and wire, 12x15x12
Rose Laden, 2022, clay and wire, 9x10x7
Stilleven Laden, 2022, clay and wire, 9x11x8
Stilleven Laden, detail, 2022, clay and wire, 9x11x8
Stilleven Laden, side, 2022, clay and wire, 9x11x8