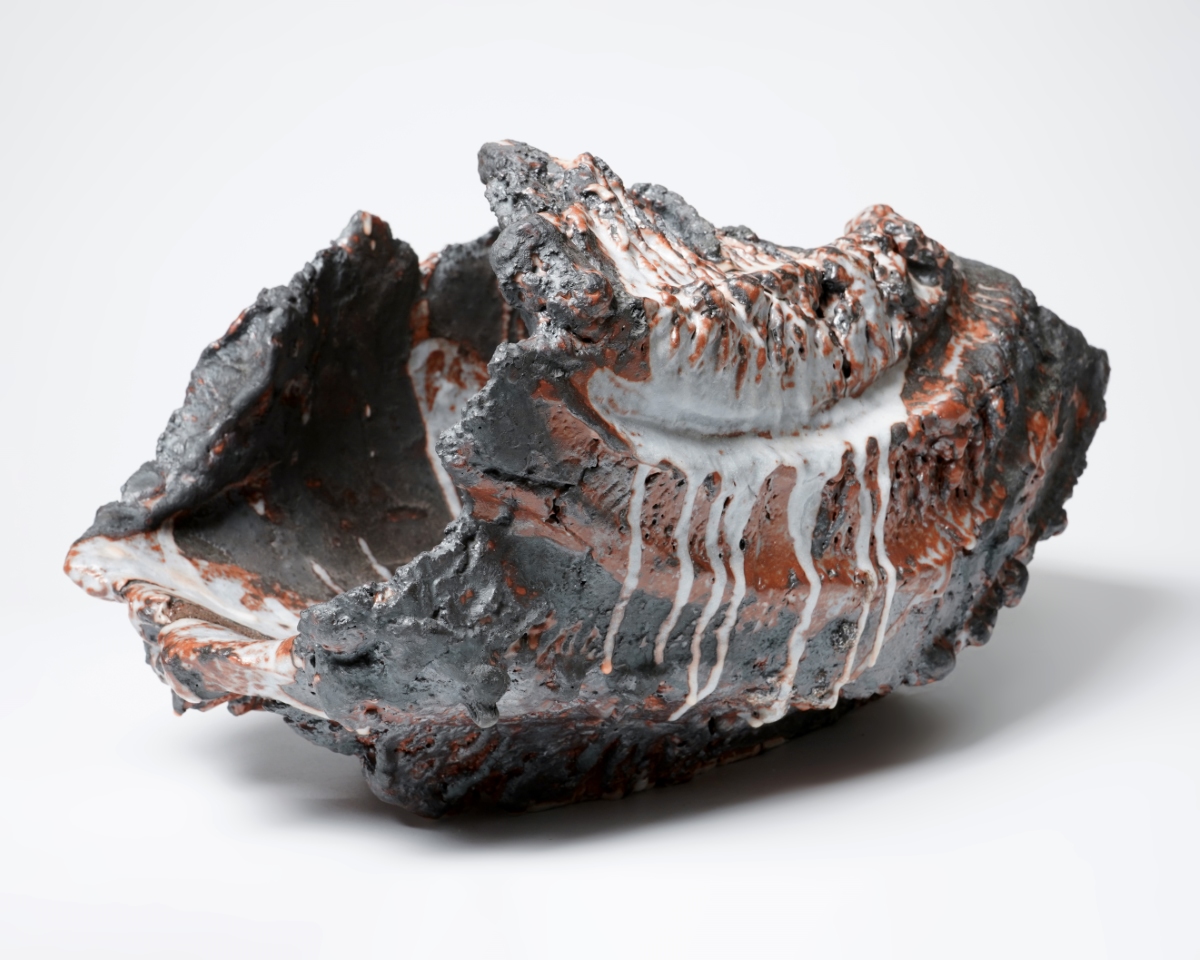 Gotō Hideki: Contemporary Shino Ceramics, 2023
Abridged essay by Dr. Andreas Marks, Mary Griggs Burke Curator of Japanese and Korean Art and Director of the Clark Center for Japanese Art at the Minneapolis Institute of Art. Published on the occasion of "Goto Hideki, Higashida Shigemasa & Contemporary Expressions of Shino and Oribe" at Dai Ichi Arts
The principle of supply and demand and its relationship with innovative technologies has been understood by humans for centuries. This economic model was the impetus for the birth of several new ceramic traditions in sixteenth-century Japan. The demand originally came from a rise in interest and a shift in taste in the formal practice of preparing and drinking powdered green tea (chanoyu), commonly known as the Japanese tea ceremony. Chinese antiques were preferred until the tea masters Sen no Rikyū (1521–1591) and his student Furuta Shigenari (aka Furuta Oribe; 1544–1615) codified and revolutionized tea by turning away from prized, imported utensils in favor of domestically manufactured objects that embodied a rustic aesthetic.
A growing market for tea ceramics in Kyoto prompted changes in kiln construction. Kilns were initially enlarged (ōgama), and around 1600, a new type of kiln was developed that ascended the side of a slope (noborigama). This innovation improved heat efficiency, allowing for increased production with a more economic use of natural resources. In this context, two new wares emerged: Shino and Oribe.
Shino ware is known for its thick, creamy-white glaze, textured with small holes, frequently applied over abstract floral designs painted in iron-brown. A substyle of Shino ware is Nezumi, or "mouse-gray" Shino. The precise origins of Shino ware remain unknown, as do the names of their potters. The etymology of the terms is clouded, and even their taxonomy is debated. Some scholars argue that Shino is, in fact, a white-glazed variation of the famous copper green Oribe glaze, rather than a separate type of ceramic. Both wares flourished in the late sixteenth and early seventeenth centuries, but after a few decades, they were abandoned, victims of changing tastes. It took two hundred years for Oribe ware to reappear in the late Edo period (1603–1868) and early Meiji era (1868–1912), finding a new market in which to thrive. It took another hundred years for Shino ware to be rediscovered.
Mino-native Arakawa Toyozō (1894–1985) returned to his home in 1930 and began researching the origins of Shino ware. After successful excavations revealed previously unknown facts about its history, Toyozō revived this classic style and was designated a Living National Treasure by the Japanese government in 1955 for his achievements. Toyozō's own Shino tea bowls (chawan) are widely regarded as his most powerful works, which would influence the work of generations of ceramicists to come. The most exciting among these contemporary ceramicists are not satisfied with merely reproducing period styles of the sixteenth and seventeenth centuries, but rather infuse their own ideas and personal modes of visual expression to the highly technical medium. In this dynamic realm, an exceptional talent shines: Gotō Hideki, an emerging star in the realm of Shino.
Gotō Hideki is a contemporary artist who was born in a coastal town in Miyagi Prefecture in northeastern Japan before having relocated to the former Mino area in central Japan over two decades ago. Currently, he resides in Tajimi City, where he graduated in 1997 from the Department of Ceramics Science at the local technical high school. Following his graduation, Gotō began participating regularly in public exhibitions, and in 2012, his Shino tea bowl received the Encouragement Award at the nineteenth Mino Shōroku Tea Bowl Exhibition, a competitive event held until 2015 that garnered over two hundred submissions for each edition. In 2021, he earned an Honorable Mention at the prestigious twelfth International Ceramics Competition Mino.
Gotō regularly participates in prestigious solo and group exhibitions, primarily in Japan. Despite the fact that he now resides in an area surrounded by mountains, Gotō's artistic forms draw inspiration from his upbringing in a seaside town, a place of sentimental value that he often longs for. He has named the wave-like or shell-shaped sculptural form he developed as "Shino Watatsumi," which translates to "Shino Sea God," a title deeply rooted in Japanese legends.
In Shinto mythology, Watatsumi represents the spirit (kami) of the sea and is an alternate name for the dragon deity Ryūjin. Gotō's Watatsumi creations resemble seashells and capture the dynamic essence of the sea while maintaining a connection to the tradition of Shino ware. The large waves that crash onto cliff edges, sea foam, and riptides. He articulates this imagery in the forms he creates, which most recently manifest with curvilinear, layered textures. These elongated, stretched forms, characterized by their earthy textures and powerful ridges, exude a profound sense of tension. One might also envision his works as volcanic formations, with streaks of individually colored igneous rock emerging as the lava cooled following an eruption.
Gotō has a remarkable ability to make the soil communicate eloquently, pushing the boundaries of Shino ware into uncharted territory and rising to the challenge of crafting new and contemporary artworks.
Photos courtesy of Dai Ichi Arts Ltd.
Captions
Goto Hideki 後藤秀樹 (b. 1973), Shino Watatsumi 海神, 2016, Feldspar over iron stoneware, With Original Signed Wooden Box, (h) 8.2" x (w) 16.8" x (d) 10.6"
Goto Hideki 後藤秀樹 (b. 1973), Watatsumi No.2 海神, 2023, With Original Signed Wood Box, Stoneware, (h) 8.9″ x (w) 16″ x (d) 13.5″
Goto Hideki 後藤秀樹 (b. 1973), Watatsumi No.1 海神, 2023, With Original Signed Wood Box, Stoneware, (h) 9.4″ x (w) 16.5″ x (d) 12″
Goto Hideki 後藤秀樹 (b. 1973), Watatsumi No.3 海神, 2023, With Signed Wood Box, Stoneware, H8.7″ x W15″ x D11.2″
Goto Hideki 後藤秀樹 (b. 1973), C-1 Nezumi (Gray) Shino Teabowl, 鼠志野茶盌, 2023, With Signed Wood Box, Stoneware, H4.7″ x W6.2″ x D5.5″
Goto Hideki 後藤秀樹 (b. 1973), Watatsumi No.18 海神, 2023, With Signed Wood Box, Stoneware, H5.9″ x W15.1″ x D7.0″