Are Non-Fungible-Tokens (NFTs) the newest collectible? Yes, no, maybe? Depending on who you ask, you will get a different answer. One exhibition, New Ownership at Eutectic Gallery, a contemporary ceramics gallery and studio in Portland, Oregon, challenges the concept of how we can collect ceramics, with NFTs taking center stage. How would this recently-developed blockchain/financial technology be incorporated alongside physical artworks in a gallery space?
I learned a little more about NFTs when I listened to an episode of The New York Times's The Daily back in April 2021. It helped me understand the intricacies of NFTs and consider the why, what, and how. NFT's are digital tokens for physical and virtual objects. These tokens are non-fungible, meaning that each token is unique and cannot be interchangeably traded. Collectors own the certificate of authenticity that is attached to that object during a 'minting process.' Once minted, a token's digital signature is stored on the Ethereum blockchain, which provides a way to keep track of ownership should it be resold or collected again in the future.
I've been particularly interested in observing how NFTs intersect with and evolve within the art world. Concerning New Ownership, I was interested in the juxtaposition of ceramic and sculpture, mediums so rooted in tactility, with the virtual crypto-block chain world that NFTs exist within. Eutectic Gallery owner Brett Binford shared with me that one of his goals is to "get clay where it hasn't been before." Binford is successful, alongside curatorial efforts by Hannah Bakken, of taking clay where it hasn't been before in New Ownership. Bakken also credits the show's impetus to collaborative conversations with Shawna Lipton and Josh Hughes, artists featured in the exhibition. The other artists featured in the exhibition are; Shelby Baldridge, Sage Cortez, Emily Ginsburg, Robert Maciel, Troy Matthews, Rachel Milstein, and Diego Morales-Portillo, most of them work with ceramics.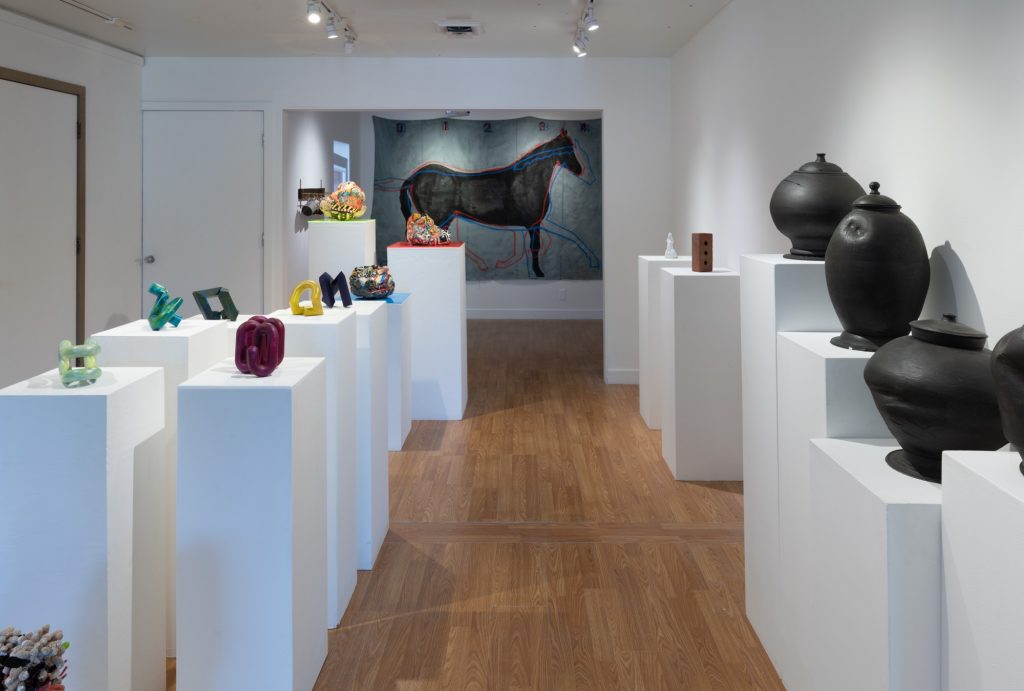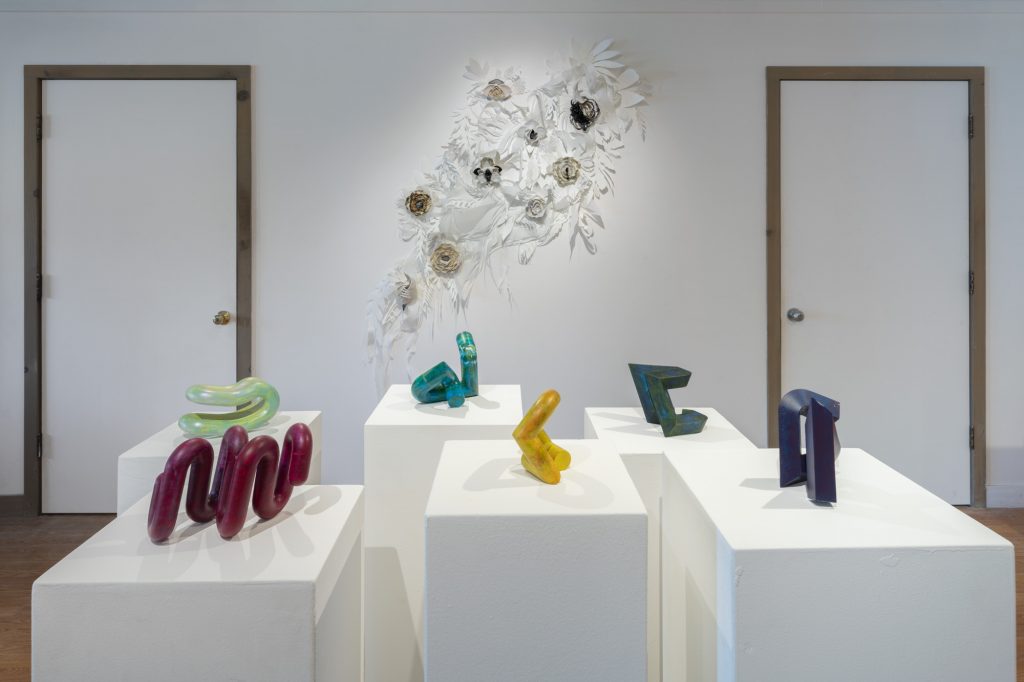 The work for sale in New Ownership is "NFT backed," meaning that when you buy the physical piece of work via Open Sea, currently the world's largest NFT marketplace, you also get the token of authenticity and accompanying virtual assets associated with the work and exhibition. For instance, Sage Cortez's work is earthen clay mugs hung from a mug rack. On the wall next to Cortez's physical pieces is a video of Cortez making and refining the physical cups. Bakken describes that the video features the "often unglamorous studio actions depicting an artist's labor." If a collector purchases Cortez's work in this exhibition, they get not only the physical set of her rustic style mugs but also the video of her working in her studio. The NFT functions as a way for Cortez, and perhaps other craftspeople and makers, to monetize their labor, in addition to their final product.
The exhibition statement says the work in the show "plays with ideas of the natural and artificial, the handmade and mass-produced, and the blending of organic forms with digital aesthetics."
I find that the majority of the work featured in the exhibition is successful in illustrating this concept. Robert Maciel's colorful geometric sculptures are made of PLA, wood filler, resin, and acrylic. Maciel's work seems to fit the most neatly alongside the digital space. The embellishment and forms feel intentional and possibly computer-generated. As Bakken thoughtfully describes in our correspondence, "they are meant to be played with, reoriented and interpreted as shifting glyphs or symbols." Maciel's process of reworking a digitally-printed object by hand is a perfect match for this show, which echoes the exhibition's focus of tangible over immaterial.
Emily Ginsburg's THUD!: Hotspots, THUD!: Whether Channels and THUD! Softspots, all made in 2021, are bulbous ceramics made from reclaimed clay. They're decorated with patterns reminiscent of altered layers in Photoshop, QR codes, and pixelated objects. Ginsburg notes that these pieces are "meant to be both playful and melodramatic. They call up embodied meteorites formed when labor, debris, time, flesh, pixel, and circumstance collide." To Bakken, "they sit as heavy objects, their weight a representation of the burden of being a human trying to hold everything in this world."
Additionally, the "False Memory Syndrome" series by Diego Morales-Portillo features eight carbon black glazed lidded vessels. The vessels appear to have undergone manipulation, starting initially as indents and markings, as seen in PBSuccess (2018). Later, more severe modifications like cracks, tears, and gashes augment the vessels, which disrupt the functionality of the jar such as Condor (2018). It speaks to ongoing cultural trauma, a critique of institutional powers and structures, which is as relevant presently as it was three years ago. Bakken also points out the importance of including voices like Morales-Portillo in the digital technology world, typically dominated by white, male voices.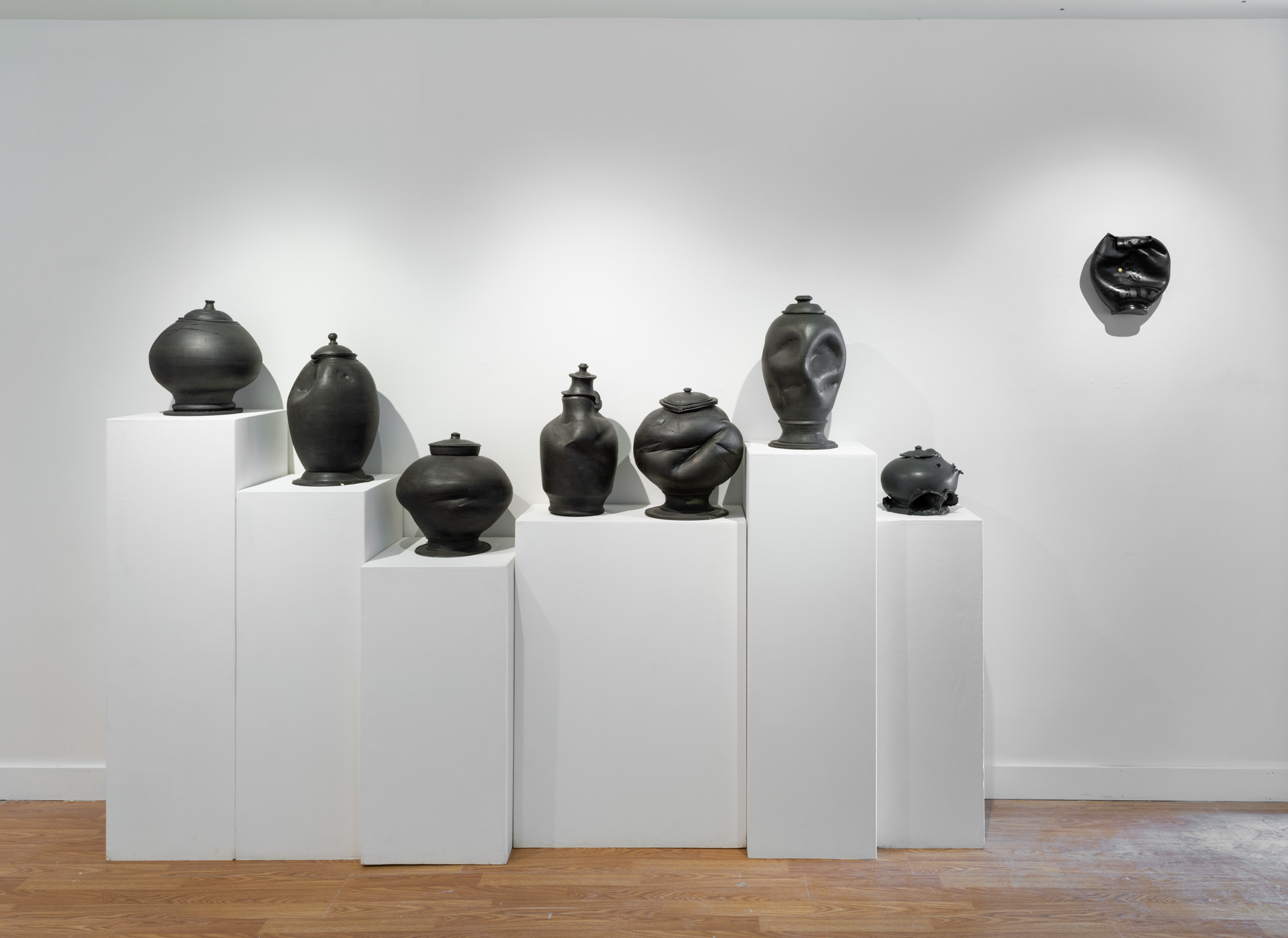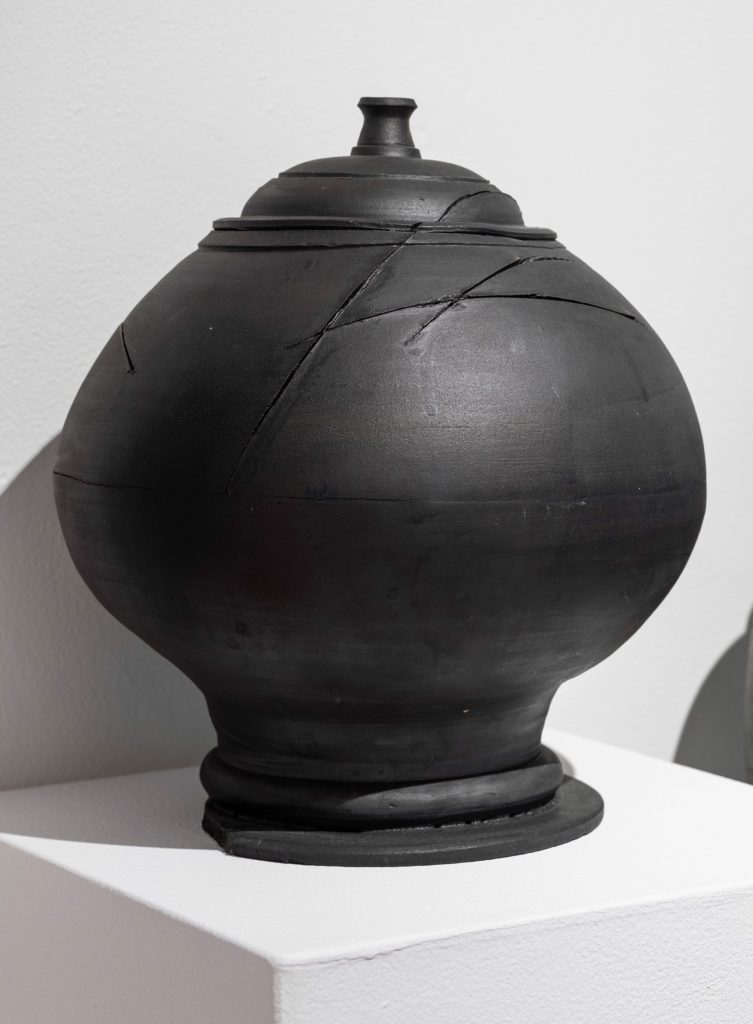 Releasing ceramic and sculpture work online and into the world of NFTs means it will be shared with a larger audience. This could be a marketing tool for artists and also a point of entry for people to learn about ceramics, and even more generally, contemporary art. Most critically, NFTs can provide royalties to artists and creatives in a way that hasn't been accessible previously. Typically an artist will make something, then sell it, but they have no way of tracking or knowing if their original work of art is resold later at a higher price. NFTs provide transparency, visibility, and assurance of authenticity to their buyers and collectors. By purchasing NFT backed work, collectors can invest and help support artists in a way that typically doesn't exist in contemporary art. The unique combination of NFT backed ceramic work, also opens up the clay world to new collectors.
We will have to wait and see if NFTs have staying power. Their evolution and hype in collector's markets, along with big-time celebrities, athletes, and Art Stars getting involved, makes me believe that this is just the start of NFTs. I recently read a quote on Are.na's Instagram that said, "online, it's especially easy to believe in a transitive property of liking – that by liking something and announcing your like of it, you acquire part of its shine." I think you can apply this to people's interest in NFTs.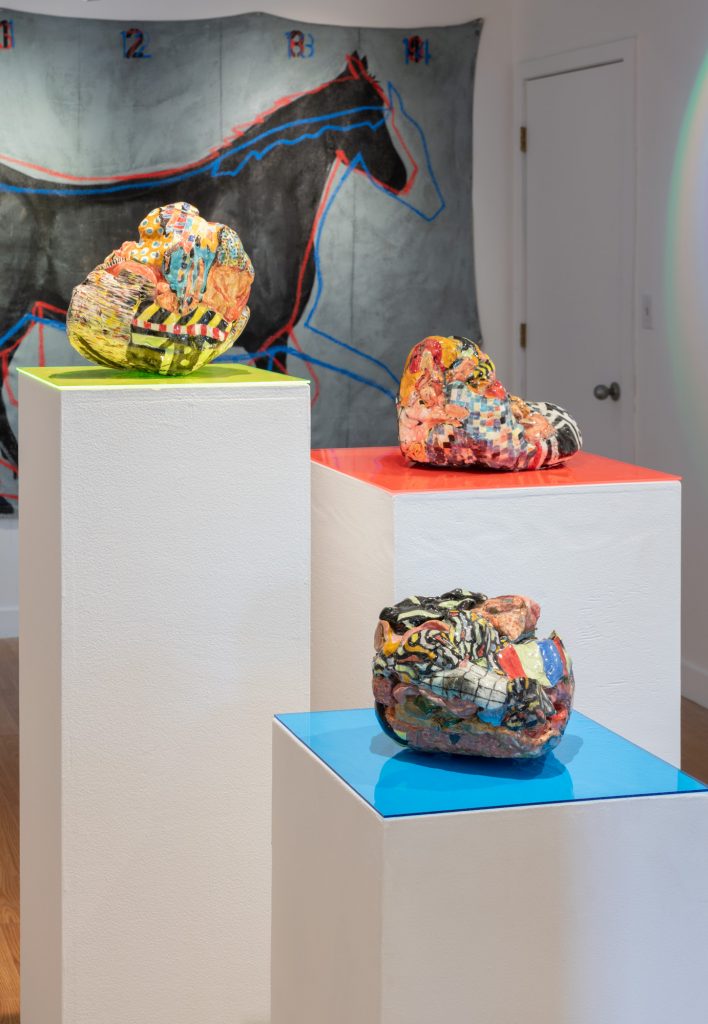 I also consider how much the NFT boom right now makes sense in terms of collecting. Most of us have spent the past eighteen months online and socially distanced, consuming digital media. Why wouldn't we want to collect our favorite memes, a clip of an iconic sporting event, or perhaps just jump into and be a part of the latest craze? I'm interested in watching and seeing how NFTs play into people's desire to collect, and how it continues to assure authenticity and originality while also providing compensation via royalties for all creators. They've already changed the way we think about collecting and what we can collect.
Decentralized financial systems are helping us reimagine a future that is not tied to socio-political structures. However at what cost? Cryptocurrency is responsible for a significant increase in carbon emissions around the globe since its inception. However, changes are being made to ensure that NFTs are more green. The Ethereum blockchain in which NFTs exist is transitioning to a Proof of Stake validation which doesn't produce as much CO2.
New Ownership begs us to reconsider a multitude of questions. Whether it be equity for artists, or envisioning what we collect as well as why we like to collect. Are NFTs simply a fad, or will they outlast the hype? How will NFTs and art continue to intersect? And more importantly, will they live up to the hope to provide an equitable future for artists to get paid for their work? Only time will be able to make such determinations.
New Ownership at Eutectic Gallery is on view from September 2-30, 2021 by appointment.
---
Article featured in Ceramics Now Weekly. Sign up for our newsletter here.