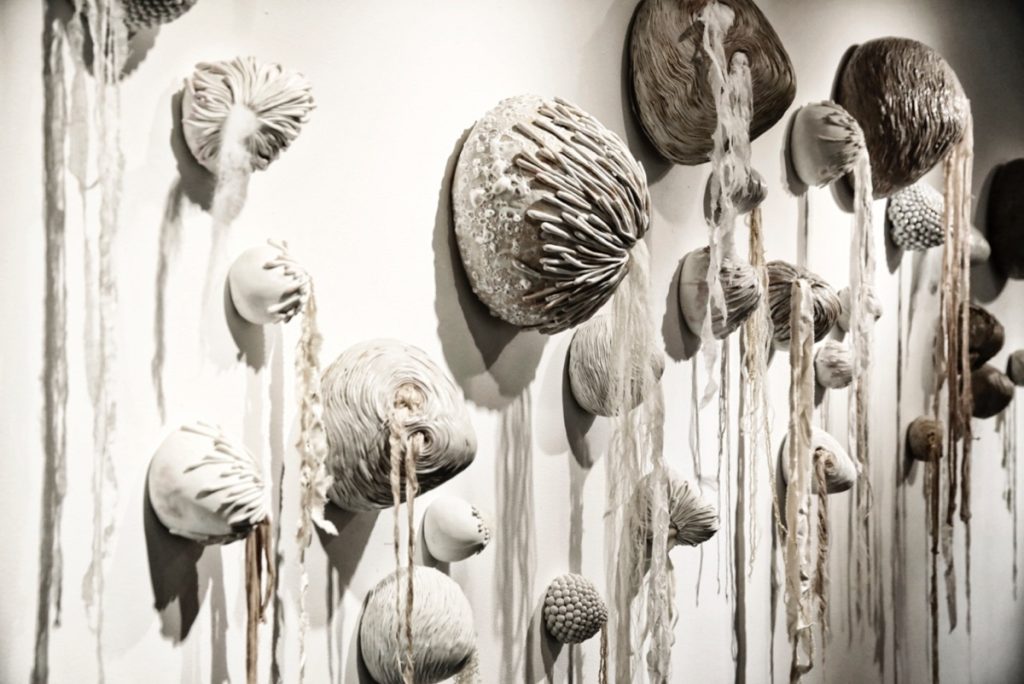 Tako Tsubo is born from the subtle and frail research about grief.

Tako Tsubo is universally recognized and included in the official list of illnesses, also known as the syndrome of the broken heart.

Tako Tsubo is an ancient pot the Japanese use for fishing octopuses.

Tako Tsubo is the shape the heart assumes, in a reversible way, during the syndrome and is the same as the Japanese pot.

Connection between ceramic and pain.

Hence TakoTsubo is born.

The pot becomes a container of memories, of grief and feelings, of hope and soft melancholy, of resignation that becomes a place of light although liable and elusive. The containers spit textiles and materials belonging to my family home, to my memories.

TakoTsubo is a tale of pain and his elaboration, the pain of lack, of what it could have been, but has not, the pain of helplessness. It also talks about processing loss through creativity, healing …

Companion for months, led me by the hand to the epilogue… Dim light, gloomy, although light.
Photos by Bibo Cecchini
Photo captions
TakoTsubo, installation view
TakoTsubo #1, 2018, stoneware, glaze, stockings, 1260°C, 38cm x 25cm
TakoTsubo #2, 2018, stoneware, glaze, veil, 34cm x24cm
Osmosis#1, 2018, stoneware, slip, glazes, plastic tubing, 41cm x 17cm, 37cm
Osmosis#2, 2018 stoneware, slip, glazes, plastic tubing,1260°C, 57,5cm x 42m x 21cm – 45cm x 30cm x 17cm
Release#1 and #2, 2018, stoneware, slip, glazes, glass, 1260°C, 42cm x 40cm x 34cm – 46cm x 73cm
Release#1, 2018, stoneware, slip, glaze, glass, 1260°C, 42cm x 40cm 34cm
TakoTsubo – the things she wore, 2018, stoneware, stain, glaze, veil, 50cm x 40cm x 46cm
TakoTsubo #3, 2018, porcelain, fabric, 1260°C, 21cm x 18cm
TakoTsubo #4, 2018, porcelain, glaze, wool, 1260°C, 15cm x 10cm
TakoTsubo #5, 2018, porcelain, stain, glaze, cushion filler, 17cm x12cm
TakoTsubo #6, 2018, stoneware, glaze, thread, 1260°C, 22cm x19cm
TakoTsubo – the things she used, stoneware, glazes, thread, 50cm x 40cm x 46cm
Unease, 2018, stoneware, stain, glaze, galestro, 35cm x 38cm x 18cm – 26cm x 24cm x 13cm – 20cm x 18cm 16cm
Unease, 2018, stoneware,stain, glaze.galestro, 1260°C, 65,5cm x 44cm x 21cm