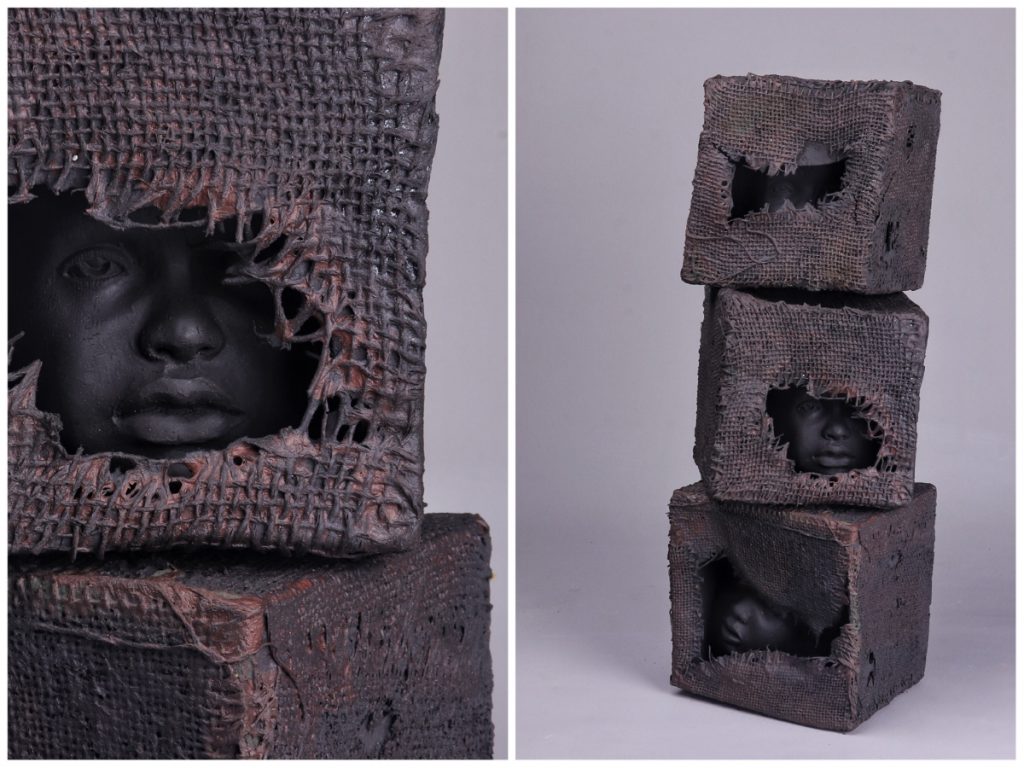 Anisul Haque: The sense of humanity, 2018-2021
For me, creating art is something meaningful; that has a strong message and an impact on society. Ceramics is the best way to express my thoughts, relax my mind, and show the truth from my own perspective.
I believe that no other material has such a natural relationship with humans as clay. I combine my ceramic works with sacks which allows me to have a different texture on what I do in my work. The distressed cloth texture is expressed by exploring the emotional factor of our world today — racism, third-world country oppression, and feminism, among other topics. The purpose of our creation is to serve humanity and I believe that artists can awake us against injustice. It doesn't matter what religion we believe in or what country we are from – we have only one identity. We are human beings. I am curious about humans and fascinated by the infinite possibilities of conflict and diversity within humanity. My work is about the unfortunate aspects of humanity. My sculptures are like a versatile mirror where the viewer can perceive the voices of contemporary problems.
Photo captions
Expectancy, 2020, porcelain, 25 x 25 x 75 cm
Depression of freedom, 2018, porcelain, 10 x 9 x 43 cm
Doubt to destiny, 2019, porcelain, 11 x 10 x 25 cm
Refugee, 2018, stoneware, 15 x 17 x 58 cm
The hardships of life, 2019, stoneware, 18 x 9 x 23 cm
Refugee women 5, 2020, porcelain, 30 x 17 x 40 cm
Collateral Damage, 2018, porcelain (pit firing), 160 x 35 x 5 cm
Critical time, 2020, porcelain, 11 x 44 x 6 cm
Soreness 1, 2018, porcelain, 18 x 12 x 21 cm
Soreness 2, 2018, porcelain, 30 x 22 x 35 cm
The dimension of hunger, 2020, porcelain, 25 x 21 x 37 cm
Tied up, 2021, stoneware, 30 x 30 x 27 cm