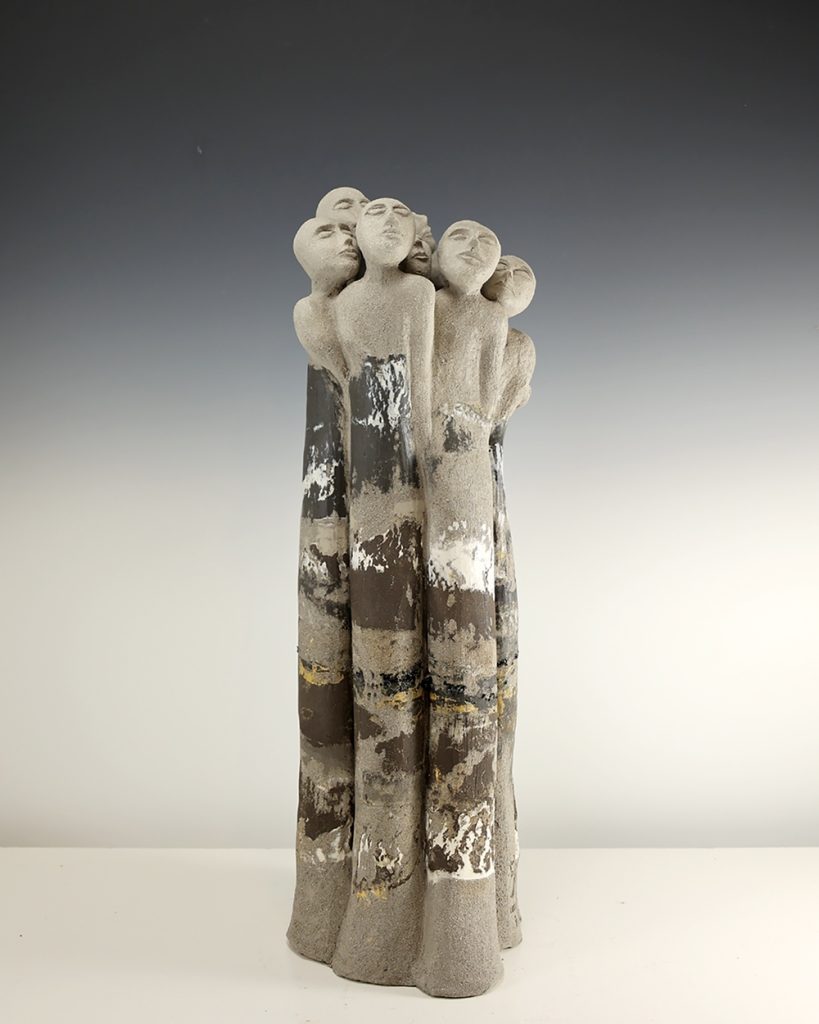 Over billions of years, geology has transformed our planet through erosion, sedimentation, pressure and heat. Today, we study and understand (to a certain extent!) the evolution, accumulation, and transformation of the living matter (bacteria, plants, animals) and the mineral matter composing the geological strata. It tells the story of our Earth that reads like a book.
Using this as a source of inspiration, my work in general, whether sculptural or one-of-a-kind objects, replicates the phenomena of stratification. In a shortened order of time concerning nature, my ceramics manifest the same erosion, sedimentation, pressure and heat occurrences. Within this process, kiln firing represents a partially controlled hazard resulting in surprising fusions, deformations, colors, flows, fissures and textures. These could be considered in the ceramic world as defects, but for me, they are acceptable as part of the work, as well as they are part of the rocks, minerals and mountains.
Thus, after over 25 years of working and teaching in my studio, leftover clays, stoneware, porcelain, colored engobes, glazes, and even cleaning-up water have been recovered and accumulated in layers. It was also the way I found to recycle and reuse waste materials ecologically. Similarly to geological formations, these stratified clays also tell a story… it's the story of my work and my students passing through my studio. Each piece contains a little of us all. Like a skin, the stages of life and time are conserved within the strata. Layer upon layer, humans are built… each layer added to an older one… each having an incidence on the whole being delicately and intimately linked to the terrestrial world, to the world of Gaia.
Animanimumundus, 2022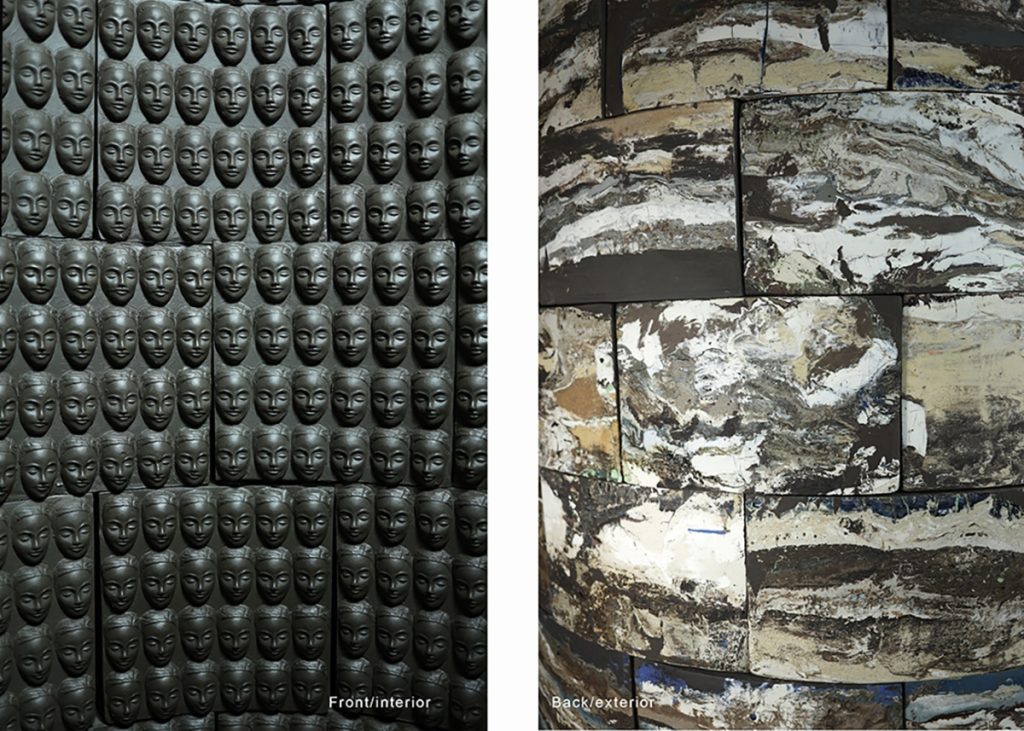 The sculpture "Animanimumundus" is like a Tower of Babel. It was built as a human-scaled space with an exterior and an interior composed of 68 blocks stacked like bricks. The outside reproduces the geological strata that contain the story of the formation of mountains, rocks and minerals. Consequently, the inside is lined with 1536 faces… all one and the same in a "melting pot" of humanity in correlation to the Earth which acts as a container. It highlights the fact that living organisms and the material world are so closely interwoven that they belong to a single and indivisible process. As humans, we are reminded that we are not above nature but in an intimate connection with and within it. Like in the mineral world, evolution is a process of sedimentary accumulation that contains the memory of the past, which manifests itself in the present but is also the seed of the future. This is applicable to each individual but also to humanity as a whole. For we are the faces of Gaia, and every day our mother Earth pushes us towards a destiny, a common society, where even if the languages are different, the words are similar. This "melting pot" is not always recognized as necessary and remains as a fragile link in an uncertain balance called life.
Captions
All Together, 2023, Grey stoneware & recycled clay, Ø23×57 cm
House of Souvenirs, 2020, Black stoneware, recycled clay materials, gold leaf, Ø14×127 cm
Character, 2020, Black stoneware, recycled clay materials, Ø12×125 cm
Tango, 2019, Grey stoneware, recycled clay materials, Ø20×150 cm
Bluebirds 2,3,4, 2020, Black stoneware, recycled clay materials, blue glaze, Ø16×70 cm, Ø18×78 cm, Ø11×60 cm
Bluebird No 4, 2020, Black stoneware, recycled clay materials, blue glaze, Ø18×76 cm
Intangible In My Dreams, 2018, Black stoneware, recycled clay materials, porcelain, feathers, sand, glass dome, Ø30×30 cm
Mother Earth, 2022, Ø40x63cm, Ø30×80 cm
Vases, 2020, Grey stoneware, recycled clay materials
Fussional, 2022
Voyage Au Centre De La Terre, 2022
Animanimumundus, 2022, Black stoneware and reclaimed/recycled clay materials (stonewares, porcelains, colored engobes and glazes) – Unglazed, 220 x 140 cm