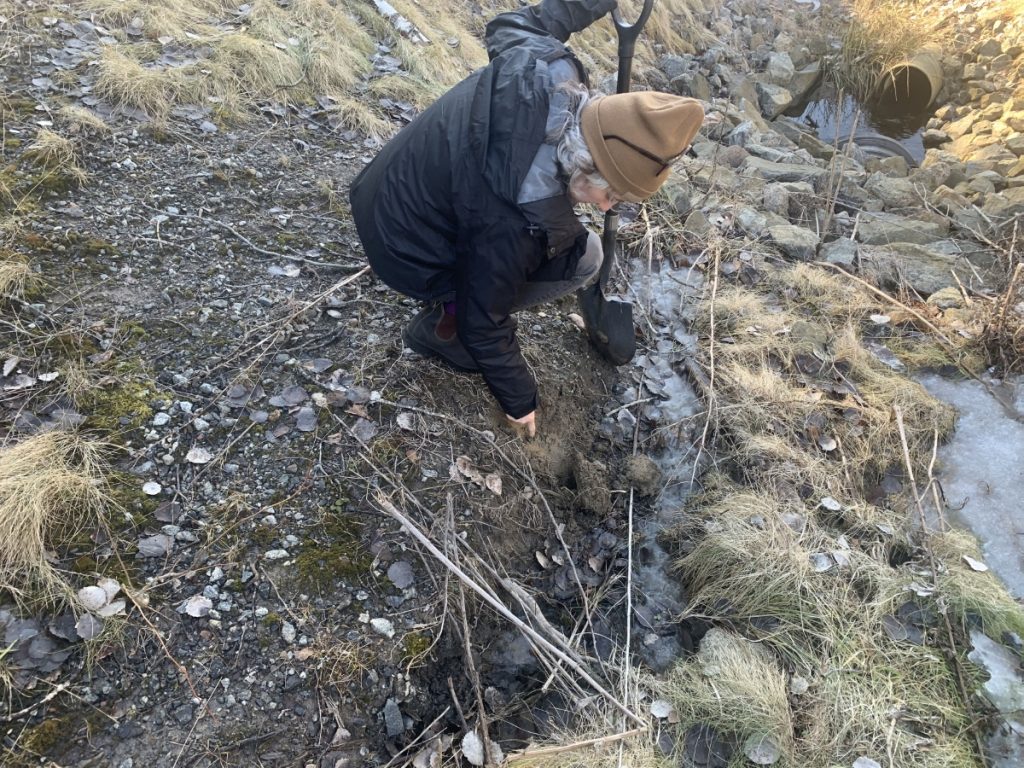 Ceramics production, even on the level of an individual artist, touches several of the most pressing environmental issues, including climate change. To produce ceramics pieces, finite natural resources are mined and sold on a global market. An energy intensive process turns the raw materials into products, often producing toxic waste as a by-product. Ceramics last for thousands of years, but ceramic objects break easily, and turn into ceramics garbage, which often ends up in land-fill.
Sustainable ways to create ceramics exist in traditional crafts, in conceptual art and in the practices of many contemporary ceramicists. In my Raw Clay project, I compile and develop these methods, in order to create contemporary, sustainable ceramic art pieces.
My pieces use local clay resources available in nature around the area where I live. The clay is mixed with other natural materials such as grass or branches to create the pieces. By using raw clay as a material to create art, the pieces can be recycled back to nature. The gradual disintegration of the piece makes part of the artwork. The Raw clay project its part of my PhD project Sustainability in Ceramic Art.
Captions
Searching for clay in nature, photo credit: Erik Lindeborg
Red clay resource, photo credit: Erik Lindeborg
Testing the red clay on a stone wall, photo credit: Erik Lindeborg
Testing the red clay on a stone wall, photo credit: Erik Lindeborg
Red clay drying and falling off the stonewall after 2 weeks from making, Diana Butucariu
Making of the Corner, 2022, redclay, 120x120x2 cm, photo credit: Erik Lindeborg
Collecting flowers to use for the Corner, 2022, redclay, 120x120x2 cm, photo credit: Erik Lindeborg.
Making of the Corner, 2022, redclay, 120x120x2 cm, photo credit: Erik Lindeborg
Making of the Corner, 2022, redclay, 120x120x2 cm, photo credit: Erik Lindeborg
Rapeseed flowers on red clay, Corner details, 2022, redclay, 120x120x2 cm, photo credit: Erik Lindeborg
Corner, 2022, redclay, 120x120x2 cm, photo credit: Erik Lindeborg
Collecting dry grass, photo credit: Erik Lindeborg
Weaving with branches, photo credit: Erik Lindeborg
Weaving with branches, photo credit: Erik Lindeborg