HyangJong Oh: Selected works, 2012-2021
I was born in 1964 to an ordinary Gwangju, South Korean family. I attended university and majored in pottery. During my education, the significance of pottery-making techniques was continually emphasized, and I dedicated countless hours to refining my craft, focusing on the spinning wheel. I aspired to scale my creations to their maximum potential.
After graduation, my fascination turned towards traditional Korean ceramics, especially Onggi. Eager to master this art, I joined an Onggi studio to study its intricate techniques. I had the privilege of learning various Onggi weaving methods from four esteemed Onggi masters. Over the next 30 years, I continued to hone my pottery skills.
In 2000, I was honored to participate as a demonstration artist at the Korea Ceramic Expo. Subsequently, I showcased my work in nearly 20 locations across the United States, engaging in American pottery tours, conferences, exhibitions, and demonstrations. I've also exhibited and demonstrated my craft in countries such as Japan, China, England, Norway, Australia, Italy, and Denmark. During my travels, I encountered a diverse spectrum of ceramic arts and interacted with various ceramic enthusiasts, including medical students, professionals, professors, and amateurs.
In the process of shaping clay, profound questions arise: What is the essence of soil? Who am I? Where have I come from, and where am I headed? What does it mean to be human? What is the essence of life? Such questions have always intrigued me. Over time, my curiosity expanded to encompass the vast 13.8 billion years of cosmic history. I delved into the fundamentals of matter, the Earth's and life's genesis, human history, physics, mathematics, biology, philosophy, religion, and music. As a potter living in this epoch, I constantly ponder what creations can emerge from such contemplation. This introspection is vividly reflected in my work.
For me, there is no boundary between traditional and contemporary ceramics. Emotions and actions converge daily with the clay, giving birth to novel ceramic expressions.
Delight, 2012-2014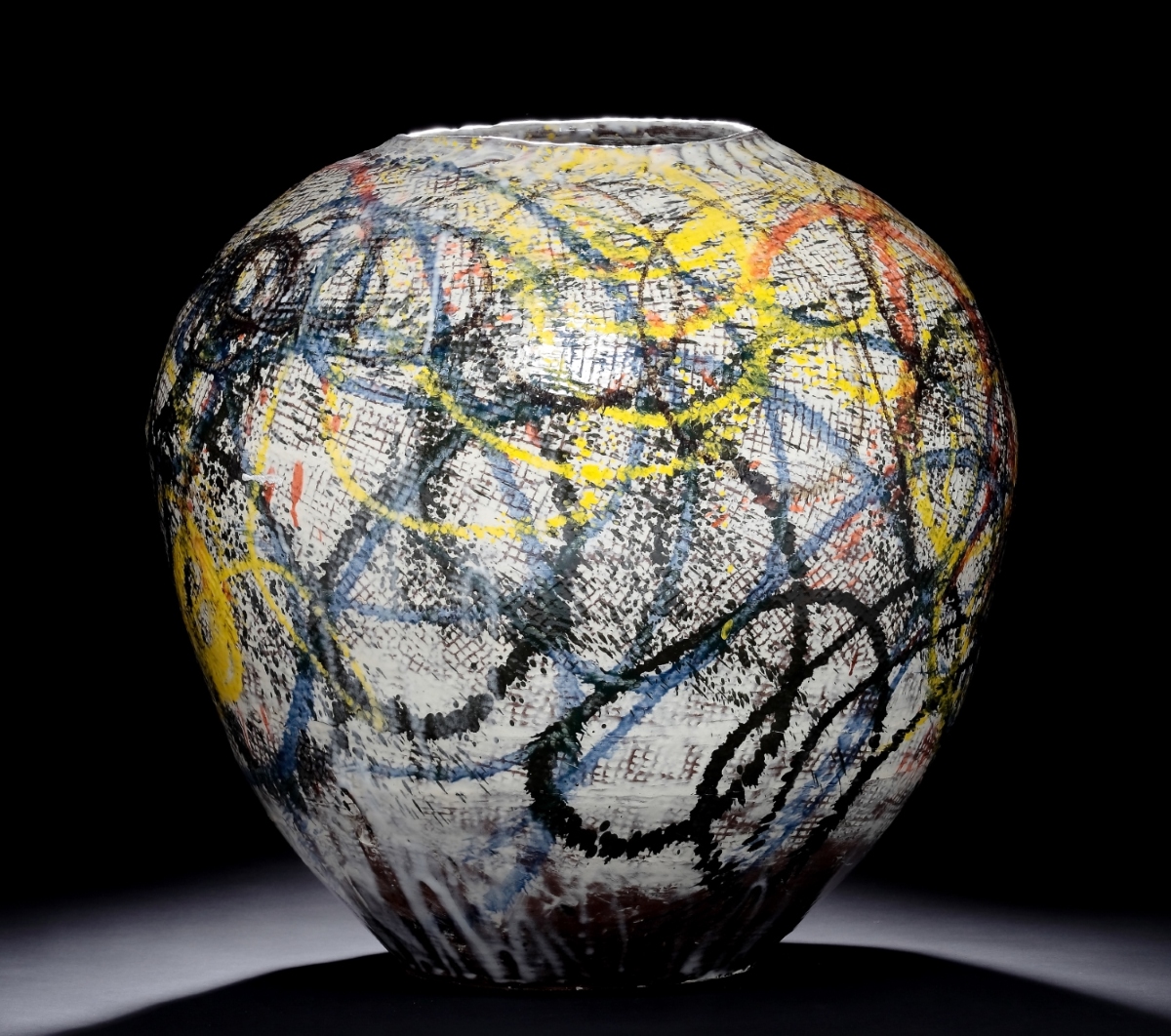 Diversity, 2013
Four hundred billion stars make up a galaxy. There are 400 billion other systems like this in the universe. These countless stars have similar shapes but different personalities.
From old stars made of hydrogen 13.8 billion years ago to stars made of various atoms just a few years ago, from unimaginably hot stars ranging from tens of millions to billions of degrees to cold stars reaching absolute temperatures of -273 degrees.
When a star dies and explodes, the debris becomes dust and is scattered all over the universe, and then gathers with other dust to become a new star, influencing each other a lot. The round shape is similar, but each has an activity. Ingredients, age, size, temperature, personality, everything is different.
On Earth, about 20 million species of various animals and plants live in close relationship with each other and have the same pattern as stars in the universe. Furthermore, all things in the universe form this pattern, showing different diversity and similar similarities in subjects and objects.
This artist tried to express the diversity of various subjects and the similarity that comes from objects through ceramics.
Between craft and art, 2017
Craftsmen need a lot of time to acquire skills and think in order to achieve the ultimate craft. In countless iterations, thoughts stop, and simple acts and objects collide to create new aesthetic sensibilities and forms.
In each process, the artist's gesture and spirit permeate the object and become a pattern. Also, the quality of the work is created. Even if these handicrafts are used less or disappear, the emotional beauty remains.
Craft is art in the ball. Art has craft in servitude.
Color 色 and Type 形, 2020
While working, I tried to minimize my will and actions as much as possible by simply piling up the clay. So, I let the clay go where it wanted it to and applied the color I wanted.
By doing this, the will of clay and color, my will and action, and the time and space at that time are harmonized to create a work. It also allowed me to explore fundamental beauty.
Works exhibited at the Goheung Buncheong Culture Museum, 2020
Evolution of life, 2020
Using a sphere, the process from the birth of life on Earth to the evolution of human beings was expressed in the Buncheong ware of Korean traditional ceramics. In the future, I will express the extraordinary things that have happened on Earth with this technique.
Where do I come from, and where do I go? Where am I staying, what do I do, and how am I living?
I want to have an opportunity to think and ask questions.
Demonstration during Argilla Italia, 2018
Captions
Delight, 2012, Red clay, white clay and color slip, pine wood glaze, 1240 degrees oxidation firing, 67x67x72cm. Created in the Hwansoon studio, Jeonnam. Photo: Heo Studio
Delight, 2014, Secondary clay, iron oxide, gas kiln 1250 degrees oxidation firing, 56x56x58cm. Created in the Hwansoon studio, Jeonnam. Photo: Teo Photo Studio.
Diversity, 2013, Metal ball, clay, white slip, fine wood glaze, 1250 Celsius degree reduction firing, 200x24x240 cm. Created in the Hwansoon studio, Jeonnam. Photo: Teo Photo Studio
Between craft and art, 2017, Secondary clay, pine wood, Oxidation firing in a wooden kiln at 1220 degrees, approx 72 x 72 x 80 cm. Created in the ceramic studio in Hwasun-gun, Jannam. Photo; Teo Photo Studio.
Color 色 and Type 形, 2020, Metal ball, clay, white and color slip, pine wood glaze, 1250 Celsius degree oxidation firing, approx. 20 x 20 x 70 each. Photo: Goheung Buncheong Culture Museum
Evolution of Life, 2020, Metal ball, clay, white slip, pine wood glaze, 1250 Celsius degree reduction firing, 72x72x85 cm. Photo: Goheung Buncheong Culture Museum