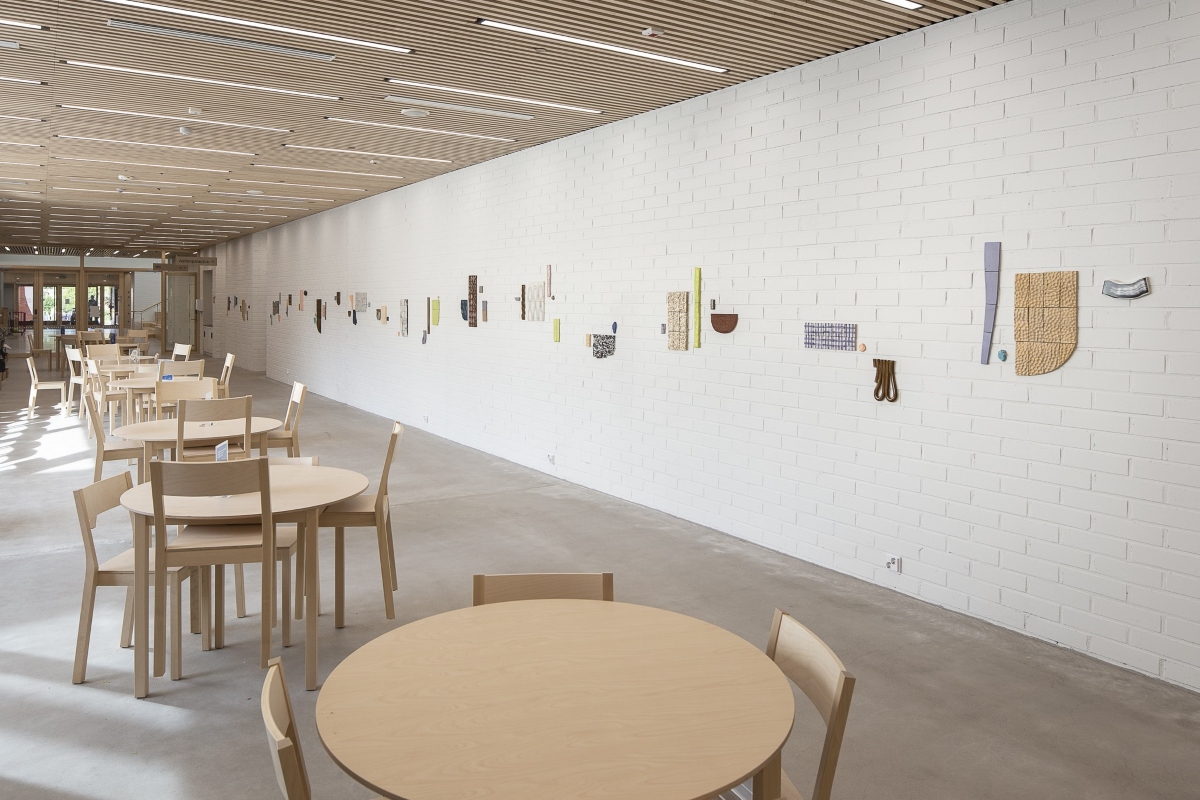 Kombo is an abstract ceramic wall relief that spreads across different parts of the new Jakomäen Sydän school building (Helsinki, Finland) like a collage. The largest continuous part of the work occupies the nearly 17-metre-long wall in the corridor leading to the building's cafeteria. The walls of the building's daycare and youth facilities are adorned with smaller reliefs, which have also been added to the brick cladding of the building's three courtyards.
The hand-made ceramic pieces are made out of various types of clays, including porcelain, black clay and red clay. Some pieces of the work are made of the same Finnish red clay that the brick cladding of Jakomäen Sydän's exterior walls consists of. One of the ceramic pieces contains volcanic ash, while another includes clay from a river delta in the Amazon rainforest, worked with a traditional technique. In addition to the various types of clay and working methods from different parts of the world, the work is characterised by different ceramic surface techniques, such as glazing, on-glaze painting, gilding and custom transfer decals.
According to Laura Pehkonen, she was inspired to create the work by the techniques used by different cultures and in different eras, through the use of which she created a kind of worldwide and temporal map of ceramics.
The artist designed the work to be looked at and touched. The ceramic surface structures together with the varying colours and techniques are an integral part of the work and the experience. Different clusters of reliefs are mounted at different heights on the walls, taking into account users of different heights.
Rhythm plays an important role in Kombo. Looking at it from afar allows you to see consistent, major lines; coming closer reveals small local movements up and down, diagonally and rotationally. The eye is steered by the hand-painted details, brush strokes and variations in tone. In addition to rhythm, another important aspect is the abstract nature of the work. According to the artist, a nonrepresentational work does not exclude anyone's interpretation, enabling instead the creation of personal and intuitive impressions. In essence, the work is a bit like a stream of thought that starts from a random point, proceeds along, grows stronger, makes a loop and then settles to follow new lines.
The work is part of the collections of Helsinki Art Museum HAM.
Text by Helsinki Art Museum HAM.
Photos 1-10 by Hanna Kukorelli / HAM. Photos 11-13 by Laura Pehkonen.