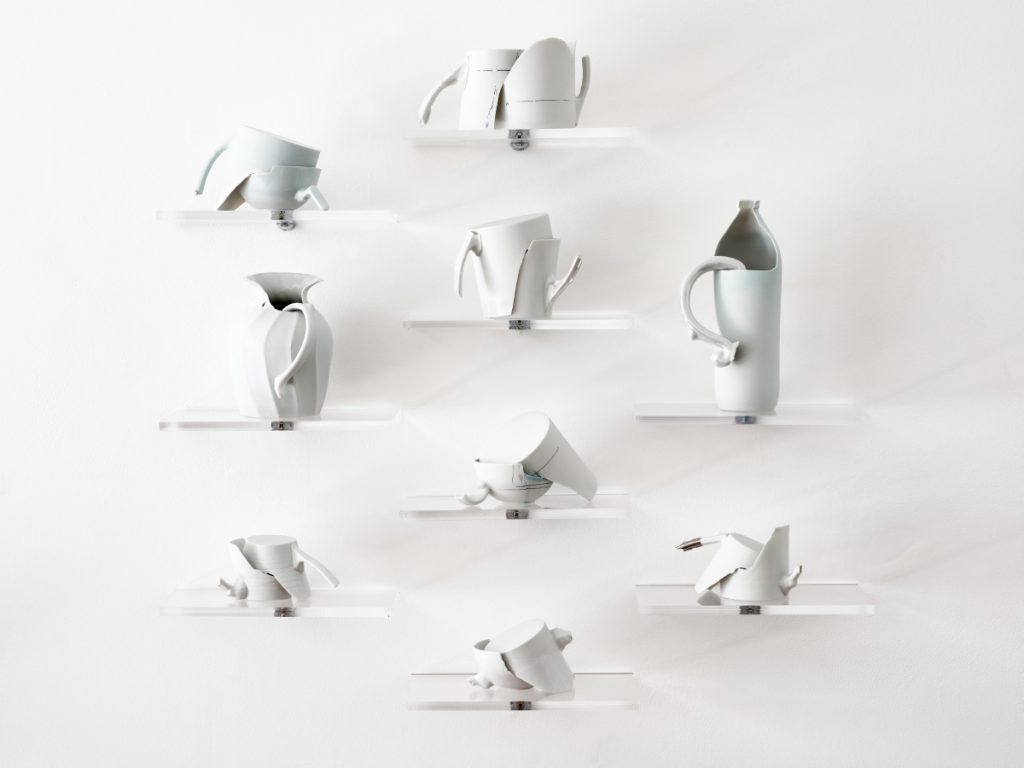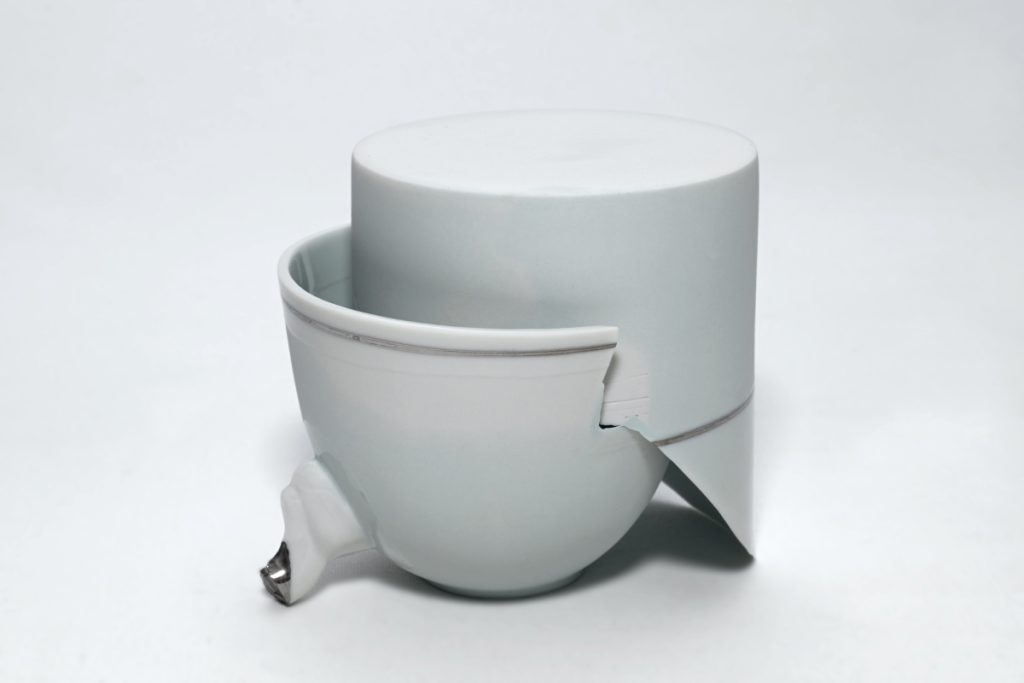 Lucy Morrow: Possible Fragments, 2019-2022
My most recent series, "Possible Fragments," is a collection, like a ceramic puzzle, of fragment-like forms leaning into one another in pairs. The complementary thin shapes are fitted together, serrated edges meeting but not exactly marrying up.
Some of these couples are two successive casts from the same mould, while others are pairs drawn from two different ones, thus accentuating the lopsided or asymmetric aspect of the pieces. The shards are drawn from various shaped moulds referencing familiar objects; bottles, cylinders, cups, flasks, handles, and vases. The porcelain is tinted using coloured stains; each piece is sanded, decorated high-fired, and assembled. There are colour references drawn from industrial tableware, and some areas are decorated using silver or gold luster bands which visually bind these pairs together. The resulting objects are often delicately organized like museum artifacts on wooden or plexiglass shelves.
Each couple portrays a simple vocabulary; two basic slip-cast shapes leaning together almost naturally. The spectator might mentally try to reconstruct what would have been the original form of these objects. In some respects they are like artifacts that move beyond their original "unfragmented" state, attaining a whole new aesthetic. The sculptures might provoke a certain discomfort linked to the impossibility of rethinking the object as something complete.
These explorations, in both slip casting and installation, have driven my work forward and linked with themes like loss and resilience, reconciliation, and the beauty of imperfection.
Captions (in order of appearance)
Possible Fragments, 2019, Porcelain, 70X80X14. Photo by Jerome Teurtrie
Possible Fragments, 2019, Porcelain, 70X80X14. Photo by Jerome Teurtrie
Possible Fragments, 2021, Porcelain, 72X97X16. Photo by Simon Jourdan
Possible Fragments, 2020, Porcelain, 70X80X14. Photo by Jerome Teurtrie
Possible Fragments, 2021, Porcelain, 14X10X10. Photo by Simon Jourdan
Ways To Fit, 2021, Porcelain, 10X53X53. Photo by Simon Jourdan
Ways To Fit, 2021, Porcelain, 10X53X53. Photo by Simon Jourdan
Possible Fragments, 2020, Porcelain, 10X15X10. Photo by Jerome Teurtrie
Possible Fragments, 2020, Porcelain, 10X15X10. Photo by Jerome Teurtrie
Possible Fragments, 2019, Porcelain, 10X15X10. Photo by Jerome Teurtrie
Possible Fragments, 2019, Porcelain, 9X15X9. Photo by Jerome Teurtrie
Possible Fragments, 2020, Porcelain, 11X15X11. Photo by Jerome Teurtrie
Possible Fragments, 2019, Porcelain, 7X12X7. Photo by Jerome Teurtrie
Possible Fragments, 2019, Porcelain, 8X12X8. Photo by Jerome Teurtrie
Possible Fragments, 2020, Porcelain, 9X15X9. Photo by Jerome Teurtrie
Possible Fragments, 2020, Porcelain, 9X13X9. Photo by Jerome Teurtrie
Possible Fragments, 2020, Porcelain, 12X17X15. Photo by Jerome Teurtrie
Blue Caress, 2020, porcelain, 10X15X10. Photo by Jerome Teurtrie
Caresse, 2022, porcelain, 12X17X13. Photo by Gabriel Unger