Lucy Morrow grew up in the rural area of Donegal, northwest of Ireland, and graduated from the Crawford College of Art and Design in Cork in 1990. She set up her studio in Brittany two years later, where she has worked since then. She has been a ceramics teacher at the André Malraux Centre For The Arts in Douarnenez, France, since 2001.
"My work, at the end of my studies and during the fifteen years following my arrival in Brittany, was slab-built earthenware or porcelain and based on anthropomorphic forms. In 2009 I began using slip-casting techniques, and I developed sculptures and installations in porcelain which were very much led by the slip-casting process. The early pieces, all drawn from cylindric or conic-shaped moulds, resembled shards or fragments. I then began to explore fitting these, assembling, binding, and organizing them in groups or grid formation. My early fragments were ligatured using rubber from bicycle tubes, which I normally use to secure my moulds during slip-casting, but here became part of the finished piece. My recent practice consists of small binary objects presented in groups, free-standing and wall installations. I cast everyday found objects, bottles, flasks, cups, handles, and beakers; the resulting casted fragments are joined to create "fitted" objects. The work involves assembling, fixing, and putting into order these incomplete serrated-edge shards.
I exhibit my work in my studio/gallery in France, Ireland, my country of origin, and internationally. One of my first slip cast pieces, "FitBox," was awarded first prize at the international ceramic competition in Carouges in 2011, and since then, I have exhibited regularly throughout Europe. In 2022 I showed my work at Ceramics Art Andenne in Belgium and in the "Land/Marks" exhibition during the Argilla International Ceramics Festival, Faenza, alongside 42 other Irish makers."
Visit Lucy Morrow's website and Instagram page.
Featured work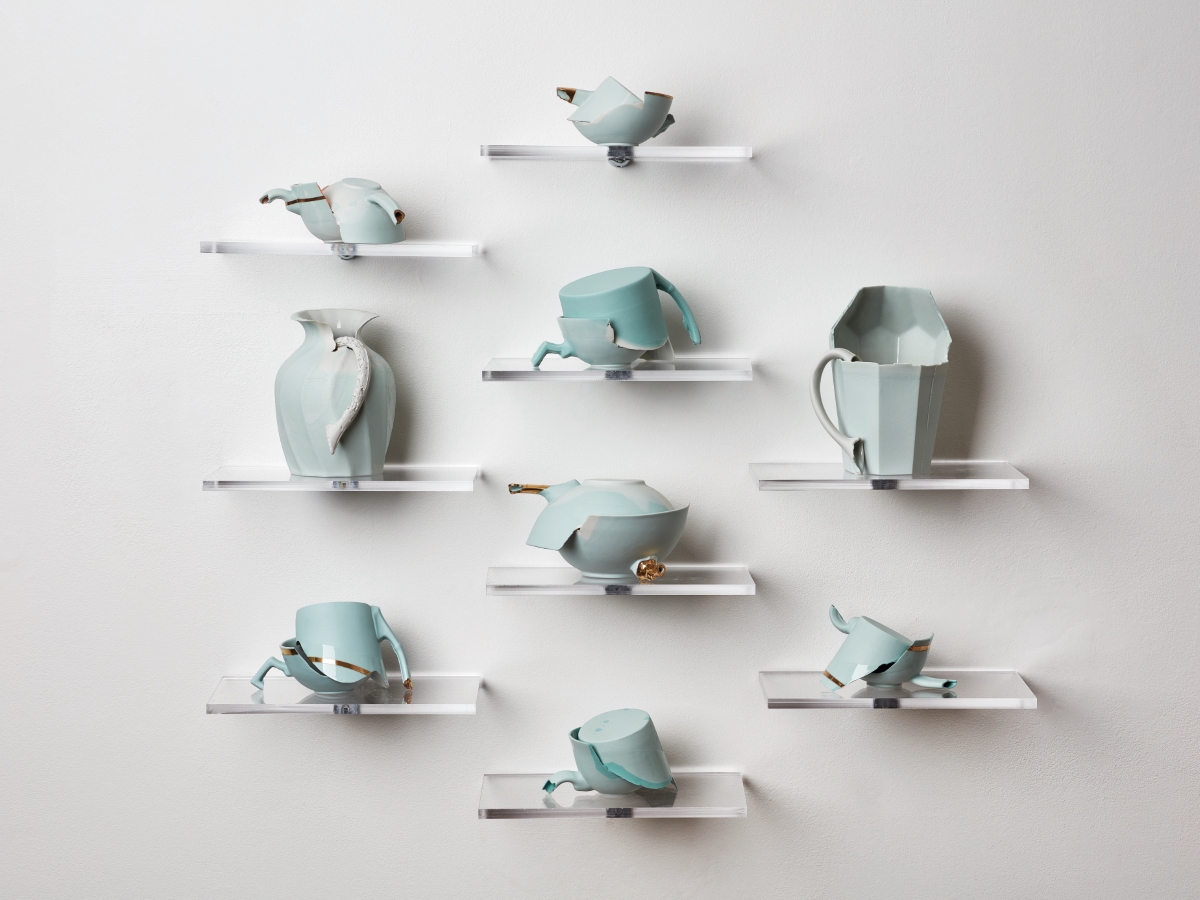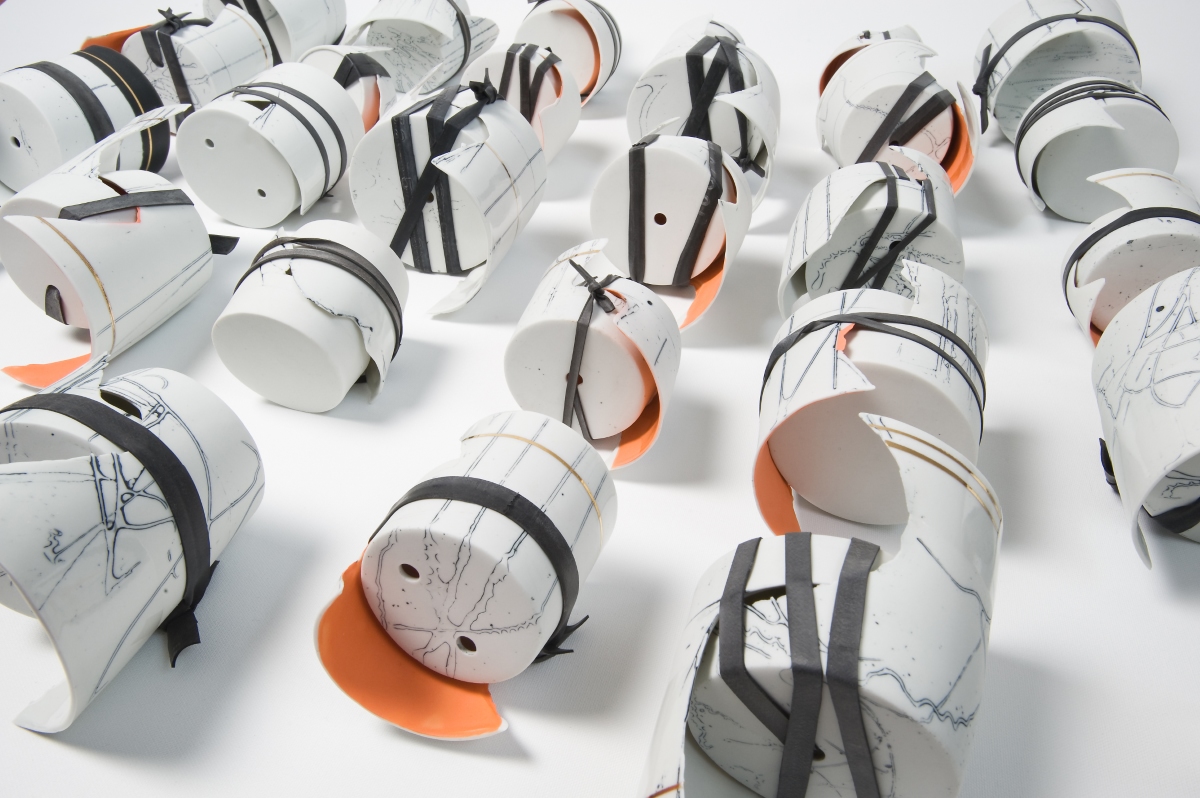 ---
I work in slip-cast porcelain and have developed a making method whereby I create fragment-like shards by only partially filling the open moulds. Some of these shards are altered or cut, and then the play of assembly begins, researching new forms, discovering unique combinations, and creating unexpected shapes.

My most recent series, "Possible Fragments," is a collection, like a ceramic puzzle, of fragment-like forms leaning into one another in pairs. The complementary thin shapes are fitted together, serrated edges meeting but not exactly marrying up.

Some of these couples are two successive casts from the same mould, while others are pairs drawn from two different ones, thus accentuating the lopsided or asymmetric aspect of the pieces. The shards are drawn from various shaped moulds referencing familiar objects; bottles, cylinders, cups, flasks, handles, and vases. The porcelain is tinted using coloured stains; each piece is sanded, decorated high-fired, and assembled. There are colour references drawn from industrial tableware, and some areas are decorated using silver or gold luster bands which visually bind these pairs together. The resulting objects are often delicately organized like museum artifacts on wooden or plexiglass shelves.

Each couple portrays a simple vocabulary; two basic slip-cast shapes leaning together almost naturally. The spectator might mentally try to reconstruct what would have been the original form of these objects. In some respects they are like artifacts that move beyond their original "unfragmented" state, attaining a whole new aesthetic. The sculptures might provoke a certain discomfort linked to the impossibility of rethinking the object as something complete.

These explorations, in both slip casting and installation, have driven my work forward and linked with themes like loss and resilience, reconciliation, and the beauty of imperfection.