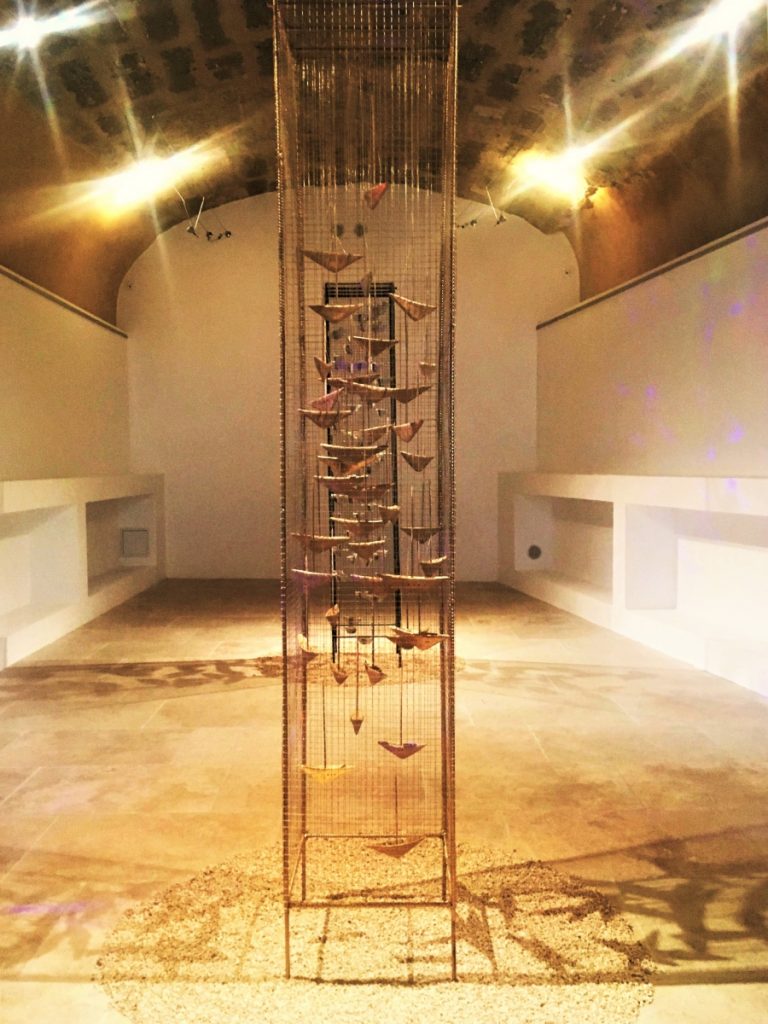 Sandra Ledingham: Departures – Examining A Paradigm Shift, 2018
Collaboration by Sandra Ledingham (concept & overall design), Cecile Miller (technical & design) and Richard Miller (audio sound track & lighting).
'Departures-Examining A Paradigm Shift' was a collaborative project and Exposition in St.Quentin la Poterie France, over a 4 week period. The Exposition in 2 parts, examined migration, and also included several walls from Ledingham's WALL series. The installation 'Departures'– Examining A Paradigm Shift' was a visual, sound & light installation in the Cave Gallery of the La Office Cultural de Saint Quentin. The residency included a Community Engagement portion where locals were invited to write significant message on shards which were then broken and bound into the 'humble boats'.
In examining LOCATION and pondering PLACE – near the Mediterranean Sea and the French Riviera, AND an ongoing awareness of political events occurring there, migration issues superimposed & informed the direction of the work. "The Aquarius's' search and rescue program in February 2016, has assisted nearly 30,000 people in international waters between Libya, Italy, and Malta. The Aquarius' last active period of search and rescue ended on October 4, 2018, when it was turned away from the port of Marseille following the rescue of 58 people. (Excerpt from Doctors Without Borders website.)
The notion however of the French Riviera, Cannes, Monaco, and Monte Carlo suggest to most of the world 'the good life', having arrived, a lifestyle of 'the haves'. This disparity emerged for us in contemplating PLACE. Thus was conceived the concept of juxtaposing two metal cages suspending about 150 unfired clay boats, one a gilded cage – the exotic, the unattainable, utopia ; and one a distressed cage containing bound 'humble boats' filled with messages written on clay shards.
"The CAGES hold meaning that address: boundaries, barriers, entrapment, restriction, message and 'stories to be told'. The cages place us as viewers in a position of 'voyeur' looking on with questions. For some viewers they may have direct visceral story, for some of us only arms-length knowledge, opinion & inquiry." (Excerpt from exhibition Artist Statement).
On Closing day, the 'humble' raw clay boats with shards where cut down and delivered to a near by stream @ the 'source' of Pont de Gard and liberated into the waters, dissolving as they floated away.
Materials: raw clay, rebar & metal mess, gold acrylic, rhinestones, twine, wood, fishing line.