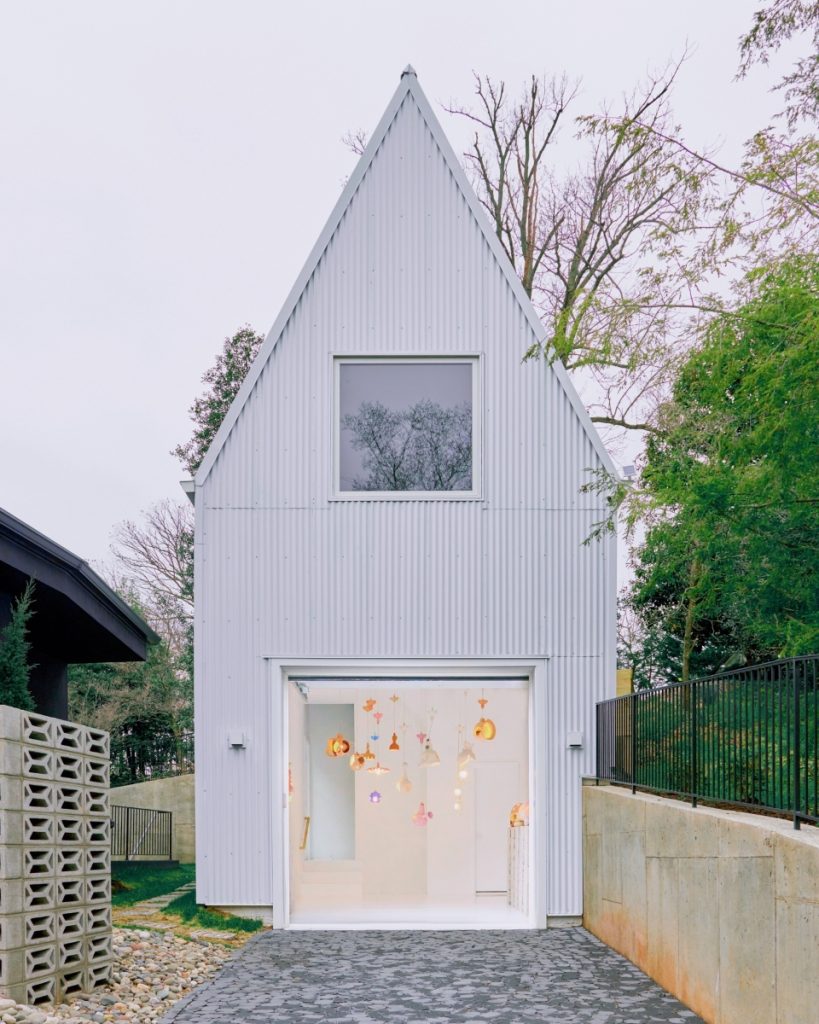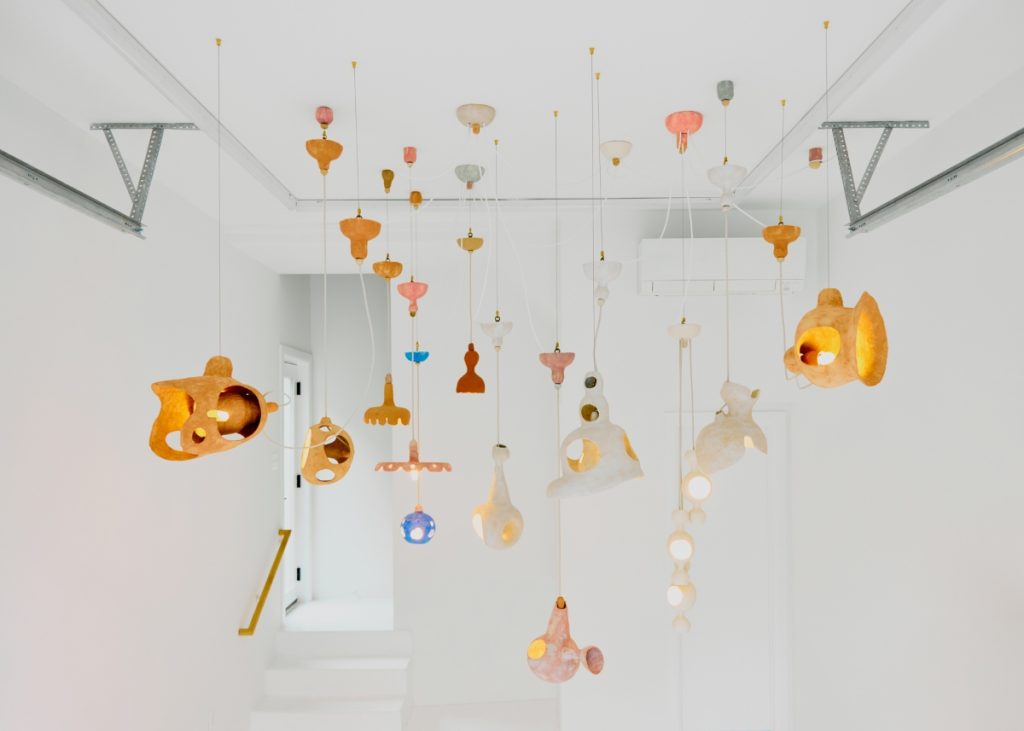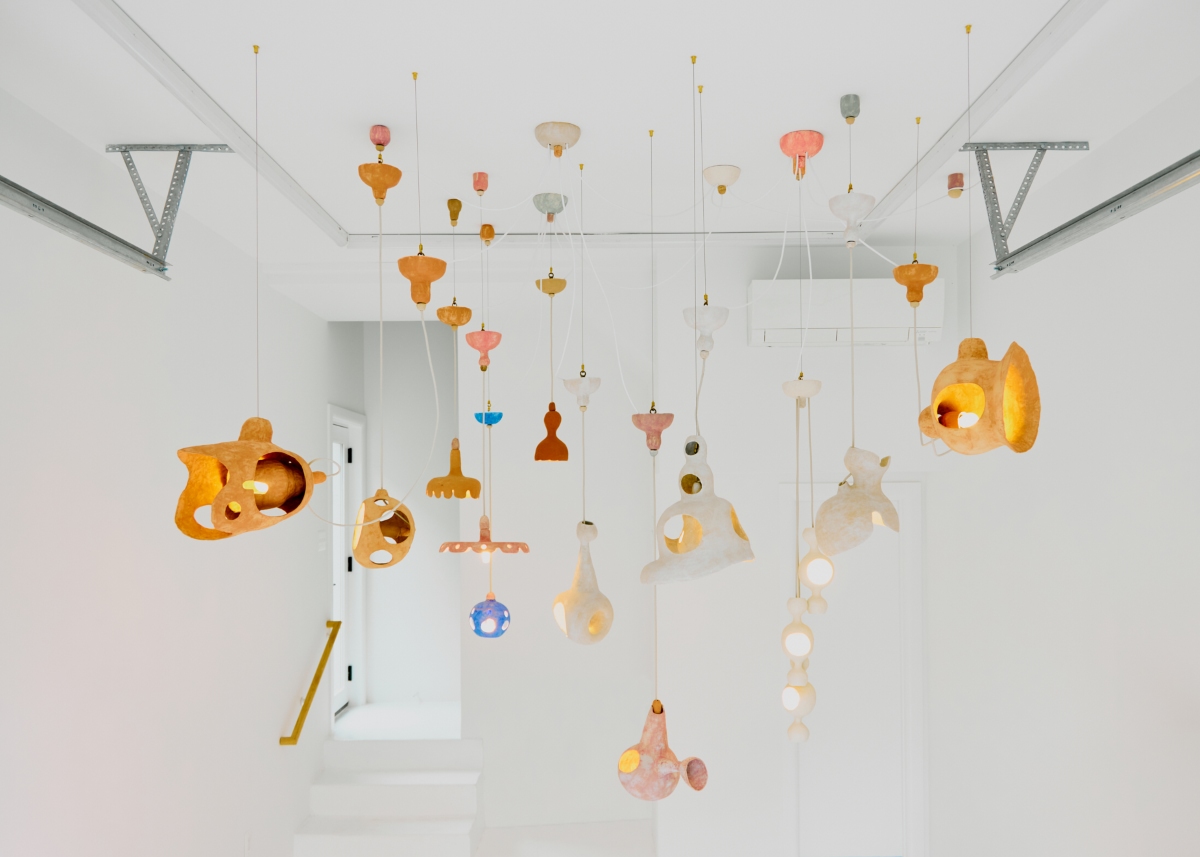 Sporarium, 2022
In Sporarium, lamps and sculptures grow from all surfaces. The light bounces off the layered interior walls and appears to be glowing within. The light muted colors feel soft and kind.
A strange thing happens when I unload ceramic pieces from a kiln. The piece which I have spent hours building with my own hand, appears to have become its own being, as if I'm meeting it for the first time. There are visible changes that happen to a piece from firing: the color changes, the material hardens and the form shrinks. But the reason seems to be something else and it remains a mystery to me. Something similar happens when working with light too. When the light turns on within the form, it seems to sprout its own life. I make lamps because I want to witness this transformation.
Sporarium, 2022, ceramic and electrical components. Exhibition at Friends Artspace, Arlington, VA. Photography: Ethan Hickerson and Yuko Nishikawa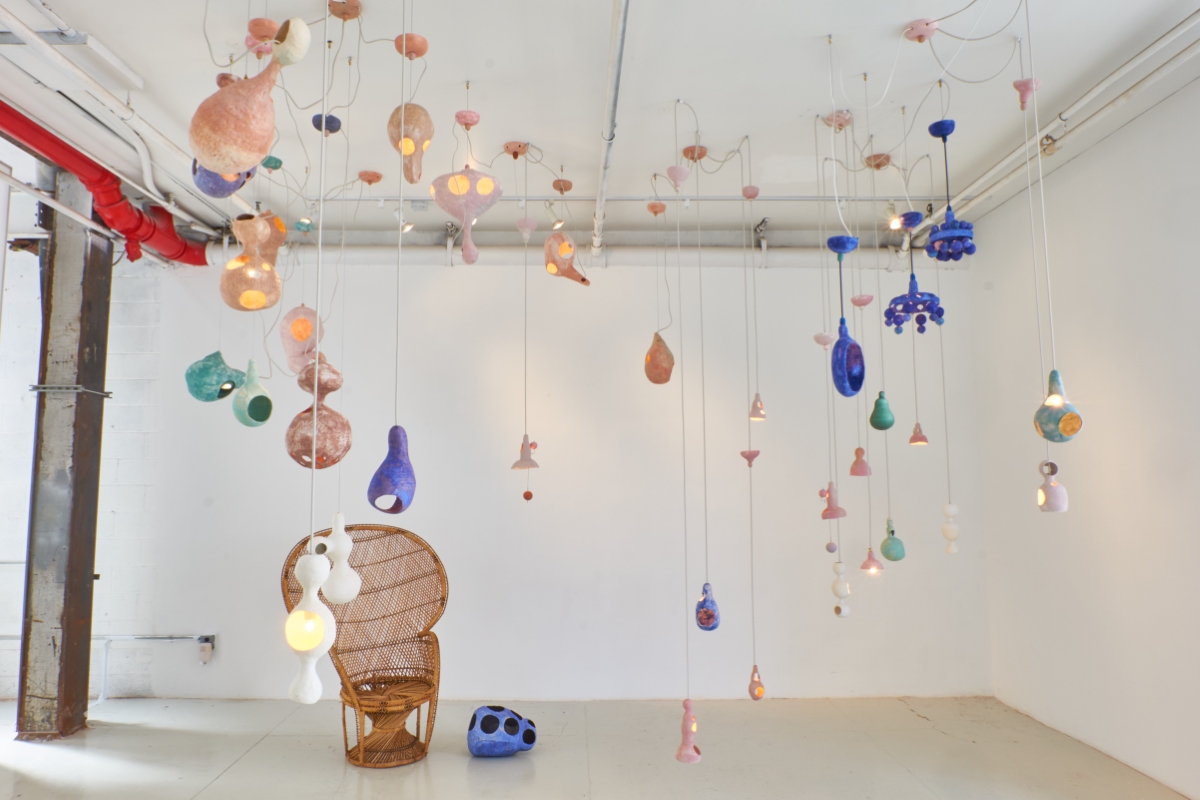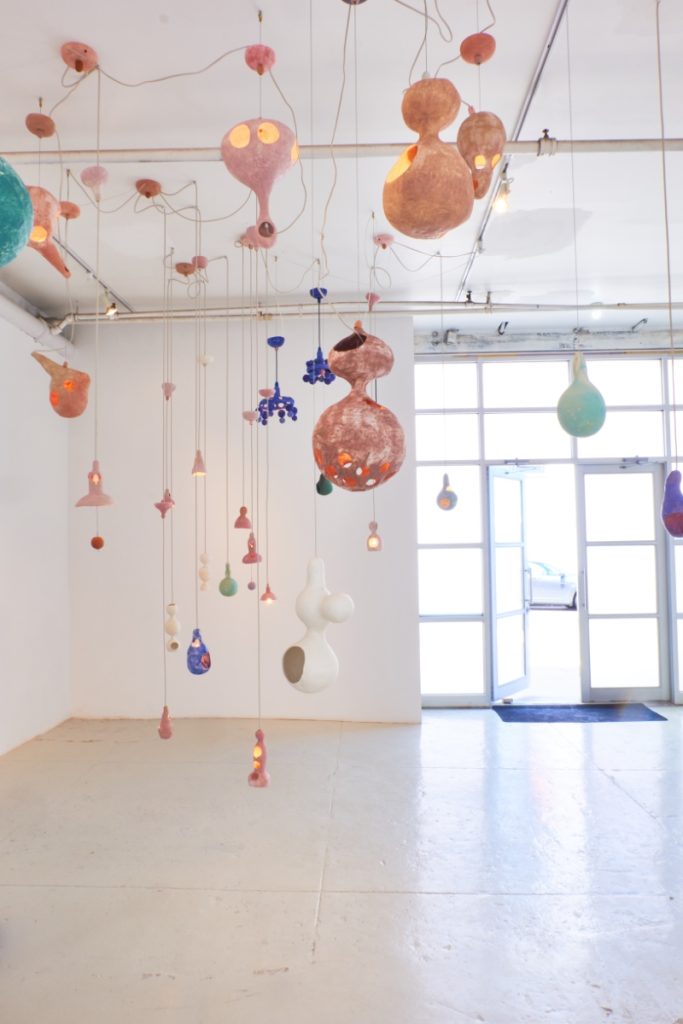 Nap, 2019
Nap is an invitation to an enchanting forest of lights and sculptures and to a quiet moment away from noise and clutter of everyday lives.
A nap relaxes us and energizes us, and when it's over, it lets us go back to do our own thing. I wanted to create a space just like that, a brief midday break from the noise and clutter. It's not a backpacking journey that I don't know whether or when I will return. Rather, it is only a few-minutes trip that I will come back from to where I started before drifting away.
In this show I am showing new work together with work I have made over the last year, all installed to be experienced in a new way. After my last exhibition I felt something was missing, something to anchor to our everyday lives, so I decided to add a chair (please sit). I want to find beautiful and strange things right around us, not only in our distant memories or hopes for the future or out somewhere else, and I want my work to belong to a place close to us.
Two summers ago, I traveled to the Olympic Peninsula in Washington State. On the beaches I saw stones with multiple smooth round deep indentations made by sea bugs. I found one, looked around, and found more. I collected more of these strange stones as we trekked along the coast. They looked intentionally made, like an inscription, as if it's supposed to mean something. They were like faces, some look friendlier, funnier or meaner than others. The holes made me curious and want to get closer to them. I think this was when I started incorporating holes in my work. Each form is hand-built in white earthenware, terra-cotta, or stoneware clay, then finished in engobe with oxides and mason stains, and fired in an electric kiln in my studio in Brooklyn.
I hope you take a little break to let your mind wander through the forms. Let the noise from the busy day recede. We all know how to nap.
Nap, 2019, ceramic, steel cable, lighting components. Nap was exhibited at Sculpture Space NYC in Long Island City, NY in 2019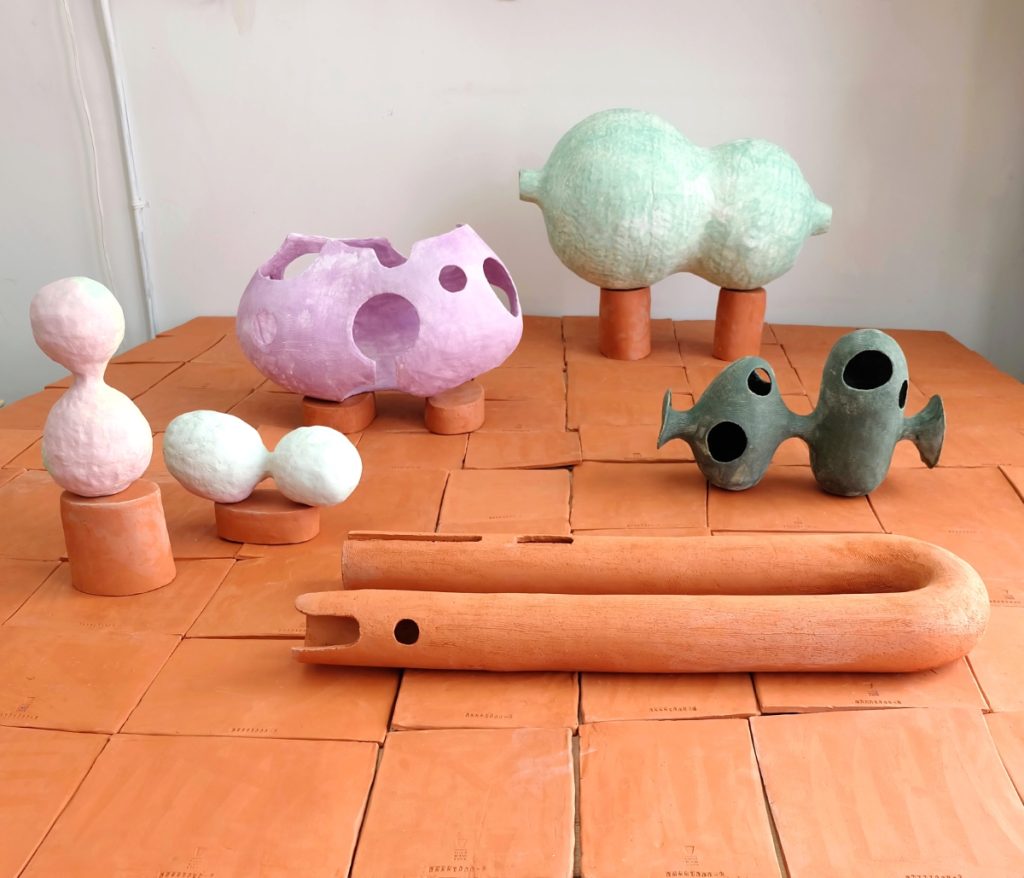 Possibly Tools, 2018
Possibly tools is a collection of sculptures inspired by clay artifacts and the dialog between objects and us that constructs the stories.
The labels on a group of stone and clay artifacts displayed at the Metropolitan Museum of Art read "possibly a handle for a vessel to carry water", "probably a container for medicine", and "probably religious idols". We take how we use objects today as a clue and imagine how people used to live. In Possibly Tools, I want the conversation between my work and you to compose these objects' meaning. The holes, the spiral patterns and the counterweights are not decorative elements but hints for a specific physical purpose, and I want to leave it up to you to make up the stories.
Possibly Tools, 2018, Ceramic and steel wire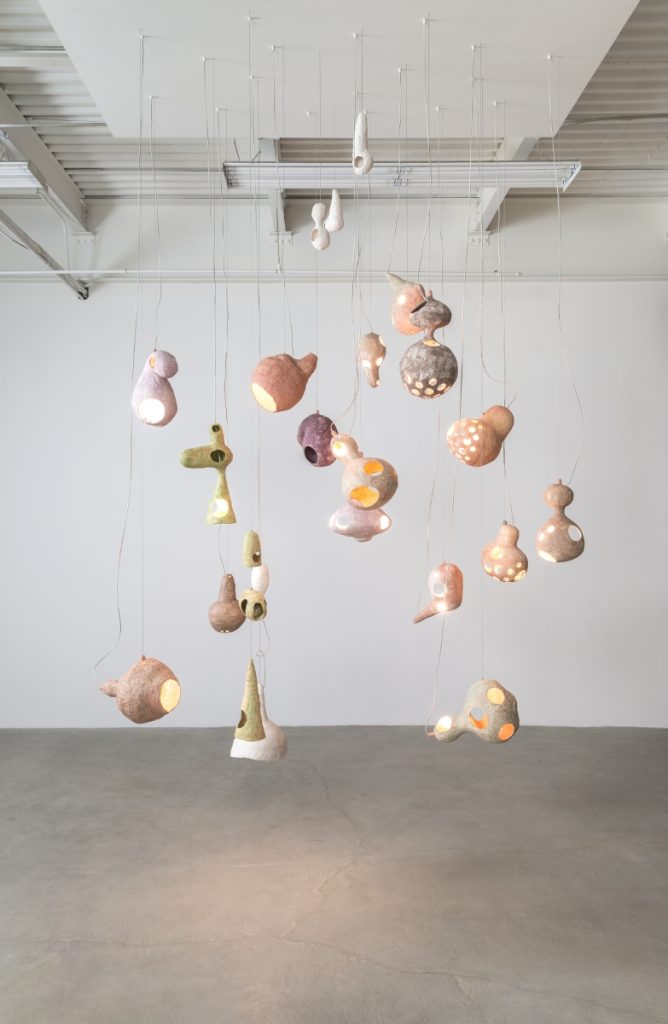 You See A Sheep, 2018
Floating objects surround you. You wonder if you too are floating in space, or perhaps in water. Gravity, the horizon, and the edges of the room disappear. You are happy.
You See a Sheep is a lighting collection that uses hand-built ceramic shells to house the light source and thin metal wire to make the shells appear to be floating in space. A mysterious yet warm glow is revealed through the holes against the dry paper-like surface. The composition of multiple shells is made specific to an installation site. The arrangement, the colors, and the numbers are all determined considering the layout and the volume of the space the piece occupies.
The title You See A Sheep is inspired by two stories. The Little Prince by Antoine de Saint-Exupéry, where The Prince finds his favorite sheep in a drawing of a box. And Model T Frankenstein by Hideo Furukawa which opens with the line "You see a goat" suggesting that it is in our perception that the goat exists.
I mix paper fiber in a wet clay body to achieve strong lightweight shells, using a coiling technique to emphasize the uneven surface and the irregular enclosed forms. Then, once the clay firms up, I cut out the holes. Next, I apply color clay to the surface and then finally fire them in an electric kiln.
This chandelier that you see with 24 ceramic shells was made for the group exhibition In Good Company held in Fernando Mastrangelo Studio | FM/S in New York in September 2018. I saw this exhibition as a celebration of art and design and an opportunity to build a supportive community of the designers and the users. So I designed this chandelier with some shells hanging low to the ground, others floating high, altogether creating a conical volume. It becomes an environment where people can walk through and physically engage with the installation.
You See A Sheep, 2018, ceramic, steel cable and electrical components, 9 x 5 x 15 feet. Photography by Cary Whittier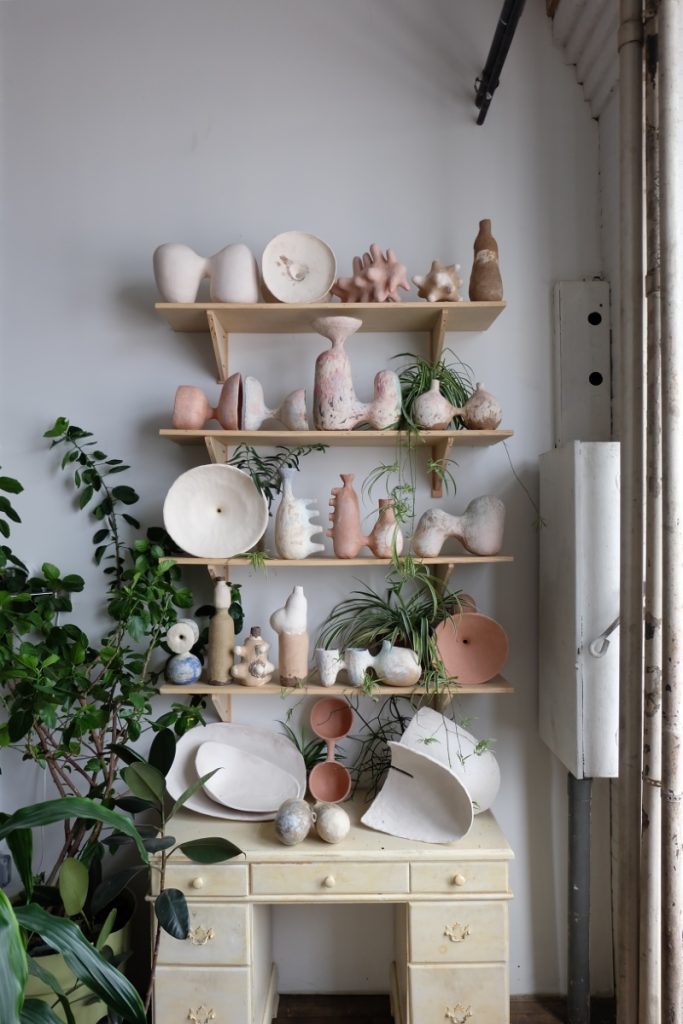 Time Vessels, 2017
Time Vessels is a meditation on time travel and our ability to tell stories. These abstract ceramic sculptures have pastel colors on a chalky surface, in forms inspired by what we hold inside – human organs: our tools to travel through time.
First, there was my frustration with the limits of time and my desire to manipulate it. Time always falls short and I am not able to finish what I want to have finished. Time restricts me from doing all the things and forces me to make decisions among otherwise endless possibilities.
Then, I found a beautiful idea in James Gleick's book "Time Travel". He suggests that the ultimate time travel is in the essence of storytelling. While we look elsewhere to define what time is and to aid navigating time, we innately have the answer within us. We talk about our dreams for the future and dwell on one moment in our memory against the natural flow of time. We are the time machine.
These time vessels are the organs in our bodies, our tools so we no longer have to fight with time. By giving a physical form I am making them exist. If enough of us believe that time vessels actually exist, maybe they could. And if they do, and we know how to live with time, then, I can do everything!