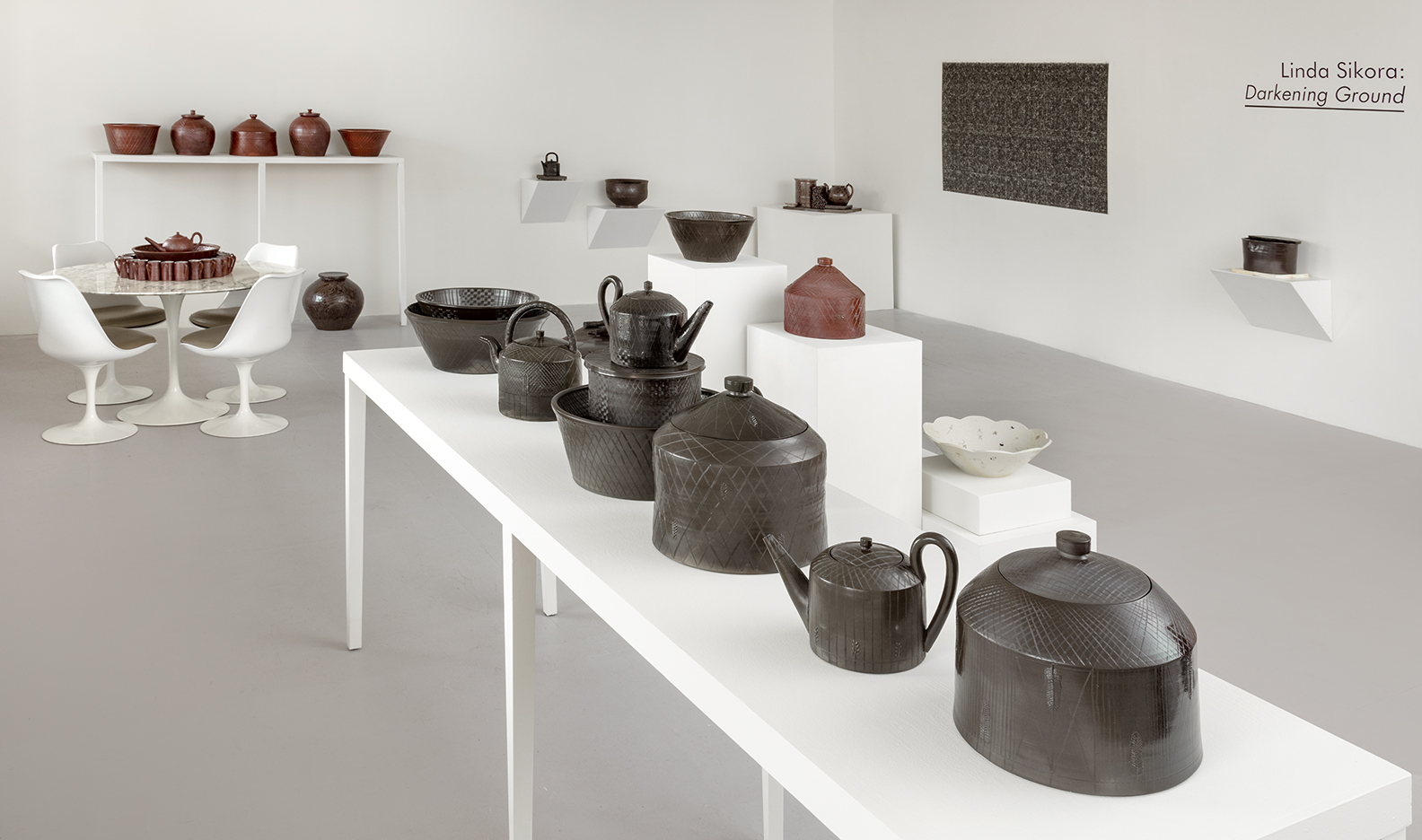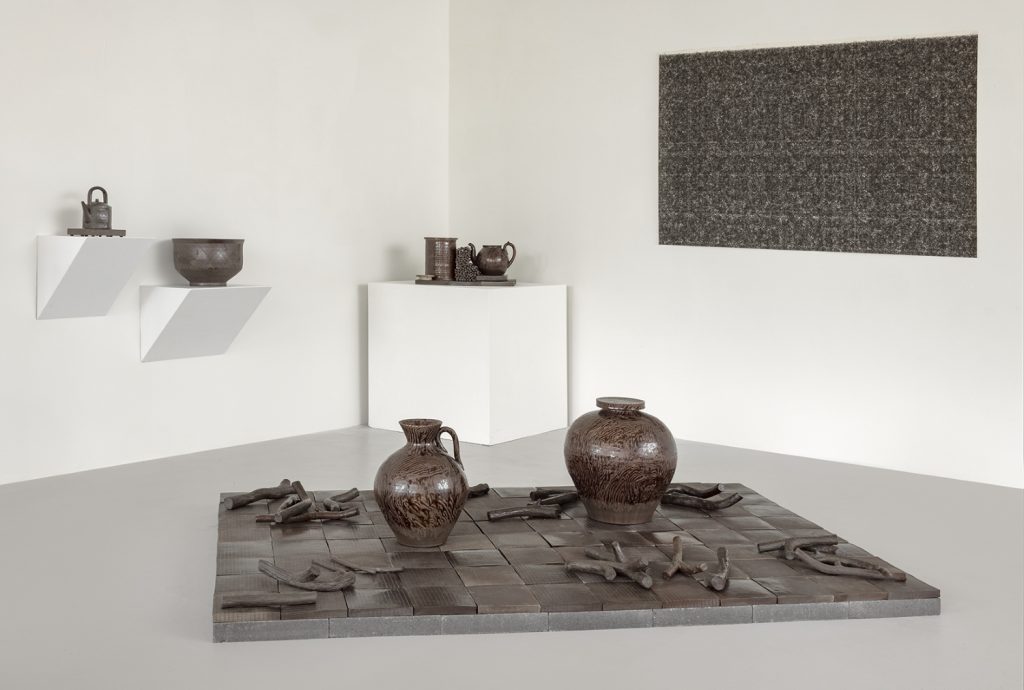 Linda Sikora: DARKENING GROUND is on view at Ferrin Contemporary, North Adams
April 22 – June 11, 2023
Ferrin Contemporary is pleased to present artist Linda Sikora and her new exhibition DARKENING GROUND, a poetic and conceptual look at forms, vessels, and other ceramic gestures. Sikora uses three distinct visual categories—woodgrain, blackware, and redware—which sometimes participate in narrative frameworks such as in the pieces:  ground II; ground III; repose—works at the core of the Darkening Ground exhibition.  In this, Sikora is thinking about the dark as a generative space and time; a landscape for internal, interpersonal, and cultural constraints and realities to shift and realign.
"Blackware and Redware depart from the glazed polychrome WoodGrain (a lyrical, rich and luxurious 'faux' surface on crock like pottery forms) by using systems reduceable to the most basic material processes," says Sikora. "If the glazed work is alchemical, Redware and Blackware are of an opposing bearing: elemental turned forms surfaced informally with basic tools – 'finished' only by the heat and atmosphere of the kiln drawing color from the clay– as fire has drawn these same colors forth from earthen clay through all time."
ground I, or what the artist calls "a compost of drawn lines" is a wall drawing that brings up ideas around the density of darkness and what gets lost or found in the fecund and fertile heaps. ground II is referred to as "a fairy tale."
In fairy tales, darkness is a necessary rite of passage to obtain wisdom and move into a new stage of life. The deep forest under a starless dark sky is the transformative darkness of fairy tales. ground III or "a broken box" is a resolution of sorts, necessary and transitory objects that are found after searching grounds I & II.
The audience actions surrounding these grounds are also part of the conceptual thinking about transition from one ground to another, which can be viewed as moving from one stage of initiation or understanding to another or one landscape to another. "The water pot, storage jar, broken box, cut sticks are both synchronous and asynchronous with their embedded actions: holding, pouring, opening, collecting, hiding. Forms in situ and in relation to the body are the genesis of actions: bowing the head, bending down, looking into, reaching, taking hold of, bearing, or passing by entirely," said Sikora.
Contact
info@ferrincontemporary.com
Ferrin Contemporary
1315 MASS MoCA Way
North Adams, MA 01247
United States
Images courtesy of the gallery