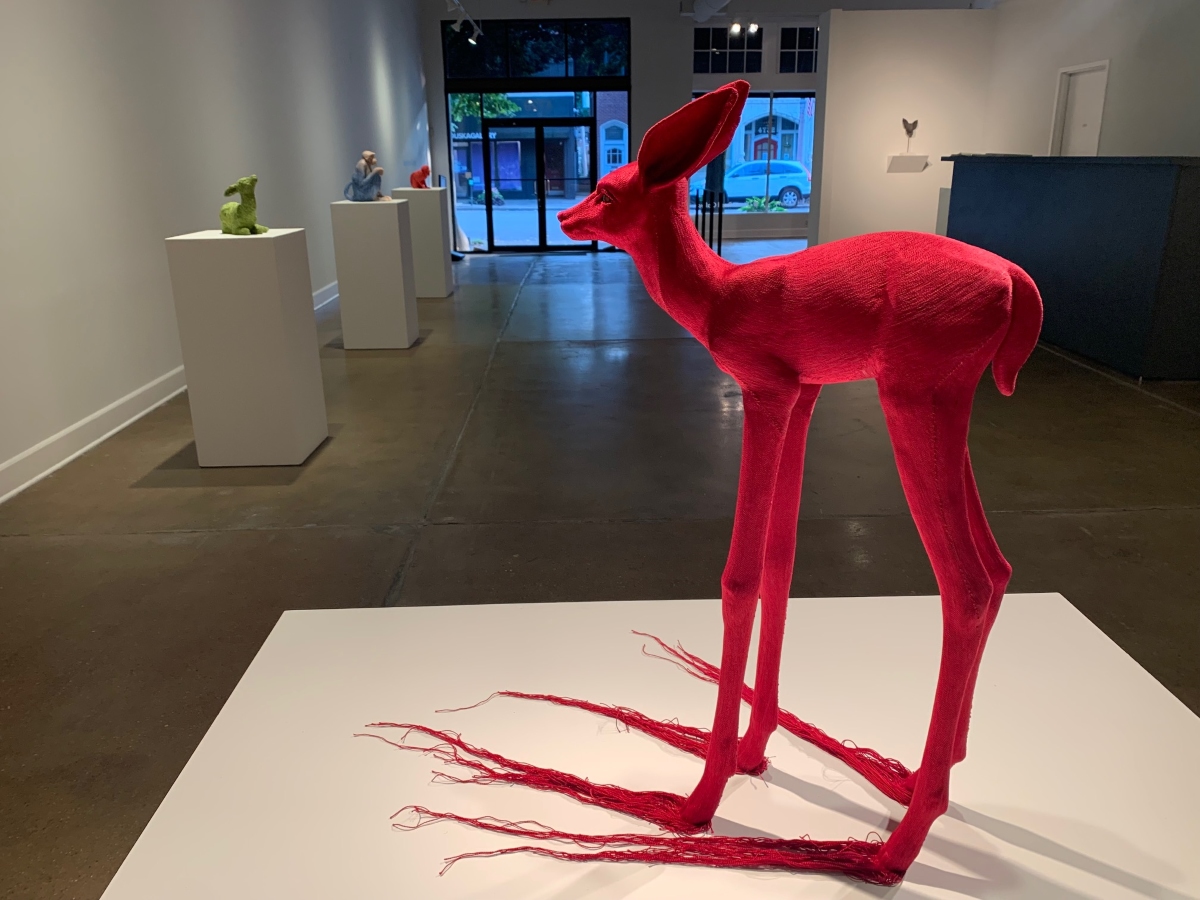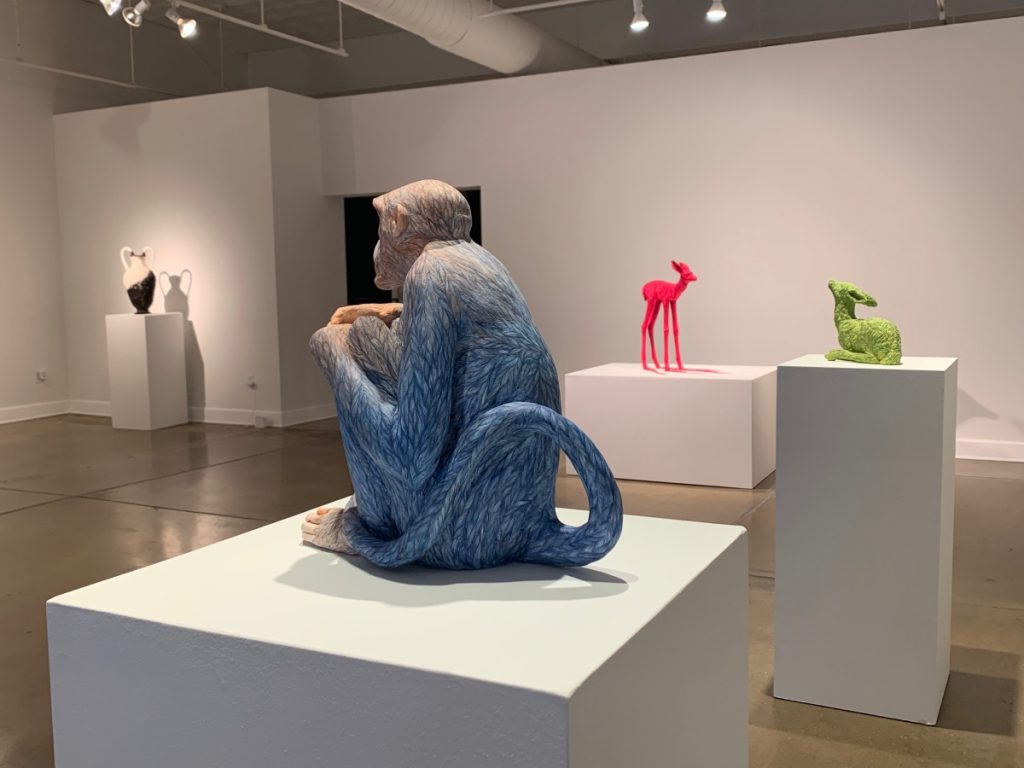 Lindsay Pichaske: Bodies in Time is on view at Duane Reed Gallery, St. Louis
September 10 – October 15, 2022
Duane Reed Gallery welcomes the return of ceramic artist Lindsay Pichaske and her latest collection of pots and animal forms.
In this latest work, Pichaske continues her signature patterns of colored porcelain, feathers, graphite, and other materials to construct an intricate second skin on a ceramic base. Inspired by the stoicism and expression of wild fauna, the artist's incorporation of vivid, unnatural colors introduces a new sense of play into her wildlife subjects.
"I use the animal figure to explore empathy and sentiency, and to challenge the perceived order and comfortable classifications of life. My figures are tricksters—both familiar and alien, corporeal and ethereal—existing at the interface of human and animal worlds. Their stoic postures and ornate, often beautiful appearances can act as facades for existential uncertainties."
Lindsay Pichaske is an artist and educator based in St. Louis, MO. She received her MFA from the University of Colorado, Boulder and her BFA from the University of North Carolina, Chapel Hill. Her work is exhibited throughout the country, including Jane Hartsook Gallery at Greenwich House Pottery in New York City, SOFA Chicago, Duane Reed Gallery in St. Louis, and Flashpoint Gallery in Washington, DC. She was a long-term resident artist and Taunt Fellow at the Archie Bray Foundation for Ceramic Arts (2011-2012). She received an "Emerging Artist" Award from the National Council on Education for the Ceramic Arts (2013) and the Maryland State Arts Council Individual Artist Award (2014).
Contact
info@duanereedgallery.com
Duane Reed Gallery
4729 McPherson Ave.
St. Louis, MO 63108
United States
Photo captions
Armored Amphora, 2022, Earthenware, pennies, copper wire, 25 × 14 × 14 in, 63.5 × 35.6 × 35.6 cm
Cleo, 2020, Low-fire ceramic, Guinea feathers, paint, brass rod, marble base, 18 × 8 × 6 in, 45.7 × 20.3 × 15.2 cm
Fray, 2022, Low-fire ceramic, string, paint (eyes), 25 1/2 × 19 × 16 in, 64.8 × 48.3 × 40.6 cm
Golden Lion Tamarin, 2022, Porcelain, mason stains, 8 1/2 × 13 × 14 1/2 in, 21.6 × 33 × 36.8 cm
Green Fawn, 2022, Porcelain, pigmented porcelain, 10 1/2 × 13 × 7 in, 26.7 × 33 × 17.8 cm
Guardian, 2022, Earthenware, paint, graphite, charcoal, 39 × 27 × 27 in, 99.1 × 68.6 × 68.6 cm
Plume, 2022, Earthenware, paint, 14 × 9 × 13 1/2 in, 35.6 × 22.9 × 34.3 cm
White-necked Amphora, 2022, Earthenware, molted feathers, flocking, glaze, under glaze, 24 × 14 × 11 in, 61 × 35.6 × 27.9 cm