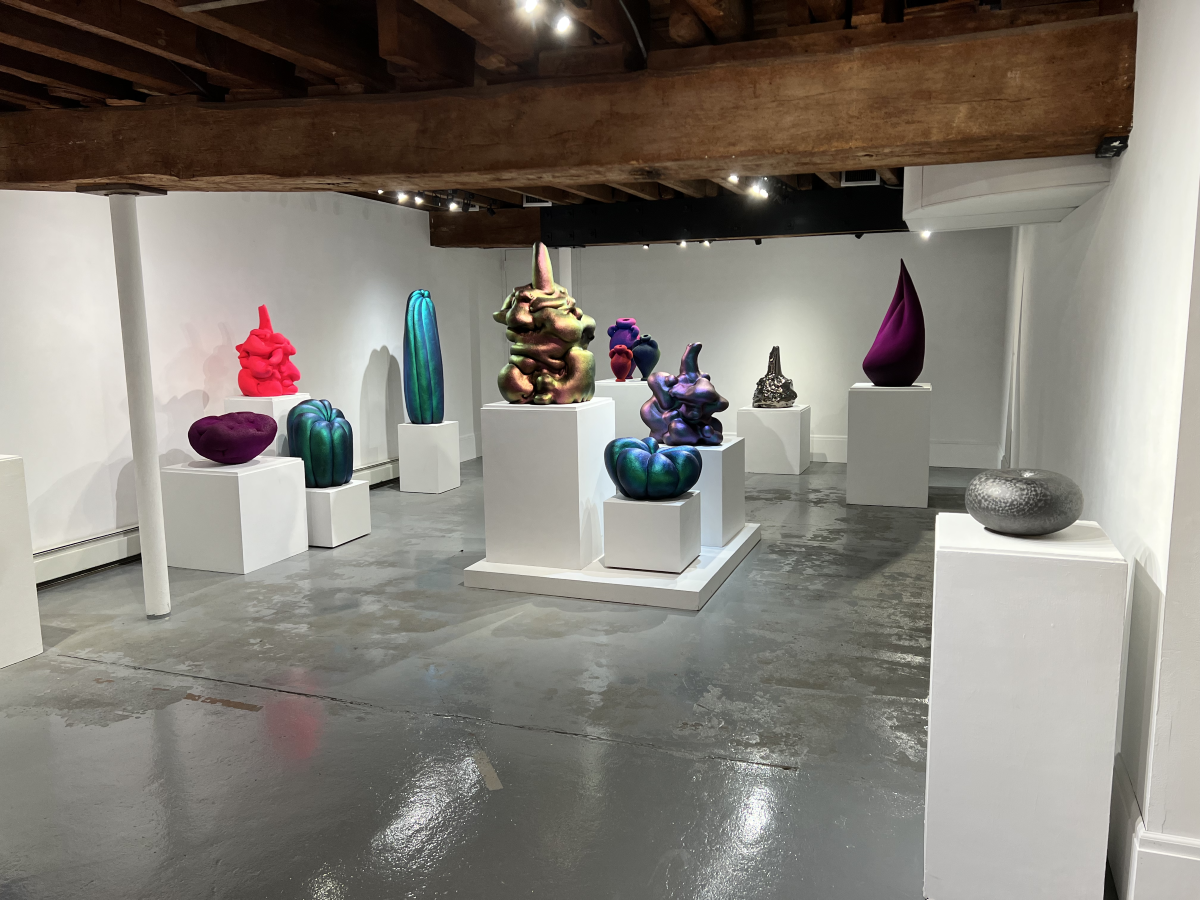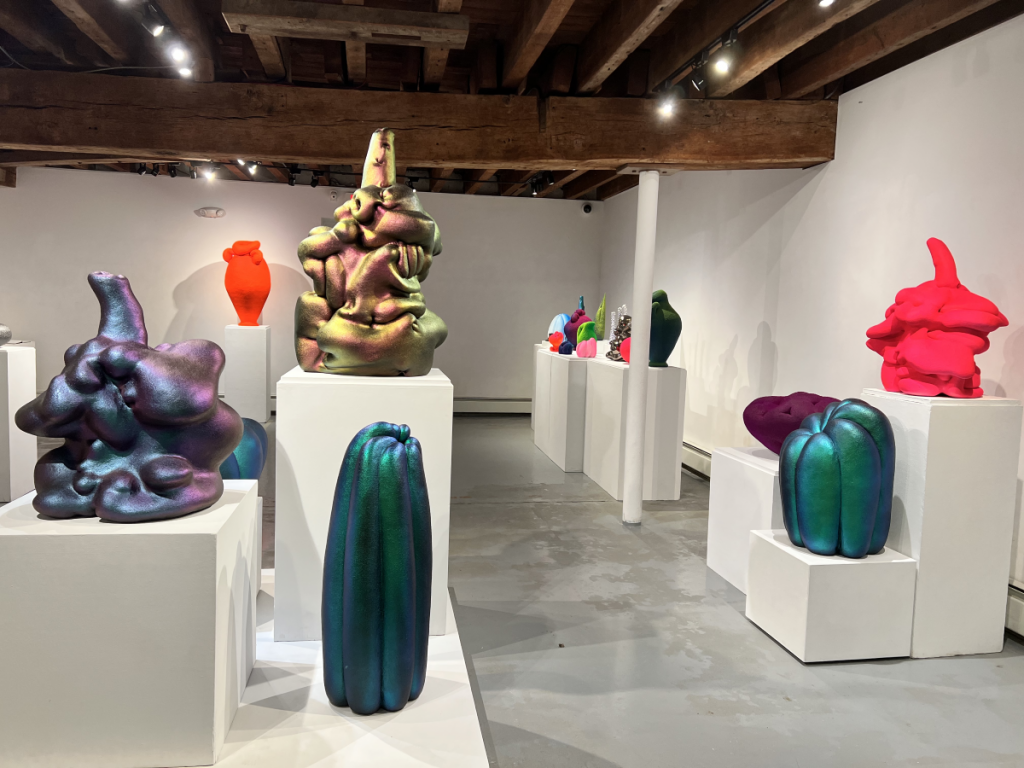 Maxwell Mustardo: Dish-Oriented is on view at Hunterdon Art Museum, Clinton
May 15 – September 4, 2022
Maxwell Mustardo's unconventional approach to ceramics can be found in the title of his show, "Dish-oriented," as well as in the work itself. Leaving traditional glazes and forms to others, Mustardo's work is truly his own. Glorious colors, bubbled glazes, and anthropomorphic forms create a dazzling array of pieces that exploit unctuous ambiguities to generate an empathetic and autotelic encounter of the work.
According to Mustardo, he approaches making as a vital opportunity to examine perception and signification, and his work engages with ceramics as a polyphonic medium: one that speaks in multiple voices simultaneously.
"By working within simple constraints, such as the format of the mug, vase, or torus, I explore orchestrating elements of surface, form, materiality, and function," says Mustardo. "Many projects revolve around broad, reverential notions of the vessel, the body, and language. Attempts are made to continually dissect processes, revisit forms, and reframe themes to agitate evolution and antagonize static thinking."
Mustardo was born in 1993 in rural New Jersey. He received his Bachelor of Fine Arts and Bachelor of Science in Art History and Theory from the New York State College of Ceramics at Alfred University in 2017. During his time at Alfred Max earned multiple awards that include an ARGUS grant for materials research, a Levine Endowment grant to study in Japan, and a nomination for the Thayer Fellowship in the Arts/Patricia Kerr Ross Award as the SUNY finalist in the visual arts category. He is currently working as a resident artist at the studio of Toshiko Takaezu in Quakertown, New Jersey.
Contact
info@hunterdonartmuseum.org
Hunterdon Art Museum
7 Lower Center Street
Clinton, NJ 08809
United States
Photos courtesy of the artist
Photo captions
Group of work 2 (two Amphorae, one shot glass, one Bud Vase, one Pitcher, one Toroid, one Stack), stoneware and plastic, various sizes
Stacks Grouping, 2021, stoneware and pigments, various sizes
Shot Glasses Grouping, 2021, glazed porcelain, various sizes
Blue & White Pitcher #2, 2021, stoneware & plastic, 10"h x 6.5"w
Blue & Pink Anthropophora #3, 2021, stoneware & plastic, 10"w x 16"h x 7.5"d
Pitchers Grouping, 2021, stoneware and plastic, various sizes
Orange Mug #1, 2021, stoneware & plastic, 6"w x 5"h x 4"d
Bud Vases Grouping, 2020, glazed porcelain and lead-based enamel, various sizes
Group of work 1 (three Amphorae, three Mugs, one Pitcher), stoneware and plastic, various sizes