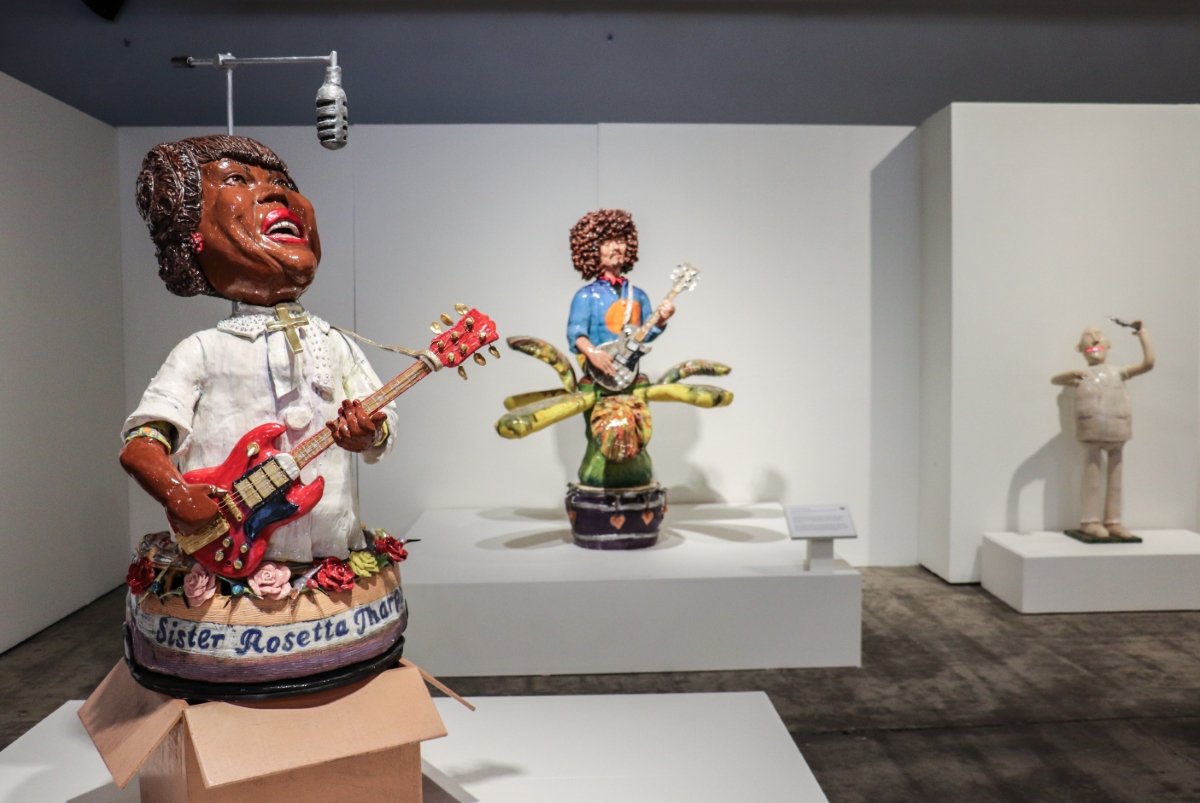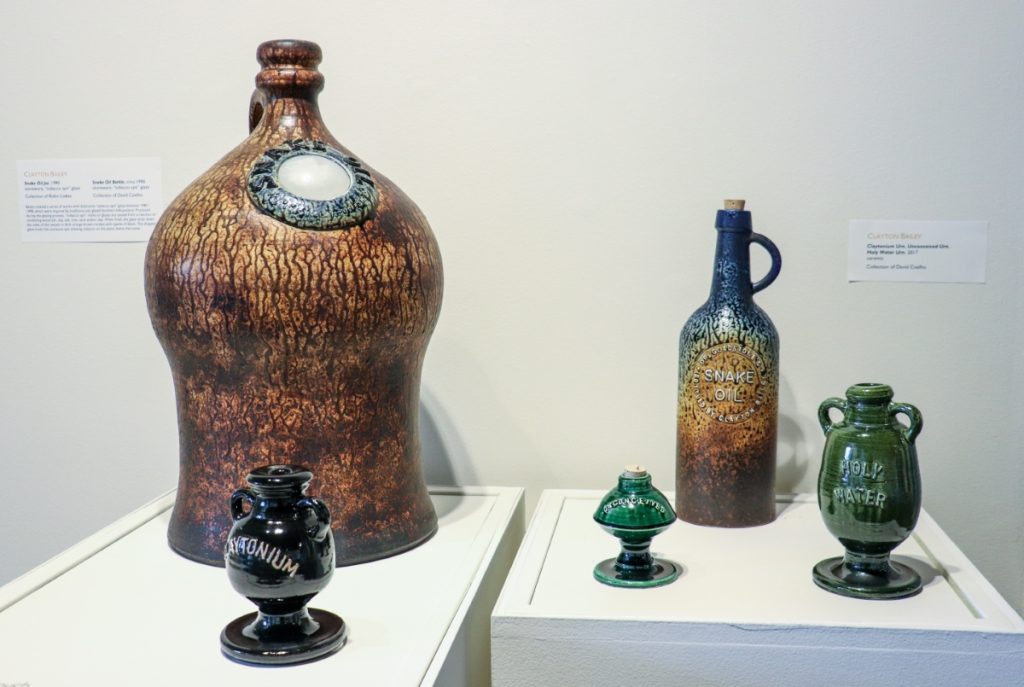 Out of Our Minds: Clayton Bailey & Tony Natsoulas is on view at Sonoma Valley Museum of Art, Sonoma, CA
January 15 – April 24, 2022
Sonoma Valley Museum of Art (SVMA) is pleased to present Out of Our Minds: Clayton Bailey & Tony Natsoulas. This exhibition brings together two giants of California Bay Area ceramics.
SVMA Executive Director Linda Keaton states, "SVMA is pleased to bring the work of Clayton Bailey and Tony Natouslas to Sonoma. Clayton was a leader in the funk art movement, and Tony's work derives from the movement. Funk art's irreverent, unorthodox style will be a treat for our audiences, and reminds us not to take art, and ourselves, too seriously."
Satire, humor, and irreverence are hallmarks of both Bailey and Natsoulas' art. Their work is part of a strong tradition of California figurative art, born out of California Pop Art and often referred to as "Funk art." Funk's unrefined, irreverent, unorthodox, conceptual aesthetic and sometimes pointed critique reveals its Dada lineage and homegrown California assemblage tradition.
The exhibition kicks off with an Artist Talk by Tony Natsoulas on Saturday, February 26 at 2:00 pm. Natsoulas will present his own work and discuss his artistic relationship with Clayton Bailey. "When I first visited Clayton's museum in Port Costa at age 18, I saw the most amazing art I had ever seen. It gave me permission to make whatever I was passionate about."
Tony Natsoulas will also be in conversation with Philip Linhares on Saturday, March 5 at 3:00 pm. Linhares served as a curator in the San Francisco Bay Area for 43 years, first as Director of Exhibitions at the San Francisco Art institute, then as Director of the Mills College Art Gallery and the last 22 years as Chief Curator of Art at the Oakland Museum of California. Retired since 2011, he has written on contemporary art, "outsider" art and California's hot rod culture and organized over 300 exhibitions on related subjects.
This exhibition is also the first museum retrospective honoring Clayton Bailey since he passed away in 2020 in Port Costa, California. A significant number of Bailey's robot sculptures are included in the exhibition. The robots are reincarnated from discarded bicycle and automobile parts, kitchen appliances, and other scrap metal parts. As Bailey states, "The 'past lives' of the robot's various 'mechanical molecules' are said to give them their soul." Also included are important abstract and fantastical figurative ceramics, some hailing from the artist's legendary "Wonders of the World Museum."
This exhibition is supported by: Manitou Fund and Sonoma Tourism Improvement District.
Clayton Bailey (1939-2020) was born in Antigo, Wisconsin, and attended University of Wisconsin at Madison. After earning his bachelor of science degree, he switched to art and earned a master's in art and art education in 1962. He moved to California in 1968 to teach ceramics at UC Davis with colleagues such as Roy De Forest, Wayne Thiebaud, William Wiley and Manuel Neri. He taught there until retiring in 1996. Bailey is considered to be part of the 1960s "Funk Art" movement, along with Robert Arneson, Joan Brown, Bruce Conner, Jay DeFeo, Roy de Forest, Viola Frey, Wally Hedrick, Jess, Maija Peeples-Bright, Peter Voulkos and William Wiley. In 2013 Bailey opened the Bailey Museum in Crockett, CA, which housed his life's work and the work of his wife Betty.
Bailey had 33 solo museum shows, and his work is in the permanent collections of more than 60 major museums, including the San Francisco Museum of Modern Art, the de Young Museum, the Remnick/Smithsonian in Washington, D.C., and the Valentin-Karlstadt in Munich.
Tony Natsoulas (b. 1959) grew up in Davis, California, where his father was a professor of psychology at the University of California. Frequent visits to Sacramento's Crocker Museum exposed him to Bay Area ceramic artists like David Gilhooly and in high school he attended classes taught by Robert Arneson and visited Clayton Bailey's studio. Natsoulas went on to attend California State University, Sacramento, studying under Robert Brady and Ruth Rippon. In 1979, he returned to UC Davis and received his B.A. in 1982.
After a year in graduate school at Maryland Institute, College of Art, he returned to UC Davis for his MFA and began exhibiting his life-size figurative ceramic sculptures with Rena Bransten Gallery in San Francisco. Over the past three decades Natsoulas has had solo exhibitions at numerous venues including the Morris Graves Museum of Art in Eureka, Oakland Museum of California, Smith Anderson Gallery in Palo Alto, Pence Gallery in Davis, Triton Museum in Santa Clara, B. Sakata Garo in Sacramento, and James Snidle Fine Arts in San Francisco. His work is in many museums and private collections.
About the Sonoma Valley Museum of Art
Established in 1998, the Sonoma Valley Museum of Art is a membership supported 501(c) 3, non-profit organization that provides seasonal exhibitions of contemporary and modern art and educational and public programming for children, youth, and adults. The Sonoma Valley Museum of Art's mission: Building Community Around Art.
Contact
Phone: 707.939.7862
Sonoma Valley Museum of Art
551 Broadway
Sonoma, CA 95476
United States