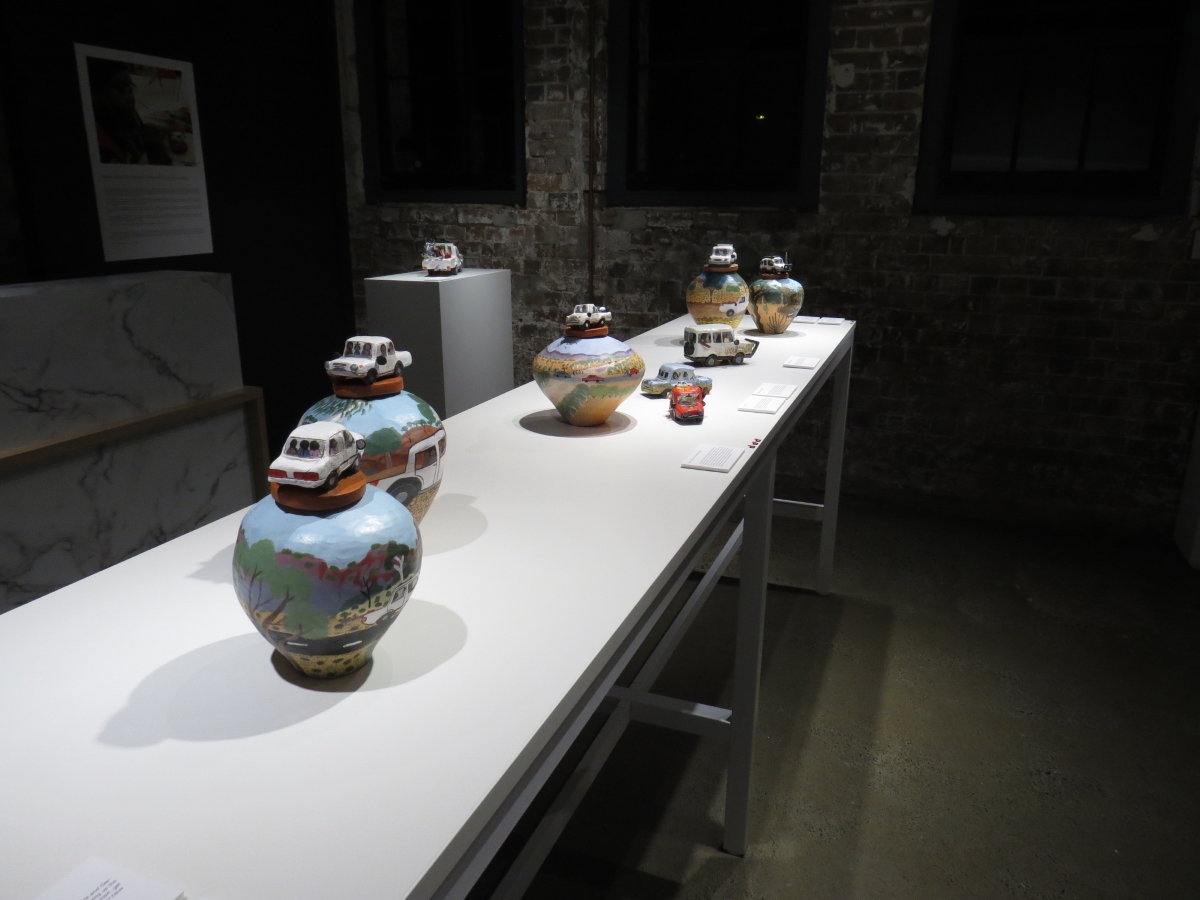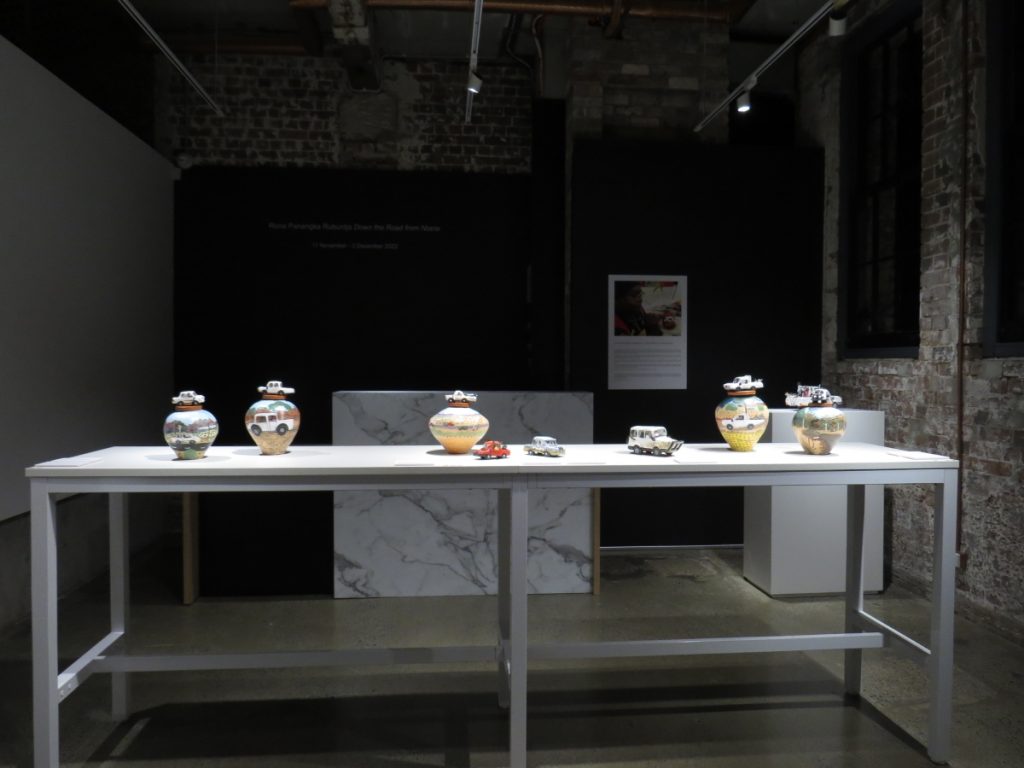 Rona Panangka Rubuntja: Down the Road from Ntaria is on view at Sabbia Gallery, Sydney
November 11 – December 3, 2022
Sabbia Gallery is delighted to be presenting Rona's first solo exhibition, Down the road to Ntaria.
Rona Panangka Rubuntja was born in 1970 and is the niece of famous watercolourist and elder Wenten Rubuntja. She joined the Hermannsburg Potters in 1998, and has since established herself as one of the most prominent senior artists of the group, participating in over forty group exhibitions in Australia and internationally, including the highly acclaimed exhibition at the National Gallery of Victoria Our Land is Alive: Hermannsburg Potters for Kids in 2015/2016 and Tarnanthi 2018 at the Art Gallery of South Australia.
Rona's joyous style is distinctive, humorous and imaginative, and her storytelling ability comes across most strongly in her figurative work. She remains inspired by contemporary life in Ntaria, and her work often includes depictions of cattle and brumbies roaming country, heading out to the outstation in a Toyota, and collecting bush tucker with her extended family.
Rona's work was short listed for the Telstra NATSIAA's in 2021 and her work has also been short listed in The Design Files Awards for 2021. Her work was selected for the prestigious Shepparton Art Museum Indigenous Ceramic Art Award three times, winning second place in 2008 for her work Palm Valley Muster.
Rona's work has been collected both in Australia and overseas including the Australian Parliament House Collection, National Gallery of Victoria, Art Gallery of South Australia, Queensland Art Gallery, Art Gallery of New South Wales, the National Portrait Gallery, Australia Beverly Hills Library, California, USA and most recently in the Powerhouse Collection Sydney.
"These works tell the story of me and my family Rubuntja, getting together in our beat-up Toyotas and getting out on the road. Cars are everywhere out here in Ntaria, they're a huge part of our community life. They take us where we need to go, up to the shops or out on country, they bring the family together. Each work depicts the car of one of my family members and tells the story of the adventures (and breakdowns) we've had together, with every Rubuntja and their dog packed in the back." Rona Panangka Rubuntja, October 2022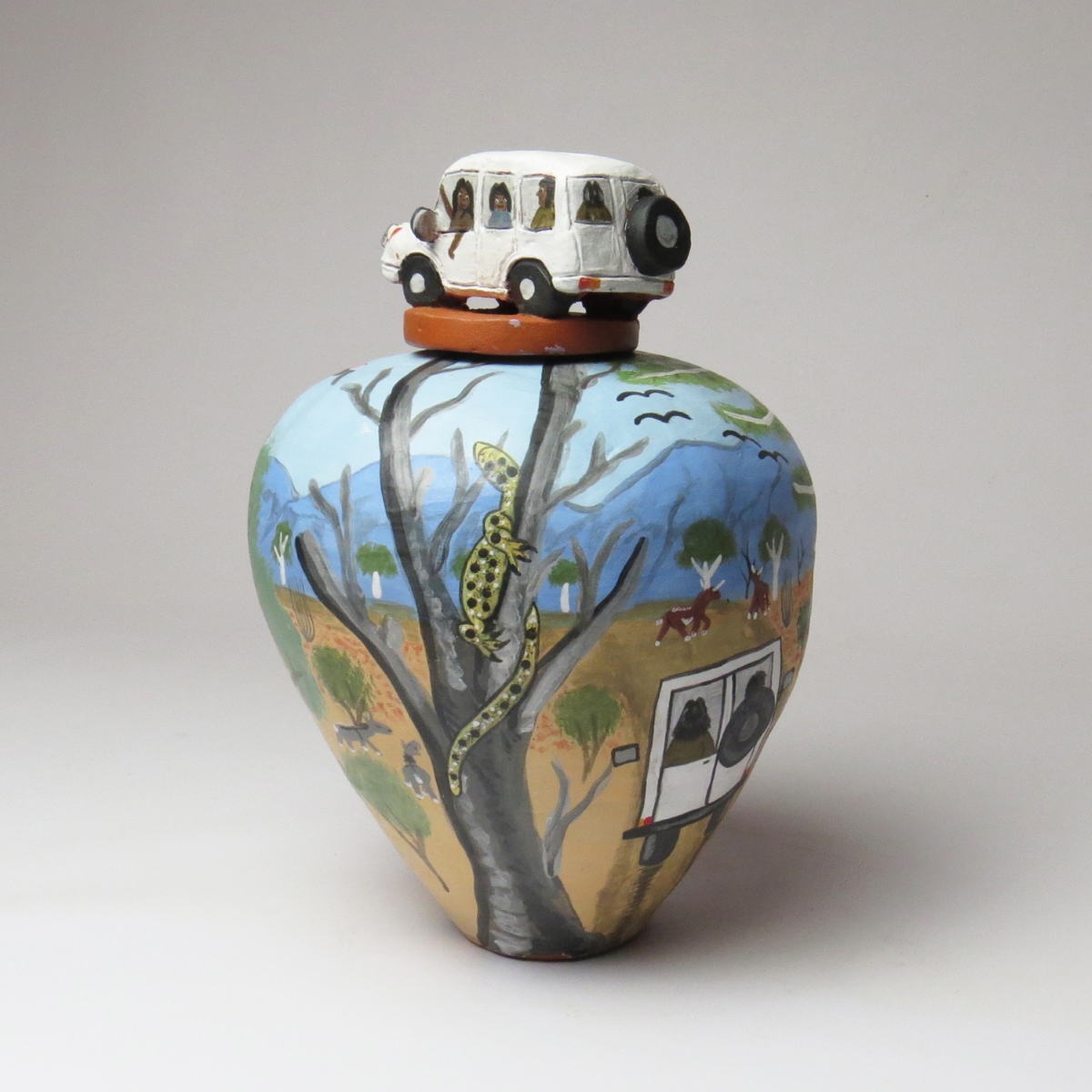 Driving to Areyonga, 2022, hand built terracotta and underglaze, 270 h x 190mm d
Driving to Areyonga to visit friends and family and looking around at everything on the way, talking about what we see. The birds up in the trees (we scared them driving past), wild horses, slow perentie climbing up the tree, bulls with big horns on the road, those donkeys with a cross on their back, kangaroos scratching their stomach, scratching their face. At lunch we made a BBQ, dug a hole down in the river sand to make fire for cooking kangaroo tails- four of them. And making damper with flour, water sugar and milk. Making tea.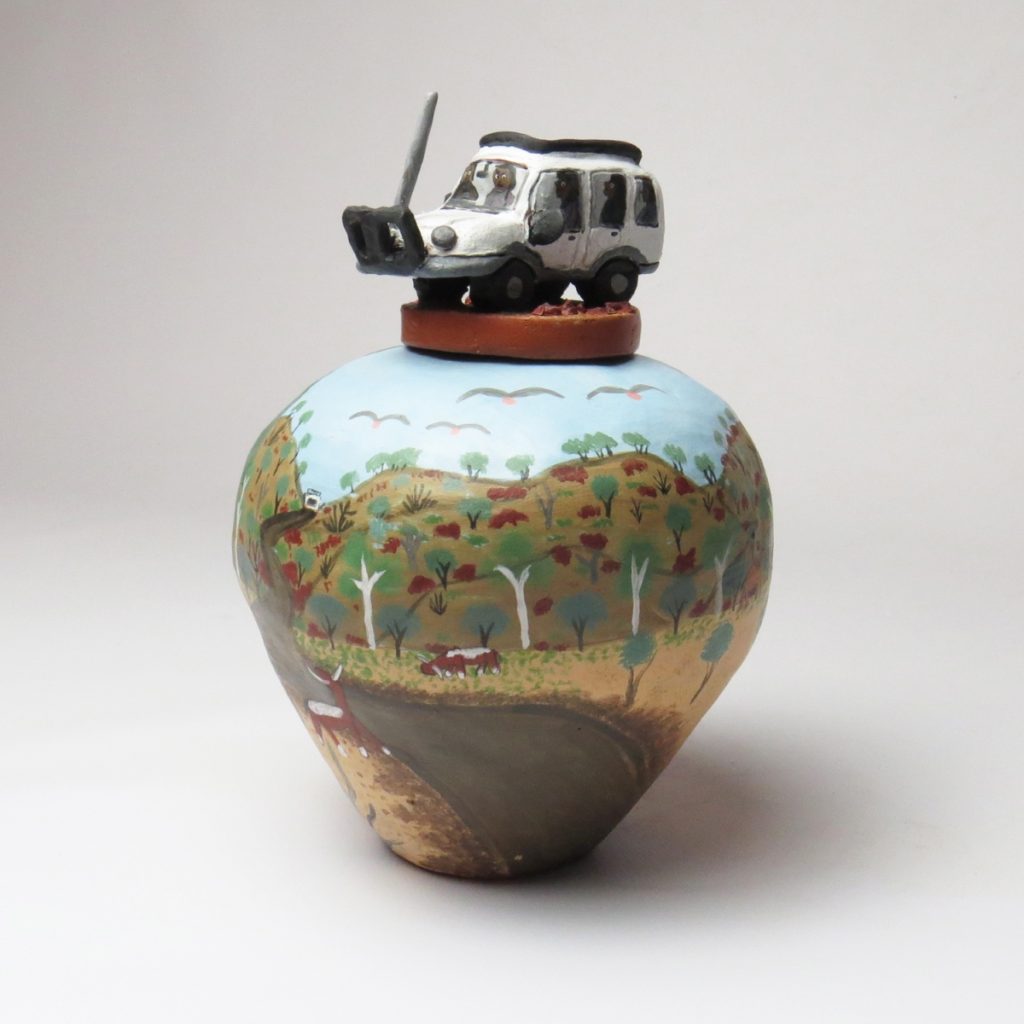 Long Road from Papunya, 2022, hand built terracotta and underglaze, 250 h x 180mm d
My big sister Sylvia Rubuntja's son Colin Malbunka was driving us all on that windy dirt road all the way to Papunya. It's real bumpy that road, we were bouncing up and down on rocks and corrugations all the way. We were chatting and driving and chatting and driving, it's a long way to Papunya. And when we got there to see our family more chatting, so happy. My nephew Colin, he's an artist at Hermannsburg Potters too.
Pottery Ladies Driving to Town, 2022, hand built terracotta and underglaze, 95 h x 210 w x 110mm d
Driving the Pottery troopy into Desert Mob exhibition in Alice Springs with Isabelle, our old Manager, and the Pottery ladies – Anita Ratara, Judith Inakmala, Hayley Coulthard, Kumantjai Ungwanaka, Dawn Wheeler and me. What a carload of stars.
Aussie Outback, 2022, hand built terracotta and underglaze, 60 h x 130 w x 90mm d
Just a couple of friends driving all the way around Australia together, waving hello to everyone. One black fella and white fella. All those animals they see along the road painted up on the car – perentie, kangaroo, even rabbit. Sometimes they have to wait for animals to get off the road, cattle and bulls. They got one cheeky dog in the back.
Contact
gallery@sabbiagallery.com
Sabbia Gallery
609 Elizabeth Street
Redfern Sydney NSW 2016
Australia
Photos courtesy of Sabbia Gallery