Cast Aside: discarding the domestic and the everyday at La Fonderie Kugler, Geneva
September 15-25, 2022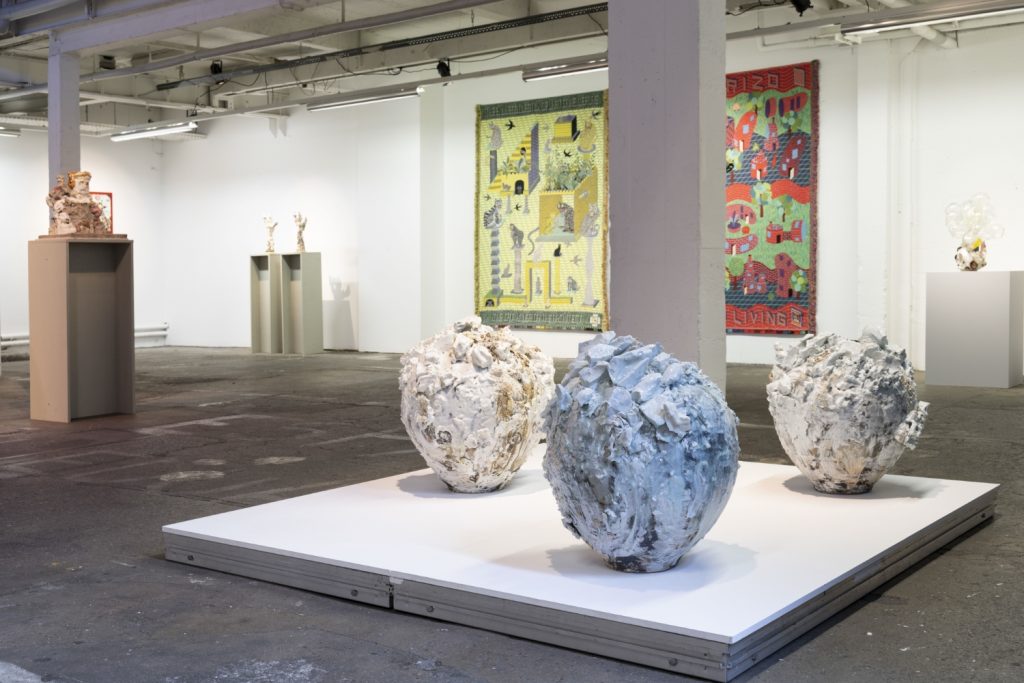 Taste Contemporary is proud to present Cast Aside: discarding the domestic and the everyday, a group exhibition that showcases the work of artists, whose works in clay, glass and textiles confront and question their relationship to domesticity and function. The exhibition takes place at La Fonderie Kugler, Geneva, Switzerland from 15th September to 2nd October 2022
Since its establishment in 2012, Taste Contemporary has championed ceramic, glass and textile art. It now explores the work of a group of artists who, while entering into a dialogue with function and the domestic sphere, have chosen to disrupt and subvert it, thus allowing new expressive possibilities to emerge. Ceramic, glass and textile artist's relationship with function has long since been investigated and questioned. In the 1960's Rose Slivka famously wrote about a 'new generation of ceramicists who 'avoid functional association in their work so that the value of use becomes a secondary or even arbitrary attribute.' Taste Contemporary has now selected work by a number of contemporary artists, whose practices echo the concerns of their predecessors but who charge their work with a new disruptive energy that casts aside all associations with the domestic and the everyday.
Johannes Nagel's ceramic objects speak of containment. But, as Glenn Adamson has written 'he follows his instincts, departing from predictable pot-shapes that could be envisioned in the mind,' creating objects that 'sit at the junction between fact and fiction.' In Patrick Loughran's sculptural forms we see remnants of the ordinary. But in a desire to manipulate and re-build, they become disrupted and mysterious. In her practice Akiko Hirai creates domestic pieces such as tea bowls however, she has also received international acclaim for her Moon Jars. Her deeply textured and unsettling interpretations have been described by the LOEWE Craft Prize judges as 'an expressive and energised gestural interpretation of the iconic form'. Martin Neubert's depicts the human figure in a sensitive manner. Focusing on those on the fringes of society, his figures are often portrayed holding containers and can even sometimes have a functional element. His expressive images of them awaken empathy, but also disturb. Glass artists such as Åsa Jungelius challenge existing hierarchies, Zac Weinberg creates glass enclosures to explore the intersection between function and aesthetic, while the work of Per-René Larsen is often based on a distorted view of the vessel form. Textile artist Fern Liberty Kallenbach Campbell uses the familiar landscape of interior spaces to explore issues such as spam and cybersex through the lens of the digital age while Koen Taselaar's textiles suggest the everyday but in his narrative, works are frequently presented in a dreamlike and unsettling way.
Exhibitors: Heidi Bjørgan, Norway; Akiko Hirai, Japan; Asa Jungelius, Sweden; Fern Liberty Kallenbach, USA; Per René Larsen, Denmark; Patrick Loughran, France; Johannes Nagel, Germany; Martin Neubert, Germany; Koen Taselaar, The Netherlands; Zac Weinberg, USA.
Fonderie Kugler, Rue de la Truite 4, 1205, Geneva, Switzerland
September 8 – October 15, 2022
Taste Contemporary is proud to present Yellow, a solo exhibition of work by the Norwegian artist Heidi Bjørgan. Creating an installation that celebrates the colour yellow – her signature colour for many years – this exhibition will see Bjørgan create an immersive experience for the viewer in which a series of objects are presented on plinths inspired by Victorian pedestals within an environment flooded with colour.
Taste Contemporary has worked with Heidi Bjørgan since 2017, showing her work in numerous group exhibitions and international fairs. In addition to creating museum quality works, she has also, in recent years, developed her curatorial practice, curating a number of exhibitions where objects are presented in dramatic and increasingly theatrical environments. In 2106, her solo exhibition at the National Museum of Decorative Arts and Design in Trondheim was described by Jorunn Veiteberg as 'an artistic expression where the boundaries between the artist and curator are erased.'
For her first solo exhibition for Taste Contemporary entitled Yellow, Bjørgan will now create a vibrant installation at the Geneva based gallery that focuses on the colour yellow, which has been her signature colour for many years. In creating an evocative and immersive experience for the viewer, Bjørgan relies on the mutual dependency between objects and the environment in which they are presented. Asking us to consider what happens to distinctive objects in an enclosed environment, saturated in vibrant colour, works will be presented on a series of plinths inspired by vintage pieces from the 1800's.
Wrapped in layers upon layers of glaze, Heidi Bjørgan's works are abstract yet have a distinctive presence, they are hard, but also appear soft, they seem deformed and yet are perfect and seductive in their power. On the surface, the works in this exhibition appear to vary greatly, as a wide variety of glazes categorise each surface and contribute to each object's organic and vibrant presence. However, if viewed closely, it becomes clear that these piece are in fact related to each other in shape and share a common vocabulary. Some works in the exhibition will sit tall and upright, while others have cracks or may appear to have 'collapsed'. This recognition of what is considered 'wrong' in ceramic art underlies Bjørgan's studio practice in which she is inspired by the American George Ohr (1857-1918) who, after his death, became known for his daring and experimental work in clay.
Heidi Bjørgan: Yellow has received support from Norwegian Crafts and the Norwegian MFA's Support Scheme for International Craft Projects.
Taste Contemporary, Rue Abraham Constantin 6, 1206, Geneva, Switzerland
Contact
info@tastecontemporary.com
Photos by Thor Brødreskift