Established in 2016, The Stratford Gallery represents some of the finest contemporary Japanese ceramics. In this interview with Howard Clegg, the gallery's co-founder, we set out to find out more about their activities and plans.
Can you tell us the story behind the founding of the gallery?
The gallery was founded by me and my wife Emma and was the realisation of a project we had both wanted to fulfil for many years. Whilst for Emma, it was a continuation of her career; she trained in Fine Art, worked in public and private galleries and was head of a large corporate art collection; for me, it was a change of direction. While my private passion was enjoying and buying art, my previous career was in corporate consultancy.
We aimed to establish a gallery that had a very determined focus on representing ceramic as an art form and curating its presence alongside paintings and sculpture. To elevate its rightful status if you like. We began representing many of the artists we had collected over 20 years which was a delight. Going from collector to dealer was a wonderful transition, and it allowed us to be very honest and true about how we represented the artists.
A few years after founding the gallery, you embarked on a new journey to represent a fantastic selection of Japanese ceramic artists. Why did you start specializing in contemporary Japanese ceramics?
About two years in, we discussed the idea of showing some contemporary Japanese work. It had been a personal interest of mine, along with all things Japanese, but we really needed to learn how much interest there was in such work in the UK.
Being a keen student of Japanese traditions, I wanted to expose the breadth of work that was emerging from the kilns across Japan. A big challenge but one we were excited about, one which has enabled us to stage some genuinely amazing shows over the last five years. Along that journey, we have shared our passion for Japanese work with thousands of people and been the instigators of new collections for people new to Japanese ceramics. This is what drives us, seeing the lightbulb go on over a client's head when a rustic, organic, raw piece of Iga Yaki suddenly comes into view as beautiful to them.
How many Japanese ceramic artists do you represent?
Gosh, lots! We represent around 50 Japanese artists, and that continues to grow. We enjoy the ambition of wide representation, the challenges it brings, and the opportunities it gives us. In our last exhibition, "Treasures of Japan II', we exhibited 23 contemporary artists with nearly 300 pieces of varied and contrasting work. I enjoy people being overwhelmed by the scope of Japanese ceramics today, but I am always on hand to help them navigate a path through what they see!
We have had the pleasure of representing senior artists such as Yamada Kazu and Tanimoto Kei, mid-career artists such as Ichikawa Toru and Inayoshi Osamu, female front runners such as Takahashi Nami and Takemura Yuri, and emerging talents such as Ujiie Kodai. Crossing the seniority spectrum is crucial to us; it enables more people to collect, satisfies established collectors, and enhances the career of younger makers we represent outside of Japan.
You sometimes show Japanese artists that have never exhibited in the UK. What are the challenges of organizing these exhibitions?
I would say the majority of makers we have shown have debuted in the UK by us, and for many, it has been their debut outside of Japan. It is always a pleasure to do it, to display our faith in a maker's work to the extent that we are prepared to invest in the significant task of organising a collection of their work here. Whilst it's a complex and expensive task, it always feels worth it once the work is here and our clients are adding it to their collections. The language barrier is an obvious added complexity. Still, I continue to learn to speak, read and write in Japanese and have always been respectful of cultural differences, which I also enjoy learning about.
How do you find new artists? What qualities are essential to you when looking for artists to represent?
I find this difficult to answer. I can't be definitive, as Japanese ceramics is a daily thought process and conversation in my head. When you have dozens of traditions stretching back centuries, and in some cases millennia, you have subject matter that could easily consume several lifetimes of study. I am always looking and learning. I am aware that my lifetime is limited, and there is so much still to learn and discover, so I naturally come across makers in pursuit of extending my knowledge. I won't lie; it's a wonderful job!
You organized dozens of exhibitions over the last few years. Can you share some highlights with us?
Being a gallery that still values putting on exhibitions is central to our ethos and will continue to be. It is an opportunity to be creative with mixed shows and strategic to an artist's career with solo exhibitions.
Mixed exhibitions allow us to create thoughtful angles into a show such as 'Generations – Father & Son' in 2021, which allowed our clients to investigate similarities and divergences between the work of the father versus the work of the son within the same tradition. 'Kodai Ujiie – Japanese Vanguard' in July 2022 provided Ujiie san with his first solo show outside of Japan, which was a rapid sellout and has helped his career both at home and internationally. Both these shows were natural highlights for us. Still, an honourable mention must go to our sake ware show in 2019, where we had an extended Nihonshu workshop and tasting before the opening – that was a very merry affair for all in attendance!
Earlier this year, you released your new website, where visitors can buy artwork online. How are online art sales compared to traditional ones? What else has changed since your first show in 2016?
You're right; we updated our site in early 2022 to improve our customers' online experience. Again this is important to us as we have clients all over the world. There are large communities of collectors in the USA and Europe, and they tell us they like how we make it easy to learn about and purchase works. We even have clients in Japan!
But nothing beats being in front of a piece of ceramic that you can hold and investigate in person. That is why we have an entire gallery floor dedicated to a permanent collection of imported works from Japan, in addition to our exhibition schedule. On this floor, we display collections of work from a superb array of makers all year round—collections I personally choose from firings and purchase directly from the artist. It means there is always a new treasure to be found, no matter how many times someone visits. But for those unable to visit – I'm glad technology allows us to share what we have and why we love it.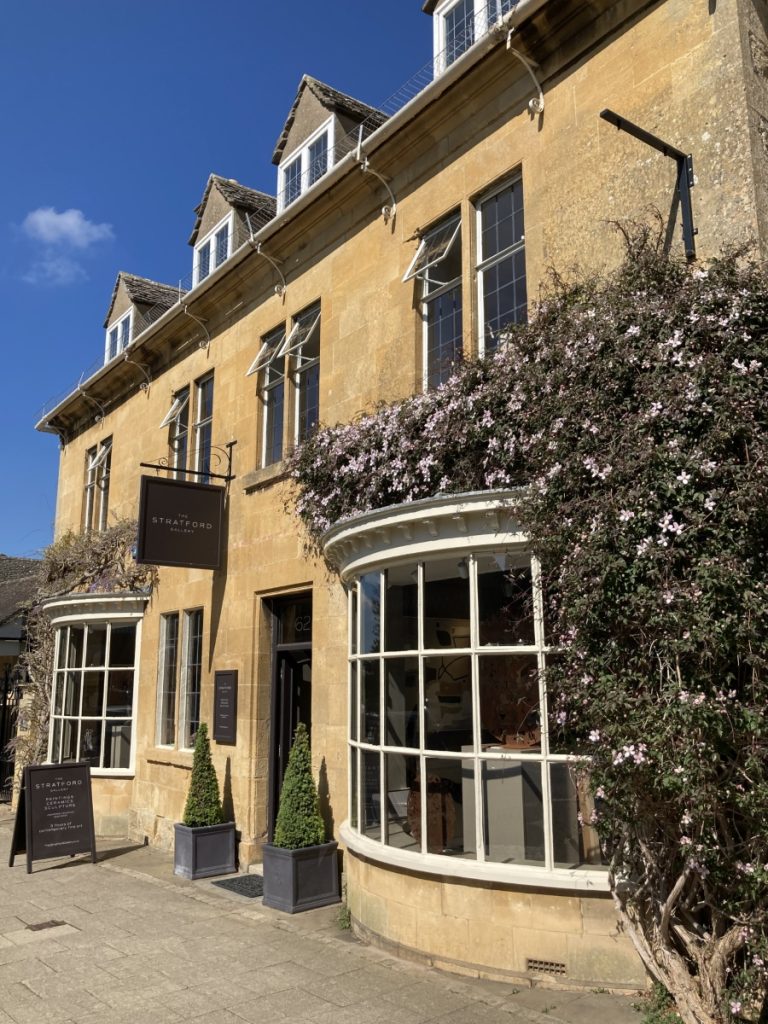 What events are you planning for 2023 and beyond?
I'm currently planning shows into 2025, and it won't be long until I turn my attention to 2026, but 2023 has some fantastic shows to be excited about. In February, we give Yamaguchi Makoto his first solo show in the UK, in the summer, we will be staging Muta Yoca's first international solo, and in November, we are beyond proud to be staging a solo for Higashida Shigemasa.
I have also planned debuts and re-introductions of makers scheduled throughout the year on a smaller scale, so there are lots to be excited about and many more phone calls with customs agents to have! I'll also be spending the first few weeks of January 2023 in Japan on artist visits; no doubt that will spark more ideas for shows yet unthought of!
---
The Stratford Gallery is based in Broadway, Worcestershire, United Kingdom. Contact information: +44 (0)1386 335 229, art@thestratfordgallery.co.uk
Ceramics Now • December 2022