Neil Forrest: Selected works, 2011-2019
The Washingtonian Service, 2019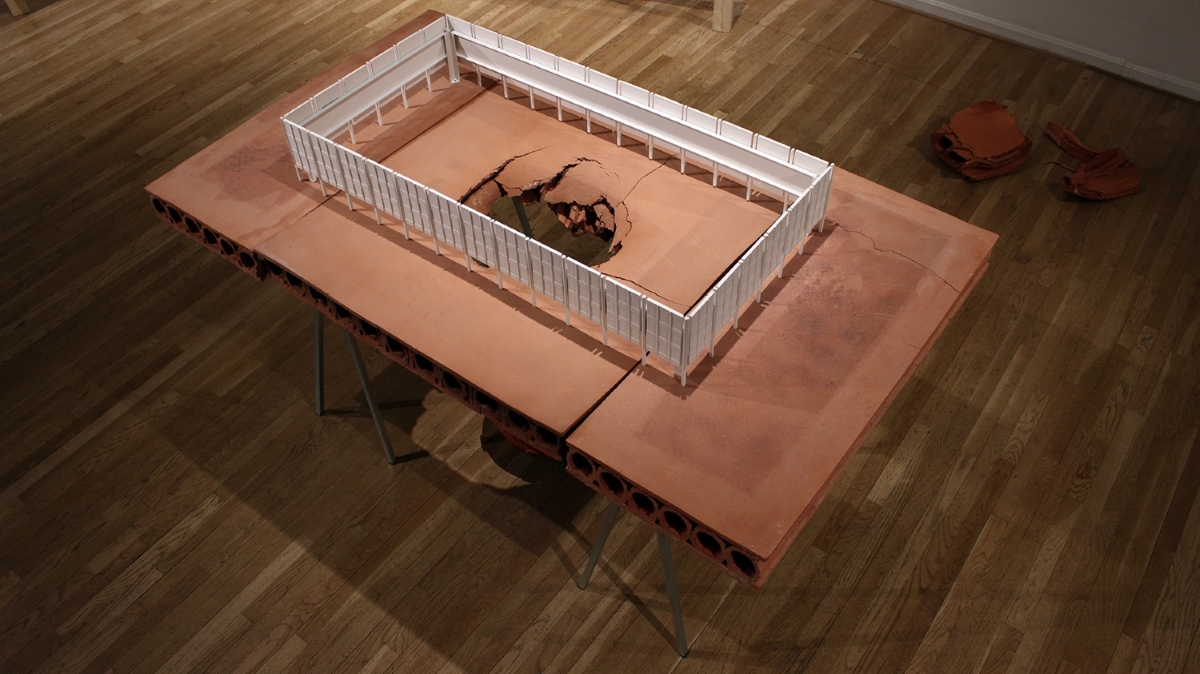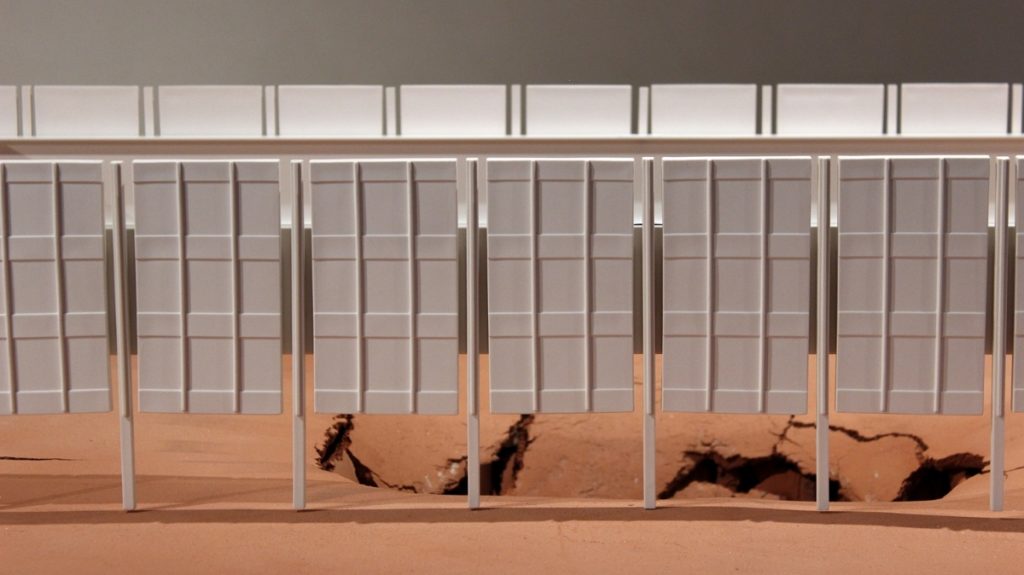 The Washingtonian Service is a colosseum, a collision and a suite of celestial objects that meet up in D.C. The Martin Luther King Jr. (MLK) Memorial Library is made as though a porcelain centrepiece on its own landscape/table, and is emblematic of a golden age in a salient city. Admired by an elite but perhaps unloved by many, the real Mies van der Rohe's MLK library was a city's search for modern identity in architectural form.
My rendition of this icon as a porcelain model is both a fascination with miniatures and a flirtation with great centerpieces such as Napoleon's commissioned Egyptian Service. If Napoleon used a porcelain miniature to glorify his expeditionary force to Egypt, The Washingtonian Service instead hosts a freak encounter: a meteor plunging into an icon. It's a cosmic problem as much as an existential one.
The installation hosts additional actors who were auditioned for the role of primary collider. These portrait heads are: an astronaut by helmet only, a young ballerina's bunhead, and poet Musa McKim – married to Philip Guston, American painter.
Photo captions
The Washingtonian Service / installation dimensions: 20' l x 18'w x 6'h / media: CNC milled porcelain, hand built stoneware, extruded terra cotta, lead glazes, wood, video / date: 2019 / photography by Neil Forrest
Porøs, 2013-2017
Porøs associates ideas about architecture, craft and landscape, reasoned in the form of a grotto. The project originated with a question about material porosity and how to suggest active geological and chemical processes. An inclined ramp provides an architectural narrative for the ambulant observer to experience a diverse group of ceramic objects.
A cluster of cisterns distribute, filter, irrigate, and evaporate water, and some that hold mnemonic representations. Water-soluble chemicals evaporate and deposit crystalline formations, and using pumps and compressors, a controlled air-water mix pushed through the pores creates an audible and visible effect – atomizing. The atomizing system produces effervescence and airborne mist at the surface of the ceramic. A mix of fluids is distributed through internal bladders within the ceramic shapes (the atomizers). A self-contained system, water is stored and recirculated through a plumbing system by a pump and an air compressor provides the force to drive water through the engineered clay pores. Porøs exploits the fault of porosity to create an engineered phenomena – atomization.
The installation resolved to host tilted buildings, scrambled science vessels and other unstable forms that hint at a derelict factory or obdurate garden. In his 16th century grotto for Tuileries, the potter and scientist Bernard Palissy emulated Eden by designing four man-made rivers to represent primordial creation as both scientific as mystical. Porøs reflects Palissy's manipulation of craft as a set of active processes that produce sensory phenomena and a means to metamorphosize science and ethnography in the form of a geo-physical landscape.
Photo captions
Porøs / Date: 2013-2017 / installation dimensions: 45' l x 35' w x 5' h / media: stoneware & porcelain ceramics, solubles, wood, water pump, compressor, plumbing, steel mesh / one-person exhibition at the Nelson Fine Arts Center, ASU Art Museum, Sept '18-Feb '19 / photography by Dean Reynolds, Garth Johnson, Neil Forrest
Hard Transits, 2013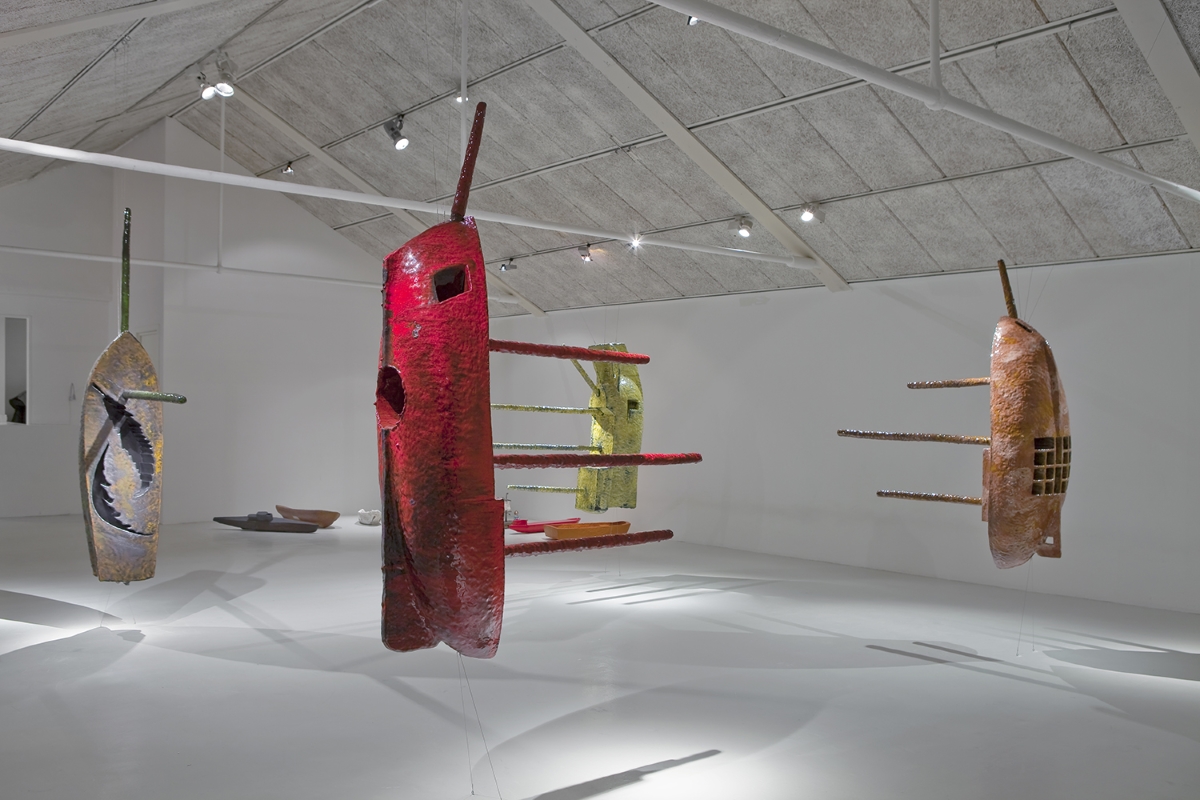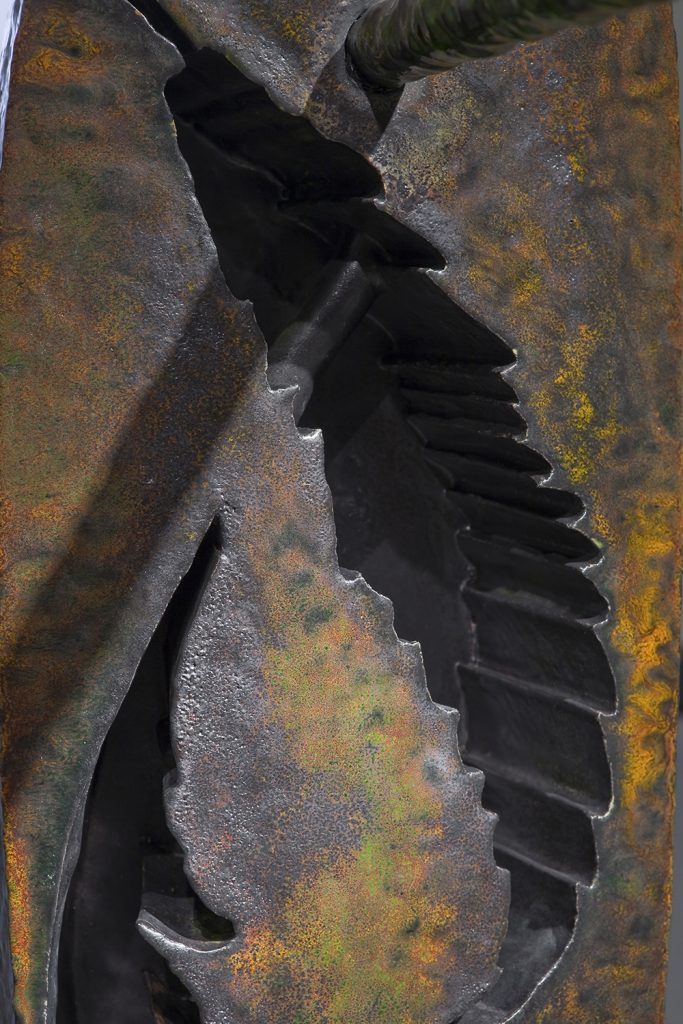 Hard Transits reprises four expeditionary ships that Norway mustered to the Arctic, with each carrying individual dramas that reveal something of the nation's problematic entry into the modern period. I've assigned each ship with an extraneous but embedded architecture (an object-within-an-object), thereby splicing one story into another.
With accompanying drawings, the viewer can see the intersection of these two elements – the ship plus its added architecture). For instance, in the ship 'Maud', I've connected the writer Knut Hamsun's birth cabin to the Führerbunker (Hamsun, the Norwegian Nobel prize recipient for literature, became infamous for supporting Hitler). Each clay ship owns a 'love-hate' relationship.
Photo captions:
Hard Transits / date: 2013 / media: stoneware & lead glazes, metal fittings, drawings / installation dimensions 16'L x 16'W x 6'D / individual ships each 75"D x 16"W x 20"D / drawings by Joost Kors and Neil Forrest, paper, 33" w. X 46" w. / photography by Øystein Thorvaldsen, Oslo
Flake, 2011
An installation for the Denver Art Museum, Flake comprises multiple long and curved slivers that float in the gallery. The shapes derive from residual solids made by ants boring into tree cellulose, but are imagined as the primordial arabesque; the beautiful warp of space, described equally by the theoretical physics or the mosque ceiling. This decoration lifts away from fixed surfaces to metastasize and drift as a physical body.
As I planned Flake, ideas about ants, arabesques, Italian supercars, and the potent angularity of the museum space itself converged. Flake is an object with no up or down, a series of large and torn ceramic planks arranged to make a new shape—as though a fraction of a bowl. Like the sweep of a beautiful car body panel, Flake requires an element to stiffen this simple arc. The addition of a "cell" (an elliptical bowl on the obverse side) adds strength to the red curve. The cell is a metaphor for a nest, calling out my interest in insect habitat. The form of the installation is determined as though each Flake is a fragment from the surface of single torus or donut, five curved fragments wrapping space around the viewer.
Photo Captions
Flake / date: 2011 / installation dimensions: 25'L x 11'W x 20'H + each Flake approximately: 9'L x 23" H x 5" D / media: stoneware clay / fabrication supervisor & CNC developer: Andy Brayman / photography by Jeff Wells