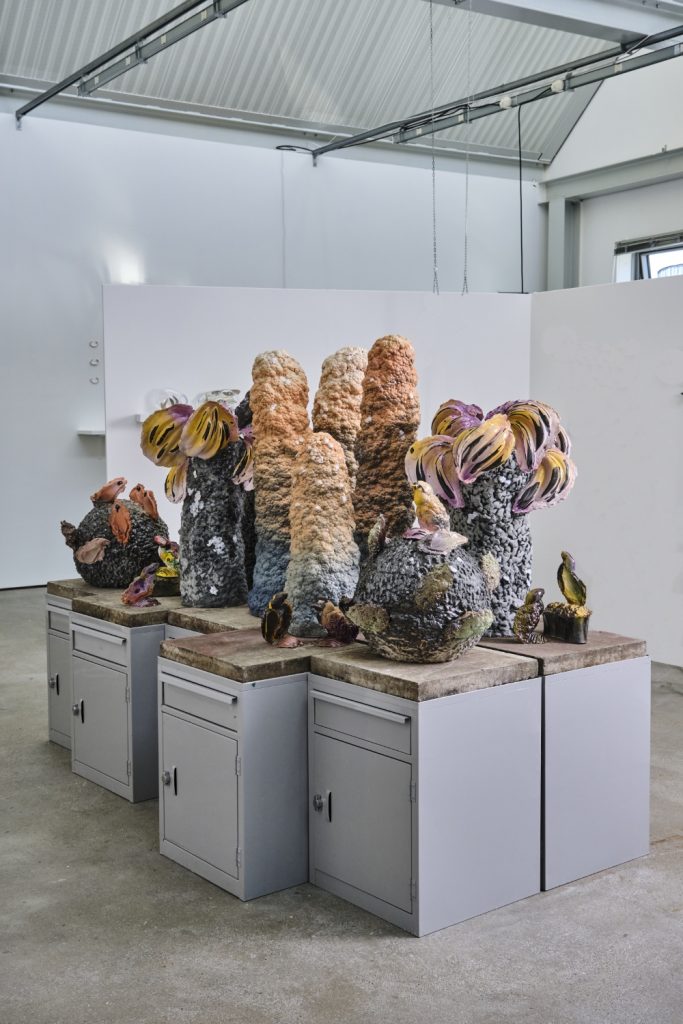 Noa Chernichovsky's work is based on a constant awareness of her immediate surroundings as she moves in the world. She examines the network of associations created around objects and their fragments, tying together their inherent narratives.
Her work aims to spotlight the everyday physical things we often overlook, and she reconstructs them into hybrid ceramic volumes. The aesthetic at the core of her practice is based on the urban imagery of the asphalt road or sidewalk as a constant inhabited by transient, colorful imagery.
Chernichovsky sees herself as a "sampler" of surfaces and forms from the physical world. Her sculptures are composed of many elements, each with its own context and cultural value. As in a collage, these elements accumulate into a larger image that holds its own various identities and creates a dreamlike new environment.
She combines different ceramic techniques, including thrown parts, hand-building and slab molding, blended with non-ceramic materials and readymades. Although the subjects of her work are mundane, they are conveyed in an over-the-top language, with elaborate textures and patterns that produce a final image full of energy.
Photo captions
Facing the Plenty, 2022, Earthenware, slips, glazes, Various sizes. ©Noa Chernichovsky
Facing the Plenty, 2022, Earthenware, slips, glazes, ready-mades, Various sizes. ©Sylvain Deleu
Facing the Plenty: Pier Caps and Banana trees 3, 2022, Earthenware, slips, glazes, Various sizes. ©Charles Burnand
Facing the Plenty, 2022, Battersea: Banana tree and a bird, earthenware, slips, glazes, Various sizes. ©Charles Burnand
Birds, 2022, Earthenware, slips, glazes. ©Charles Burnand
Cauliflower Bollards, 2022, Earthenware, slips, glazes, 53x 52X17 cm, 89X25X25 cm, 90X30X30 cm. ©Charles Burnand
Cauliflower Bollard, detail,2022, Earthenware, slips, glazes, Various sizes. ©Sylvain Deleu
Cauliflower Bollard 3, 2022, Earthenware, slips, glazes, 92X27X27 cm. ©Charles Burnand
Pier Cap 1, 2022, Earthenware, slips, glazes, 50X50X50 cm. ©Charles Burnand
Pier Cap 2, 2022, Earthenware, slips, glazes, 50X50X50 cm. ©Noa Chernichovsky
Collage with Bricks, 2022, Earthenware, slips, glazes, 53x 52X17 cm. ©Charles Burnand
Bird 17, 2022, Earthenware, slips, glazes, 26x16x24 cm. ©Charles Burnand
Bird 9, 2022, Earthenware, slips, glazes, 16.3X13X11 cm. ©Charles Burnand
Bird 3, 2022, Earthenware, slips, glazes, 14x14x11 cm. ©Noa Chernichovsky
Bird 2, 2022, Earthenware, slips, glazes, 14x13x11 cm. ©Noa Chernichovsky
Bird 12, 2022, Earthenware, slips, glazes, 16x13x11 cm. ©Noa Chernichovsky
Banana Tree 1, 2022, Earthenware, slips, glazes, 72x 50 × 50 cm @Noa Chernichovsky
Facing the Plenty, Battersea, 2022, Earthenware, slips, glazes, Various sizes. ©Noa Chernichovsky
Facing the Plenty, 2022, Battersea: Banana tree and a bird, earthenware, slips, glazes,, Various sizes. ©Charles Burnand
Facing the Plenty, Battersea: birds,2022, Earthenware, slips, glazes, Various sizes. ©Noa Chernichovsky