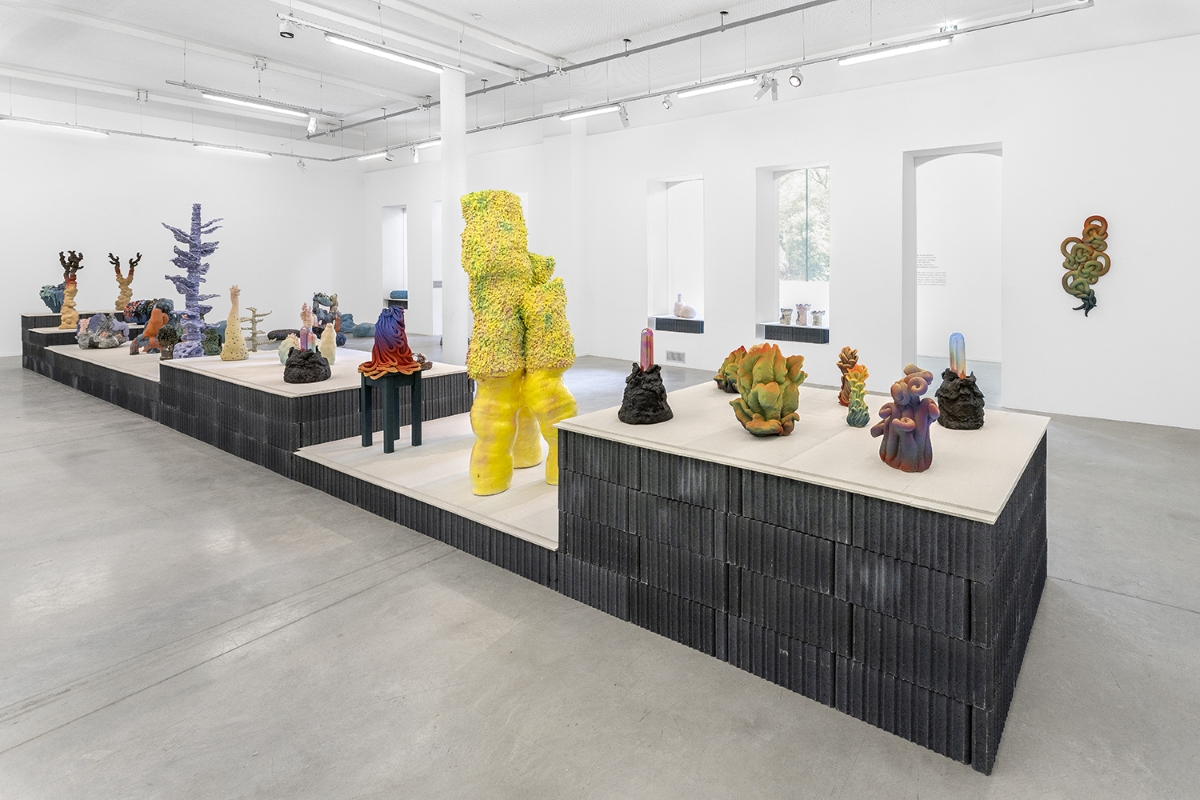 Against Nature: Ceramics, a test of fire is on view at MO.CO. Montpellier Contemporain, Montpellier
May 21 – September 4, 2022
Against Nature is an exhibition inhabited by insolent, hybrid shapes made of clay and enamel, such grotesque creatures compose a luxuriant, original, mysterious, troubling, or even hallucinatory world. Water, earth, and fire are the essential, unrivalled components of these new worlds: 'What we call against nature is in fact against custom.' (Montaigne)
In this exhibition, nature is artifice, and artifice becomes nature in order to decategorize scales and values, as well as to reverse commonplaces regarding sculpture and the ceramic tradition. The works gathered concern ceramics less as folklore than as modelling and alchemy, technique and magic.
'You gave me your mud and I have turned it to gold,' writes Baudelaire in an unfinished epilogue to The Flowers of Evil. The exhibition explores the metamorphosis and the reversal of values in sculptures of thirty artists who, also in the wake of Huysmans' character Jean Des Esseintes, switch the natural and the artificial. The core of the project is composed rather by the transformation process: first and foremost, shaping by hand and modelling the clay, more than the mechanics of throwing or moulding. The artist's corporeality is primal, ubiquitous, and visible, palpable through the marks of the performative gestures, hand-to-hand with matter.
A fabric of fertile contradictions makes the essence of the material and forms its technique: raw and cooked, natural and artificial, archaic but contemporary, harmless or toxic, control by chance, what is malleable turned into solid. The works presented are taken in a moment of transformation, crystallised in an uncertain state of metamorphosis and alchemy that the kiln, just like the inherent gestation of ceramics, has grasped.
Against Nature does not intend to unfold a thorough history of ceramics. It focuses rather on its recent developments, endeavouring to counter the hierarchy of practices in accordance with current concerns of emerging artists: long considered as an outdated handcraft, ceramics is now usually recognised by artists and institutions as a way of expression in sync with our uncertain world and a manifest return to making, textures, and matters.
Artists: Caroline Achaintre, Salvatore Arancio, Sylvie Auvray, Julie Béna, Jessica Boubetra, Gisèle Buthod-Garçon, Marianne Castelly, Cyril Chartier-Poyet, Johan Creten, Roberto Cuoghi, Michel Gouéry, Takuro Kuwata, Claire Lindner, Simon Manoha, Nitsa Meletopoulos, Marlène Mocquet, Sandrine Pagny, Aneta Regel, Brian Rochefort, Sterling Ruby, Elsa Sahal, Mathilde Sauce, Katrina Schneider, Elmar Trenkwalder, Tamara Van San, Marion Verboom, Anne Verdier, Vertigo, Nick Weddell, Anne Wenzel
The exhibition Against Nature benefits from the support of Massimo de Carlo Gallery for the artwork of Brian Rochefort, The Pill for the artwork of Marion Verboom, and Galerie Xavier Hufkens for the artworks of Sterling Ruby. With the support of the Mondriaan fund for the artwork of Anne Wenzel.
Under the artistic direction of Numa Hambursin, CEO
Curators : Vincent Honoré, director of exhibitions, MO.CO. Caroline Chabrand, curator, MO.CO.
Assisted by Deniz Yoruc
Exhibition design: Mr. & Mr.
Catalog graphic design: Pauline Desombre
MO.CO. Montpellier Contemporain is supported by : Direction Régionale des Affaires Culturelles Occitanie, Montpellier Méditerranée Métropole, and Ville de Montpellier.
Contact
+33 (0)4 99 58 28 00
MO.CO. Montpellier Contemporain – Panacée
14 rue de l'École de Pharmacie
34000 Montpellier
France
Photos by Nicolas Brasseur