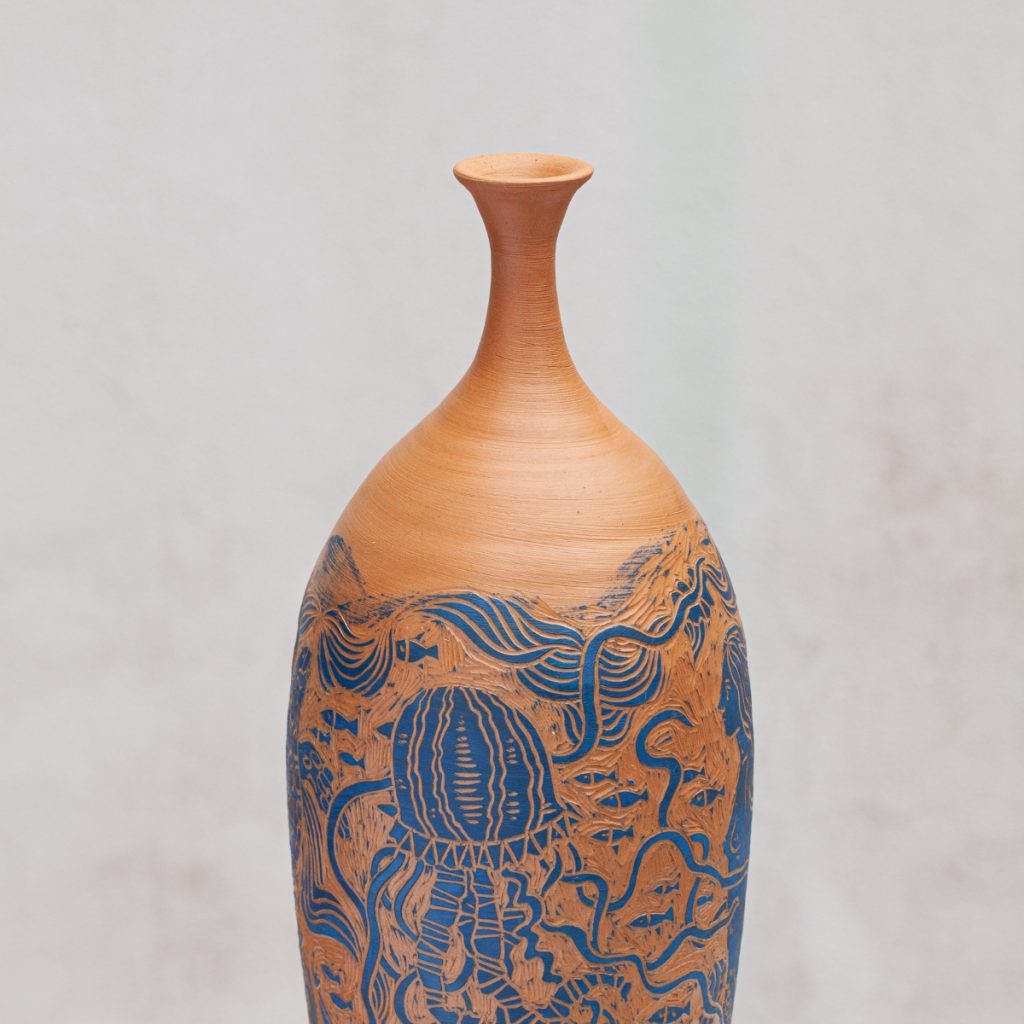 [C]2 Contemporary Studio Ceramics – Online Auction and Exhibition is on view at ESH Gallery, Milan
June 7-15, 2023
ESH Gallery is pleased to present [C]2 Contemporary Studio Ceramics, the second edition of the only auction dedicated to contemporary ceramics in Italy, designed to bring together a public attentive to market trends, new forms of collecting and the advantageous possibilities of digital.
The auction will take place exclusively online (June 7-15) directly from this link and will be accompanied by an exhibition (June 7 – July 7) that will provide a broad overview of new trends in contemporary ceramics between sculpture, applied art and design.
For this second edition, it has been decided to open the selection also to some international authors, especially Japanese, with a view to a precise and constant dialogue between West and East, which has always been the guideline for the gallery's artistic choices.
Close to the Japanese aesthetic of synthesis and balance of forms is the work of Leonardo Bartolini, a ceramist of Florentine origin who lives and works in Kumamoto, Japan. Concentrating on the structural configuration of the object and the study of surface sensitization, the artist gives life to ultra-modern architectural-geometric forms in earthy colors and purges of all functionality.
Petra Hegge, a Dutch artist living in rural Valmareno in the shadow of the Dolomites, after a long career in the world of fashion, now devotes herself exclusively to ceramics, which has become part of her everyday life. Various elements made with whimsical experiments in ceramic language superimposed on each other give life to her fascinating totems with their archaic and strongly evocative appearance.
The ultimate aim of the works by Silvia Garau, an artist based in Sutri, is primarily tactile before being aesthetic, prompting the observer to touch her works to fully enjoy them.
The artist approaches the shapeless mass of raw clay with her bare hands, following the material's natural resistance until she obtains extremely tactile, sinuous, sensual forms that recall, in a reduced and intimate form, the work of the English sculptor Henry Moore.
Also present are the works of Guido De Zan, a long-time ceramist working in the shadow of the Colonne di San Lorenzo in Milan. As art historian Anty Pansera writes in Creatura di città, the artist has developed a true obsession for certain buildings in his city, to which he has dedicated careful attention by reproducing them in small stoneware and porcelain sculptures, synthesizing their volumes and giving them his characteristic paper-like effect.
Finally, Marta Palmieri, shaping a fragile clay skin, gives life to forms that evoke excavation finds, silkworm cocoons, extinguished craters, wineskins or saddlebags "on the way to Damascus." Inside these earthen wombs, the imprints impressed in the clay reveal the slow coiling technique, while the outer epidermis, worked with the spatula, appears abraded by the passage of time.
Artists on show: Unurgent Argilla, Leonardo Bartolini, Giulia Bonora, Patrizia Budini, XIO Creative Ceramics, Licia Cicala, Guido De Zan, Simcha Even Chen, Silvia Garau, Domenico Guardiani, Petra Hegge, Junpei Hiraoka, Yoichiro Kamei, Clara Holt, Takuya Murata, Marta Palmieri, Elena Pelosi, Premiata Ceramica Sperimentale, Maria Diletta Rondoni, Taro Tabuchi, Kouzo Takeuchi, Toshiaki Yoshimura, Chiara Zoppei.
[C]2 Contemporary Studio Ceramics Online auction (June 7-15, 2022) at this link
Viewing: June 7 – July 7, 2023
Opening: Wednesday, June 7th, 18:00-21:00
Hours: From 7 to 15 June: 11.00-19.00, and from June 16th by appointment.
Contact
enquiries@eshgallery.com
ESH Gallery
Via Forcella 7
20144 Milan
Italy
Captions
Clara Holt & Chiara Zoppei, Ipnosi, 2022
Clara Holt & Domenico Guardiani, Tritone, 2023
Licia Cicala, Avvolto, 2022
Petra Hegge, 'Decision, Decision', 2021
Petra Hegge, Diversity United, 2019-2021
Leonardo Bartolini, Silente, 2018
Marta Palmieri, Falesia
Silvia Garau, Interstellare, 2022
Junpei Hiraoka, Emotion, surprise, 2019
Maria Diletta Rondoni, Strano aglio, 2017
Keramo Ceramiche, Antiope, 2023
Kouzo Takeuchi, Modern Remains C, 2013
Guido De Zan, Sei profili geometrici, 2004
Yoichiro Kamei, Monocrystal 1, 2014
Simcha Even-Chen, Folding in Motion 2, 2017