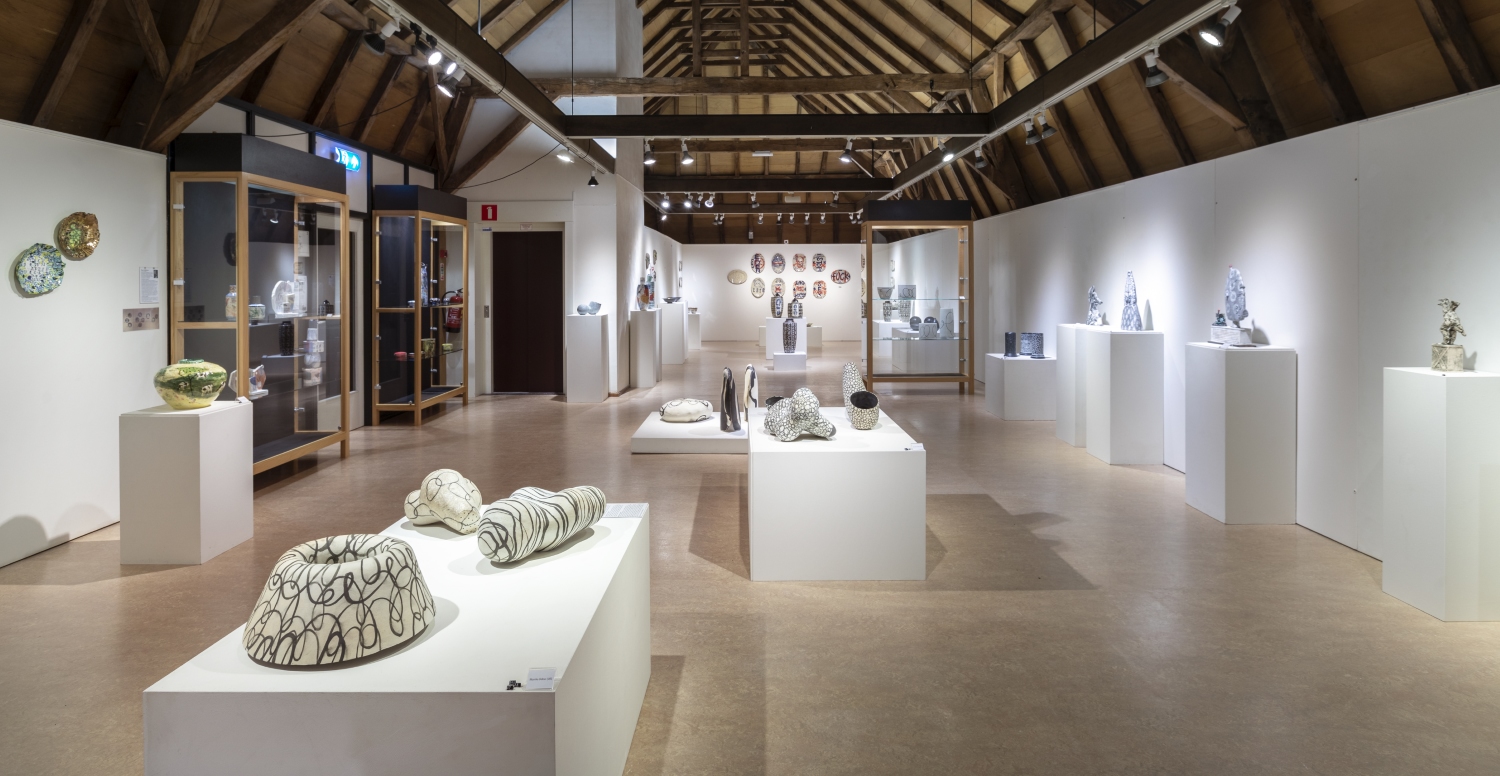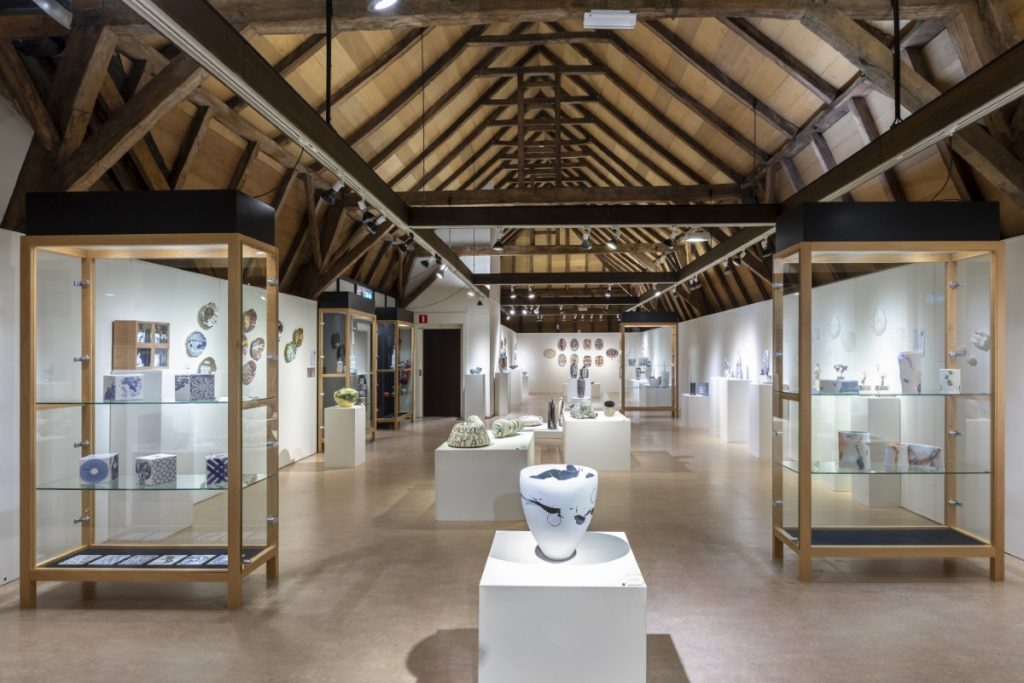 January 20 – May 7, 2023
Keramiekcentrum Tiendschuur Tegelen is pleased to present Ceramic Signals, an exhibition that shows a curiosity-arousing collection of ceramic works from renowned artists from home and abroad. One work also contains signs that look purely aesthetic and abstract, and another is fashioned with funny comic strips. Yet, another is strewn with very explicit, careless graffiti texts and protests against the wrongs in this world. The display makes visitors curious; it calls on them to go and search for the messages the art objects carry in them.
Sylvian Meschia (FR) provides his work with beautiful calligraphic signs that strongly remind one of Arabic writing. His roots in Algeria clearly show here. His objects look like thrown functional ware, but they are self-contained works of art. Sylvian provides his work with exotic decorations and, among other things, a self-conceived alphabet. He applies this using clay slips, color pigments, and sgraffito. The figures he puts with a paint brush strongly remind one, apart from Arabic calligraphy, of Eastern calligraphy.
Someone who has a passion for calligraphy, too, is Yeung Yuk-Kan (NL). She has been living and working in the Netherlands for years, but was born in Hongkong and studied visual arts there at the University of Hongkong. She shapes her porcelain objects deliberately so that they strongly remind one of paper. Modestly, she applies signs and decorations to it. Her tranquil and poetical objects have just as much empty white space as the paper in Chinese and Japanese calligraphy.
Large empty areas and powerful calligraphic brushstrokes can also be found in Karin Bablok's work. This Hamburg ceramicist restricts her palette to a modest black-and-white. She only adds a few powerful black brushstrokes to her pure porcelain forms. They sometimes remind one of Japanese calligraphy and sometimes of our first writing exercises.
Another exhibitor who has selected writing exercises or a dance of letters as a theme for her decorations is German Monika Debus. Simplicity, spontaneity, and great pleasure splash from her work. Quick brushstrokes and exuberant curls, loops, and dots embellish the skins of her objects.
Pleasure and humor can also be found in the work of Ute Naue-Müller (Dresden, Germany). Her objects are provided with playful decorations that interact with word and image, content and form. Her accessible representations are sweet, mischievous and funny at the same time.
The painted little stories by the French couple Marie Balme and Simon Bellégo are also sweet and moving. Their representations are a feast for the eye. They would not be out of place as hip illustrations in prominent magazines. Fortunately, they chose ceramics rather than paper.
You can also find little stories or fairy tales in the work of the Spanish couple Ricardo and Rosa Campos-Rosell. Their black-on-black decorations are particularly attractive. They strongly remind one of the old-fashioned negatives and yellowed photographs from long-ago days.
Long-ago days can also be found in José Den Hartog's work. This Dutch artist works mainly on commission and in the style of the traditional delft blue. But actually, only the technique and her color palette are identical to the traditional Dutch decorations. Those who look longer will see that her decorations are anything but old-fashioned. She designs complicated and alienating patterns, which she constructs with geometrical forms and details from historical decors that repeat again and again.
Alienating also is the rough work from Ruan Hoffmann. This South African-born artist lives and works in Amsterdam. As a basis, he uses familiar earthenwork forms such as plates, dishes and tiles. He then reforms them, providing them with confrontational texts and images. He puts personal experiences, uncensored observations and comments on our time and society on his objects. He creates a dialogue between form and content, between work of art and spectator.
Protest art and black humor can also be found in the work of Rita de Nigris. This Italian-Swiss ceramicist used to be known primarily for her decorations consisting of caricatural human figures with enormous noses. Nowadays, she provides her work with texts to which she adds subtle images. In addition, she gives her work an atmosphere of degeneration and decline by breaking it and sticking it together again, and covering it with a graffiti-like 'mess.' The longer you look, the more puns, ambiguities, and funny messages you discover in her creations.
This exhibition, "Ceramic signals," challenges the visitors to look further, distinguish phantasy letters from real ones, and unravel secret messages. But above all, to come and enjoy surprising ceramic works of art made by renowned European artists, all of whom love playing with letters, form, representation and meaning.
Exhibitors: Karin Bablok (DE), Marie Balme and Simon Bellégo (FA ), Ricardo and Rosa Campos-Rosell (SP), Monika Debus (DE), Jose Den Hartog (NL), Ruan Hoffmann (ZA), Sylvian Meschia (FR), Ute Naue-Müller (DE), Rita De Nigris (CH/I), Yeung Yuk-Kan (NL)
Contact
info@tiendschuur.net
Keramiekcentrum Tiendschuur Tegelen
Kasteellaan 8
5932 AG Tegelen
the Netherlands
Photos courtesy of the gallery