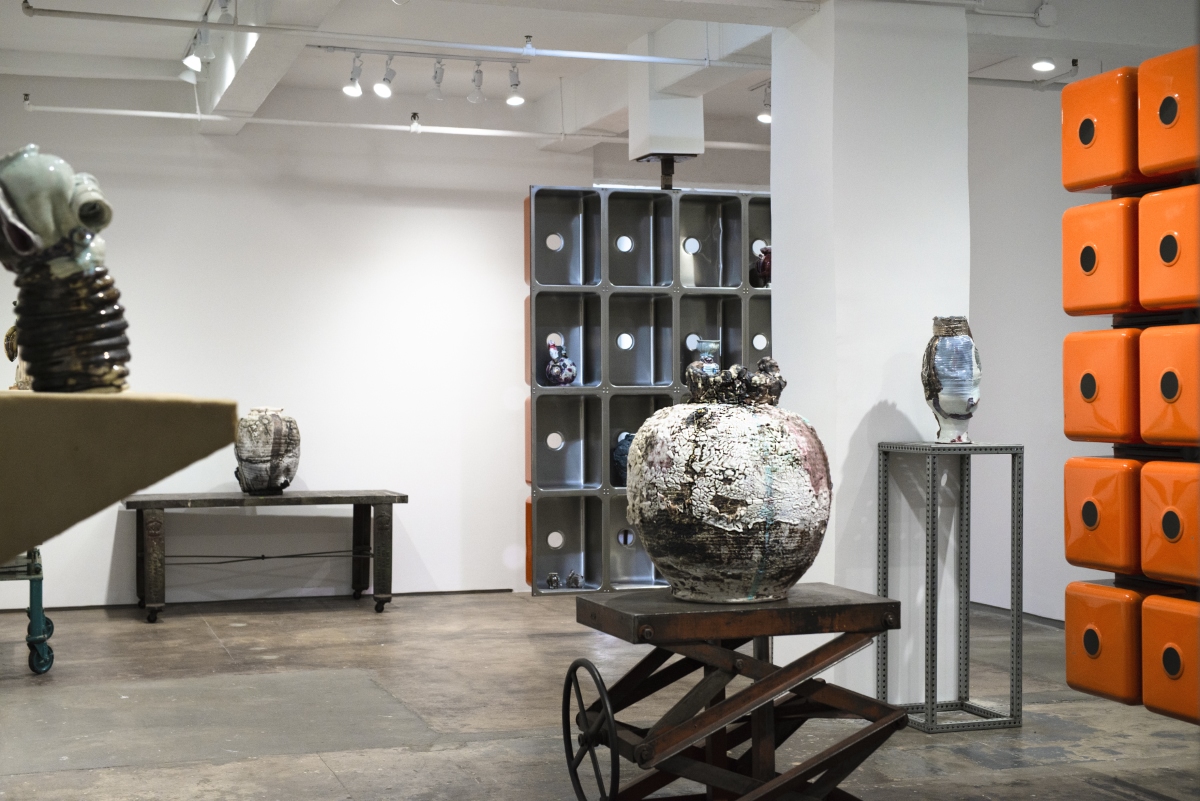 Gareth Mason: Wild Clay is on view at Jason Jacques Gallery, New York
July 14 – September 2, 2022
Jason Jacques Gallery is pleased to announce the opening of Wild Clay, an exhibition that dives into famed British ceramist Gareth Mason's iconoclastic approach to pottery.
Clay has languor and vigor. It has an air of un-tamability, an innate wildness, both in terms of its deliriously banal natural origins (clay may playfully be referred to as luxury mud) and its intriguingly capricious behavior inside the kiln.
It's fire alone that can transform this indeterminate, vacillating substance into a material as fragile and changeful as it is hard and pure. This duality gives rise to an enticing tension; when looking at a work by Gareth Mason one can't help but imagine the split-but-not -broken pots blazing up a riot inside the inferno of a kiln.
These complex vessels wear bits of wild clay amidst repurposed shards of pottery past and and glimmering droplets of gold luster— resplendent, molten, metallic tears. This is pottery that challenges porcelain's pristine history, developing as raw and unadulterated an approach to clay as the medium will allow.
In the artist's own words— "We love glittering things brought into being by forces beyond our ken. We want to bear witness and to know awe. Clay has this potential in spades."
Glen Adamson was right when he said that a single one of Gareth Mason's pots "may contain as many ideas as a whole archaeological pit"— each work by Gareth Mason is a ceramic microcosm.

Intensely expressive and energetic in character, his sculptural vessels reflect an eagerness to capture the dynamics and the mysteries of creation. Immersed in the transformative power of fire, Mason's spirit is freed through earth – his artistic medium – and thus his ceramics develop vibrant personalities of their own. It is metamorphic process which occasionally takes years: from wheel-throwing and through to all of the subsequent manipulations, firing and glazing, as well as composing of varied materials.

The result in each case is an astounding richness in texture, form, and visual density— work which rewards sustained sttention. Unconventional in his approach, Gareth Mason is one of Britain's most original ceramists. He has extensive experience as a teacher and has been featured in a number of exhibitions and publications on contemporary art pottery, including "Things of Beauty Growing": British Studio Pottery at the Yale Center for British Art in New Haven, Connecticut (2017). His most recent solo exhibition, Carnul Flux (2020), took place at the Everson Museum of Art, to great acclaim.

Mason is a Fellow of the Craft Potters Association and Brother of the Art Workers Guild, London. A short film about his practice entitled "White" won the Grand Prix at the 2002 Projections d'Argile festival in Montpellier. In 2009, he exhibited at the World Ceramic Biennale in Yeoju, Korea. Mason held his first solo exhibition, Other Forces, at Jason Jacques Gallery in 2011
Contact
info@jasonjacques.com
Jason Jacques Gallery
529 W 20th Street
New York, NY 10011
United States
Images courtesy of Jason Jacques Gallery and the artist. Photographer: Grace Nkem