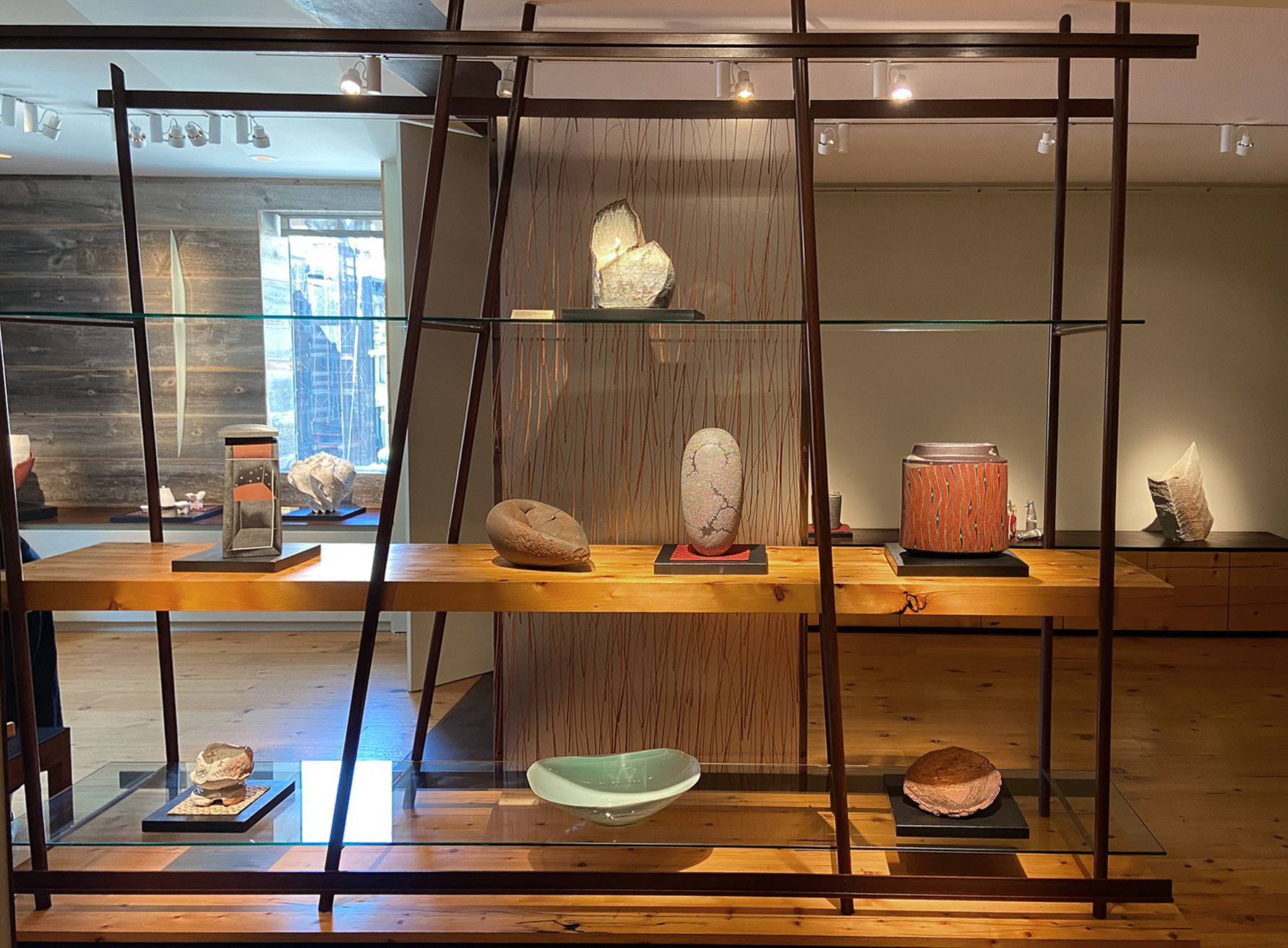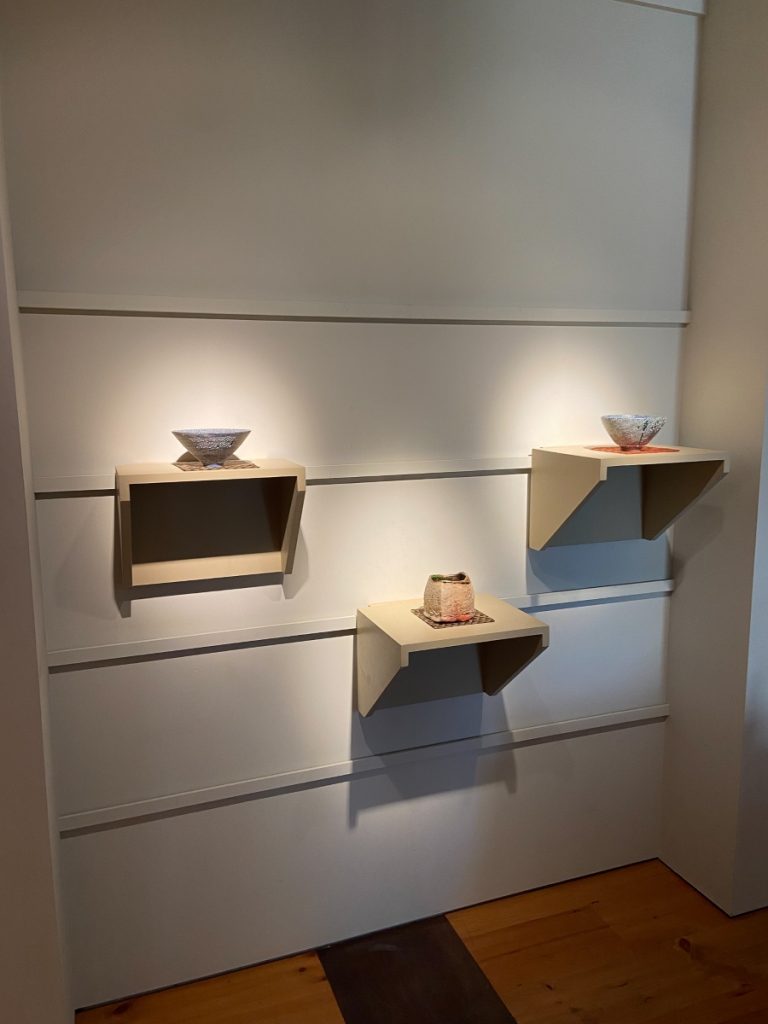 Listening to Clay is on view at Joan B Mirviss LTD, New York
July 19 – August 26, 2022
All sixteen artists showcased in Listening to Clay: Conversations with Contemporary Japanese Ceramic Artists (Monacelli Press/release date: June 14, 2022) are participating in this exhibition in honor of the book's publication. Works that best embody the inspirations, challenges, and achievements of their distinguished careers have been selected for this special exhibition.
Most of the artists have been long represented by Joan B Mirviss LTD, who has witnessed their impressive artistic development over the decades. Accompanied by the rich personal stories found within the book, the clay works on offer in the exhibition Listening to Clay represent these artists' innovative brilliance and encapsulate the diversity of ceramics in Japan today.
Across many journeys to Japan, and multiple intimate conversations with each master artist, Alice and Halsey North, pioneering collectors and museum patrons, together with Louise Allison Cort, Curator Emerita of Ceramics, National Museum of Asian Art, Smithsonian Institution (Washington, DC), have compiled these discussions and added their valuable insights into a beautifully illustrated collector's volume, only now available. It uniquely brings together the very personal stories of these artists whose work range across a variety of traditions, styles, and techniques that characterize Japan's exciting modern clay landscape. Conversations with artists who were born into legacy pottery-making families steeped in tradition are presented alongside those with the first women to study clay in newly-established university degree programs. The gallery exhibition Listening to Clay likewise showcases this trailblazing array of talent and ingenuity.
The gallery exhibition runs from July 19 to August 26, 2022, and features works by all sixteen artists in the book, Listening to Clay (listed in chronological order):
Hayashi Yasuo (b. 1928), Mishima Kimiyo (b. 1932), Morino Hiroaki Taimei (b. 1934), Kohyama Yasuhisa (b. 1936), Miyashita Zenji (1939-2012), Miwa Ryūkishō (Kyūsetsu XII/ Ryōsaku) (b. 1940), Koike Shōko (b. 1943), Ogawa Machiko (b. 1946), Fukami Sueharu (b. 1947), Kakurezaki Ryūichi (b. 1950), Miwa Kyūsetsu XIII (Kazuhiko) (b. 1951), Akiyama Yō (b. 1953), Kaneta Masanao (b. 1953), Yagi Akira (b. 1955), Kitamura Junko (b. 1956), and Kondō Takahiro (b. 1958).
The book Listening to Clay can be purchased online through its publisher Monacelli Press, a division of Phaidon. Copies will also be available to purchase at Joan B Mirviss LTD during the exhibition.
About Joan B. Mirviss LTD
With more than forty-five years of experience, Joan B. Mirviss is a pillar in the field of Japanese art. As a dealer, scholar, curator, and advisor, she has been the driving force championing the top Japanese clay artists, who she represents exclusively, and whose works she has placed in major museums around the globe. Widely published as a highly respected expert, Mirviss has built many institutional and private collections of Japanese art. JOAN B MIRVISS LTD exhibits modern and contemporary Japanese ceramics, ukiyo-e, and Japanese paintings from its exclusive Madison Avenue location in New York City.
Contact
info@mirviss.com
Joan B Mirviss LTD
39 East 78th Street Suite 401
New York, NY 10075
United States
Photos by Richard Goodbody. Courtesy of Joan B Mirviss LTD.
Photo captions
AKIYAMA YŌ (b. 1953), Double walled, concave inverted, sculptural form; titled, Untitled MV-224, 2022, Unglazed stoneware with rusted iron coating,13 x 8 1/2 in.
FUKAMI SUEHARU (b. 1947), Thickly walled, seihakuji (bluish-white) glazed, covered box sculpture; titled Hako no katachi (Box Form); Ma (Space), 2002, Glazed porcelain, 8 1/4 x 5 1/4 x 5 1/4 in.
HAYASHI YASUO (b. 1928), Rectangular vertical sculpture with offset attached top; titled, Memory of a House #5, 2003, Glazed stoneware, 13 3/4 x 5 1/2 x 5 1/4 in.
KAKUREZAKI RYŪICHI (b. 1950), Faceted Bizen marbleized teabowl with tetsu Oribe glaze, 2021, Unglazed stoneware with green glaze in interior, 4 3/8 x 5 1/8 x 4 3/8 in.
KANETA MASANAO (b. 1953), Multi-planar rock-like sculptural form with Hagi kohiki glaze, 2021, Glazed stoneware, 15 3/4 x 13 3/4 in.
KITAMURA JUNKO (b. 1956), Lozenge-shaped impressed vessel; titled, Vessel 95, 1995, Stoneware with black slip, inlaid with white slip, 13 3/4 x 6 1/4 in.
KOHYAMA YASUHISA (b. 1936), Tall, angled upswept sculptural form; titled, Kaze (Wind), 2021, Unglazed Shigaraki stoneware, 21 3/4 x 16 1/2 x 5 1/8 in.
KOIKE SHŌKO (b. 1943), Pleated, shell-shaped, covered vessel with carved surface patterning, 2013, Glazed stoneware, 14 1/4 x 14 in.
KONDŌ TAKAHIRO (b. 1958), Blue and green-glazed bowl with a raised foot and dripping "silver mist" overglaze, 2022, Porcelain with blue underglaze and "silver mist" overglaze, Size: 3 1/2 x 6 1/4 in.
MISHIMA KIMIYO (b. 1932), Sculpture of a red Coca-Cola cardboard box filled with six, independent (wrapped) coke bottles, 2022, Glazed stoneware, 9 1/4 x 10 5/8 x 8 1/4 in.
MIWA KYŪSETSU XIII (KAZUHIKO) (b. 1951), Hagi-glazed striated teabowl with pinkish-white, thick crawling glaze, 2021, Glazed stoneware, 4 3/8 x 5 1/2 x 5 1/4 in.
MIYASHITA ZENJI (1939-2012), Standing vessel covered in flat bands of gradated, blue-colored clay; titled, Yureru umi: Rolling Seas, 2006, Colored clay-banded stoneware with clear overglaze, 17 1/2 x 9 x 4 1/2 in.
MORINO HIROAKI TAIMEI (b. 1934), Slightly flattened ovoid vessel with wide raised mouth and vertical patterning, 2022, Glazed stoneware, 10 3/4 x 12 x 6 1/8 in.
OGAWA MACHIKO (b. 1946), Red Vessel, 2021, Porcelain and stoneware with iron-oxide matte glaze, 15 1/2 x 13 1/4 in.
YAGI AKIRA (b. 1955), Seihakuji (bluish-white) glazed shallow, oblong, footed bowl with furling rim and two carp in relief in interior, ca. 1995, Glazed porcelain, 5 1/4 x 17 1/8 x 10 1/4 in.