Anne Gibbs lives and works in Cardiff, UK. She graduated with a Postgraduate Degree in Ceramics in 2004 and with a Bachelor's degree in Fine Art: Printmaking in 1994 at the University of Wales Institute, Cardiff. In 2017, Anne had a national touring solo exhibition throughout Wales, The Language of Clay: Still, starting at the Mission Gallery, Swansea. Selected group exhibitions in 2020 include Cure3 Bonhams, London, Lifting the Lid, Art Spot Korin Gallery, Kyoto, Japan, A Language of Clay, New Brewery Arts, England, and London Art Fair, Cynthia Corbett Gallery, London. The Young Masters Art Prize 10th Anniversary (2019) with the Cynthia Corbett Gallery, London, Collect in 2018 and 2015 at the Saatchi Gallery, London represented by Ruthin Craft Centre, Award, British Ceramic Biennial (2015), Fragile? The National Museum Cardiff (2015), Earth at Ruthin Craft Centre, Wales (2012) and Placement at Oriel Davies and Fife Contemporary Art and Craft Centre, Wales and Scotland (2011). Artist in residency positions include 'Makers Using Technology', Design Wales, Cardiff Metropolitan University, (2014) Heatherwick Studios, Aberystwyth, (2013) and Cove Park, Scotland (2009). Anne received the gold medal for craft and design at the National Eisteddfod of Wales in 2012 and several awards from the Arts Council of Wales and Wales Arts International for travel and research.
Visit Anne Gibbs' website and Instagram profile.
Featured work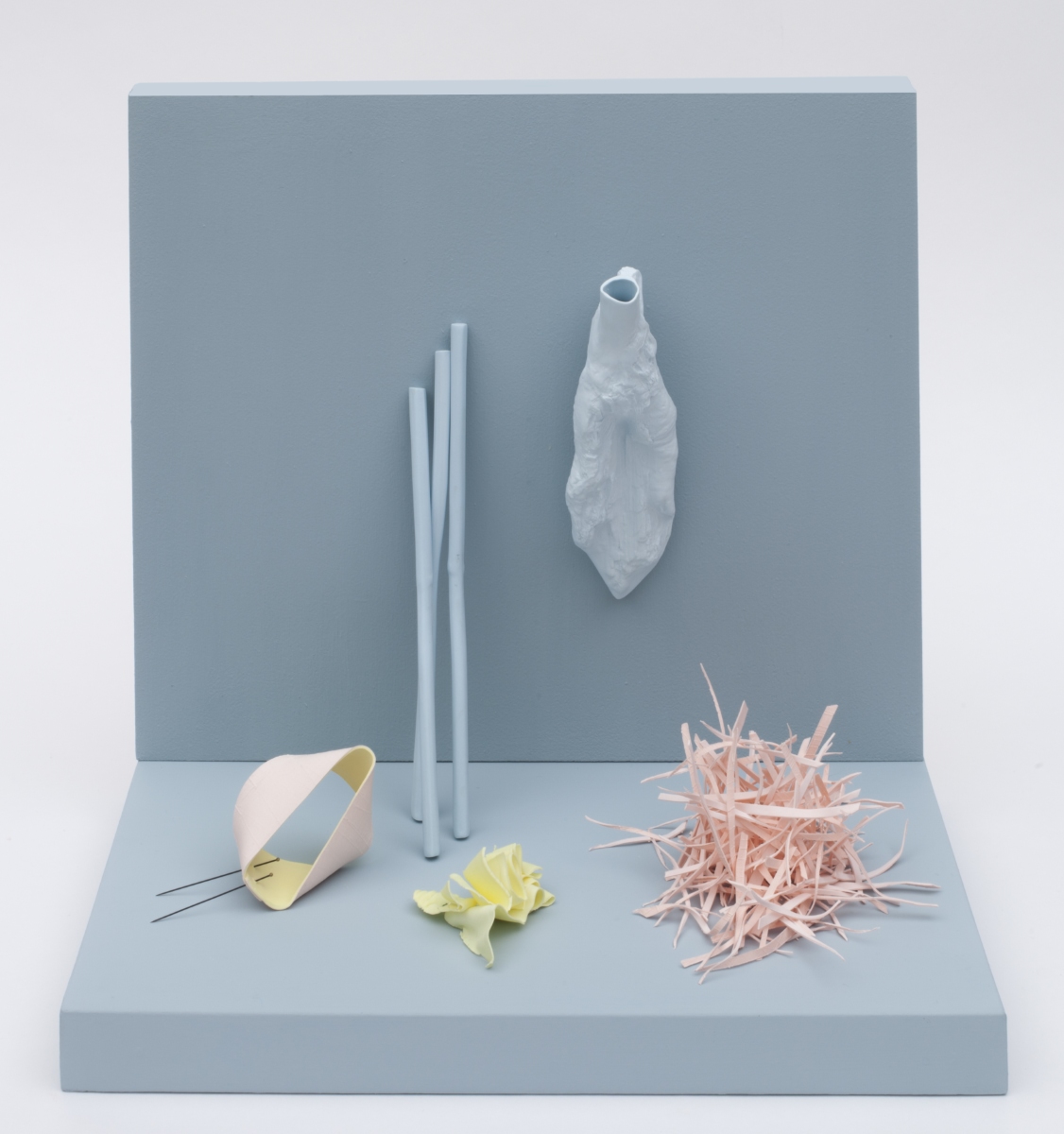 ---
I make small-scale objects in bone china occasionally displayed with mixed media components. My artistic practice is a fusion of influences stemming from the still life painting genre, cabinets of curiosities and collage. I collect natural materials from local woodlands and man-made objects from a wide range of sources, which are then transformed, altered and restaged. These objects fuel my interest in the relationships between disharmony and ambiguity on the one hand and stillness and calm on the other.

Experimenting with materials is of great interest to me. I combine different techniques to discover new possibilities. Depending on what outcome I want to achieve, I cast, stain, hand build or alter the findings to create one-off pieces. I enjoy creating ambiguous gatherings and conversations and playing with unlikely mixes of surfaces, colour and compositions.

As a recipient of a Creative Wales Award in 2015 funded by the Arts Council of Wales, I travelled to Japan to experience Japanese culture and to receive Ikebana lessons, the Japanese art of flower arrangement, in Tokyo. This experience has encouraged me to examine the selection and arrangement of objects and explore the use of colour in my practice.